Camping Pomer is a campsite in Pomer, Istria, located by the sea and in a wood.This terraced camp site and camp site with sloping grounds has pitches which are marked out, pitches with shade, pitches without shade and pitches with some shade.
Show more

The following rules apply to pets at (Camping Pomer):
- Dog(s) permitted in low season (if on a lead)
- Dog(s) permitted in high season (if on a lead)

For sportive holidaymakers the camp site offers excursion programmes. You can swim nearby in the sea. At Camping Pomer you can go snorkelling and windsurfing.

You don't always have to cook, as the camp site has a snack bar, pizzeria and restaurant (with full menu). The camp site also supplies fresh bread. You can also use the internet, as you can access the internet with your own laptop in 80% of the camp site.
Low-season discount with CampingCard ACSI
Affordable camping in the low season with CampingCard ACSI
CampingCard ACSI is a useful little card that will earn you up to 50% discount on your holiday! In 2016 you can choose from no fewer than 3142 campsites in 20 European countries. You will pay one of the four fixed, low rates in the early and late season!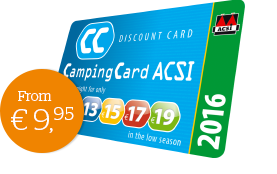 The advantages
Up to 50% discount! You can stay even more inexpensively at the loveliest campsites throughout Europe for four fixed rates using your CampingCard ACSI.

3142 campsites, all inspected by ACSI! You are welcome at 3142 campsites covering 20 European countries with your CampingCard ACSI

Affordable camping with your (grand)children 3 children (under 6 years) are included in the CampingCard ACSI rate at more than 700 campsites
Campsite opening period + your holiday period
August 2016
Mon
Tue
Wed
Thu
Fri
Sat
Sun
1
2
3
4
5
6
7
8
9
10
11
12
13
14
15
16
17
18
19
20
21
22
23
24
25
26
27
28
29
30
31
September 2016
Mon
Tue
Wed
Thu
Fri
Sat
Sun
1
2
3
4
5
6
7
8
9
10
11
12
13
14
15
16
17
18
19
20
21
22
23
24
25
26
27
28
29
30
October 2016
Mon
Tue
Wed
Thu
Fri
Sat
Sun
1
2
3
4
5
6
7
8
9
10
11
12
13
14
15
16
17
18
19
20
21
22
23
24
25
26
27
28
29
30
31
November 2016
Mon
Tue
Wed
Thu
Fri
Sat
Sun
1
2
3
4
5
6
7
8
9
10
11
12
13
14
15
16
17
18
19
20
21
22
23
24
25
26
27
28
29
30
December 2016
Mon
Tue
Wed
Thu
Fri
Sat
Sun
1
2
3
4
5
6
7
8
9
10
11
12
13
14
15
16
17
18
19
20
21
22
23
24
25
26
27
28
29
30
31
31 Campsite open
31 Campsite closed
31 Selected date
Detail information about this campsite
This inspector visits Camping Pomer every year and inspects the campsite on the basis of more than 200 amenities and other points of interest. The inspector is an ACSI staff member and does not work for the campsite.
Toilet facilities

7.5

Staff

7.9

Price - quality comparison

7.6

Camping pitch

8.1

Accommodation

7.7

Child friendliness

7.5

Entertainment

6.5

Sports facilities

6.9

Swimming pool

8.0

Food and drink

7.5

Surroundings

8.1
Camille Dubout, on this campsite in August 2016
Travelling party: Young couple
Le camping est très professionnel et propose un très joli cadre avec vue sur la mer. Il dispose de toutes les commodités: supérette, restaurant, bar, locations nautiques, plage réservée aux chiens. Les sanitaires sont très propres, nettoyés toutes les deux heures. C\'est un très grand camping qui semble habitué à recevoir des familles pour de longs séjours, mais il convient très bien à des voyageurs effectuant un petit séjour. Seul bémol: les prix ne sont pas forcément clairs, mais ils restent raisonnables compte-tenu du cadre.
Joachim Hüttenhoff, on this campsite in August 2016
Travelling party: Couple
Wir haben bereits ein Beurteilung für 2015 abgegeben und waren in diesem Jahr wieder für 3 Wochen dort. Die Musik am Beachclub gegenüber des Campingplatzes ist mittlerweile abgestellt. Musik schallt weiterhin nachts von Medulin rüber, ist aber je nach Windrichtung einigermaßen erträglich. In diesem Jahr haben sich Diebe in den frühen Morgenstunden über die Sachen der Camper hergemacht.
Meine Frau hat in der Früh um 4:15 zwei schwarz und mit einer Sturmhaube bekleidete Männer aus dem Schlafzimmerfester unseres Wohnmobils beobachtet, welche sich unsere Schwimmschuhe an der Wäschespinner begutachtet haben (dachten wohl es wären teurer Sportschuhe). Morgens hörten wir dann von unseren Stellplatznachbarn, dass eine Badehose, ein Smartphone und Zigarettentabak verschwunden waren. Ein paar Tage später wurden sogar 2 mit einer Kette am Wohnwagen abgeschlossene, teure Fahrräder von holländischen Touristen gestohlen. Die Kette wurde mit einem Bolzenschneider aufgebrochen. Kann nur davon abraten teure Sachen über Nacht draußen zu lassen, oder gar nicht erst mit im Urlaub zu nehmen. Wir fahren trotz allem nächstes Jahr wieder hin, da wir unsere Wertsachen zu schützen wissen. Diebe gibt es überall auch in unserem Land.....
Sören Hahn, on this campsite in August 2016
Travelling party: Family with children, 12 - 18 years
Wir waren letztes Jahr schon mal hier auf dem Campingplatz Pomer, waren sehr zufrieden bis auf zwei Nächte wo es von der benachbarten Stadt Medulin sehr laute Musik rüber kam. Wir haben die Rezeption drauf angesprochen und die haben uns letztes Jahr gesagt das es eine Art Fest/Volksfest sei. Und nach den 2 Nächten war es auch fertig mit dem Lärm. Allerdings waren wir letztes Jahr auch nur 4 Tage auf dem Campingplatz Pomer. Dadurch das es uns die 4 Tagen letztes Jahr so gut gefallen hat, haben wir uns entschlossen dieses Jahr den Sommerurlaub dort zu verbringen. Es erwies sich nach kurzer Zeit heraus das das offensichtlich ein Fehler war. Nach der zweiten Nacht gingen wir zur Rezeption und beschwerten uns über diese laute Musik die von Medulin kam..... man antwortete uns mit, ich zitiere \"wir können da nichts machen, wir sind nur ein kleiner Campingplatz. Das sei eine Touristen Gegend. Aber man kann sich gerne bei dem Veranstalter vom Campingplatz Pomer \"Arena Camps\" schriftlich beschweren....\"! So und jetzt sind wir 5 Tage hier auf dem Campingplatz Pomer und JEDE NACHT \"BOOM, BOOM, BOOM\"! Von Erholung im Urlaub kann da bei Gott nicht die Rede! Wir werden früher abreisen, weil von den 5 Tagen die wir hier waren 2 Tage etwas gestürmt und geregnet hat und somit 2 Nächte keine laute Musik rüber kam von Medulin....
Vroni, on this campsite in August 2016
Travelling party: Family with children, 4 – 12 years
Wir stehen seit 4 Nächten auf dem Campingplatz, und sind so zufrieden, dass wir länger bleiben werden als ursprünglich geplant. Die Gegend haben wir ausgesucht weil unsere Tochter gerne reiten wollte, Morgen wird sie einen Ausritt einschließlich Baden mit Pferd machen. Wir hatten einige negative Kommentare über diesen Platz gelesen, und schon das Schlimmste befürchtet. Aber: Keine Disco in der Nacht, auch nicht am Wochenende; Kein Dauerverkehr: recht neue Sanitäranlagen, sauber. Wir würden jederzeit wieder kommen! Aber Nobody is perfekt: die Straße am Ufer gegenüber (Kamenjak) ist recht befahren, die hört man; die Elektroverteiler sind weit auseinander, wir hätten unsere 40 m Kabeltrommel gebraucht, die zu Hause ist...
Joachim Hüttenhoff, on this campsite in July 2016
Travelling party: Couple
Wir waren Juli 2015 das erste Mal auf dem Platz, haben den teuersten Platz am Wasser gebucht und haben uns über den Beachclub auf der anderen Uferseite geärgert. Früh am Morgen werden schon die Musikboxen aufgestellt und die laufen bis spät in der Nacht. Haben dann Nachts die Klimaanlage im Wohnmobil eingeschaltet um die Musik zu übertönen. Ist schon schade, trotz Beschwerden mehrerer Camper kann nicht dagegen unternommen werden, da der Betreiber der Bar eine Liezens für die Beschallung haben soll. Ansonsten ist der Platz sehr schön
Und wir fahren in der kommenden Wochen wieder für 3 Wochen dort hin.
Bogdan, on this campsite in August 2015
Travelling party: Young couple
I\'ve spent a holiday at august 2015 at tihs camp. This is small camp suitable for families and young couples who want relaxaton. In the end of august, there are not too much crowd, and, it was really true rest. Some of the bathrooms should be renovated, but those are very clean and well maintenanted.
Dagmar, on this campsite in August 2015
Travelling party: Family with children, 12 - 18 years
Es ist Nachts einfach zu laut!! So ein schöner Platz, eine Schande! Es gibt zu wenig bis gar keine Regeln vor allem was das befahren des Platzes betrifft und zu welchen Uhrzeiten! Es wäre besser das zu beschränken. Der Ort Medulin sollte ich überlegen und auch strengere Richtlinien erarbeiten wann Nachtruhe ist!
Sören Hahn, on this campsite in July 2015
Travelling party: Family with children, 12 - 18 years
Waren vom 17.07. bis zum 20.07.15 auf dem Campingplatz Pomer. Wir können diesen Campingplatz nur empfehlen, sehr sauber. Die Strände und die Bucht sind sehr sauber. Keine Gefahr sich irgendwie zu verletzen. Die Sanitäranlagen werden mehrmals am Tag gereinigt und gepflegt. Es gibt vor Ort die Möglichkeit die Grundnahrungsmittel zu besorgen, wem das nicht reicht gibt es noch ein Lebensmittelladen im Ort Pomer, nicht weit vom Campingplatz.
Was uns gefallen hat war das der Campingplatz nicht überlaufen war und das zur Hauptsaison. Zu dem gibt es mehrere Bars und Restaurants.
Jederzeit wieder!!!!
Zengerer, on this campsite in June 2015
Diese Beurteilung wurde von unserem Inspektor als Besucherumfrage selbst auf dem Camping aufgenommen.
K. van der Wolfshaar, on this campsite in August 2013
Deze beoordeling is als enquete afgenomen door onze inspecteur op de camping zelf.
General information
Guide price 1

€30.80

Guide price 2

€39.40

Period of opening

21/04 till 25/09

Area

22.5 ha

Number of touring pitches

264 (40 - 120m2)

Number of permanent pitches

40

Campsite suitable for disabled persons

Yes
* Facilities printed in bold are not included in the overnight rate. Supplementary charges will apply. (This does not mean that facilities which are not printed in bold are free!)
Popular amenities

WiFi 80-100% coverage

Dog(s) in high season (on lead)

Situated on the coast (max. 0.5 km)

ACSI Club ID is accepted as an identity document
At the reception

Reservation with CampingCard ACSI also possible

ACSI Club ID is accepted as an identity document

Passport/identity card required

Credit cards accepted

credit card: Amex | Diners Club | MasterCard | Visa Card

Payment by debit card/Maestro possible

Languages spoken at reception (during the main season)

languages: German | English | Italian
Pitch amenities

Water connection at/near the pitch (max. 15 m)

Electrical hook-ups possible to maximum %s amps

Max. electricity: 10 ampère

Euro-plug required
Internet
Situation of campsite

Situated on the coast (max. 0.5 km)

Distance to the sea (max. 10 km)

Located in a wood

Panorama

Shopping opportunities within %s km
Dogs

Dog(s) in high season (on lead)

Dog(s) in low season (on lead)
Swimming

Sea swimming (max. 0.5 km)

Beach showers
Beach

Rocky coastline

Stony beach
For children

No entertainment programme
Toilet facilities

Washbasins: hot water

Washbasins: cold water

Standard toilets

Toilet paper provided

Chemical toilet disposal point

Toilet-shower combination (215cmsx215cms minimum)

Showers: hot water

Showers: cold water

Water and toilet facilities for disabled people in the same building as for the other campers

Disabled sanitary facilities only open for the disabled

Shower seat / shower chair (folding or mobile) approximately 48 cm high

Beach showers

Tap without push control
Ground and vegetation

Pitches with plenty of shade

Pitches with some shade

Unshaded pitches

Marked pitches

Terraced site

Hard ground

Sloping site
Campsite rules

Dog(s) in high season (on lead)

Dog(s) in low season (on lead)

Caravans allowed

Tents allowed

Small extra tent permitted

Motorhomes allowed

Twin-axle vehicles permitted

Barbecues permitted

type of BBQ: electricity | gas

Own boats permitted

Motorboat
Food, drink and groceries

Fresh bread available at the camp site

Groceries: limited selection

Restaurant (with ample choice)

Snack bar

Pizzeria

Takeaway meals

Bar

Communal barbecue area
Washing, washing-up, cooking

Washing up sinks: hot water

Washing up sinks: cold water
Recreation (adults)

Fishing

Excursion programme (at least 2x a week - m.s.)

Television
Water sports and recreation

Fishing

Windsurfing permitted

Windsurfing course

Snorkelling

Scuba diving

Motorboat

Own boats permitted

Sailing permitted

Sailing lessons

Boat crane

Trailer slope
Available to hire at the campsite
For motorhomes

Motorhomes allowed

Also suitable for motorhomes > 8m and > 4 tonnes
Miscellaneous

Footpaths and roads are lit

Patrolled grounds

Quiet during the day and at night

Door-springs light enough (3-4 kgs pressure)
Address & Route
Would you like to book campsite Camping Pomer or request more information? You can do both using the information below.
Camping Pomer
Pomer BB
52100 / Pomer
Croatia


Download GPS coordinates

Select your navigation system:

A9 Medulin/Premantura exit. Then towards Pomer, then dir. yacht harbour. Follow the camping signs.
The weather on this campsite
Weather forecast
Sat

22 / 10

Sun

23 / 10

Mon

24 / 10

Tue

25 / 10

Wed

26 / 10

Thu

27 / 10

Fri

28 / 10

Max.
16.3°
16.8°
17.9°
19.7°
18.9°
18.2°
18.1°
Min.
6.4°
7.6°
11.1°
12.9°
13.6°
11.5°
9.7°
Precipitation
5%
15%
20%
10%
65%
20%
5%
Wind direction
E
E
S
S
SW
NO
NO
Wind speed
3
2
2
2
3
3
3
Climate
| | |
| --- | --- |
| | Precipitation total (mm) |
| Jan | 66 |
| Feb | 20 |
| Mar | 69 |
| Apr | 77 |
| May | 32 |
| Jun | 37 |
| Jul | 49 |
| Aug | 46 |
| Sep | 85 |
| Oct | 97 |
| Nov | 228 |
| Dec | 75 |
Information request
ACSI Eurocampings will send your information request to "Camping Pomer".
Take note; you are sending an information request. You cannot make a reservation using this form. You will need to contact the campsite directly and ACSI Eurocampings cannot have any influence on the consequences thereof.