Kamp Jure is a campsite in Makarska, Split-Dalmatia, located by the sea and in a wood.The campsite has pitches which are marked out and pitches with shade. Kamp Jure is located close to a sandy beach. It is possible to rent mobile homes, rooms, apartments and bungalows. The camp site has a playground and an indoor playground.
Show more

The following rules apply to pets at (Kamp Jure):
- Dog(s) permitted in low season (if on a lead)
- Dog(s) permitted in high season (if on a lead)

For sportive holidaymakers the camp site offers excursion programmes. You can swim nearby in the sea. At Kamp Jure you can go snorkelling, windsurfing and waterskiing.

You don't always have to cook, as the camp site has a snack bar, self service restaurant, restaurant (with snack menu) and restaurant (with full menu). The camp site also supplies fresh bread. You can also use the internet, as the camp site has one or more computers with an internet connection, there is a WiFi point and you can access the internet with your own laptop in 80% of the camp site.
Low-season discount with CampingCard ACSI
Affordable camping in the low season with CampingCard ACSI
CampingCard ACSI is a useful little card that will earn you up to 50% discount on your holiday! In 2016 you can choose from no fewer than 3142 campsites in 20 European countries. You will pay one of the four fixed, low rates in the early and late season!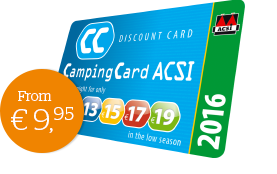 The advantages
Up to 50% discount! You can stay even more inexpensively at the loveliest campsites throughout Europe for four fixed rates using your CampingCard ACSI.

3142 campsites, all inspected by ACSI! You are welcome at 3142 campsites covering 20 European countries with your CampingCard ACSI

Affordable camping with your (grand)children 3 children (under 6 years) are included in the CampingCard ACSI rate at more than 700 campsites
Campsite opening period + your holiday period
August 2016
Mon
Tue
Wed
Thu
Fri
Sat
Sun
1
2
3
4
5
6
7
8
9
10
11
12
13
14
15
16
17
18
19
20
21
22
23
24
25
26
27
28
29
30
31
September 2016
Mon
Tue
Wed
Thu
Fri
Sat
Sun
1
2
3
4
5
6
7
8
9
10
11
12
13
14
15
16
17
18
19
20
21
22
23
24
25
26
27
28
29
30
October 2016
Mon
Tue
Wed
Thu
Fri
Sat
Sun
1
2
3
4
5
6
7
8
9
10
11
12
13
14
15
16
17
18
19
20
21
22
23
24
25
26
27
28
29
30
31
November 2016
Mon
Tue
Wed
Thu
Fri
Sat
Sun
1
2
3
4
5
6
7
8
9
10
11
12
13
14
15
16
17
18
19
20
21
22
23
24
25
26
27
28
29
30
December 2016
Mon
Tue
Wed
Thu
Fri
Sat
Sun
1
2
3
4
5
6
7
8
9
10
11
12
13
14
15
16
17
18
19
20
21
22
23
24
25
26
27
28
29
30
31
31 Campsite open
31 Campsite closed
31 Selected date
Detail information about this campsite
This inspector visits Kamp Jure every year and inspects the campsite on the basis of more than 200 amenities and other points of interest. The inspector is an ACSI staff member and does not work for the campsite.
Toilet facilities

5.9

Staff

6.1

Price - quality comparison

6.0

Camping pitch

6.1

Accommodation

5.5

Child friendliness

5.1

Entertainment

5.1

Sports facilities

6.0

Swimming pool

4.8

Food and drink

6.8

Surroundings

6.8
Uit-belgie, on this campsite in September 2015
Travelling party: Couple
Kritiek is juist: plaatsen veelal schuin, en 2 achter elkaar. Dus de voorste moet er uit als de achterste weg wil.. En het sanitair is smerig en het stinkt er vreselijk. In het nieuwe 2e gebouwtje is bijna geen warm water, 1 herendouche, kapotte kraan ... niets positiefs dus. Markaska zelf is heel gezellig!
mlvdburg, on this campsite in September 2015
Travelling party: Couple
Een vreselijke camping. Wij hadden een familietent mee. De haringen zijn niet de grond in te krijgen. Met speciale haringen en een stevige hamer lukt dit uiteindelijk wel.
De eerste dag was het niet aangenaam daar je lek werd gestoken door de muggen.

qua slapen lig je in een tent een beetje schuin.

De plaatsen zijn achter elkaar neergezet. We stonden achteraan en hadden bedacht dat we even een dagje naar het nationale park gingen. Doordat de plaatsen maar 1 ingang hebben per plaats was het erg vervelend als je terugkomt en je hebt een camper voor je staan.
Je dient dus continu je auto te verplaatsen mocht er iemand voor je komen te staan.
Daarnaast is het erg vervellend met het inpakken van je auto.

Per 6 plaatsen zijn er maar 4 stroompunten aanwezig, waardoor er veel extra verleng snoeren gebruikt worden.

Qua sanitair zijn we ook niet erg positief. De wc brillen zitten los en bij de douches hangen enkel douchegordijnen.

Wat wij ook vreemd vonden is dat je op deze camping je acsi kaart en je paspoort / id kaart moet inleveren.
Lijkt me dat je deze toch bij je wilt hebben op vakantie.

Is er überhaupt nog wat positiefs aan deze camping. Je zit zo bij het strand en de boulevard.
Voor mensen met een camper misschien iets aangenamer maar wij zijn na 2 nachten vertrokken.
Georges Weber, on this campsite in September 2015
Travelling party: Couple
Der Stellplatz war sehr schön. Leider sind immer 2Stellplätze hintereinander auf dem selben Plateau. Die Anfahrt ist sehr steil und auf Schotter. Die Sanitäranlagen sind sauber jedoch nicht mehr up to date.
Beim Bezahlen wird versucht, die ACSI Reduktion nicht anzuerkennen. Mann verlangt den doppelten Preis, wenn man nicht reklamiert.
Susan Krammer, on this campsite in August 2015
Travelling party: Couple
I am really dissapointed about almost everything in this camp.Toillets were really dirty,no toillet paper
The stuff on the reception totally unprofessional.What ever we asked they are laughing,like they are not normal.
I wonder what chief of the camp thinks.We were complaning but he doesnt care obviously.
The price is expensive like we are in hotel and at least we could get something for that price.
We ment to stay 10 days,but we left second day
To bad because Makarska is a beatiful place.
Susan Hoffstader, on this campsite in July 2015
Travelling party: Couple
Terrible!
So expensive, and dirty toillets,staff on the reception unproffesional.
We are really dissapointed.
We want to complaine to the chief of the camp but he dont care
Unbeliveble!!!
Schwaiger, on this campsite in June 2015
Travelling party: Couple
Waren im Juni 2015 dort, leider wurde uns nicht mitgeteilt, dass das Camp zur Hälfte ein Jugendlager ist und dort tag und nachts fürchterlicher Lärm ist. Für Ruhesuchende absolut nicht geeignet, ausserdem ist eine große Baustelle daneben dort wird ein großes Hotel gebaut. Zum Strand sollte man schon sehr früh gehen, ansonsten bekommt man keinen Platz mehr. Für Hundebesitzer muss ich sagen, nicht gut, man bezahlt nämlich für absolut keine Leistung, keine Hundesackerl, kein Gassiplatz, und wie gesagt als Hundebesitzer bekommt man nur schwer Platz am Meer, und da muss man erst hin gehen. Wir haben für 3 Wochen gebucht, eine Anzahlung geleistet, sind aber nach bereits 4 Tagen wieder weg, Anzahlung futsch, Nichts zurück bekommen obwohl wir falsch informiert wurden bzgl. Ruhe. Fahren sicherlich nie mehr da hin.
Barry Stockdale, on this campsite in May 2015
Travelling party: Seniors
Site well signposted on D8.
We decided to stay here as we had read good things about the area and it was also possible to get the car ferry to Brac.
We were somewhat disappointed to find the access roads very steep, the pitches incredibly small and average sanitary facilities.
On the plus side the seafront walk is just 200 yards away and it is an easy 1 mile walk into the centre of Makarska past some impressive restaurants and the usual souvenir shops.
The sanitary facilities are clean, however the shower cubicles are very small with curtains not doors and it is necessary to hang your towel and clothes on a hook outside the cubicle.
Shortly after our arrival we heard what sounded like teenagers cheering at some nearby sports event. By 7pm all was quiet. At 9pm the disco noise started, we expected it would finish about 11 pm. Instead it went on until 7 am the following morning resulting in a sleepless night. It turned out that the Hotel Riveria next door was jammed full of students who were clearly out to have a good time. Fearing a repeat of the noise I spoke to the Site Manager and the Hotel Manager. Neither could guarantee that we would not have a repeat of the sleepless night so I left. The guidebook does say that the resort can get a bit lively in the peak summer months but I was not expecting his level of disturbance in mid May. If you enjoy partying all night this is the place for you but if you do not I would stay clear.
Marieke Hoogenboom, on this campsite in August 2014
Travelling party: Family with children, various ages
Een kleine leuke camping met zeer vriendelijke personeel. Het sanitair is netjes en schoon maar er zitten nog douche gordijnen, dat is iets minder prettig. Je zit zo aan zee, maar het is er erg vol en druk en de hele dag en vaak s\'nachts door muziek Eigenlijk is het meer een trekkers camping, wij stonden er drie weken maar de meeste camping gasten maar een paar dagen. Voor gezinnen met pubers is het een super omgeving.
Bogdan Tomoiaga, on this campsite in August 2013
Travelling party: Couple
Very very noisy!! A camp dedicated for noisy parties with Germans or Italian tribes. If you are a savage or a stupid person this camp will be perfect for you. If you are a good quality person (as the most of the travelers are) do not choose this camp!!!
Eich , on this campsite in July 2013
Travelling party: Couple
Wir waren anfang Juli 2013 da der platz ist eine zumutung drumherrum eine einzige Baustelle und auf dem Platz selber wird auch gebaut. Die Sanitär anlagen stinken als wenn sie schön lenger nicht geputzt worden.
Geamt einfach schlecht.
General information
Guide price 1

€36.00

Guide price 2

€46.00

Period of opening

15/03 till 31/10

Area

0.7 ha

Number of touring pitches

112 (45 - 100m2)

Number of camper pitches

36

Number of permanent pitches

13

Number of accommodation units for hire

35
* Facilities printed in bold are not included in the overnight rate. Supplementary charges will apply. (This does not mean that facilities which are not printed in bold are free!)
Popular amenities

WiFi 80-100% coverage

Dog(s) in high season (on lead)

Situated on the coast (max. 0.5 km)

ACSI Club ID is accepted as an identity document

Mobile homes
At the reception

ACSI Club ID is accepted as an identity document

Advance booking recommended for high season

Credit cards accepted

credit card: Diners Club | MasterCard | Visa Card

Payment by debit card/Maestro possible

Senior citizens' discount

Languages spoken at reception (during the main season)

languages: German | English | Italian
Pitch amenities

Also suitable for caravans > 5.5m, excluding towbar

Electrical hook-ups possible to maximum %s amps

Max. electricity: 10 ampère
Internet

Internet access

WiFi 80-100% coverage

WiFi point
Situation of campsite

Situated on the coast (max. 0.5 km)

Distance to the sea (max. 10 km)

Located in a wood

Close to motorway junction (< 10 km)

Public transport near the camp site (max. 0.5 km)

Shopping opportunities within %s km
Dogs

Dog(s) in high season (on lead)

Dog(s) in low season (on lead)
Swimming

Sea swimming (max. 0.5 km)

Beach showers
Beach

Sandy beach

Rocky coastline
For children

Children's playground: large

Indoor playground

Crazy golf

No entertainment programme
Toilet facilities

Washbasins: hot water

Washbasins: cold water

Standard toilets

Toilet paper provided

Family toilet facilities

Chemical toilet disposal point

Showers: hot water

Showers: cold water

Family shower

Beach showers
Sport and games

Table tennis table

Tennis court(s)

Jeu de boules alley(s)

Beach volleyball

Crazy golf

Tennis lessons
Ground and vegetation

Pitches with plenty of shade

Marked pitches

Sand
Campsite rules

Dog(s) in high season (on lead)

Dog(s) in low season (on lead)

Caravans allowed

Tents allowed

Small extra tent permitted

Motorhomes allowed

Twin-axle vehicles permitted

Barbecues permitted
Food, drink and groceries

Fresh bread available at the camp site

Restaurant (with ample choice)

Restaurant (limited choice)

Self-service restaurant

Snack bar

Takeaway meals

Communal barbecue area

Exchanging of gas cylinders
Washing, washing-up, cooking

Washing up sinks: hot water

Washing up sinks: cold water

Washing machine(s)

Laundry sinks: cold water

Laundry sinks: hot water

Dryers

Ironing facilities

Cooking facilities for groups
Recreation (adults)

Fishing

Marked out walking routes near the camp site

Excursion programme (at least 2x a week - m.s.)

Television
Water sports and recreation

Fishing

Windsurfing permitted

Windsurfing course

Snorkelling

Waterskiing permitted

Scuba diving

diving course
compressed-air cylinders filled

Diving course

Compressed-air cylinders filled

Sailing permitted
Available to hire at the campsite

Mobile homes

Bungalows/chalets

Apartments

Rooms

Refrigerators

Bicycles

Mountainbikes

Surfboards

Safes

Motor boats

Jet ski
For motorhomes

Motorhomes allowed

Special facilities for motorhomes

Special pitches for motorhomes

water supply and drainage
Surface area: 100 m2
Amount: 36

Also suitable for motorhomes > 8m and > 4 tonnes

length: 12
weight: 8000 kg

Water supply and drainage
Miscellaneous

Footpaths and roads are lit

Patrolled grounds

Quiet during the day and at night
Address & Route
Would you like to book campsite Kamp Jure or request more information? You can do both using the information below.
Kamp Jure
Ivana Gorana Kovacic bb
21300 / Makarska
Croatia


Download GPS coordinates

Select your navigation system:

Direction Makarska. Jure camping sign on the right past Makarska sign.
The weather on this campsite
Weather forecast
Thu

20 / 10

Fri

21 / 10

Sat

22 / 10

Sun

23 / 10

Mon

24 / 10

Tue

25 / 10

Wed

26 / 10

Max.
16.3°
15.2°
15.6°
15.8°
17.5°
19.2°
18.1°
Min.
11.7°
11.6°
9.4°
8.8°
11.6°
12.6°
12.9°
Precipitation
45%
80%
5%
15%
10%
10%
35%
Wind direction
ZO
ZO
N
ZO
ZO
ZO
S
Wind speed
3
3
2
3
3
2
3
Climate
| | | |
| --- | --- | --- |
| | Relative humidity | Precipitation total (mm) |
| Jan | 70% | 83 |
| Feb | 65% | 40 |
| Mar | 65% | 37 |
| Apr | 69% | 75 |
| May | 67% | 46 |
| Jun | 60% | 35 |
| Jul | 57% | 53 |
| Aug | 60% | 30 |
| Sep | 65% | 66 |
| Oct | 70% | 73 |
| Nov | 68% | 154 |
| Dec | 67% | 90 |
Information request
ACSI Eurocampings will send your information request to "Kamp Jure".
Take note; you are sending an information request. You cannot make a reservation using this form. You will need to contact the campsite directly and ACSI Eurocampings cannot have any influence on the consequences thereof.