Campsite Uvala Borova

***
Campsite Uvala Borova is a campsite in Podaca, Split-Dalmatia, located by the sea and in a wood.This terraced camp site has pitches pitches with shade, pitches without shade and pitches with some shade. Uvala Borova is located close to a pebble beach.
Show more

The following rules apply to pets at (Uvala Borova):
- Dog(s) permitted in low season (if on a lead)
- Dog(s) permitted in high season (if on a lead)

For sportive holidaymakers the camp site offers excursion programmes. You can swim nearby in the sea. At Uvala Borova you can go snorkelling and windsurfing.

You don't always have to cook, as the camp site has a pizzeria and restaurant (with snack menu). The camp site also supplies fresh bread. You can also use the internet, as the camp site has one or more computers with an internet connection and you can access the internet with your own laptop in 80% of the camp site.
Low-season discount with CampingCard ACSI
Affordable camping in the low season with CampingCard ACSI
CampingCard ACSI is a useful little card that will earn you up to 50% discount on your holiday! In 2016 you can choose from no fewer than 3142 campsites in 20 European countries. You will pay one of the four fixed, low rates in the early and late season!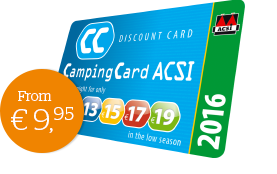 The advantages
Up to 50% discount! You can stay even more inexpensively at the loveliest campsites throughout Europe for four fixed rates using your CampingCard ACSI.

3142 campsites, all inspected by ACSI! You are welcome at 3142 campsites covering 20 European countries with your CampingCard ACSI

Affordable camping with your (grand)children 3 children (under 6 years) are included in the CampingCard ACSI rate at more than 700 campsites
Campsite opening period + your holiday period
August 2016
Mon
Tue
Wed
Thu
Fri
Sat
Sun
1
2
3
4
5
6
7
8
9
10
11
12
13
14
15
16
17
18
19
20
21
22
23
24
25
26
27
28
29
30
31
September 2016
Mon
Tue
Wed
Thu
Fri
Sat
Sun
1
2
3
4
5
6
7
8
9
10
11
12
13
14
15
16
17
18
19
20
21
22
23
24
25
26
27
28
29
30
October 2016
Mon
Tue
Wed
Thu
Fri
Sat
Sun
1
2
3
4
5
6
7
8
9
10
11
12
13
14
15
16
17
18
19
20
21
22
23
24
25
26
27
28
29
30
31
November 2016
Mon
Tue
Wed
Thu
Fri
Sat
Sun
1
2
3
4
5
6
7
8
9
10
11
12
13
14
15
16
17
18
19
20
21
22
23
24
25
26
27
28
29
30
December 2016
Mon
Tue
Wed
Thu
Fri
Sat
Sun
1
2
3
4
5
6
7
8
9
10
11
12
13
14
15
16
17
18
19
20
21
22
23
24
25
26
27
28
29
30
31
31 Campsite open
31 Campsite closed
31 Selected date
Detail information about this campsite
This inspector visits Campsite Uvala Borova every year and inspects the campsite on the basis of more than 200 amenities and other points of interest. The inspector is an ACSI staff member and does not work for the campsite.
Toilet facilities

7.2

Staff

8.1

Price - quality comparison

7.9

Camping pitch

8.0

Accommodation

8.2

Child friendliness

7.2

Entertainment

7.9

Sports facilities

6.2

Swimming pool

4.5

Food and drink

8.0

Surroundings

7.9
Adrian, on this campsite in July 2016
Travelling party: Family with children, 4 – 12 years
Camping Uvala Borova, very good location,with jewelery poor service from staff in reception to the man who makes sure everything works in the camping. Has been a guest of the camping in ten days and hot water have been just an evening shower, stop in toilets. Internet barely works. Mess on The beach. Jewelery unfriendly staff..
Van vliet, on this campsite in July 2016
Travelling party: Couple
Dringend onderhoud nodig bij het sanitair, bijvoorbeeld geen haakjes in de douche, deur valt er bijna uit, voegen zijn slecht, douchekophouder is lam, douches zijn ook erg klein. Wordt wel actief schoongehouden en wc papier en handdroog papier is erg luxe. Standplaats is perfect, bijna direct aan zee. Restaurant hier is het net niet, fles witte wijn die niet koud was, Wiener kalfs Schnitzel die heel droog was maar wel goed opgelost en erg vriendelijk personeel... Gelukkig zit er op loopafstand nog meer restaurants. Winkeltje is erg handig en op de camping zelf dus perfect.
Brigitte Ströbl, on this campsite in October 2015
Travelling party: Seniors
Dieser Campingplatz eignet sich Ideal zum Verweilen bei der Durchreise Richtung Dubrovnik.Der Terrassenplatz liegt nur durch einer kleinen Straße getrennt direkt am Meer.Man kann wunderbar schwimmen klares sauberes Wasser.man bleibt gern länger dort.Empfehlenswert.
Simone, on this campsite in July 2015
Travelling party: Family with children, various ages
ontzettend aardig ontvangst, mooie grootte van kampeerplek, helaas staan ze voor een huisje zodat degene die in het huisje zit zijn auto op jouw plek moet parkeren en over jouw plek naar zijn huisje moet. Zwemmen in de zee, heel mooi snorkelen . Helaas weinig schaduw, je zit op een plek waar ooit een luxe hotel was ( dit is er nog maar dan totaal verloederd en een soort kraakpand ) wat nogal afdoet aan de sfeer
Alles op deze camping is een beetje achterstallig onderhoud.
Restaurant is waanzinnig goedkoop, ontzettend gezellig, heel vriendelijk personeel en heel erg lekker eten !
Perfect als doorreiscamping, misschien voor 2 nachten ook ong
P. Goulooze, on this campsite in June 2015
Deze beoordeling is als enquete afgenomen door onze inspecteur op de camping zelf.
HINKELMANN, on this campsite in June 2015
Travelling party: Seniors
Wir kommen nun schon das 3. Jahr um hier unseren Urlaub zu verbringen. Dabei bleiben wir jedesmal für 3 Monate. Aktuell sind wir auch wieder da und sind mit allem rund um zufrieden.
Verena Puzicha, on this campsite in September 2014
Travelling party: Couple
Terrassencamping mit 6 Plätzen unmittelbar am Wasser. diese Plätze waren klasse! Man musste nur die Treppen herab steigen und war direkt am Strand.
Allerdinsg war das Sanitärgebäude uralt und sehr ungepflegt. es gab Schimmel in den Duschen und keine Ablage um Duschzeug und Anziehsachen abzulegen. es gab nur einen Haken IN der Dusche, wo alles nass wurde. Außerdem waren die Duschen mit Bewegungsmeldern für Licht ausgestattet. wenn man den Duschvorhang vorgezogen hat, hat der Bewegungsmelder einen ander nicht erfasst und man musste im Dunkeln duschen...
Das Restaurant war ein besserer Imbiss, dafür aber eine gute Qualität zu wirklich TOP Preisen und einer sehr netten Bedienung.
Erwin Spring, on this campsite in July 2014
Travelling party: Single
anhängervermietung.ch / Erwin Spring,
Ich bin bereits das zweite mal auf diesem Platz und er ist für mich absolut passend. Gerne empfehle ich den Platz weiter da auch ich beabsichtige nächstes Jahr meinen Urlaub hier zu verbringen.
Umbach, on this campsite in June 2014
Diese Beurteilung wurde von unserem Inspektor als Besucherumfrage selbst auf dem Camping aufgenommen.
Terry Brubaker, on this campsite in June 2014
Travelling party: Seniors
The reception personnel were extremely helpful and friendly. Staff member Irena was particularly helpful and spent over an hour on the phone and the internet helping me find a part for our camper.... much appreciated! Over all, I would recommend this campsite.

The good:
- Nice setting under tall pines with many views of the water. Most of the pitches have good shade but there are also a few that are more sunny.
- Decent beach directly below the bottom row of pitch sites.
- Good restaurant on site, although the loud, up-tempo music caters to the younger crowd. The irritating music would keep me from returning. Also a good store for basic food is on site.
- There is a nice pizza place next door to the camp restaurant with good pizza and quiet with no music, just the sound of the waves.
- The narrow road that goes through the bottom of the site is public but not frequently traveled by vehicles and makes for a nice 1.2 K walk or bike ride along the water to a nice town with beach-front food, etc.
- There are some very nice looking pitches near the water with great views and even though the public road runs right behind them, I would not hesitate to set up camp on one of them.
Limitations/concerns:
-The site is terraced on a steep slope and some of the pitches on the terraced section are not level.
- The toilet block is about 1/3 of the way down from the top of the slope, so getting there and back requires steep steps. There is only one semi-level pitch for a camper on the same level as the toilet block, so this site is not very handicap friendly for those with mobility issues. The flattest pitches are at the bottom of the hill which means more hill walking for those choosing to pitch there.
General information
Guide price 1

€28.10

Guide price 2

€37.40

Period of opening

01/04 till 30/09

Area

2 ha

Number of touring pitches

100 (40 - 80m2)

Number of camper pitches

8

Number of permanent pitches

3

Campsite suitable for disabled persons

Yes
* Facilities printed in bold are not included in the overnight rate. Supplementary charges will apply. (This does not mean that facilities which are not printed in bold are free!)
Popular amenities

WiFi 80-100% coverage

Dog(s) in high season (on lead)

Situated on the coast (max. 0.5 km)

ACSI Club ID is accepted as an identity document
At the reception

ACSI Club ID is accepted as an identity document

Advance booking recommended for high season

Credit cards accepted

credit card: MasterCard | Visa Card

Payment by debit card/Maestro possible

Languages spoken at reception (during the main season)

languages: German | English | French | Italian
Pitch amenities

Water connection at/near the pitch (max. 15 m)

Also suitable for caravans > 5.5m, excluding towbar

Electrical hook-ups possible to maximum %s amps

Max. electricity: 16 ampère

Euro-plug required
Internet

Internet access

WiFi 80-100% coverage
Situation of campsite

Situated on the coast (max. 0.5 km)

Distance to the sea (max. 10 km)

Located in a wood

Panorama

Close to motorway junction (< 10 km)

Public transport near the camp site (max. 0.5 km)

Shopping opportunities within %s km
Dogs

Dog(s) in high season (on lead)

Dog(s) in low season (on lead)
Swimming

Sea swimming (max. 0.5 km)

Beach showers
Beach

Pebble/shingle beach

Stony beach
For children

Children's playground: small

No entertainment programme
Toilet facilities

Washbasins: hot water

Washbasins: cold water

Standard toilets

Toilet paper provided

Chemical toilet disposal point

Toilet-shower combination (215cmsx215cms minimum)

Showers: hot water

Showers: cold water

Water and toilet facilities for disabled people not in the same building, but fitted with alarm

Disabled sanitary facilities only open for the disabled

Shower seat / shower chair (folding or mobile) approximately 48 cm high

Beach showers

Tap without push control
Sport and games
Ground and vegetation

Pitches with plenty of shade

Pitches with some shade

Unshaded pitches

Terraced site

Hard ground
Campsite rules

Dog(s) in high season (on lead)

Dog(s) in low season (on lead)

Caravans allowed

Tents allowed

Motorhomes allowed

Twin-axle vehicles permitted

Own boats permitted

Motorboat
Food, drink and groceries

Fresh bread available at the camp site

Groceries: limited selection

Restaurant (limited choice)

Pizzeria

Takeaway meals

Simple menu

Bar

Communal barbecue area

Freezing for cooling elements
Washing, washing-up, cooking

Washing up sinks: hot water

Washing up sinks: cold water

Washing machine(s)
Recreation (adults)

Fishing

Excursion programme (at least 2x a week - m.s.)

Television
Water sports and recreation

Fishing

Windsurfing permitted

Snorkelling

Scuba diving

Motorboat

Own boats permitted

Sailing permitted
Available to hire at the campsite
Wellness
For motorhomes

Motorhomes allowed

Special pitches for motorhomes

Surface area: 60 m2
Amount: 8

Also suitable for motorhomes > 8m and > 4 tonnes

length: 10
weight: 7000 kg
Miscellaneous

Footpaths and roads are lit

Patrolled grounds

Quiet during the day and at night

Door-springs light enough (3-4 kgs pressure)
Address & Route
Would you like to book campsite Campsite Uvala Borova or request more information? You can do both using the information below.
Campsite Uvala Borova
Lucica 23
21335 / Podaca
Croatia


Download GPS coordinates

Select your navigation system:

Follow coast road. Turn right after Podaca campsite signs. Campsite clearly signposted.
Information request
ACSI Eurocampings will send your information request to "Campsite Uvala Borova".
Take note; you are sending an information request. You cannot make a reservation using this form. You will need to contact the campsite directly and ACSI Eurocampings cannot have any influence on the consequences thereof.