Camping Park Soline is a campsite in Biograd na Moru, Zadar, located by the sea and in a wood.The campsite has pitches which are marked out, pitches with shade, pitches without shade and pitches with some shade. Camping Park Soline is located close to a pebble beach. It is possible to rent bungalows. The camp site has a playground.
Show more

The following rules apply to pets at (Camping Park Soline):
- Dog(s) permitted in low season (if on a lead)
- Dog(s) permitted in high season (if on a lead)

For sportive holidaymakers the camp site offers excursion programmes and various cycle routes. There is an entertainment programme and a fitness room. You can swim nearby in the sea. At Camping Park Soline you can go snorkelling, windsurfing and waterskiing.

You don't always have to cook, as the camp site has a snack bar, pizzeria and restaurant (with full menu). The camp site also supplies fresh bread. You can also use the internet, as you can access the internet with your own laptop in 80% of the camp site.
Download PDF brochure (9.59 MB)
Low-season discount with CampingCard ACSI
Affordable camping in the low season with CampingCard ACSI
CampingCard ACSI is a useful little card that will earn you up to 50% discount on your holiday! In 2016 you can choose from no fewer than 3142 campsites in 20 European countries. You will pay one of the four fixed, low rates in the early and late season!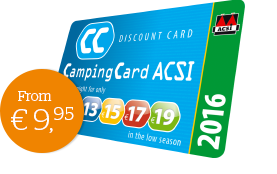 The advantages
Up to 50% discount! You can stay even more inexpensively at the loveliest campsites throughout Europe for four fixed rates using your CampingCard ACSI.

3142 campsites, all inspected by ACSI! You are welcome at 3142 campsites covering 20 European countries with your CampingCard ACSI

Affordable camping with your (grand)children 3 children (under 6 years) are included in the CampingCard ACSI rate at more than 700 campsites
Campsite opening period + your holiday period
August 2016
Mon
Tue
Wed
Thu
Fri
Sat
Sun
1
2
3
4
5
6
7
8
9
10
11
12
13
14
15
16
17
18
19
20
21
22
23
24
25
26
27
28
29
30
31
September 2016
Mon
Tue
Wed
Thu
Fri
Sat
Sun
1
2
3
4
5
6
7
8
9
10
11
12
13
14
15
16
17
18
19
20
21
22
23
24
25
26
27
28
29
30
October 2016
Mon
Tue
Wed
Thu
Fri
Sat
Sun
1
2
3
4
5
6
7
8
9
10
11
12
13
14
15
16
17
18
19
20
21
22
23
24
25
26
27
28
29
30
31
November 2016
Mon
Tue
Wed
Thu
Fri
Sat
Sun
1
2
3
4
5
6
7
8
9
10
11
12
13
14
15
16
17
18
19
20
21
22
23
24
25
26
27
28
29
30
December 2016
Mon
Tue
Wed
Thu
Fri
Sat
Sun
1
2
3
4
5
6
7
8
9
10
11
12
13
14
15
16
17
18
19
20
21
22
23
24
25
26
27
28
29
30
31
31 Campsite open
31 Campsite closed
31 Selected date
Detail information about this campsite
This inspector visits Camping Park Soline every year and inspects the campsite on the basis of more than 200 amenities and other points of interest. The inspector is an ACSI staff member and does not work for the campsite.
Toilet facilities

7.0

Staff

7.5

Price - quality comparison

6.8

Camping pitch

7.9

Accommodation

7.7

Child friendliness

7.1

Entertainment

6.8

Sports facilities

7.0

Swimming pool

5.7

Food and drink

7.6

Surroundings

8.2
Jürgen Schröder, on this campsite in September 2016
Travelling party: Couple
Wir waren mit dem Wohnmobil einen Tag und eine Nacht auf einem Platz mit Wasser, Strom und Abwasseranschluss, aber zu tiefst entsetzt über die 4 Sterne Bewertung: Es roch aus dem nicht verschließbaren, mit einer Plastiktüte bedeckten Abwasseranschluss; die Sanitäranlagen für Damen als auch Herren waren in einem desolaten Zustand mit losen Toilettenbrillen, stark beschädigten Einhebelwasserhähnen, \"blinden\" Spiegeln und loser und einer herausgerissenen Steckdose. Insbesondere waren die Duschen und Toiletten schrecklich verschmutzt - es gab eine!! oberflächliche Reinigung während unseres Aufenthalts. Insgesamt entsprachen die sehr einfachen Sanitäranlagen in keinem Fall einer 4 Sterne-Bewertung, bestenfalls 2 Sterne. Der Blick in das Beschwerdebuch zeigte viele Eintragungen gleicher Art. Dass bei einem 4 Sterne Camping Strandduschen zusätzlich zu zahlen sind, ist nicht nachvollziehbar. Wer Sauberkeit und Ruhe verbunden mit einem schönen Badestrand sucht, sollte diesen Campingpark meiden - auch außerhalb der Saison (Wie muss es erst in dieser Zeit sein?).
HW+K. M., on this campsite in September 2016
Travelling party: Seniors
Wir waren leider unwissend und sind mit einem doppelachsigen Wohnwagen auf diesen Campingplatz gefahren. Die einzelnen Plätze sind zwar groß genug, aber mit so vielen Bäumen bestückt, daß es schon mit einem kleinen Wagen , (und der muß dann auch noch mit einer Rangierhilfe ausgerüstet sein, ) schwierig ist, Platz zu finden. Wenn dann noch das Vorzelt hinzukommt, dann wird's eng. Was nützen mir 100 qm, wenn mindestens 2 Bäume (teilweise noch mehr) mitten drauf stehn. Durch die vielen Bäume ist die Nutzung der Plätze fast unmöglich.
Nach langem Suchen haben wir dann einen Stellplatz gefunden und unseren Wagen schräg aufgebaut, damit wir dann auch das Vorzelt aufbauen konnten. Der PKW hatte daher kein Platz mehr.
Das Thema Sauberkeit in den Sanitäranlagen ist für einen 4-Sterne-Platz absolut nicht ausreichend. Die von uns am Anfang unseres Urlaubs (wir wollten 3 Wochen bleiben) vorgefundene Verschmutzung hat uns bis zum Ende (wir haben es 9 Tage ausgehalten) begleitet. Zum Beispiel wurden die defekten Duschköpfe und Schläuche trotz Beanstandung nicht ausgewechselt.
Der Strand ist durch eine starkbenutzte Promenade vom Platz getrennt und für Fahrräder völlig ungeeignet. Die dort angrenzenden Sanitärhäuser haben wir gar nicht benutzt, da jeder ( vor allem Außenstehende ) diese benutzt haben.
Da sich Bar`s und Restaurant`s dort (wie an einer Perle aufgereiht) die Hand geben, ist die Lautstärke der Musik nicht zu ertragen und das geht dann bis in die frühen Morgenstunden. Ein gesunder Schlaf und eine Erholung ist dabei unmöglich.
Unserer Meinung nach hat man von den 4 Sternen mindestens 2 Sterne vom Himmel geholt. Wir werden diesen Campingplatz für dieses Geld nicht nochmal besuchen und auch sicherlich nicht weiter empfehlen
Rooijakkers, on this campsite in June 2016
Travelling party: Couple
Fijne camping met een mooie boulevard. Sanitair is in orde en wordt vaak gepoetst. Plaatsen zijn verschillend, sommige hebben te veel bomen en die staan dan in de weg. Voor de gewone fiets is het daar minder geschikt, je kunt beter een mountainbike hebben. Je kunt overal eten tegen een redelijke prijs
Roland L., on this campsite in September 2015
Travelling party: Family with children, 4 – 12 years
Der Campingplatz war im September nur noch etwa zur Hälfte belegt und liegt etwas abseits, sodass man auf das Auto angewiesen ist um nach Biograd zu gelangen.
Der obere Platzteil ist von Mobilheimen dominiert, der untere Platzteil ist für Camper vorgesehen. Das Gelände ist leicht abfallend und durch ausreichend Bäume beschattet. Die Parzellen haben Wasser- und Abwasseranschluss, und sind durch kleine Mäuerchen oder Bewuchs unterteilt. Die Parzellen sind jedoch relativ klein. Es passen keine doppelachsigen Wohnwagen drauf.
Ein kleiner Bäckerladen ist auf dem Platz. Bis hier macht der Platz noch ein sympathischen Eindruck - bis man ihn in Richtung "Strand" verlässt.
Ab jetzt wird mit falschen Tatsachen gespielt. Die Bilder in der Homepage zeigen nicht die Realität. Der Strandbereich ist sehr schmal und durch eine öffentliche Flaniermeile getrennt. De Fakto existiert kein eigener Strand. Der gesamte Strandabschnitt ist eine riesige Vergnügungsmeile die vom Campingplatz bis nach Biograd reicht. Die im Internet gezeigten Attraktionen für Kinder gehören nicht zum Campingplatz und müssen separat bezahlt werden. Duschen am Strand müssen separat bezahlt werden. Dieser Strand ist durch Tagesgäste bis auf den letzten Quadratmeter überfüllt. Der Campingplatz dient als öffentliche Toilette. Jeder geht ein und aus, demzufolge sind die Sanitäreinrichtungen in Strandnähe eine einzige Kloake. Am Abend spielt die Musik auf. Überall wummert und trällert es sehr laut. Die Singbespaßung im Campingrestaurant ist unzumutbar (war das russisch?) und endet nicht wie beispielsweise in Italien üblich um 23:00 Uhr, nein, es geht bis weit nach Mitternacht. Von der Vergnügungsmeile wummern bis 04:30 die Bässe. An Schlaf ist nicht zu denken. Hat man zudem das Pech, dass die Parzelle an einem Hauptweg liegt, darf man sich noch das Gegröle besoffener Menschen anhören. Die Sanitäreinrichtungen sind fast alle versifft, in den Männerduschen stand 2 cm hoch das Wasser weil der Ablauf zu hoch angebracht war. Nachdem die Nachbarn sagten, dass es noch eine verhältnismäßig ruhige Nacht war, haben wir nach bereits 1 Nacht fluchtartig den Platz verlassen.
Hugo Winther, on this campsite in September 2015
Travelling party: Seniors
Pladsen er ok. Vejen langs stranden ind til byen er dejlig skyggefuld. Toiletter er lidt slidt, men rene og der er masser af varmt vand. God bager på pladsen men for lidt udvalg af kolonial vare.
Kristian Dam, on this campsite in July 2015
Travelling party: Seniors
Standplads i lilla zone, med god skygge. Pladserne er meget forskellig i størrelse på grund af placering af træer, nogle gange midt på pladsen.
Pladsen er rolig, hvis man ikke ligger for tæt på restauranten med underholdning (til kl.02) tre gange om ugen.
Toiletter dårlig vedligeholdt, ingen eller knækkede kroge og hylder i bruserum. Bruserne gav ikke meget vand og der var tit intet varmt vand. Rengøring ok. Omgivelserne er gode, særlig promenaden langs vandet ind til Biograd.
Manfred Kleinheinz, on this campsite in July 2015
Travelling party: Family with children, various ages
Platz für Wohnwagen war in unserer Kategorie Zone Lila O:K.CA öffentlich zugänglich Tag und Nacht, Tagesgäste benützten auch Duschen und WC, Strandduschen sind zu Bezahlen. Sanitäreinrichtungen wurden immer Gereinigt, Zustand der selbigen eine Katastrophe. Damenduschen kein Wasserdruck, ab 19 Uhr nur kaltes Wasser. Männerduschen sin auch nicht besser, Duschtassen laufen nicht ab. Der Preis ist viel zu Hoch gesetzt. Zu wenige Duschhäuser. Maximal 2 Sterne.
Laudor, on this campsite in June 2015
Travelling party: Couple
Für das Geld zu teuer. Der Campingplatz hat eine sehr gute Lage doch es herrscht leider keine Ruhe. Die Wochenenden waren der Horror ..ab 22 Uhr bis morgens 5-6 Uhr laute Musik von Bars..Rollerfahrer rasten über den Platz...gröhlende besoffene Leute....war an Erholung nicht zu denken. Duschen und Toiletten einfach schrecklich..ein Handtuch aufzuhängen war nicht möglich weil überall Haken fehlten...Duschbrausen kann man nicht befestigen und muss man in der Hand halten ( wenn welche vorhanden sind)..das Restaurant war oki...Strand war nicht sauber...überall laufen Hunde und schwimmen auch dort...wir werden diesen Platz niemandem empfehlen und auch nicht mehr wiederkommen..
Sloots, on this campsite in June 2015
Travelling party: Seniors
Een hele grote camping. wij waren er begin juni toen was 25% bezet. Ideaal gewoon. Ik moet er niet aan denken als de camping vol staat.
Het sanitair was redelijk, wel goed schoon maar technisch slecht onderhouden. Er ontbreken bijna overal haakjes om wat op te hangen en plankjes om wat op te zetten. Het is moeilijk douchen zo. Via een mooi wandelpad loop je in een kwartier naar Biograd.
Thomas Streckert, on this campsite in June 2015
Travelling party: Single
Ist das Geld nicht wert ist zu teuer . Waschhäuser sehr runtergekommen lose Steckdosen , Personal freundlich . Strand nicht gepflegt . Promenade in die Stadt ist super
General information
Guide price 1

€45.40

Guide price 2

€57.80

Period of opening

22/04 till 30/09

Area

20 ha

Number of touring pitches

1123 (90 - 100m2)

Number of camper pitches

348

Number of permanent pitches

200

Number of accommodation units for hire

125

Campsite suitable for disabled persons

Yes

Eco campsite

Yes
* Facilities printed in bold are not included in the overnight rate. Supplementary charges will apply. (This does not mean that facilities which are not printed in bold are free!)
Popular amenities

WiFi 80-100% coverage

Dog(s) in high season (on lead)

Situated on the coast (max. 0.5 km)

ACSI Club ID is accepted as an identity document
At the reception

ACSI Club ID is accepted as an identity document

Advance booking recommended for high season

Passport/identity card required

Credit cards accepted

credit card: Amex | Diners Club | MasterCard | Visa Card

Payment by debit card/Maestro possible

Cash dispenser/cashback possible

Languages spoken at reception (during the main season)

languages: German | English | French | Italian
Pitch amenities

Water connection at/near the pitch (max. 15 m)

Waste water drainage at/near the pitch (max. 15 m)

Tap at/near the pitch (max. 50 m)

Also suitable for caravans > 5.5m, excluding towbar

Electrical hook-ups possible to maximum %s amps

Max. electricity: 16 ampère

Euro-plug required
Internet
Situation of campsite

Situated on the coast (max. 0.5 km)

Distance to the sea (max. 10 km)

Located in a wood

Shopping opportunities within %s km
Dogs

Dog(s) in high season (on lead)

Dog(s) in low season (on lead)
Swimming

Sea swimming (max. 0.5 km)

Beach showers
Beach

Pebble/shingle beach

Stony beach

Artificially hardened beach
For children

Children's playground: large

Entertainment programme: Children (at least 2x a week - h.s.)

languages: German | English | Italian
period: 15-06/15-09

Baby room
Toilet facilities

Washbasins: hot water

Washbasins: cold water

Standard toilets

Toilet paper provided

Chemical toilet disposal point

Toilet-shower combination (215cmsx215cms minimum)

Showers: hot water

Showers: cold water

Water and toilet facilities for disabled people in the same building as for the other campers

Disabled sanitary facilities only open for the disabled

Baby room

Beach showers
Sport and games

Table tennis table

Jeu de boules alley(s)

Fitness

Beach volleyball
Ground and vegetation

Pitches with plenty of shade

Pitches with some shade

Unshaded pitches

Marked pitches

Hard standing pitches

Hard ground
Campsite rules

Dog(s) in high season (on lead)

Dog(s) in low season (on lead)

Caravans allowed

Tents allowed

Small extra tent permitted

Motorhomes allowed

Twin-axle vehicles permitted

Barbecues permitted

type of BBQ: electricity | gas

Own boats permitted

Motorboat
Food, drink and groceries

Fresh bread available at the camp site

Groceries: limited selection

Restaurant (with ample choice)

Snack bar

Pizzeria

Bar

Communal barbecue area
Washing, washing-up, cooking

Washing up sinks: hot water

Washing up sinks: cold water

Washing machine(s)

Laundry sinks: cold water

Laundry sinks: hot water

Dryers

Ironing facilities
Recreation (adults)

Entertainment for children from 13 to 18 years (at least 2x a week - h.s.)

languages: German | English | Italian
period: 15-06/15-09

Entertainment programme: Adults (at least 2x a week - h.s.)

languages: German | English | Italian
period: 15-06/15-09

Fishing

Cycle routes starting at the camp site

level: difficult | average

Excursion programme (at least 2x a week - m.s.)

Television
Water sports and recreation

Fishing

Windsurfing permitted

Snorkelling

Waterskiing permitted

Scuba diving

compressed-air cylinders filled

Compressed-air cylinders filled

Motorboat

Own boats permitted

Sailing permitted
Available to hire at the campsite
For motorhomes

Motorhomes allowed

Special pitches for motorhomes

Surface area: 100 m2
Amount: 348

Also suitable for motorhomes > 8m and > 4 tonnes

length: 10
weight: 6000 kg
Miscellaneous

Footpaths and roads are lit
Address & Route
Would you like to book campsite Camping Park Soline or request more information? You can do both using the information below or by visiting the campsite's website.
Camping Park Soline
Put Kumenta 16
23210 / Biograd na Moru
Croatia


Download GPS coordinates

Select your navigation system:

On the A1 Karlovac-Split motorway past Zadar take exit Biograd na Moru. Continue to Benkovac/Biograd and turn left at the first traffic lights. Signposted.
The weather on this campsite
Weather forecast
Fri

28 / 10

Sat

29 / 10

Sun

30 / 10

Mon

31 / 10

Tue

01 / 11

Wed

02 / 11

Thu

03 / 11

Max.
19.1°
20.7°
19.7°
18.6°
17.3°
16.5°
16.8°
Min.
9.8°
5.4°
6.7°
7.6°
6.4°
5.6°
9.4°
Precipitation
0%
0%
0%
0%
0%
15%
40%
Wind direction
NO
N
NW
N
N
S
ZO
Wind speed
3
2
2
3
2
2
3
Climate
| | | |
| --- | --- | --- |
| | Relative humidity | Precipitation total (mm) |
| Jan | 64% | 101 |
| Feb | 57% | 33 |
| Mar | 58% | 36 |
| Apr | 61% | 149 |
| May | 57% | 51 |
| Jun | 51% | 106 |
| Jul | 46% | 20 |
| Aug | 49% | 22 |
| Sep | 60% | 143 |
| Oct | 65% | 70 |
| Nov | 64% | 137 |
| Dec | 62% | 66 |
Information request
ACSI Eurocampings will send your information request to "Camping Park Soline".
Take note; you are sending an information request. You cannot make a reservation using this form. You will need to contact the campsite directly and ACSI Eurocampings cannot have any influence on the consequences thereof.