Campsite Sylvamar is a campsite in Labenne, Landes, located in a wood.The campsite has pitches which are marked out, pitches with shade, pitches without shade and pitches with some shade. Sylvamar is located close to a sandy beach. It is possible to rent mobile homes and bungalows. The camp site has a playground, an indoor playground and a sports ground.
Show more

The following rules apply to pets at (Sylvamar):
- Dog(s) permitted in low season (if on a lead)
- Dog(s) permitted in high season (if on a lead)

For sportive holidaymakers the camp site offers various cycle routes. There is an entertainment programme and a fitness room. For those who want to relax after a busy day there is a sauna, whirlpool, steam bath and a beauty centre. The camp site has a leisure pool, an outdoor swimming pool, a heated outdoor swimming pool, a heated indoor pool and a toddlers' pool. There is also water slide.

You don't always have to cook, as the camp site has a pizzeria and restaurant (with full menu). The camp site also supplies fresh bread. You can also use the internet, as the camp site has one or more computers with an internet connection and you can access the internet with your own laptop in 80% of the camp site.
Low-season discount with CampingCard ACSI
Affordable camping in the low season with CampingCard ACSI
CampingCard ACSI is a useful little card that will earn you up to 50% discount on your holiday! In 2016 you can choose from no fewer than 3142 campsites in 20 European countries. You will pay one of the four fixed, low rates in the early and late season!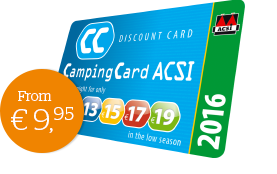 The advantages
Up to 50% discount! You can stay even more inexpensively at the loveliest campsites throughout Europe for four fixed rates using your CampingCard ACSI.

3142 campsites, all inspected by ACSI! You are welcome at 3142 campsites covering 20 European countries with your CampingCard ACSI

Affordable camping with your (grand)children 3 children (under 6 years) are included in the CampingCard ACSI rate at more than 700 campsites
Campsite opening period + your holiday period
August 2016
Mon
Tue
Wed
Thu
Fri
Sat
Sun
1
2
3
4
5
6
7
8
9
10
11
12
13
14
15
16
17
18
19
20
21
22
23
24
25
26
27
28
29
30
31
September 2016
Mon
Tue
Wed
Thu
Fri
Sat
Sun
1
2
3
4
5
6
7
8
9
10
11
12
13
14
15
16
17
18
19
20
21
22
23
24
25
26
27
28
29
30
October 2016
Mon
Tue
Wed
Thu
Fri
Sat
Sun
1
2
3
4
5
6
7
8
9
10
11
12
13
14
15
16
17
18
19
20
21
22
23
24
25
26
27
28
29
30
31
November 2016
Mon
Tue
Wed
Thu
Fri
Sat
Sun
1
2
3
4
5
6
7
8
9
10
11
12
13
14
15
16
17
18
19
20
21
22
23
24
25
26
27
28
29
30
December 2016
Mon
Tue
Wed
Thu
Fri
Sat
Sun
1
2
3
4
5
6
7
8
9
10
11
12
13
14
15
16
17
18
19
20
21
22
23
24
25
26
27
28
29
30
31
31 Campsite open
31 Campsite closed
31 Selected date
Detail information about this campsite
This inspector visits Campsite Sylvamar every year and inspects the campsite on the basis of more than 200 amenities and other points of interest. The inspector is an ACSI staff member and does not work for the campsite.
Toilet facilities

7.2

Staff

8.0

Price - quality comparison

7.8

Camping pitch

7.8

Accommodation

8.1

Child friendliness

8.5

Entertainment

8.2

Sports facilities

8.2

Swimming pool

8.6

Food and drink

7.9

Surroundings

7.6
Annelies, on this campsite in May 2016
Travelling party: Seniors
Wij waren hier in het voorseizoen. Normaal qua formaat niet onze camping: te groot. Maar wat was het heerlijk rustig! Personeel krijgt hier een 10, niets was ze te veel, ze spreken verschillende talen. Wifi gratis! Schrik alleen niet op vrijdagmiddag, dan komt er een complete invasie binnen van Spanjaarden tot zondag. Geeft een hoop drukte, maar ook gezelligheid. Prima omgeving om te fietsen. We zijn ongepland 2 weken gebleven.
Aude, on this campsite in September 2015
Travelling party: Couple
A l\'accueil un personnel très très sympathique, qui a eu la gentillesse de nous prévenir de l\'arrivée d\'un énorme groupe pour le we. Nous avons donc adapté notre séjour en fonction de ces arrivants !!
Piscines magnifiques, sanitaires impécables (nettoyés plusieurs fois par jour par des personnes compétentes et très attentives !! ), supérette applique des prix corrects. En septembre en semaine c\'est un camping très calme (les we sont surement plus agités, mais nous sommes prévenus ... donc on s\'adapte !! :) )
Posez vous et profitez, vous avez tout sur place !! :)
Harold Meads, on this campsite in September 2014
Travelling party: Seniors
There are a couple of comprehensive reviews before this one that sum up this site very well so I\'ll be brief.
As seniors we travel in France in low season a) to use the ACSI card and b) because things are quieter low season. Sylvamar may be quieter in September but it is not not quiet.
The close proximity to the Spanish border attracts loads of Spanish family campers at weekends and facilities got well used. The pool complex is excellent.and there are restaurants and bars adjacent.
Our pitch was near the pool and the toilet/showers serving this area gave an appearance of luxury - wrought iron, a fountain, richly coloured tiles and piped soft relaxing music, clean tidy and plenty of hot water - however, there were not enough WCs for the morning rush.
We stayed for 3 night Thurs -Sat. Friday afternoon saw a constant stream of arrivals and this went on well into the evening filling most of the pitches. At 11.0 pm there loads of people were to-ing and fro-ing with kids zooming about on bikes and skates etc all chattering away as though it was the middle of the day. We didn\'t mind this as it created a nice cosmopolitan atmosphere. However, if you\'re the kind of person that likes to be in bed at 10.30 pm (for whatever reason) this may not suit you.
All in all a very well appointed site and good value for three nights. Would go again.
Rob S, on this campsite in August 2014
Travelling party: Seniors
De kwaliteit van de door ons bezochte campings van Yellow Vilage staat op een eenzame hoogte. Onze complimenten!!
Barry Stockdale, on this campsite in July 2014
Travelling party: Couple
We chose to stay here after being very impressed by 2 other sites in the 'Leading Campings' chain and it was on our route back through France. Sadly the site did not live up to expectations.
Location
The site is located in pine woods near the beach and is well signposted from Labenne.
A lot of other caravan parks are also situated nearby.
There are several bars and restaurants within a few minutes walking distance from the site. Adjacent to the site there is a large adventure playground and a small water park. There is also a Zoo nearby plus lots of other activities geared to families.
It's a thirty minute drive to Biarritz and St Jean de Luz which was lovely.
Reception
There was a warm welcome and the team of receptionists speak several languages. We booked in with no hassle and were told we could walk around first and select our own pitch.
Pitches
All pitches are on sandy ground and most have good shade provided by the pine trees. All pitches have water, drainage and power. The vast majority of pitches are huge and could easily accommodate a large caravan, awning and up to 2 or 3 cars. Access roads are good and it was easy to get the caravan onto a pitch.
Given that the French school holidays were about to begin we were surprised that only about 40% of the pitches were occupied.
Sanitary Facilities
Not as good as other sites in this chain. The sanitary block nearest to us was very dated indeed. The tiles on the shower floor I am sure were clean but were brown around the edges, making them look unclean. If you wanted water pressure you had to have a cold shower. If you wanted hot water you had to wait a while and lost all the pressure. This is not what I expect from a 5* site. On the whole it was an unsatisfactory showering experience which my wife was not prepared to repeat. We did find a newer block on a more recent part of the site which seemed little used as it was among bungalows with their own facilities. This did look and feel much better.
Shops
There is a reasonably priced small supermarket which also serves bread and bakery goods each morning
Pools
There is a large outdoor pool with tame waterslide, a lazy river and lots of sunbeds. There is also an indoor heated pool for younger children with lots of opportunities to splash and squirt water.
There is a pool at the Spa complex for which you will have to pay an admission fee.
Eating
There is a take away and restaurant on site. The take away serves pizzas, hamburgers etc.
The restaurant has a decent menu and is well priced. The pizzas looked good and we enjoyed our Moules et frites.
The staff were attentive and very jolly.
Animations
Loads of stuff for kids with several activities during the day for various age groups.
You can also hire bikes
There was some form of live entertainment every night between 09.30 and 11.00pm plus a junior disco at about 8.30pm.
Other Stuff
There's a large children's playground plus football and volley ball areas.
There is an expensive Spa called Dune & Eau.
Summary
A large family orientated site with lots going on. We managed to get in at the end of the low season and so paid a special prices using our ACSI card.
Security was good with overnight patrols and all noise ended at 11pm. It was very peaceful overnight and not too bad during the day actually.
As previously stated, the site does not measure up will to other sites in the 'Leading Campings' chain. The pitches are not well maintained (straggly grass and unpruned trees and hedges). The staff that we dealt with seemed to be well trained and courteous.
The biggest let down were the sanitary families. Don't get me wrong, if you drive onto this site having been on a rustic Spanish site (and we have) you will be pleasantly surprised. It depends what your benchmark is. If I was asked to recommend a family site with lots going on, this one would not be in my top ten.
In addition to the touring pitches there are a lot of bungalows/statics for rent.
popo, on this campsite in September 2013
Travelling party: Seniors
Étant des habitués des yellow village, ne partant que hors saison, quel fut notre déception. Bloc sanitaire, wc fêlé, entartre, sol encrassé, porte accès aux douches non sécurise (enfant qui joue claque les portes coulissantes, nous restons coinces à l'intérieur à attendre qu' une personne daigne venir avec les clés pour nous délivrer, sans aucun mot d'excuse). Emplacement caravane, obligé d'acheter un râteau pour pouvoir s'installer, demande de prêt de râteau à la réception , réponse 'ce n'est pas à vous de le faire, je vous envoie quelqu'un dans la journée'. Jusqu'au jour de notre départ, personne n'est venue.

Camping très très bruyant, de jour comme de nuit (chien aboyant toute la journée et enfants hurlant jusque tard dans la nuit). Espagnols ne respectant pas la tranquillités des autres campeurs.

Piscine que pour les petits enfants, bassin "moyen " même pas équipée d'une échelle de sortie, grand bassin (en profondeur) impossible de nager sans se faire sauter dessus.
transat :propreté à désiré.

Camping 900 m de la plage FAUX, de notre emplacement à la réception 500m, de la réception à la première place du parking de la plage 1500m et nous ne sommes pas encore arrivée a la plage.

A notre départ après avoir passée une nuit sans dormir vu le bruit des surfeurs qui se vengeaient du bruit des espagnols pendant leur séjour. Nous avons fait par de notre mécontentement à la réception, la réponse " si nous étions pas content nous avions qu'a partir" nous avons demander à voir la direction " cela était impossible", j'ai dit que dans mon métier je ne pouvais pas me permettre des erreurs , réponse "si votre métier ne vous conviens pas , vous avez qu'a en changer".

Internet: ai réglé 15 jours, mais pas de remboursement si départ avant,( cause du bruit et du manque de compréhension de la réception) car nous devions resté trois semaines,nous avons tenus six jours.


Conclusion: camping mal entretenu,bruyant, non accueillant de certain personnel, beaucoup de chose de fermée pour un yellow, la devise de l'enseigne tout les services doivent être accessible de l'ouverture à la fermeture.

Prenez exemple chez vos collègues, de la Cote de Nacre, le Panorama du Pyla et bien sur les top du top de l'accueil et de la propreté le Serignan plage ainsi que les Vikings.
JE NE RECOMMANDERAI PAS VOTRE CAMPING.
PERNIN, on this campsite in September 2013
Travelling party: Seniors
Tout très bien, seul bemol l'éloignement de la plage. Bien 20mn a pieds, donc problème pour les personnes peu mobiles et les enfants, car en camping car on n'a toujours un moyen de transport. Les vélos sont donc indispensable. Sinon très bon camping, propre, accueillant, très belle piscine, beaux emplacements.
LECOMTE, on this campsite in September 2013
Travelling party: Seniors
Camping agréable mais trop bruyant le week-end et assez éloigné des commerces et de la plage (voiture ou vélo nécessaires) Sanitaires et équipement propres.
J. Nijkamp, on this campsite in September 2013
Travelling party: Couple
We arriveerden op 26/9 's middags op deze camping. Bij aankomst bleek dat de camping dat weekend zou sluiten, hoewel de ACSI DVD 2013 aangeeft dat de camping tot 31/10 open is. Ook het restaurant, de pizzeria, de winkel en het zwembad blijven tot einde seizoen open. Niks van dat alles en brood was ook niet verkrijgbaar, terwijl er toch behoorlijk wat plaatsen bezet waren! Voor de Wifi wordt de hoofdprijs gevraagd, echt bespottelijk. Als goedmaker krijg je een kaartje mee, waarmee je 30 minuten kunt internetten.
Sabine Dulfer, on this campsite in September 2013
Travelling party: Couple
Netter, großer CP unter hohen Bäumen. Daher sind sehr viele Stellplätze schattig, der Untergrund ist Sand. Überwiegend sind sie voneinander mit Hecken und Büschen abgetrennt.
Die Einrichtungen auf dem Platz sind super: es gibt sowohl draußen als auch drinnen ein tolles Erlebnisbad, außerdem einen Wellnessbereich, mehrere Ballspielplätze und viel Programm für Kinder.
Die sanitären Einrichtung sind schön gemacht, jedes ist in einem anderen Stil gefliest und eingerichtet. Leider hakt es bei der Funktionalität: obwohl der Wasserdruck der Duschen schlecht ist, läuft das Abwasser zu langsam ab und man watet im Mittelgang immer in großen Pfützen. Am Waschbecken läuft das Wasser ebenfalls schlecht ab. Die Toiletten sind teilweise reparaturbedürftig.
Schade ist auch, dass die Wasserstellen zwischen den Stellplätzen unangenehm riechen.
Der Weg zum Meer ist länger als 800m und zieht sich an der Straße entlang. Der Strand ist aber hübsch.
Die Pizza zum Mitnehmen auf dem Platz war lecker.
General information
Guide price 1

€58.20

Guide price 2

€73.20

Period of opening

23/03 till 09/10

Area

14 ha

Number of touring pitches

225 (100 - 150m2)

Number of camper pitches

40

Number of accommodation units for hire

280

Campsite suitable for disabled persons

Yes
* Facilities printed in bold are not included in the overnight rate. Supplementary charges will apply. (This does not mean that facilities which are not printed in bold are free!)
Popular amenities

Outdoor swimming pool

heated
surface area: 1500 m2

Indoor swimming pool (heated)

Tropical leisure pool

WiFi 80-100% coverage

Dog(s) in high season (on lead)

ACSI Club ID is accepted as an identity document

Mobile homes
At the reception

Reservation with CampingCard ACSI also possible

ACSI Club ID is accepted as an identity document

Advance booking recommended for high season

Credit cards accepted

credit card: Amex | Diners Club | MasterCard | Visa Card

Cash dispenser/cashback possible

Defibrillator

Reception easily accessible for the disabled

Languages spoken at reception (during the main season)

languages: German | English | Spanish | French | Dutch
Pitch amenities

Water connection at/near the pitch (max. 15 m)

Waste water drainage at/near the pitch (max. 15 m)

Tap at/near the pitch (max. 50 m)

Also suitable for caravans > 5.5m, excluding towbar

Electrical hook-ups possible to maximum %s amps

Max. electricity: 10 ampère

Euro-plug required
Internet

Internet access

WiFi 80-100% coverage
Situation of campsite

Distance to the sea (max. 10 km)

Located in a wood

Close to motorway junction (< 10 km)

Shopping opportunities within %s km
Dogs

Dog(s) in high season (on lead)

Dog(s) in low season (on lead)
Swimming

Indoor swimming pool (heated)

Tropical leisure pool

Water slide (> 10 m)

Outdoor swimming pool

heated
surface area: 1500 m2

Heated

Toddlers' pool (ages 1-3, < 40 cm)

heated
surface area: 400 m2

Heated
Beach
For children

Water slide (> 10 m)

Children's playground: large

Toddlers' pool (ages 1-3, < 40 cm)

heated
surface area: 400 m2

Heated

Entertainment programme: Children (at least 2x a week - h.s.)

languages: English | Spanish | French | Dutch

Games room

Dance nights

Mini club (at least 4x a week - high season)

languages: German | English | Spanish | French | Dutch

Indoor playground

Children's sanitary facilities

Baby room

Water play area

Bouncy castle

Video games

Crazy golf
Toilet facilities

Washbasins: hot water

Washbasins: cold water

Heated toilet facilities

Individual washcabins: hot water

Individual washcabins: cold water

Children's sanitary facilities

Standard toilets

Toilet paper provided

Chemical toilet disposal point

Showers: hot water

A shower (150 cmsx150 cms minimum) and a toilet (165x220cms or 190cmsx190cms minimum)

Water and toilet facilities for disabled people in the same building as for the other campers

Shower seat / shower chair (folding or mobile) approximately 48 cm high

Baby room
Sport and games

Table tennis table

Multi-sports field

Tennis court(s)

Jeu de boules alley(s)

Fitness

Riding

Pony trekking

Beach volleyball

Crazy golf

Golf course nearby (max. 10 km)

Archery
Ground and vegetation

Pitches with plenty of shade

Pitches with some shade

Unshaded pitches

Marked pitches

Grass

Sand
Campsite rules

Dog(s) in high season (on lead)

Dog(s) in low season (on lead)

Caravans allowed

Tents allowed

Small extra tent permitted

Motorhomes allowed

Barbecues permitted

type of BBQ: electricity | gas
Food, drink and groceries

Fresh bread available at the camp site

Groceries: extensive selection

Shop/supermarket with level entrance or with ramp

Restaurant (with ample choice)

Canteen/restaurant with level entrance or with ramp

Pizzeria

Takeaway meals

Bar

Communal barbecue area

Freezing for cooling elements

Ice available
Washing, washing-up, cooking

Washing up sinks: hot water

Washing up sinks: cold water

Washing machine(s)

Laundry sinks: cold water

Laundry sinks: hot water

Dryers

Ironing facilities
Recreation (adults)

Entertainment for children from 13 to 18 years (at least 2x a week - h.s.)

languages: English | Spanish | French | Dutch

Entertainment programme: Adults (at least 2x a week - h.s.)

languages: English | Spanish | French | Dutch

Cycle routes starting at the camp site

Marked out walking routes near the camp site

Games room

Pool or billiards

Television

Video games
Available to hire at the campsite

Mobile homes

Bungalows/chalets

Bicycles

Mountainbikes

Locked refrigerator

Safes
Wellness

Sauna

Whirlpool

Steam bath

Beauty centre

Hydromassage

Massage
For motorhomes

Motorhomes allowed

Special facilities for motorhomes

Special pitches for motorhomes

hardened base for motorhomes
water supply and drainage
Surface area: 200 m2
Amount: 40

Also suitable for motorhomes > 8m and > 4 tonnes

Hardened base for motorhomes

Water supply and drainage
Miscellaneous

Footpaths and roads are lit

Patrolled grounds

Quiet during the day and at night

Temporary pitches outside the campsite without electr.
Address & Route
Would you like to book campsite Campsite Sylvamar or request more information? You can do both using the information below.
Campsite Sylvamar
avenue de l'Océan
40530 / Labenne-Océan
France


Download GPS coordinates

Select your navigation system:

In Bordeaux continue to Bayonne on the A63 and the N10 as far as exit 8 in Bénesse-Maremne, then the D810 towards Labenne. Turn right in Labenne towards Labenne-Océan on the D126. Campsite about 3 km on the right.

Warning! Since July 13 2015, many French campsites are prohibited from installing their own signpost. We advise to use GPS-coordinates to locate the campsite.
The weather on this campsite
Weather forecast
Thu

27 / 10

Fri

28 / 10

Sat

29 / 10

Sun

30 / 10

Mon

31 / 10

Tue

01 / 11

Wed

02 / 11

Max.
18.4°
21.8°
22.8°
22.4°
22°
20°
19°
Min.
11.2°
7.7°
9.7°
10.9°
10.1°
10.7°
11.6°
Precipitation
0%
0%
5%
5%
5%
20%
15%
Wind direction
NO
E
E
E
SW
SW
SW
Wind speed
2
2
2
2
2
2
3
Climate
| | | | |
| --- | --- | --- | --- |
| | Relative humidity | Precipitation total (mm) | Hours of sunshine |
| Jan | 75% | 105 | 4 |
| Feb | 80% | 96 | 3 |
| Mar | 75% | 111 | 5 |
| Apr | 75% | 105 | 5 |
| May | 81% | 88 | 6 |
| Jun | 79% | 80 | 7 |
| Jul | 80% | 69 | 7 |
| Aug | 80% | 81 | 7 |
| Sep | 77% | 107 | 7 |
| Oct | 78% | 160 | 5 |
| Nov | 78% | 154 | 3 |
| Dec | 75% | 121 | 3 |
Information request
ACSI Eurocampings will send your information request to "Campsite Sylvamar".
Take note; you are sending an information request. You cannot make a reservation using this form. You will need to contact the campsite directly and ACSI Eurocampings cannot have any influence on the consequences thereof.