Campsite Les Platanes

***
Campsite Les Platanes is a campsite in Charny, Yonne, located on a river/stream.The campsite has pitches which are marked out, pitches with shade and pitches with some shade. It is possible to rent mobile homes.
Show more

The following rules apply to pets at (Les Platanes):
- Dog(s) permitted in low season (if on a lead)
- Dog(s) permitted in high season (if on a lead)

For sportive holidaymakers the camp site offers various cycle routes. There is an entertainment programme. The camp site has an outdoor swimming pool and a heated outdoor swimming pool.

The camp site also supplies fresh bread. You can also use the internet, as you can access the internet with your own laptop in 80% of the camp site.
Low-season discount with CampingCard ACSI
Affordable camping in the low season with CampingCard ACSI
CampingCard ACSI is a useful little card that will earn you up to 50% discount on your holiday! In 2016 you can choose from no fewer than 3142 campsites in 20 European countries. You will pay one of the four fixed, low rates in the early and late season!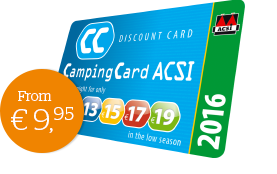 The advantages
Up to 50% discount! You can stay even more inexpensively at the loveliest campsites throughout Europe for four fixed rates using your CampingCard ACSI.

3142 campsites, all inspected by ACSI! You are welcome at 3142 campsites covering 20 European countries with your CampingCard ACSI

Affordable camping with your (grand)children 3 children (under 6 years) are included in the CampingCard ACSI rate at more than 700 campsites
Campsite opening period + your holiday period
August 2016
Mon
Tue
Wed
Thu
Fri
Sat
Sun
1
2
3
4
5
6
7
8
9
10
11
12
13
14
15
16
17
18
19
20
21
22
23
24
25
26
27
28
29
30
31
September 2016
Mon
Tue
Wed
Thu
Fri
Sat
Sun
1
2
3
4
5
6
7
8
9
10
11
12
13
14
15
16
17
18
19
20
21
22
23
24
25
26
27
28
29
30
October 2016
Mon
Tue
Wed
Thu
Fri
Sat
Sun
1
2
3
4
5
6
7
8
9
10
11
12
13
14
15
16
17
18
19
20
21
22
23
24
25
26
27
28
29
30
31
November 2016
Mon
Tue
Wed
Thu
Fri
Sat
Sun
1
2
3
4
5
6
7
8
9
10
11
12
13
14
15
16
17
18
19
20
21
22
23
24
25
26
27
28
29
30
December 2016
Mon
Tue
Wed
Thu
Fri
Sat
Sun
1
2
3
4
5
6
7
8
9
10
11
12
13
14
15
16
17
18
19
20
21
22
23
24
25
26
27
28
29
30
31
31 Campsite open
31 Campsite closed
31 Selected date
Detail information about this campsite
This inspector visits Campsite Les Platanes every year and inspects the campsite on the basis of more than 200 amenities and other points of interest. The inspector is an ACSI staff member and does not work for the campsite.
Toilet facilities

8.2

Staff

8.6

Price - quality comparison

8.4

Camping pitch

8.6

Accommodation

8.3

Child friendliness

8.0

Entertainment

7.1

Sports facilities

7.9

Swimming pool

8.1

Food and drink

7.8

Surroundings

8.3
Hans, on this campsite in July 2016
Travelling party: Seniors
Camping gebruikt als overnachtingscamping. Vriendelijk te woord gestaan door de receptionist. Leuke plek gevonden met water, afvoer en electra op de plek zelf. Mooi zwembad en leuk mini-terrasje met vriendelijke bediening. Sanitair is mooi, alleen wordt het niet geweldig bijgehouden. \'s-Avonds was er volop entertainment, erg gezellig, maar het had zijn invloed op de staat van het sanitair. Wij konden gelukkig daarvoor in onze eigen caravan terecht. Douches waren prima en nog schoon, Lavabos idem. Toiletten lieten te wensen over. Winkels en mogelijkheid tot tanken dichtbij. Gratis WiFi. Kortom: voor 1 nacht was het voor ons om te doen, maar geen aanrader voor langere tijd, puur vanwege het niet schone sanitair. Geen aanrader voor rustzoekers.
Panjer, on this campsite in July 2016
Travelling party: Family with children, 4 – 12 years
Op weg naar huis vanuit het zuiden 5 dagen op deze camping gestaan. De camping is handig gelegen voor uitstapjes in de omgeving, zoals naar Auxerre, Chablis, St. Fargeau en Guedelon. De kampeerplaatsen zijn mooi met voldoende schaduw indien gewenst. Het zwembad is redelijk. MAAR. Het sanitair wordt veel te weinig en niet goed schoongemaakt. De urinoirs zaten verstopt en liepen over. Toch maar eens gevraagd of ze daar nog iets aan gingen doen, aangezien je door een plas urine naar de overige toiletten moest lopen. Hierop werd verontwaardigd en zelfs onbeschoft gereageerd. Het probleem werd niet opgelost. Er wordt (niet eens elke dag) \'schoongemaakt\' door alles met desinfectiemiddel af te spoelen. Het lijkt of er nergens een doek of een schrobber overheen wordt gehaald. We vonden dit ontzettend jammer, de camping heeft verder alles in zich om een goede camping te zijn. Er wordt bijna elke avond iets van vermaak georganiseerd, met muziek/geluid. Dit kan een playbackshow zijn of een barbecue. Dit maakt de camping erg levendig. Je moet er niet heengaan voor rust en stilte, aangezien het soms tot laat in de avond door kan gaan. Het lijkt kortom of de beheerders leven voor het vermaak en de schoonmaak een vervelende bijkomstigheid vinden. Overigens was het personeel bij de receptie wel vriendelijk. Er komt zelfs iemand bij je plaats langs als je nog geen brood hebt besteld voor de volgende ochtend om te vragen of je dat alsnog wilt.
Marlene Frey, on this campsite in September 2015
Travelling party: Couple
Wir haben den Platz 2x im September jeweils für eine Nacht besucht. Wir waren mit den Sanitärs unzufrieden: kein Toilettenpapier, keine Seife, keine Handtücher. Die Waschbecken und Spiegel waren schmutzig, ebenso die Toiletten. Das war bei den Vorbesitzern ganz anders. Im übrigen war der Platz auch nicht mehr so gepflegt wie wir es gewohnt waren. Schade! Der Empfang war ausgesprochen freundlich,aber ungepflegte Sanitärs sind ein absolutes No Go !!
Günter Masurek, on this campsite in July 2015
Travelling party: Couple
Anfang Juli 2015 wollten wir nur eine Nacht dort mit dem Wohnwagen übernachten und dann weiter. Aus der einen Übernachtung wurden fünf !!! Uns gefiel der Platz, die Herzlichkeit der Besitzer und der Angestellten und das ganze rundum !! Die wechselnden (kostenlosen)
Animationen (in die man eingebunden wurde) fanden wir ganz toll. Wir werden diesen Platz, allein schon von der Ruhe her mit Sicherheit wieder besuchen !!!
Geraldine und Marc sind einfach nur SPITZE !!
Danke für die schönen Tage .
J. Chapron, on this campsite in June 2015
Cette appréciation résulte d'une enquête réalisée sur le site du camping par nos inspecteurs.
Steven, on this campsite in July 2014
Travelling party: Young couple
De camping is inderdaad overgenomen, de receptie is tussen 12.00 en 16.00 uur gesloten. Verder is er geen korting meer voor Guedelon. Wat overblijft is wel een erg mooie en nette camping. De gemeente heeft de camping tijdelijk overgenomen en de medewerkers van de gemeente zijn bijzonder vriendelijk en behulpzaam. Sanitair is zeer schoon, alleen de douches geven soms wat weinig water. Het zwembad is inmiddels gevuld en in de omgeving is erg veel te zien! In Charny zelf bijvoorbeeld Cyclorail (fietsen over het spoor), Guedelon is indrukwekkend en met het toegangskaartje van Guedelon krijg je korting op het Spektakel in Saint Fargeau (elke vrijdagavond en zaterdagavond om 22.00 uur in juli en augustus). Verder is de Caves Bailly Lapierre een tip voor wijnliefhebbers.
MJN Borsboom, on this campsite in June 2014
Travelling party: Seniors
Wat een geweldige camping! Ruime plaatsen, grasbodem. Prettige ontvangst. Voormalige eigenaar is vertrokken. Camping overgenomen door gemeente. Vooralsnog geen ACSI MEER. Zwembad was vanwege de overname nog niet te gebruiken. Een aanrader, ook nadat het geen Acsi-camping meer is.
Marianne, on this campsite in October 2013
Travelling party: Couple
Hier overnacht in oktober 2013, met de campingcard. Verzorgde camping, gras met bomen en struiken. Werkelijk brandschoon sanitair! Toiletpapier aanwezig, evenals een zeeppompje en papieren handdoekjes. Sanitair kan verwarmd worden. Ruim invalidentoilet en -douche. Haardroger op aanvraag verkrijgbaar bij receptie. De camping wordt 's nachts afgesloten met een hek, waarvoor je een toegangscode krijgt, tot 22.00 uur open. Op paar honderd meter lopen vind je een bakkertje die al om 5.45 uur open is, dus ook vroege vogels kunnen al een broodje bemachtigen. Supermarktje met tankstation tegenover de bakker. Prima gegeten in L Auberge de Bourgogne, een leuk restaurantje met o.a. een prima dagmenu met keuze uit 5 voor-, hoofd- en nagerechten. Een aanrader deze camping!
van Heijningen, on this campsite in September 2013
Travelling party: Seniors
Zeer prettige uitbaters, vriendelijk en zeer behulpzaam op elk gebied, ook als je pech hebt met je caravan. Leuke ruime plaatsen en gratis wifi, loopafstand van bakker, slager en supermarkt. Leuke wandelmogelijkheden gelijk vanaf de camping achterom. Komen hier zeker terug.
Fred, on this campsite in July 2013
Travelling party: Family with children, various ages
Fijne rustige camping met zeer ruime plaatsen met schaduw (meerprijs) of zonder schaduw. Sanitair is goed schoon en voorzien van wc papier, toiletbrillen, zeep en spons en trekker om zelf netjes achter te laten.
Personeel/eigenaar is vriendelijk en heel behulpzaam, de eigenaar is wel streng, zeker m.b.t. de zwembadregels. Het zwembad viel ons tegen omdat het ondiep en klein is en er erg veel reglementen zijn: niet springen, geen shorts, ouders moeten toezicht houden. Voor ouderen en hele kleine kinderen prima, maar voor tieners niet echt een leuk zwembad. Voor de rest kunnen tieners zich vermaken met tafeltennis, voetbalveld, tafelvoetbal en volleybalveld. Verder is er een trampoline, speeltuin en animatie voor de kleinere kinderen. Groot voordeel is, dat de camping vlak bij het centrum ligt. Supermarkt, is op loopafstand. Tegenover apotheek zit een goed restaurant. In omgeving veel te zien/te doen. Voor ouderen of gezinnen met kleine kinderen en/of rustige tieners ideale camping.
General information
Guide price 1

€22.50

Guide price 2

€34.50

Period of opening

01/04 till 30/10

Area

2 ha

Altitude

130m

Number of touring pitches

91 (100 - 120m2)

Number of camper pitches

6

Number of accommodation units for hire

13

Campsite suitable for disabled persons

Yes
* Facilities printed in bold are not included in the overnight rate. Supplementary charges will apply. (This does not mean that facilities which are not printed in bold are free!)
Popular amenities

Outdoor swimming pool

heated
surface area: 84 m2

WiFi 80-100% coverage

Dog(s) in high season (on lead)

ACSI Club ID is accepted as an identity document

Mobile homes
At the reception

ACSI Club ID is accepted as an identity document

Advance booking recommended for high season

Credit cards accepted

credit card: MasterCard | Visa Card

Payment by debit card/Maestro possible

Languages spoken at reception (during the main season)

languages: German | English | Spanish | French | Dutch
Pitch amenities

Water connection at/near the pitch (max. 15 m)

Waste water drainage at/near the pitch (max. 15 m)

Tap at/near the pitch (max. 50 m)

Electrical hook-ups possible to maximum %s amps

Max. electricity: 16 ampère

Euro-plug required
Internet
Situation of campsite

Situated on river/stream (max. 0.1 km)

Public transport near the camp site (max. 0.5 km)

Shopping opportunities within %s km
Dogs

Dog(s) in high season (on lead)

Dog(s) in low season (on lead)
Swimming

Outdoor swimming pool

heated
surface area: 84 m2

Heated
For children

Entertainment programme: Children (at least 2x a week - h.s.)

languages: French
period: 01-07/31-08

Children's playground: small

Games room

Mini club (at least 4x a week - high season)

languages: English | French

Trampoline
Toilet facilities

Washbasins: hot water

Washbasins: cold water

Heated toilet facilities

Individual washcabins: hot water

Individual washcabins: cold water

Standard toilets

Toilet paper provided

Squatting-toilets

Chemical toilet disposal point

Showers: hot water

Showers: cold water

A shower (150 cmsx150 cms minimum) and a toilet (165x220cms or 190cmsx190cms minimum)

Water and toilet facilities for disabled people in the same building as for the other campers

Shower seat / shower chair (folding or mobile) approximately 48 cm high
Sport and games

Table tennis table

Tennis court(s)

Jeu de boules alley(s)
Ground and vegetation

Pitches with plenty of shade

Pitches with some shade

Marked pitches

Grass
Campsite rules

Dog(s) in high season (on lead)

Dog(s) in low season (on lead)

Caravans allowed

Tents allowed

Small extra tent permitted

Motorhomes allowed

Barbecues permitted

type of BBQ: charcoal | electricity | gas
Food, drink and groceries

Fresh bread available at the camp site

Groceries: limited selection

Shop/supermarket with level entrance or with ramp

Bar
Washing, washing-up, cooking

Washing up sinks: hot water

Washing up sinks: cold water

Washing machine(s)

Laundry sinks: cold water

Laundry sinks: hot water

Dryers

Ironing facilities
Recreation (adults)

Entertainment programme: Adults (at least 2x a week - h.s.)

languages: French
period: 01-07/31-08

Fishing

Cycle routes starting at the camp site

Marked out walking routes near the camp site

Games room

Television
Water sports and recreation
Available to hire at the campsite

Mobile homes

Bicycles

Lodge tent without toilet facilities
For motorhomes

Motorhomes allowed

Special pitches for motorhomes

Surface area: 80 m2
Amount: 6

Also suitable for motorhomes > 8m and > 4 tonnes
Miscellaneous

Footpaths and roads are lit

Patrolled grounds

Quiet during the day and at night
Address & Route
Would you like to book campsite Campsite Les Platanes or request more information? You can do both using the information below.
Campsite Les Platanes
41 route de la Mothe
89120 / Charny
France


Download GPS coordinates

Select your navigation system:

A6 exit 18. Follow the recommended route to the campsite.

Warning! Since July 13 2015, many French campsites are prohibited from installing their own signpost. We advise to use GPS-coordinates to locate the campsite.
The weather on this campsite
Weather forecast
Fri

21 / 10

Sat

22 / 10

Sun

23 / 10

Mon

24 / 10

Tue

25 / 10

Wed

26 / 10

Thu

27 / 10

Max.
13.7°
14°
14.8°
17.6°
17.7°
16.7°
16.5°
Min.
8.4°
4.5°
3.4°
11.3°
11.2°
7.9°
7.6°
Precipitation
20%
5%
45%
80%
65%
15%
10%
Wind direction
NW
E
E
S
W
W
SW
Wind speed
2
2
3
2
2
2
2
Climate
| | | | |
| --- | --- | --- | --- |
| | Relative humidity | Precipitation total (mm) | Hours of sunshine |
| Jan | 87% | 46 | 2 |
| Feb | 83% | 49 | 3 |
| Mar | 77% | 59 | 4 |
| Apr | 76% | 112 | 5 |
| May | 74% | 76 | 7 |
| Jun | 71% | 61 | 7 |
| Jul | 72% | 88 | 7 |
| Aug | 69% | 41 | 8 |
| Sep | 79% | 65 | 5 |
| Oct | 85% | 94 | 4 |
| Nov | 89% | 89 | 2 |
| Dec | 88% | 67 | 2 |
Information request
ACSI Eurocampings will send your information request to "Campsite Les Platanes".
Take note; you are sending an information request. You cannot make a reservation using this form. You will need to contact the campsite directly and ACSI Eurocampings cannot have any influence on the consequences thereof.