Campsite La Perle is a campsite in Fourneaux, Creuse.This terraced camp site and camp site with sloping grounds has pitches which are marked out, pitches with shade, pitches without shade and pitches with some shade. It is possible to rent tents, mobile homes and bungalows. The camp site has a playground and a sports ground.
Show more

The following rules apply to pets at (La Perle):
- Dog(s) permitted in low season (if on a lead)
- Dog(s) permitted in high season (if on a lead)

For sportive holidaymakers the camp site offers various cycle routes. The camp site has an outdoor swimming pool and a toddlers' pool.

You don't always have to cook, as the camp site has a restaurant (with snack menu) and restaurant (with full menu). The camp site also supplies fresh bread. You can also use the internet, as you can access the internet with your own laptop in 80% of the camp site.
Can also be found in ACSI Great Little Campsites app
Low-season discount with CampingCard ACSI
Affordable camping in the low season with CampingCard ACSI
CampingCard ACSI is a useful little card that will earn you up to 50% discount on your holiday! In 2016 you can choose from no fewer than 3142 campsites in 20 European countries. You will pay one of the four fixed, low rates in the early and late season!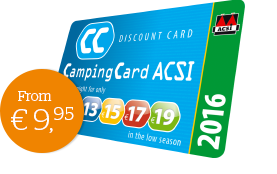 The advantages
Up to 50% discount! You can stay even more inexpensively at the loveliest campsites throughout Europe for four fixed rates using your CampingCard ACSI.

3142 campsites, all inspected by ACSI! You are welcome at 3142 campsites covering 20 European countries with your CampingCard ACSI

Affordable camping with your (grand)children 3 children (under 6 years) are included in the CampingCard ACSI rate at more than 700 campsites
Campsite opening period + your holiday period
August 2016
Mon
Tue
Wed
Thu
Fri
Sat
Sun
1
2
3
4
5
6
7
8
9
10
11
12
13
14
15
16
17
18
19
20
21
22
23
24
25
26
27
28
29
30
31
September 2016
Mon
Tue
Wed
Thu
Fri
Sat
Sun
1
2
3
4
5
6
7
8
9
10
11
12
13
14
15
16
17
18
19
20
21
22
23
24
25
26
27
28
29
30
October 2016
Mon
Tue
Wed
Thu
Fri
Sat
Sun
1
2
3
4
5
6
7
8
9
10
11
12
13
14
15
16
17
18
19
20
21
22
23
24
25
26
27
28
29
30
31
November 2016
Mon
Tue
Wed
Thu
Fri
Sat
Sun
1
2
3
4
5
6
7
8
9
10
11
12
13
14
15
16
17
18
19
20
21
22
23
24
25
26
27
28
29
30
December 2016
Mon
Tue
Wed
Thu
Fri
Sat
Sun
1
2
3
4
5
6
7
8
9
10
11
12
13
14
15
16
17
18
19
20
21
22
23
24
25
26
27
28
29
30
31
31 Campsite open
31 Campsite closed
31 Selected date
Detail information about this campsite
"Cosy family camp site with restaurant, swimming-pool, playground and children's farm. In an unique environment in the midst of the beautiful nature of La Creuse. From the terraces you have a beautiful view over the valley. The dutch owners try to make you feel comfortable."
Toilet facilities

8.0

Staff

8.2

Price - quality comparison

7.8

Camping pitch

7.9

Accommodation

7.8

Child friendliness

8.3

Entertainment

7.7

Sports facilities

7.5

Swimming pool

7.6

Food and drink

8.1

Surroundings

7.8
E keijzer, on this campsite in June 2016
Travelling party: Seniors
Gewoon een topcamping we werden rondgeleid door de eigenaar zelf die zijn talen perfect op orde had ook het eten was gewoon subliem en dat voor een redelijke prijs.
Wij hadden een topvakantie en hebben voor volgend jaar weer geboekt.
Daniela beers, on this campsite in May 2016
Travelling party: Couple
Heerlijke tijd gehad, mooie natuur .De eigenaars weten alle mooie plekjes en helpen je graag.
De stacaravan was heerlijk goed geslapen en van alle gemakken voorzien ..leuke marktjes in de buurt en op de camping kan je heerlijk eten.. goed zwembad en super schoon sanitair ..echt een aanrader.heerlijke camping voor de Kids en in het voor sezoen voor de natuurliefhebbers. .nog een bbq gehuurd top geregeld.. De eigenaars spreken vloeiend Frans mocht er wat zijn helpen ze je meteen
Mimigold, on this campsite in May 2016
Travelling party: Seniors
Accueil lamentable
En cas de pluie soutenue, les terrains deviennent impraticables.
L\'équipement des Mobil-Home est en dessous du minimum.
Le relevage de la barrière d\'entrée est effectué via un appel téléphonique sur des réseaux parfois défaillants. Dans ce cas, vous restez dehors!
Propriétaires seulement animés de vénalité.
Si vous êtes Français et que vous ne comprenez pas le néerlandais, passez votre chemin car toutes les indications sont dans cette langue.
Berthelot, on this campsite in September 2015
Travelling party: Family with children, various ages
Personnes désagréables et donnant de mauvais renseignements, nous disant au téléphone resto ouvert et des notre arrivée à non ça n ouvre que demain, nous aurions passe notre chemin, mais nous venions de régler le camping pour nos deux caravanes et notre critère de choix était le resto, sachant que ce camping est très éloigné de toutes restauration, passez votre chemin, de plus les photos viennent d être changées, sur l une d elle il y avait un cours d eau et un pont !!! ou est il, la barriere s ouvre avec un mumero de téléphone, si pas de réseaux vous restez à la barriere et personne de la direction ne vient ouvrir , c est un accueil lamentable
Berthelot, on this campsite in September 2015
Travelling party: Group of friends
Nous y étions passés l\'an dernier, sans problème. Je téléphone cette fois ci car nous étions avec des amis, je demande si le restaurant est ouvert, ont me dit oui, à notre arrivée prenons 2 emplacement caravanes et je demande si nous devons réserver pour le resto et la ???? Le resto n ouvre que demain de qui se moque t on, sachant qu il n y a rien aux alentours, nous faisons 30 km pour dîner, nous aurions pris un autre camping si la réponse avait été non pour le resto du soir. De plus pour rentre ou sortir de ce camping il faut avoir un téléphone portable et faire un numéro de téléphone, et la quand il n y a pas de réseaux ont ne rentre pas et la direction nous prends pour des imbéciles, me disant mais non ça passe automatiquement sur un autre réseau.enfin si vous êtes français passez votre chemin tout ou presque y est noté en hollandais, l accueil est déplorable
Breepoel, on this campsite in August 2015
Travelling party: Family with children <4 years
Na 2.5 week La Perle hier mijn bevindingen.

Sanitair is op het oog schoon maar de voegen zijn vies en overal zijn de putdeksel eraf gehaald. Niet echt fijn als je je dochter van 1.5 aan het douchen bent. Er ontstaat zo een gat waar makkelijk een voetje in kan.

Zwembad is prima maar voor kleine kinderen koud omdat hij niet verwarmd is . Maar er is ook een pierenbadje aanwezig voor de aller kleinste.

De camping plaats heeft genoeg schaduw en is ruim opgezet. Er is alleen geen sprake van een vlakke grond. De wortels van de bomen groeien boven de grond. Maar je bent dan ook in de natuur.
Moment dat wij er waren (augustus) was er veel last van wespen. Na wat na vraag bij de camping uitbater. Was ik nog geen steek verder. En oplossing van hun kant is maak maar een wespen val.

Animatie was aanwezig voor de eerste week van onze vakantie. De rest van augustus word niet gezien als seizoen door de baas. Enige Animatie die er nu is, is een natuur wandeling. Ik ben naar de uitleg avond geweest. De man die deze wandeling geeft doet het echt heel goed en heeft zeker kennis van zaken. Maar voor ons een beetje duur voor een wandeling. (De wandeling zelf hebben wij niet gedaan dus daar kan ik dan ook geen mening over geven).

Restaurant wordt als zorgen kindje ook gevoerd. Je kan eten maar dan wel pas om 19.00 (we hebben het hier over een camping die zich als kind vriendelijk profileert ) Er wordt ook meteen verteld dat de keuken eerder dicht kan zijn als de baas vindt dat er niks te doen is. Bij na vraag over hoe de chef kookt wordt er verteld dat hij alleen maar vers kookt.
Bij ons eerste bezoek wordt dat al ontkracht met dat alle groente zijn ingelegd in zuur dus uit een pot.
Ook bij ons tweede bezoek krijg ik champignons uit blik bij mijn Limousine biefstuk. En weer de pot groente.

Na een dag met regen in de tent te hebben gezeten waren wij toe aan een wijntje op het terras. Die er zeker uitnodigend uitziet. Bij ons 2de glaswijn willen we wel iets lekkers. Dus aan de baas gevraagd of hij bitterballen heeft. Het antwoord is ja dus ik vraag naar bitterballen. Antwoord nee geen denken aan kan pas om 19 00 ga echt geen frituur aan doen (het was 16.00) Daarna gaat hij weer zitten voor je neus en gaat verder met zijn roken. Dus de Limburgse gezelligheid is hier kwijt denk ik.

Brooddienst is ook een van regels van de baas. Je kan je brood ophalen om 9.00. We hebben het hier nog steeds over een kindvriendelijke camping. De prijzen zijn zo belachelijk hoog. maar ze hebben goed bij je b.. want je moet een stuk rijden als je zelf naar de bakker wilt. Hebben wij opgelost met een broodmachine mee te nemen.

Voor de rest is de camping voor tent niet duur. Maar gastvrijheid of horeca skills zijn hier niet aanwezig. Krijg sterk de indruk dat ze er niet zo veel zin in hebben. Dit zal dan ook voor ons geen tweede bezoek worden. Verwachtingen waren hoog door de tekst op de goed uitziende site. En neer gesabeld door de baas zelf. Jammer

Altijd eindigen met iets positiefs, er zijn gezellige mensen op de camping als gast.
leydier, on this campsite in June 2015
Travelling party: Couple
Bien pour le prix dans l\'ensemble.
L\'emplacement pour les camping cars est assez réduit, mais goudronné maintenant.Sanitaire trés propres et suffisants pour l\'époque.
R. Strubbe, on this campsite in July 2014
Deze beoordeling is als enquete afgenomen door onze inspecteur op de camping zelf.
L.Donders, on this campsite in June 2014
Travelling party: Seniors
Hier kun je kamperen zoals kamperen bedoeld is. Mooie plaatsen, wij vonden dat wij het mooiste plaatsje hadden. Hopelijk vindt iedereen dat op deze cp. die beheerd wordt door super gezellige mensen.
Het eten is er heerlijk, het terras geweldig. Het happy hour , een aanrader om contacten te leggen. De omgeving nodigt uit om tripjes te maken. Als doortrekcp ideaal, maar zeker weten dat je een nacht langer blijft zoals wij er 6 van maakten.
Merle Drury, on this campsite in June 2014
Travelling party: Seniors
We stayed there twice for one night en route to and from our final destination, owing to its convenience on our route. Built on a steep slope with level pitches in shade if wanted (essential in a tent). Toilet block refurbished and tidy. Pool and bar area on an upper level was tidy and attractive. Bar prices reasonable (happy hour).On a busy road, so noisy for tenters. Good for passing through but not somewhere to stay as walking, cycling inhibited by traffic on road. Seems isolated and a bit bleak. Pleasant lady owner. Obviously mainly a Dutch site as all signs and information were in Dutch.
General information
Guide price 1

€19.50

Guide price 2

€23.00

Period of opening

01/04 till 30/09

Area

3 ha

Altitude

540m

Number of touring pitches

33 (50 - 120m2)

Number of camper pitches

3

Number of accommodation units for hire

14
* Facilities printed in bold are not included in the overnight rate. Supplementary charges will apply. (This does not mean that facilities which are not printed in bold are free!)
Popular amenities

Outdoor swimming pool

surface area: 72 m2
period: 01-06/30-08

WiFi 80-100% coverage

Dog(s) in high season (on lead)

ACSI Club ID is accepted as an identity document

Mobile homes
At the reception

ACSI Club ID is accepted as an identity document

Advance booking recommended for high season

Languages spoken at reception (during the main season)

languages: German | English | French | Dutch
Pitch amenities

Water connection at/near the pitch (max. 15 m)

Tap at/near the pitch (max. 50 m)

Also suitable for caravans > 5.5m, excluding towbar

Electrical hook-ups possible to maximum %s amps

Max. electricity: 10 ampère
Internet
Situation of campsite

Panorama

Shopping opportunities within %s km
Dogs

Dog(s) in high season (on lead)

Dog(s) in low season (on lead)
Swimming

Outdoor swimming pool

surface area: 72 m2
period: 01-06/30-08

Toddlers' pool (ages 1-3, < 40 cm)

surface area: 10 m2
period: 01-06/30-08

Sunbathing area
For children

Children's playground: large

Toddlers' pool (ages 1-3, < 40 cm)

surface area: 10 m2
period: 01-06/30-08

Children's playground: small

Baby room

Trampoline

Animal meadow

No entertainment programme
Toilet facilities

Washbasins: hot water

Washbasins: cold water

Standard toilets

Toilet paper provided

Chemical toilet disposal point

Showers: hot water

Family shower

Baby room
Sport and games

Table tennis table

Multi-sports field

Jeu de boules alley(s)

Pony trekking

Golf course nearby (max. 10 km)
Ground and vegetation

Pitches with plenty of shade

Pitches with some shade

Unshaded pitches

Marked pitches

Grass

Terraced site

Hard standing pitches

Sloping site
Campsite rules

Dog(s) in high season (on lead)

Dog(s) in low season (on lead)

Caravans allowed

Tents allowed

Small extra tent permitted

Motorhomes allowed

Barbecues permitted

type of BBQ: electricity | gas
Food, drink and groceries

Fresh bread available at the camp site

Restaurant (with ample choice)

Restaurant (limited choice)

Bar

Freezing for cooling elements
Washing, washing-up, cooking

Washing up sinks: hot water

Washing up sinks: cold water

Washing machine(s)

Laundry sinks: cold water

Laundry sinks: hot water
Recreation (adults)

Fishing

Cycle routes starting at the camp site

Marked out walking routes near the camp site

Television
Water sports and recreation
Available to hire at the campsite

Mobile homes

Bungalows/chalets

Tents

Refrigerators
For motorhomes

Motorhomes allowed

Special pitches for motorhomes

Surface area: 64 m2
Amount: 3

Also suitable for motorhomes > 8m and > 4 tonnes
Miscellaneous

Footpaths and roads are lit

Quiet during the day and at night
Address & Route
Would you like to book campsite Campsite La Perle or request more information? You can do both using the information below.
Campsite La Perle
Commune de St. Médard-la-Rochette
23200 / Fourneaux
France


Download GPS coordinates

Select your navigation system:

A20 exit 23 direction Guéret, then D942 direction Aubusson. Campsite well signposted.

Warning! Since July 13 2015, many French campsites are prohibited from installing their own signpost. We advise to use GPS-coordinates to locate the campsite.
The weather on this campsite
Weather forecast
Tue

25 / 10

Wed

26 / 10

Thu

27 / 10

Fri

28 / 10

Sat

29 / 10

Sun

30 / 10

Mon

31 / 10

Max.
17.9°
15.7°
15.7°
16.8°
15.9°
17.1°
16.8°
Min.
9.6°
11°
6.9°
3.9°
4.5°
6°
7.9°
Precipitation
35%
35%
5%
5%
5%
10%
15%
Wind direction
NO
NO
NO
NO
NO
ZO
S
Wind speed
1
2
2
1
2
2
2
Climate
| | | | |
| --- | --- | --- | --- |
| | Relative humidity | Precipitation total (mm) | Hours of sunshine |
| Jan | 83% | 71 | 3 |
| Feb | 80% | 69 | 4 |
| Mar | 74% | 92 | 5 |
| Apr | 75% | 123 | 5 |
| May | 72% | 80 | 6 |
| Jun | 71% | 82 | 7 |
| Jul | 75% | 111 | 8 |
| Aug | 70% | 71 | 8 |
| Sep | 77% | 70 | 6 |
| Oct | 83% | 124 | 4 |
| Nov | 87% | 148 | 3 |
| Dec | 85% | 123 | 2 |
Information request
ACSI Eurocampings will send your information request to "Campsite La Perle".
Take note; you are sending an information request. You cannot make a reservation using this form. You will need to contact the campsite directly and ACSI Eurocampings cannot have any influence on the consequences thereof.
Advertisement text
Quiet, cosy family campsite, Dutch owners. Natural scenery, hospitality, a breathtaking view, river at walking distance. Restaurant/bar/pavement cafe, swimming pool, playground, sports field, ponies, nature walks. Chalets, mobile homes, caravans and tents for rent. WiFi available.