Campsite Le Bouquier is a campsite in Caromb, Vaucluse.This terraced camp site has pitches which are marked out, pitches with shade, pitches without shade and pitches with some shade. It is possible to rent mobile homes.
Show more

The following rules apply to pets at (Le Bouquier):
- Dog(s) permitted in low season (if on a lead)
- Dog(s) permitted in high season (if on a lead)

For sportive holidaymakers the camp site offers various cycle routes. There is a fitness room. For those who want to relax after a busy day there is a sauna and whirlpool. The camp site has an outdoor swimming pool.

You don't always have to cook, as the camp site has a snack bar, self service restaurant and restaurant (with snack menu). The camp site also supplies fresh bread. You can also use the internet, as there is a WiFi point.
Low-season discount with CampingCard ACSI
Affordable camping in the low season with CampingCard ACSI
CampingCard ACSI is a useful little card that will earn you up to 50% discount on your holiday! In 2016 you can choose from no fewer than 3142 campsites in 20 European countries. You will pay one of the four fixed, low rates in the early and late season!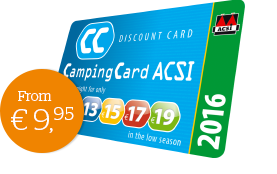 The advantages
Up to 50% discount! You can stay even more inexpensively at the loveliest campsites throughout Europe for four fixed rates using your CampingCard ACSI.

3142 campsites, all inspected by ACSI! You are welcome at 3142 campsites covering 20 European countries with your CampingCard ACSI

Affordable camping with your (grand)children 3 children (under 6 years) are included in the CampingCard ACSI rate at more than 700 campsites
Campsite opening period + your holiday period
August 2016
Mon
Tue
Wed
Thu
Fri
Sat
Sun
1
2
3
4
5
6
7
8
9
10
11
12
13
14
15
16
17
18
19
20
21
22
23
24
25
26
27
28
29
30
31
September 2016
Mon
Tue
Wed
Thu
Fri
Sat
Sun
1
2
3
4
5
6
7
8
9
10
11
12
13
14
15
16
17
18
19
20
21
22
23
24
25
26
27
28
29
30
October 2016
Mon
Tue
Wed
Thu
Fri
Sat
Sun
1
2
3
4
5
6
7
8
9
10
11
12
13
14
15
16
17
18
19
20
21
22
23
24
25
26
27
28
29
30
31
November 2016
Mon
Tue
Wed
Thu
Fri
Sat
Sun
1
2
3
4
5
6
7
8
9
10
11
12
13
14
15
16
17
18
19
20
21
22
23
24
25
26
27
28
29
30
December 2016
Mon
Tue
Wed
Thu
Fri
Sat
Sun
1
2
3
4
5
6
7
8
9
10
11
12
13
14
15
16
17
18
19
20
21
22
23
24
25
26
27
28
29
30
31
31 Campsite open
31 Campsite closed
31 Selected date
Detail information about this campsite

This inspector visits Campsite Le Bouquier every year and inspects the campsite on the basis of more than 200 amenities and other points of interest. The inspector is an ACSI staff member and does not work for the campsite.
Toilet facilities

6.5

Staff

6.9

Price - quality comparison

7.0

Camping pitch

8.1

Accommodation

7.1

Child friendliness

6.5

Entertainment

6.6

Sports facilities

6.4

Swimming pool

6.6

Food and drink

6.9

Surroundings

8.7
J. PITANCE, on this campsite in July 2016
Travelling party: Couple
Comme chez soi...! Séjour vraiment agréable, un camping typiquement provençal, avec de grands emplacements, et d\'une propreté exemplaire. La simplicité, la gentillesse et la disponibilité du couple de gérants est le plus de cet endroit.
Guus Marchand, on this campsite in June 2016
Travelling party: Seniors
Sanitair dient nodig te worden aangepast. Het gehele toiletgebouw voldoet niet meer aan de eisen van deze tijd.
De leiding van de camping moet ook beter.
Deze man heeft geen commercieel gevoel en vertoont zich nauwelijks op de camping. Omgeving is fantastisch.
Marc et Vivianne, on this campsite in September 2015
Travelling party: Couple
Camping d\'excellente qualité, avec des gérants en or. Nous avons passez une super semaine en septembre avec des sanitaires propre et une piscine très agréable après le vélo.
Nous recommandons le camping qui vous plaira situé au pied du Mont Ventoux et proche de Carpentras nous avons découvert plein de belle chose à l\'année prochaine.
Martin, on this campsite in September 2015
Travelling party: Family with children, 4 – 12 years
Nous avons passez un séjour au camping le Bouquier, celui-ci fut excellent. Avec Cyprien à la direction très professionnel.
Sanitaire propre nettoyé chaque jours. Le camping malgré les deux étoiles et son prix bas disposent de nombreux avantages que nous ne trouvons pas dans les 4 étoiles. En effet il y a une piscine bleue dont nous avons largement profiter, le wifi gratuit sur une grande partie du camping, un sauna et petite salle de sport.
Nous conseillons le camping n\'écoutez pas les mauvais commentaires qui sont généralement peu construit et faux.
Foncez sans hésiter
W. Post-Poot, on this campsite in August 2015
Travelling party: Seniors
Management niet capabel; toiletten en douches werden nauwelijks schoongemaakt; van de drie damesdouches was er maar één goed te gebruiken, gevolg: gedoucht bij de \"mannen\"; groene rand in zwembad; wifi na stroomstoring niet meer per emplacement aangepast; brood werd zonder waarschuwing niet meer geleverd; planten stonden te verdrogen in de potten; lauw water met afwassen; drie weken lang een afvoer die onder de afwasbak uitschoot, waardoor het water je over de schoenen liep; campingverlichting deels uit. Kortom: na ruim 20 jaar meer dan tevreden een heerlijke vakantie hier te hebben doorgebracht, is het nu Le Paradis Perdu.
Dood- en doodzonde!! Je moet het van de omgeving hebben!! We denken vaak terug aan de periode Fernand/Mireille, Corinne/Veronique en Marc/Sylvie.
Jack et Jill, on this campsite in July 2015
Travelling party: Family with children, 4 – 12 years
Cet été 2015, j'ai cherché un camping pour y séjourner 2 semaines, avec ma femme et mes 2 enfants (5 et 7 ans). Je me suis arrêté au camping Le Bouquier à Caromb.
Je l'ai visité, et j'ai remarqué que les sanitaires étaient dans un état de saleté indigne d'un camping. De plus, l'eau de la piscine était verte et il n'y avait pas de porte de sécurité.
Je n'ai donc pas réservé de place, et suis sorti par un escalier passant à proximité d'une cabane face à l'entrée, derrière laquelle un tas d'immondices n'incitaient pas non plus à séjourner dans ce camping.

D Law, on this campsite in June 2015
Travelling party: Couple
We have visited here many times over the last 10 years and enjoy this area of Provence. Sadly the site has lost its charm. The previous owners kept tubs of flowers (still a few tubs but mostly dead plants), a delightful Acceuil with a Provençal theme, lilac paint in the Sanitaire etc etc that gave it character. This is missing now
Verkindere, on this campsite in September 2014
Travelling party: Seniors
we waren hier voor het eerst in Sep 2012. De dame die de camping toen beheerde was vriendelijk en behulpzaam. De huidige uitbater bakt er niets van. Niettegenstaande de camping druk bezet was, werd het sanitair slechts twee maal per week gekuist. Voor het ochtendbrood was het zelf zorgen. Gezien de geringe bezetting kwam de bakker niet meer leveren aldus de uitbater. ( als service voor de klanten zelf ( besteld) brood halen zat er niet in.)
Mooie grote staanplaatsen met een mooi uitzicht.
Sanitair is zeer duidelijk aan vernieuwing toe!
Grotenrath (nee), on this campsite in July 2014
Travelling party: Couple
Oubliez tous les commentaires datant d\'avant 2010 Nous connaissons ce camping depuis 25 ans et avons toujours admire la passion dont les deux zres genzilles gerantes precedentes se sont engagees pour l\'entretien, la proprete ( (tout etait toujours plus que \"nickel\") et l\'ambiance au camping ainsi que le bien-etre de leurs clients. Le camping a beaucoup change au negatif apres leur depart et le nouveau gerant/proprietaire, jeune etudiant, ne montre pas du tout les qualites de ses predecesseurs. C\'est vrai qu\'il a ajoute une cabine de sauna (a quoi bon, d\'ailleur, dans un lieu ou il fait presque toujours chaud etsoleil ?), des tables et un jacuzzi ( que l\'on n\'ose pas utiliser comme on ne vois jamais qu\'il est nettoye) et de nouveaux parasols, mais l\'essentiel, c\'est-a-dire des sanitaires vraiment propres et le contacte avec la clientele, ne semble pas trop l\'interesser. Nettoyer les sanitaires n\'est, enfin, pas seulement passer l\'eau froide d\'un tuyau dessus , cela ne suffit pas, helas, et ce n\'est pas une bonne idee de faire le nettoyage au moment ou tous les campeurs veulent faire leur toilette du matin ( on devrait le faire avant 8h30 ). Bref: si vous avez lu les commentaires datant d\'avant 2010, soyez conscients que ce n\'est pas du tout le meme camping. Il semble que nous ne sommes pas les seuls a l\'avoir constate: beaucoup de clients fideles ne viennent plus. Nous restons, tout de meme, optimistes que le jeune nouveau gerant s\'engagera plus dans l\'avenir ( puis qu\'il est sympathique ) !
I.Schmidt, on this campsite in September 2013
Travelling party: Couple
Wir waren im September 2013 hier, auch aufgrund der positiven Bewertungen im Internet,,leider waren die nicht mehr aktuell, weil der Besitzer bzw Pächter gewechselt hat. Der junge Student, der den Platz leiten soll, hast kein Interesse an seinen Kunden , an der Sauberkeit der Sanitärs, die manchmalmgar nicht gereinigt wurden. Pflanzen wurden trotz der Trockenheit nicht gewässert, die vielen trockenen Blätterhsufen wurden nicht entsorgt, sodass die Camper selbst zu Besen und Schubkarre griffen.
Im Spülhaus übernachtete eine streunende Katze auf der Waschmaschine und trank aus dem tropfenden Wasserkran der Spüle.
Nur wenn die Eltern des jungen Campingwarts , die selbst zwei Campingplätze im Ardèchgebiet besitzen, kamen, wurde richtig gesäubert, somprofessionell, wie man es eigentlich erwartet.
Der junge Mann, der \\\" nebenbei\\\" in Avignon studiert, ist seiner Aufgabe nicht gewachsen, er sollte eine Putzfrau engagieren, damit sich die Sauberkeit in den Sanitärs und in den Mobilhomes verbessert.
Viele Stammkunden aus den Niederlanden können meine Meinung bestätigen.
Schade, denn die Landschaft in Caromb ist wunderschön!
General information
Guide price 1

€20.00

Guide price 2

€26.00

Period of opening

09/04 till 01/10

Area

1.5 ha

Number of touring pitches

50 (80 - 100m2)

Number of accommodation units for hire

8

Campsite suitable for disabled persons

Yes
* Facilities printed in bold are not included in the overnight rate. Supplementary charges will apply. (This does not mean that facilities which are not printed in bold are free!)
Popular amenities

Outdoor swimming pool

Dog(s) in high season (on lead)

ACSI Club ID is accepted as an identity document

Mobile homes
At the reception

ACSI Club ID is accepted as an identity document

Advance booking recommended for high season

Languages spoken at reception (during the main season)

languages: English | French
Pitch amenities

Tap at/near the pitch (max. 50 m)

Electrical hook-ups possible to maximum %s amps

Max. electricity: 10 ampère

Euro-plug required
Internet
Situation of campsite

Panorama

Shopping opportunities within %s km
Dogs

Dog(s) in high season (on lead)

Dog(s) in low season (on lead)
Swimming
For children

Children's playground: small

Trampoline

No entertainment programme
Toilet facilities

Washbasins: hot water

Washbasins: cold water

Heated toilet facilities

Individual washcabins: hot water

Individual washcabins: cold water

Standard toilets

Toilet paper provided

Chemical toilet disposal point

Showers: hot water

A shower (150 cmsx150 cms minimum) and a toilet (165x220cms or 190cmsx190cms minimum)
Sport and games

Table tennis table

Jeu de boules alley(s)

Fitness
Ground and vegetation

Pitches with plenty of shade

Pitches with some shade

Unshaded pitches

Marked pitches

Terraced site

Sand

Hard ground
Campsite rules

Dog(s) in high season (on lead)

Dog(s) in low season (on lead)

Caravans allowed

Tents allowed

Small extra tent permitted

Motorhomes allowed

Barbecues permitted

type of BBQ: electricity | gas
Food, drink and groceries

Fresh bread available at the camp site

Restaurant (limited choice)

Self-service restaurant

Snack bar

Takeaway meals

Bar

Communal barbecue area

Freezing for cooling elements

Ice available
Washing, washing-up, cooking

Washing up sinks: hot water

Washing up sinks: cold water

Washing machine(s)

Laundry sinks: cold water

Laundry sinks: hot water

Microwave

Ironing facilities
Recreation (adults)

Cycle routes starting at the camp site

level: difficult | easy | average

Marked out walking routes near the camp site

Television
Available to hire at the campsite
Wellness
For motorhomes
Miscellaneous

Footpaths and roads are lit

Patrolled grounds

Quiet during the day and at night
Address & Route
Would you like to book campsite Campsite Le Bouquier or request more information? You can do both using the information below.
Campsite Le Bouquier
route de Malaucène
84330 / Caromb (Vaucluse)
France


Download GPS coordinates

Select your navigation system:

A7, exit Bollène/Cairanne/Vacqueyras/Beaurnes de Venise/Caromb. Follow arrows.

Warning! Since July 13 2015, many French campsites are prohibited from installing their own signpost. We advise to use GPS-coordinates to locate the campsite.
The weather on this campsite
Weather forecast
Sun

23 / 10

Mon

24 / 10

Tue

25 / 10

Wed

26 / 10

Thu

27 / 10

Fri

28 / 10

Sat

29 / 10

Max.
19.7°
23.5°
22°
20.2°
18.2°
18.7°
19°
Min.
11.6°
15.3°
14.2°
13.9°
11.1°
6.7°
7.1°
Precipitation
40%
10%
45%
20%
0%
0%
5%
Wind direction
ZO
ZO
N
N
N
N
N
Wind speed
4
3
2
5
5
4
3
Climate
| | | | |
| --- | --- | --- | --- |
| | Relative humidity | Precipitation total (mm) | Hours of sunshine |
| Jan | 82% | 55 | 3 |
| Feb | 71% | 50 | 5 |
| Mar | 65% | 73 | 7 |
| Apr | 67% | 73 | 7 |
| May | 69% | 89 | 8 |
| Jun | 64% | 54 | 9 |
| Jul | 61% | 45 | 10 |
| Aug | 62% | 97 | 9 |
| Sep | 69% | 118 | 8 |
| Oct | 79% | 132 | 5 |
| Nov | 79% | 119 | 4 |
| Dec | 77% | 55 | 3 |
Information request
ACSI Eurocampings will send your information request to "Campsite Le Bouquier".
Take note; you are sending an information request. You cannot make a reservation using this form. You will need to contact the campsite directly and ACSI Eurocampings cannot have any influence on the consequences thereof.