Camping de Roybon is a campsite in Roybon, Isère, located on a river/stream and by a lake/recreational pond.The campsite has pitches which are marked out, pitches with shade, pitches without shade and pitches with some shade. Camping de Roybon is located close to a pebble beach. It is possible to rent mobile homes. The camp site has a sports ground.
Show more

The following rules apply to pets at (Camping de Roybon):
- Dog(s) permitted in low season (if on a lead)
- Dog(s) permitted in high season (if on a lead)

For sportive holidaymakers the camp site offers various cycle routes. The camp site has an outdoor swimming pool and a heated outdoor swimming pool. You can swim nearby in in a lake/recreational pond. At Camping de Roybon you can go windsurfing.

You don't always have to cook, as the camp site has a snack bar and restaurant (with snack menu). The camp site also supplies fresh bread. You can also use the internet, as there is a WiFi point.
Low-season discount with CampingCard ACSI
Affordable camping in the low season with CampingCard ACSI
CampingCard ACSI is a useful little card that will earn you up to 50% discount on your holiday! In 2016 you can choose from no fewer than 3142 campsites in 20 European countries. You will pay one of the four fixed, low rates in the early and late season!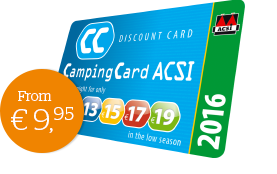 The advantages
Up to 50% discount! You can stay even more inexpensively at the loveliest campsites throughout Europe for four fixed rates using your CampingCard ACSI.

3142 campsites, all inspected by ACSI! You are welcome at 3142 campsites covering 20 European countries with your CampingCard ACSI

Affordable camping with your (grand)children 3 children (under 6 years) are included in the CampingCard ACSI rate at more than 700 campsites
Campsite opening period + your holiday period
August 2016
Mon
Tue
Wed
Thu
Fri
Sat
Sun
1
2
3
4
5
6
7
8
9
10
11
12
13
14
15
16
17
18
19
20
21
22
23
24
25
26
27
28
29
30
31
September 2016
Mon
Tue
Wed
Thu
Fri
Sat
Sun
1
2
3
4
5
6
7
8
9
10
11
12
13
14
15
16
17
18
19
20
21
22
23
24
25
26
27
28
29
30
October 2016
Mon
Tue
Wed
Thu
Fri
Sat
Sun
1
2
3
4
5
6
7
8
9
10
11
12
13
14
15
16
17
18
19
20
21
22
23
24
25
26
27
28
29
30
31
November 2016
Mon
Tue
Wed
Thu
Fri
Sat
Sun
1
2
3
4
5
6
7
8
9
10
11
12
13
14
15
16
17
18
19
20
21
22
23
24
25
26
27
28
29
30
December 2016
Mon
Tue
Wed
Thu
Fri
Sat
Sun
1
2
3
4
5
6
7
8
9
10
11
12
13
14
15
16
17
18
19
20
21
22
23
24
25
26
27
28
29
30
31
31 Campsite open
31 Campsite closed
31 Selected date
Detail information about this campsite
This inspector visits Camping de Roybon every year and inspects the campsite on the basis of more than 200 amenities and other points of interest. The inspector is an ACSI staff member and does not work for the campsite.
Toilet facilities

8.2

Staff

8.4

Price - quality comparison

8.6

Camping pitch

8.5

Accommodation

8.1

Child friendliness

8.2

Entertainment

7.0

Sports facilities

7.0

Swimming pool

7.5

Food and drink

8.4

Surroundings

8.5
Nicolas, on this campsite in August 2016
Travelling party: Young couple
Les +
---> Petit camping très nature avec beaucoup d\'arbres, le lac…
---> Accès direct au lac
---> Sanitaires propres
---> Parfait pour se reposer et profiter de la nature
---> Choix des emplacements tentes

Les -
---> Accueil rafraîchissant pour ne pas dire glacial par Yann, psychorigide qui ferait bien de prendre des cours d\'amabilité
---> Jeux pour enfants (équipements extérieurs et petits jeux à la location) défraichis, usés
michel, on this campsite in August 2016
Travelling party: Group of friends
Nous sommes venus à 15 adultes pour faire une semaine de canyoning (donc absents la journée). Nous avons apprécié la taille des emplacements, la super qualité du groupe de musique venu un soir faire une animation et encore plus que Yann applique ce qu\'il dit \"ce qui compte pour moi est que chacun reparte en se disant qu\'il a passé le meilleur séjour possible\". Il a été super arrangeant sur un gros problème (encore merci Yann!!). Certains commentaires à son encontre sont négatifs et une de mes sœurs n\'a pas accroché au premier contact mais le bonhomme mérite autre chose qu\'une éventuelle première impression mitigée...
Et le sourire de Bénédicte, c\'est sympa!
MERLE, on this campsite in July 2016
Travelling party: Group of friends
Nous étions un groupe de 15 familles. Nous avons reçu un accueil familial et chaleureux. Le camping est calme, spacieux et propre. Les gérants sont accessibles et aiment à discuter avec vous, si vous prenez le temps de partager un moment avec eux.
Albert, on this campsite in June 2016
Travelling party: Seniors
Zowel in juni als in september 2016 deze camping bezocht. Heerlijk plekje in een mooie omgeving. Camping ligt aan een meertje waar het goed vertoeven is. In hoogseizoen kleine kaart maar heerlijk eten wat liefdevol wordt bereid. Plaatsje met basisvoorzieningen op loopafstand. Plaatsje stelt verder weinig voor
Régulus, on this campsite in September 2015
Travelling party: Seniors
Tout d\'abord, un merci particulier à Martine qui nous a ouvert la porte du camping après 18h30, il pouvait être 19h30 ?!. Le camping est agréable, propre, bien placé et bien tenu. quelques perfectionnements pourraient être apporté, mais il est certainement inutile d\'utiliser la boite à idées, ni d\'en parler à Yann qui trouve toujours une bonne raison pour refouler l\'idée. Dès que vous avez donné votre prénom à Yann c\'est parti pour le tutoiement, cela surprend mais on s\'y fait très vite, il est jeune et sympat, il a vu que nous étions un peu marcheur, alors il nous a proposé des circuits de ballades, et prêté des cartes. Par ailleurs, il a des idées bien arrêtées. Il n\'a pas voulu me rendre le chèque de caution laissé pour le badge de porte. Il voulait réceptionner le badge pour rendre le chèque, cependant le badge est nécessaire pour sortir. il devait arriver le matin à 9h30 pour réceptionner le badge et me rendre le chèque, Nous sommes partis à 10h mais il n\'était pas arrivé. Nous avons mis le badge à l'endroit prévu, et il doit (comme il me l\'a dit) supprimer le chèque. Je pense Yann honnête (tout comme je le suis aussi), mais personnellement je n\'ai pas apprécié cette procédure.
Benett Susan, on this campsite in August 2015
Travelling party: Group of friends
Very nice campsite, quiet in a green area, good for cycling, walking, and reading a book ! Owners speak good english and restaurant served great food at cheap prices. A place to discover away from main road.
Dridre Francette, on this campsite in August 2015
Travelling party: Couple
Petit camping convivial et calme. Contrairement à l\'avis de Mr Raboutot, l\'accueil est très sympatique, le resto très bon et avec service au comptoir, original et bien \"esprit camping\". Aucun souci électrique ou de maintenance, et oui la piscine n\'est pas chauffée comme annoncée dans les prestations et bien entretenue. Peu d\'animations, ce qui nous convient bien, et pour finir , je crois que ce Mr Raboutot a vraiment des comptes à régler puisque son avis n\'est pas du tout objectif. Nous reviendrons avec plaisir. Bonne continuation !
H. Vredeveldt, on this campsite in October 2014
Travelling party: Seniors
De goede beoordelingen zijn ons een RAADSEL! Eigenaar is een zeer arrogante man, zich echt een baas voelt en zich alles denkt te permitteren. Voelt zich geroepen om onze reisgenoten te schofferen. Een man van 70 als een klein kind terug te sturen omdat hij de hond (volledig onder appel) los bij zich had. Hond moest terug en daarna pas afrekenen !!!
Eigenaar was van mening dat hij zijn camper tot 3 cm langs mijn auto moest zetten. Was te beroerd om mij even te vragen de auto wat te verplaatsen. Kon als 74 jarige via de andere zijde naar bestuurdersplaats gaan om mijn auto te verplaatsen. Had de vorige dag nog gevraagd of mijn wagen in de weg stond. Deze arrogante man dient een cursus te volgen Sociale vaardigheden en service-verlening, tevens klantgerichtheid werken.
Wij zijn de volgende dag vertrokken. Dit was de 1e keer maar tevens de laatste.

raboutot richard, on this campsite in September 2014
Travelling party: Family with children, 12 - 18 years
Contrairement à ce qui est annoncer la piscine n\\\'est absolument pas chauffée et à partir de septembre absolument plus entretenu. De plus le patron est d\\\'une impolitesse sans bornes (tutoiement à l\\\'arrivé sans que l\\\'on se connaisse), lunatique à souhait. Sanitaire insuffisant, électricité défaillante, en septembre octobre aucune présence du patron de 18h à 10h le le lendemain. Le camping est laissé sans surveillance la nuit, donc comme la barrière est fermer, impossibilité de sortir si il y a une urgence la nuit ou alors il faut attendre l\\\'arrivé du patron, une bonne quinzaine de minutes, si on a le bonheur de l\\\'avoir eu au téléphone. Je déconseille fortement. De plus camping ouvert seulement du 1 mai au 30 septembre à partir de l\\\'année 2015. Attention aussi aucune animation que ce soit pour les enfants ou les adultes, j ai quitté ce camping sans regrets.
Reaction from the campsite
November 25, 2015
Pour répondre à Mr Raboutot qui était un client à la saison depuis 7 ans (et qui s\'y est plu!) avec qui j ai eu un désaccord financier fin 2014, la piscine n\'a jamais été signalée chauffée sur nos publicités, fermée en septembre 2014 pour des raisons météorologiques. Pour le tutoiement, il n\'empêche pas la politesse et le respect, et suis-je lunatique si je fais respecter le réglement et devient autoritaire s\'il le faut avec des campeurs irrespectueux et qu\'ensuite j\'accueille de nouveaux campeurs avec le sourire? \"Electricité défaillante\", suite aux mauvais entretiens d installations électriques de caravanes. En cas d\'urgence la nuit, les pompiers ont accés au camping, mon numéro de portable est affiché sur la porte de l\'accueil, et j\'habite à 500m à pied du camping. Enfin pour les animations, nous revendiquons cette atmosphère calme et faisons quelques animations en juillet/août. Pour une idée plus réaliste sur notre camping, merci de lire les autres commentaires. Yann Gérant
Pauwels, on this campsite in August 2014
Travelling party: Seniors
Camping gelegen in zeer mooie omgeving met rivier en meer, op wandelafstand van stadje. Vriendelijke en gedienstige uitbaters. Bescheiden menu\'s verkrijgbaar die prijs/kwaliteit zeker goed zijn.
General information
Guide price 1

€18.40

Guide price 2

€23.20

Period of opening

01/05 till 30/09

Area

2.5 ha

Altitude

525m

Number of touring pitches

85 (80 - 110m2)

Number of permanent pitches

5

Number of accommodation units for hire

11

Campsite suitable for disabled persons

Yes
* Facilities printed in bold are not included in the overnight rate. Supplementary charges will apply. (This does not mean that facilities which are not printed in bold are free!)
Popular amenities

Outdoor swimming pool

heated
surface area: 36 m2
period: 01-05/15-09

Dog(s) in high season (on lead)

ACSI Club ID is accepted as an identity document

Mobile homes
At the reception

Reservation with CampingCard ACSI also possible

ACSI Club ID is accepted as an identity document

Advance booking recommended for high season

Credit cards accepted

credit card: MasterCard | Visa Card

Payment by debit card/Maestro possible

Languages spoken at reception (during the main season)

languages: German | English | French
Pitch amenities

Tap at/near the pitch (max. 50 m)

Also suitable for caravans > 5.5m, excluding towbar

Electrical hook-ups possible to maximum %s amps

Max. electricity: 10 ampère

Euro-plug required
Internet
Situation of campsite

Located by a lake/recreation pond (max. 0.1 km)

Situated on river/stream (max. 0.1 km)

Public transport near the camp site (max. 0.5 km)

Shopping opportunities within %s km
Dogs

Dog(s) in high season (on lead)

Dog(s) in low season (on lead)
Swimming

Outdoor swimming pool

heated
surface area: 36 m2
period: 01-05/15-09

Heated

Swimming in the lake/recreation pool(max. 0.1 km)

Beach showers

Sunbathing area
Beach
For children

Children's playground: small

Games room

Baby room

No entertainment programme
Toilet facilities

Washbasins: cold water

Individual washcabins: hot water

Individual washcabins: cold water

Standard toilets

Squatting-toilets

Chemical toilet disposal point

Toilet-shower combination (215cmsx215cms minimum)

Showers: hot water

Water and toilet facilities for disabled people in the same building as for the other campers

Disabled sanitary facilities only open for the disabled

Shower seat / shower chair (folding or mobile) approximately 48 cm high

Baby room

Beach showers
Sport and games

Table tennis table

Multi-sports field

Jeu de boules alley(s)

Riding

Beach volleyball
Ground and vegetation

Pitches with plenty of shade

Pitches with some shade

Unshaded pitches

Marked pitches

Grass
Campsite rules

Dog(s) in high season (on lead)

Dog(s) in low season (on lead)

Caravans allowed

Tents allowed

Small extra tent permitted

Motorhomes allowed

Barbecues permitted

type of BBQ: charcoal | gas
Food, drink and groceries

Fresh bread available at the camp site

Restaurant (limited choice)

Snack bar

Takeaway meals

Bar

Communal barbecue area

Freezing for cooling elements

Exchanging of gas cylinders
Washing, washing-up, cooking

Washing up sinks: hot water

Washing machine(s)

Laundry sinks: cold water

Ironing facilities
Recreation (adults)

Fishing

Cycle routes starting at the camp site

level: difficult | average

Marked out walking routes near the camp site

level: difficult | easy | average

Games room

Television
Water sports and recreation

Fishing

Windsurfing permitted

Windsurfing course
Available to hire at the campsite

Mobile homes

Pedal boats

Rowing-boats

Freezing blocs
For motorhomes

Motorhomes allowed

Special facilities for motorhomes

Also suitable for motorhomes > 8m and > 4 tonnes
Miscellaneous

Footpaths and roads are lit

Patrolled grounds

Quiet during the day and at night

Separate area for young people

Temporary pitches outside the campsite without electr.

Temporary pitches outside the campsite with electricity
Address & Route
Would you like to book campsite Camping de Roybon or request more information? You can do both using the information below.
Camping de Roybon
D20
38940 / Roybon
France


Download GPS coordinates

Select your navigation system:

A7/E15 exit 12, D519 direction Voiron. Turn right D71 Bressieux/Roybon. Campsite located 1 km out of the village and is indicated.

Warning! Since July 13 2015, many French campsites are prohibited from installing their own signpost. We advise to use GPS-coordinates to locate the campsite.
The weather on this campsite
Weather forecast
Fri

21 / 10

Sat

22 / 10

Sun

23 / 10

Mon

24 / 10

Tue

25 / 10

Wed

26 / 10

Thu

27 / 10

Max.
12.2°
13.4°
16°
20.1°
19.8°
17.6°
16.3°
Min.
3.6°
1.2°
5.9°
10.2°
11.4°
10.7°
7.5°
Precipitation
10%
5%
60%
45%
45%
25%
15%
Wind direction
N
E
E
ZO
E
N
N
Wind speed
3
2
3
3
3
3
3
Climate
| | | | |
| --- | --- | --- | --- |
| | Relative humidity | Precipitation total (mm) | Hours of sunshine |
| Jan | 83% | 75 | 3 |
| Feb | 79% | 35 | 3 |
| Mar | 72% | 105 | 4 |
| Apr | 73% | 96 | 5 |
| May | 71% | 88 | 7 |
| Jun | 67% | 63 | 8 |
| Jul | 66% | 66 | 9 |
| Aug | 68% | 53 | 8 |
| Sep | 75% | 154 | 7 |
| Oct | 81% | 55 | 5 |
| Nov | 82% | 69 | 2 |
| Dec | 83% | 55 | 2 |
Information request
ACSI Eurocampings will send your information request to "Camping de Roybon".
Take note; you are sending an information request. You cannot make a reservation using this form. You will need to contact the campsite directly and ACSI Eurocampings cannot have any influence on the consequences thereof.