Campsite Pilsensee is a campsite in Seefeld, Bavaria, located by a lake/recreational pond.The campsite has pitches which are marked out, pitches with shade, pitches without shade and pitches with some shade. It is possible to rent caravans and hikers' cabins. The camp site has a playground and a sports ground.
Show more

The following rules apply to pets at (Pilsensee):
- Dog(s) permitted in low season (if on a lead)
- Dog(s) permitted in high season (if on a lead)

You can swim nearby in in a lake/recreational pond. At Pilsensee you can go windsurfing.

You don't always have to cook, as the camp site has a snack bar and restaurant (with full menu). The camp site also supplies fresh bread. You can also use the internet, as the camp site has one or more computers with an internet connection and you can access the internet with your own laptop in 80% of the camp site.
Low-season discount with CampingCard ACSI
Affordable camping in the low season with CampingCard ACSI
CampingCard ACSI is a useful little card that will earn you up to 50% discount on your holiday! In 2016 you can choose from no fewer than 3142 campsites in 20 European countries. You will pay one of the four fixed, low rates in the early and late season!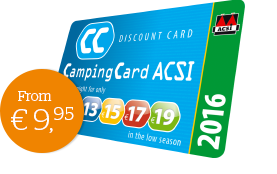 The advantages
Up to 50% discount! You can stay even more inexpensively at the loveliest campsites throughout Europe for four fixed rates using your CampingCard ACSI.

3142 campsites, all inspected by ACSI! You are welcome at 3142 campsites covering 20 European countries with your CampingCard ACSI

Affordable camping with your (grand)children 3 children (under 6 years) are included in the CampingCard ACSI rate at more than 700 campsites
Campsite opening period + your holiday period
August 2016
Mon
Tue
Wed
Thu
Fri
Sat
Sun
1
2
3
4
5
6
7
8
9
10
11
12
13
14
15
16
17
18
19
20
21
22
23
24
25
26
27
28
29
30
31
September 2016
Mon
Tue
Wed
Thu
Fri
Sat
Sun
1
2
3
4
5
6
7
8
9
10
11
12
13
14
15
16
17
18
19
20
21
22
23
24
25
26
27
28
29
30
October 2016
Mon
Tue
Wed
Thu
Fri
Sat
Sun
1
2
3
4
5
6
7
8
9
10
11
12
13
14
15
16
17
18
19
20
21
22
23
24
25
26
27
28
29
30
31
November 2016
Mon
Tue
Wed
Thu
Fri
Sat
Sun
1
2
3
4
5
6
7
8
9
10
11
12
13
14
15
16
17
18
19
20
21
22
23
24
25
26
27
28
29
30
December 2016
Mon
Tue
Wed
Thu
Fri
Sat
Sun
1
2
3
4
5
6
7
8
9
10
11
12
13
14
15
16
17
18
19
20
21
22
23
24
25
26
27
28
29
30
31
31 Campsite open
31 Campsite closed
31 Selected date
Detail information about this campsite
This inspector visits Campsite Pilsensee every year and inspects the campsite on the basis of more than 200 amenities and other points of interest. The inspector is an ACSI staff member and does not work for the campsite.
Toilet facilities

6.7

Staff

6.9

Price - quality comparison

6.8

Camping pitch

7.2

Accommodation

7.1

Child friendliness

7.2

Entertainment

6.0

Sports facilities

6.8

Swimming pool

6.3

Food and drink

7.2

Surroundings

8.0
pissevin, on this campsite in September 2016
Travelling party: Seniors
Accueil sympathique. Les emplacements sont très grands et plats. Les environs sont sympas et c\'est surtout pratique pour aller sur Munich en train.
le camping est en travaux d\'où sale.
les blocs sanitaires sont obsolètes.
tarif cc donc ok.
C Bluijs, on this campsite in September 2016
Travelling party: Couple
Geen gelegenheid voor eten en drinken. Kampeerplaatsen slecht onderhouden, veel te drassig. Verder alles gesloten, slechte internet toegankelijkheid. Prijs kwaliteit niet in verhouding!
Edith, on this campsite in June 2016
Travelling party: Seniors
Wir waren im Juni auf dem Campingplatz und es hat uns sehr gut gefallen. Das Personal war sehr freundlich und der Platz sehr einladend. Wenn wir wieder in die Nähe kommen, machen wir gerne wieder Station auf diesem Platz. Vielleicht haben wir dann ein schöneres Wetter und wir können die Gegend (und nicht nur Kloster Andechs) richtig genießen. Auf jeden fall alles TOPP
Fam. de Groot, on this campsite in June 2016
Travelling party: Seniors
Deze camping met veel vaste standplaatsen ligt direct aan de Pilsensee. Bij de receptie krijg je een plaats toegewezen. Deze (vaste) plaatsen zijn ruim in lengte maar in diepte wat beperkt. We kregen de indruk dat de plaatsen met ACSI kortingskaart wat minder comfortabel (kuilen, drassig, meer gravel dan gras) waren maar kunnen dat niet "bewijzen". Het sanitair is wat vreemd geregeld: er is een gebouw met toiletten, die ook door dag(bad)gasten kunnen worden gebruikt. Ze zijn schoon. Aan de achterkant van dit gebouw is een kiosk voor hapjes en drankjes, wederom voor badgasten. Daarom is het vreemd dat je voor douches naar een aantal (zee)containers moet die helemaal aan de andere kant van de camping naast het restaurant zijn gelegen. Ik zou zeggen: maak daar wat douches. Een andere mogelijkheid is terug te gaan naar de ingang van de camping waar een "normaal" toiletgebouw is met toiletten en douches. En als je de stortplaats voor chemische toiletten zoekt ….. die is helemaal vooraan in de ruimte van de damestoiletten. De relatief lage beoordeling van het sanitair vloeit voort uit de indeling, niet de netheid want die was prima. Het restaurant is heel redelijk voor wat betreft de gerechten maar niet echt gezellig. Er is gratis wifi maar zoals gebruikelijk werkt dat soms wel en soms niet. Vanaf de camping is het ca 2 km lopen/fietsen naar het treinstation vanwaar je in 45 minuten midden in München staat. Er gaat ieder halfuur een trein. Het handigst, cq. goedkoopst, is het om een dagkaart of groependagkaart te kopen uit de automaat. Er is weinig parkeergelegenheid bij het station. In een kwartier rijd je naar het nabij gelegen Kloster Andechs met diverse bezienswaardigheden. Het Schloss Seefeld lijkt heel wat maar stelt helemaal niets voor: er zijn allerlei kleine winkels in gevestigd maar bijna alles was gesloten. Het slot zelf is privé en niet toegankelijk.
Lex S, on this campsite in April 2016
Travelling party: Seniors
Een camping met veel vaste staanplaatsen. De Duitsers nemen het niet zo nauw en bouwen van alles aan en dekken van alles af. Hierdoor komt de camping rommelig over. Wij stonden vooraan bij het meer. Terrein slecht onderhouden, hoog gras en veel vaste plaatsen leeg, dit gaf ook een rommelige indruk. De WC\'s/Douches waren gewoon VIES!! Er was 3 dagen niet gepoetst. Problemen met het schoonmaakbedrijf vertelde men!! Onzin zo ontvang je je gasten niet. Wel jammer, we kwamen van een prachtige camping uit Wenen.
Becker Manfred, on this campsite in September 2015
Travelling party: Couple
Schöne Lage am See und grosse Plätze. ABER! Die Sanitäranlagen waren ekelhaft.Die Putzkolonne würde ich zum Teufel jagen. Wo ist der zuständige Chef,der diesen Platz so verkommen lässt? Waren nach 2 Nächten abgereist.
stefano zoletto, on this campsite in August 2015
Travelling party: Couple
l campeggio è in un luogo molto bello e rilassante: un lago, circondato da boschi. la stazione per andare in treno a MOnaco è poco distante (e andare a Monaco in auto significa restare imbottigliati in un traffico incredibile!).
I servizi son puliti e ordinati. C\'è un piccolo ristorante, discreto.
CI sono molte piazzole di annuali, ma la disponibilità per gli itineranti è sufficiente. Cautela da avere: non accamparsi nei pressi dei servizi/market (vicino all\'ingresso) perchè alle 7 di mattina inizia il carico delle merci per il market, che per quanto piccolo è MOLTO MOLTO MOLTO rumoroso. Una piazzola verso il lago è sicuramente più tranquilla.
La spiaggia erbosa davanti al lago è molto rilassante e piacevole. I dintorni sono ben esplorabili in bici, con piste ciclabili molto belle: tenere presente che alcuni dei giri prevedono salite brevi, ma notevoli (anche 10%).
Può avere senso prenotare, soprattutto verso i week end, perchè c\'è un discreto afflusso di persone; ma attenzione a dove è la vostra piazzola!
connessione wi fi a pagamento e decisamente cara
Hermann, on this campsite in August 2015
Travelling party: Family with children, various ages
Waren im Sommer 2015 bei Ihnen:
Toilettenhaus am See il Kiosko wären 2-3 Waschbecken mehr nicht schlecht (Körperpflege männlich und weiblich).:
Duschmöglichkeiten könnte mehr als verdoppelt werden (habe von einem Umbau Duschhaus gehört), vielleicht wurden meine Anregungen schon aufgegriffen).
Ansonsten hat uns der Aufenthalt bei Ihnen sehr gut gefallen.
Gruß Fam. Hermann aus Weilheim/Teck
Lutz Petermann, on this campsite in July 2015
Travelling party: Family with children, 12 - 18 years
Das Angebot und die Qualität der Gastronomie war ungenügend. Das Personal der Gastronomie ist sehr unfreundlich & arrogant. Die Sauberkeit der Sanitäranlagen auf dem Campingplatz ist verbesserungswürdig, außerdem waren zu wenig Duschen vorhanden.
Pascal, on this campsite in July 2015
Travelling party: Family with children, various ages
Un camping de taille moyenne situé dans un endroit assez calme au bord d\'un petit lac dans lequel baignade (eau très bonne cet été) et loisirs nautiques (planche à voile car il y a souvent un vent bien adapté, paddle board) sont possibles et proposés à la location.
L\'accueil est agréable. Les emplacements en herbe bien verte pour la plupart et parfois à l\'ombre de grands arbres.
Les sanitaires sont propres mais en nombre qui peut sembler parfois un peu faible.
Nous sommes tombés sur le charme de ce petit lac et de cette région des cinq lacs desservies par un grand réseau de pistes cyclables.
Une forte clientèle d\'habitants de München les WE d\'été.
Pour les camping caristes : nuit dans un grand pré au calme mais sans électricité ni eau. Cela comprend accès aux sanitaires, à la station de vidange et remplissage du réservoir d\'eau en cas de besoin !
C\'est la halte que nous avons préférée dans notre périple de 2000km en Allemagne cet été !
General information
Guide price 1

€26.10

Guide price 2

€32.70

Period of opening

01/01 till 31/12

Area

10 ha

Altitude

549m

Number of touring pitches

70 (100m2)

Number of camper pitches

10

Number of permanent pitches

400

Number of accommodation units for hire

13
* Facilities printed in bold are not included in the overnight rate. Supplementary charges will apply. (This does not mean that facilities which are not printed in bold are free!)
Popular amenities

WiFi 80-100% coverage

Dog(s) in high season (on lead)

ACSI Club ID is accepted as an identity document
At the reception

ACSI Club ID is accepted as an identity document

Advance booking recommended for high season

Payment by debit card/Maestro possible

Languages spoken at reception (during the main season)

languages: German | English
Pitch amenities

Water connection at/near the pitch (max. 15 m)

Also suitable for caravans > 5.5m, excluding towbar

Electrical hook-ups possible to maximum %s amps

Max. electricity: 12 ampère

Euro-plug required
Internet

Internet access

WiFi 80-100% coverage
Situation of campsite

Located by a lake/recreation pond (max. 0.1 km)

Public transport near the camp site (max. 0.5 km)

Shopping opportunities within %s km
Dogs

Dog(s) in high season (on lead)

Dog(s) in low season (on lead)
Swimming

Swimming in the lake/recreation pool(max. 0.1 km)

Sunbathing area
Beach
For children

Children's playground: large

Baby room

No entertainment programme
Toilet facilities

Washbasins: hot water

Washbasins: cold water

Standard toilets

Toilet paper provided

Chemical toilet disposal point

Showers: hot water

Showers: cold water

Baby room
Sport and games

Table tennis table

Multi-sports field

Pitch and putt nearby (max. 10 km)

Golf course nearby (max. 10 km)
Ground and vegetation

Pitches with plenty of shade

Pitches with some shade

Unshaded pitches

Marked pitches

Grass

Hard standing pitches
Campsite rules

Dog(s) in high season (on lead)

Dog(s) in low season (on lead)

Caravans allowed

Tents allowed

Small extra tent permitted

Motorhomes allowed

No vehicles may enter during lunch break

Twin-axle vehicles permitted

Barbecues permitted

type of BBQ: charcoal | electricity | gas

Own boats permitted
Food, drink and groceries

Fresh bread available at the camp site

Groceries: extensive selection

Restaurant (with ample choice)

Snack bar

Takeaway meals

Communal barbecue area

Freezing for cooling elements

Exchanging of gas cylinders
Washing, washing-up, cooking

Washing up sinks: hot water

Washing up sinks: cold water

Washing machine(s)

Laundry sinks: cold water

Laundry sinks: hot water

Dryers
Recreation (adults)
Water sports and recreation

Fishing

Windsurfing permitted

Windsurfing course

Jetty/buoy

Own boats permitted

Sailing permitted

Sailing lessons

Trailer slope
Available to hire at the campsite

Caravans

(Log)cabins

Surfboards

Rowing-boats
For motorhomes

Motorhomes allowed

Special pitches for motorhomes

Surface area: 100 m2
Amount: 10

Also suitable for motorhomes > 8m and > 4 tonnes
Miscellaneous

Footpaths and roads are lit

Patrolled grounds

Quiet during the day and at night

Separate area for young people
Address & Route
Would you like to book campsite Campsite Pilsensee or request more information? You can do both using the information below or by visiting the campsite's website.
Campsite Pilsensee
Am Pilsensee 2
82229 / Seefeld am Pilsensee
Germany


Download GPS coordinates

Select your navigation system:

From the 2068 main road Oberpfaffenhofen-Hersching exit south of Seefeld.
The weather on this campsite
Weather forecast
Thu

20 / 10

Fri

21 / 10

Sat

22 / 10

Sun

23 / 10

Mon

24 / 10

Tue

25 / 10

Wed

26 / 10

Max.
8.6°
6.8°
8.7°
10.3°
15.7°
17.7°
14.2°
Min.
5.1°
3.3°
2.3°
0.4°
3°
5.9°
7.3°
Precipitation
70%
90%
35%
40%
30%
60%
70%
Wind direction
SW
W
SW
ZO
S
W
W
Wind speed
3
3
3
2
2
3
3
Climate
| | | |
| --- | --- | --- |
| | Precipitation total (mm) | Hours of sunshine |
| Jan | 51 | 2 |
| Feb | 46 | 4 |
| Mar | 59 | 1 |
| Apr | 75 | 5 |
| May | 104 | 7 |
| Jun | 127 | 6 |
| Jul | 130 | 9 |
| Aug | 114 | 9 |
| Sep | 87 | 6 |
| Oct | 65 | 5 |
| Nov | 59 | 2 |
| Dec | 54 | 2 |
Information request
ACSI Eurocampings will send your information request to "Campsite Pilsensee".
Take note; you are sending an information request. You cannot make a reservation using this form. You will need to contact the campsite directly and ACSI Eurocampings cannot have any influence on the consequences thereof.