Country Camping Schinderhannes GmbH

****
Country Camping Schinderhannes GmbH is a campsite in Hausbay, Rhineland-Palatinate, located by a lake/recreational pond.This terraced camp site has pitches pitches with shade, pitches without shade and pitches with some shade. The camp site has a playground and a sports ground.
Show more

The following rules apply to pets at (Country Camping Schinderhannes GmbH):
- Dog(s) permitted in low season (if on a lead)
- Dog(s) permitted in high season (if on a lead)

For sportive holidaymakers the camp site offers various cycle routes. You can swim nearby in in a lake/recreational pond.

You don't always have to cook, as the camp site has a restaurant (with full menu). The camp site also supplies fresh bread. You can also use the internet, as the camp site has one or more computers with an internet connection and there is a WiFi point.
Low-season discount with CampingCard ACSI
Affordable camping in the low season with CampingCard ACSI
CampingCard ACSI is a useful little card that will earn you up to 50% discount on your holiday! In 2016 you can choose from no fewer than 3142 campsites in 20 European countries. You will pay one of the four fixed, low rates in the early and late season!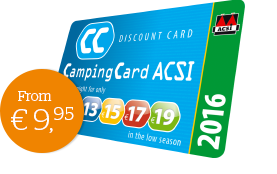 The advantages
Up to 50% discount! You can stay even more inexpensively at the loveliest campsites throughout Europe for four fixed rates using your CampingCard ACSI.

3142 campsites, all inspected by ACSI! You are welcome at 3142 campsites covering 20 European countries with your CampingCard ACSI

Affordable camping with your (grand)children 3 children (under 6 years) are included in the CampingCard ACSI rate at more than 700 campsites
Campsite opening period + your holiday period
August 2016
Mon
Tue
Wed
Thu
Fri
Sat
Sun
1
2
3
4
5
6
7
8
9
10
11
12
13
14
15
16
17
18
19
20
21
22
23
24
25
26
27
28
29
30
31
September 2016
Mon
Tue
Wed
Thu
Fri
Sat
Sun
1
2
3
4
5
6
7
8
9
10
11
12
13
14
15
16
17
18
19
20
21
22
23
24
25
26
27
28
29
30
October 2016
Mon
Tue
Wed
Thu
Fri
Sat
Sun
1
2
3
4
5
6
7
8
9
10
11
12
13
14
15
16
17
18
19
20
21
22
23
24
25
26
27
28
29
30
31
November 2016
Mon
Tue
Wed
Thu
Fri
Sat
Sun
1
2
3
4
5
6
7
8
9
10
11
12
13
14
15
16
17
18
19
20
21
22
23
24
25
26
27
28
29
30
December 2016
Mon
Tue
Wed
Thu
Fri
Sat
Sun
1
2
3
4
5
6
7
8
9
10
11
12
13
14
15
16
17
18
19
20
21
22
23
24
25
26
27
28
29
30
31
31 Campsite open
31 Campsite closed
31 Selected date
Detail information about this campsite
This inspector visits Country Camping Schinderhannes GmbH every year and inspects the campsite on the basis of more than 200 amenities and other points of interest. The inspector is an ACSI staff member and does not work for the campsite.
Toilet facilities

8.0

Staff

8.1

Price - quality comparison

8.0

Camping pitch

8.3

Accommodation

7.7

Child friendliness

7.9

Entertainment

8.0

Sports facilities

7.5

Swimming pool

4.5

Food and drink

7.8

Surroundings

8.2
Ronald Owen, on this campsite in October 2016
Travelling party: Seniors
A return to this site after 4 years. It was very quiet and peaceful. We used a pitch with access to water, electricity and grey water disposal which was very convenient. We had meals in the restaurant which was of high quality and excellent service. Though near the autobahn the resulting traffic noise was minimal and the site offers a good base for a stopover or a longer stay.
M. den Hartog, on this campsite in August 2016
Travelling party: Couple
Erg basic camping. Sanitair was schoon, maar oud. Slechts 2 dames en 2 herendouches voor alle doortrekplekken. Helaas viel het eten in het restaurant ons ook tegen. Bediening deed overigens wel goed zijn best. Kampeerterrein is achter elkaar opstellen, met maar een smalle strook gras voor je caravan. Camping ligt wel dicht langs de A61, waar je op het terrein zelf niets van hoort.
J.E.A.Plugge, on this campsite in June 2016
Travelling party: Seniors
Hoewel we na drie jaar achtereenvolgens heel slecht eten kregen voorgezet in het restaurant en we daarom hadden besloten er nooit meer heen te gaan kwamen we er afgelopen vakantie vanwege wateroverlast op andere adressen toch weer terecht.Tot onze verrassing was het eten in het restaurant prima zodat we ook op de terugweg weer aangegaan zijn.Als de toegangsweg eindelijk eens wordt aangepakt kan wat ons betreft worden gesproken van een ideale doortrekcamping.
Wim.J.Swaen, on this campsite in June 2016
Travelling party: Seniors
Als wij aan deze kant van Europa zijn wordt meestal deze camping op de heen zowel als de terugreis bezocht. Kunnen aangekoppeld blijven staan. Zeer grote camping geschikt voor een wandeling van meer dan een uur. Zeer goed restaurant wel 15x bezocht op onze wintersport vakanties, lekker warm en goed eten. Maar ook op andere tijden is men altijd weer attent en behulpzaam.
Hans Geurtsen, on this campsite in June 2016
Travelling party: Couple
Makkelijk vanaf de A61 bereikbare en toch heel rustig gelegen camping en daardoor geschikt als doortrekcamping. Op het hoogste punt van de camping is een speciaal terrein voor trekkers die hun caravan aangekoppeld willen laten. Je hebt hier gewoon stroom en water en het is een keurig terrein. Je kunt hier zo vroeg vertrekken als je wilt, het ligt buiten de slagbomen. Nadeel is dus dat je wakker kunt worden van vroeg vertrekkende campinggasten. Als je dat niet wilt, een plekje achter de slagbomen nemen. Voor een camping die volgens de eigen brochure 4 sterren heeft, is het sanitair wel erg basic. Schoon, dat wel, er is toiletpapier en je kunt je handen met zeep wassen bij de toiletten en drogen. Wasruimte is aan renovatie toe. Bij de wastafels kun je hooguit een klein toilettasje kwijt (en dan oppassen dat die er niet afvalt; veel schapjes hellen naar voren), haakjes voor handdoeken of kleding zijn erg klein. Pas op met je contactlenzen, door de grote afvoer spoel je ze zo weg... Pas ook op dat je je nek niet breekt bij de deur naar het sanitairgebouw door het ongelukkige opstapje voor de deur. De camping heeft, ook buiten het hoogseizoen, een broodjesservice met heerlijk verse, nog warme broodjes. Het restaurant is voor een campingrestaurant prima. Het is er gezellig, je kunt er een lekker biertje of wijntje drinken en het eten is eenvoudig maar best goed. Prijs/kwaliteitsverhouding is wat mij betreft in orde. In de nabijgelegen dorpjes zit verder ook niets anders dan een McDonalds bij de afrit op de snelweg. In Emmelshausen (ruim 5 km verwijderd van de camping) schijnt wel een goed restaurant te zitten. In de directe omgeving van de camping valt verder weinig te beleven. Al met al een prima doortrekcamping op weg van of naar Nederland. Pas wel op bij het aanrijden naar de camping of het weer vertrekken; het laatste stuk weg naar de camping kan niet echt een weg meer worden genoemd...
Christian Hardel, on this campsite in March 2016
Travelling party: Young couple
Entspannte ruhige Atmosphäre, Unkomplizierter Betreiber, Super Lage als Ausgangspunkt zur Mosel. Restaurant konnten wir bei dem letzten Aufenthalt nicht probieren da wir eher Griller/ Selbstversorger sind. Nächster Aufenthalt ist schon geplant kommen gerne wieder.
Eileen Riddle, on this campsite in September 2015
Travelling party: Couple
A lovely peaceful site, convenient for the motorway and access to the Rhein and Mosel. Very helpful and friendly staff. Lots of room compared with other Rhein. Mosel sites. We visited the restaurant which served good value for money meals in a friendly manner. This site is also ideal for night halts for motorway travelers.
piet miske, on this campsite in August 2015
Travelling party: Couple
prima camping. ik las in andere beoordelingen dat het restaurant zo slecht zou zijn.Ons is dat erg meegevallen.Het eten was goed, netjes geprijst en een lekkere streekwijn. punt van kritiek: de afzuiging in de keuken zou beter moeten, de lucht van vet en vaak ook oud vet komt je bij de deur v/h restaurant al tegemoet en soms ruik je het ook in de omgeving v/h restaurant.Dit bevordert de eetlust niet. opmerkelijk is ook het feit dat de eigenaar dagelijks enige rondjes over het terrein maakt en daarbij ook informeert naar de tevredenheid van de gebruikers van zijn camping.Maakt een gastvrije indruk.
Bongoheath, on this campsite in June 2015
Travelling party: Seniors
This campsite is enormous with over 300 touring pitches most offering EHU. It is well split up into different areas with trees and bushes so does not feel impersonal. The new toilet block is spacious although they were having problems with the hot water system when we were there. Lots of grass pitches within a short walk of the facilities. Some with shade. Do not pitch too near the lake as you may be troubled by mosquitos. We had no problems. Lots of in transit visitors. Wifi is good but you do need to go to reception to use it (not very handy for most of the camping sites). Do remember to log off - not just switch off the wifi connection. Easy drive to the A9 to visit some of the pretty towns on the Rhine.
John Ward, on this campsite in September 2014
Travelling party: Couple
very quiet and secluded site with a variety of level pitches - friendly and helpful owners - also base for organised international touring parties (Mir-Tours) - new shower block which was spotless (as always in Germany) - does seem to be a busy Friday stop-over for those heading South - good walking / cycling on old railway line - local community with basic shopping - some internet issues - nice looking restaurant but not used
General information
Guide price 1

€22.00

Guide price 2

€29.00

Period of opening

01/01 till 31/12

Area

30 ha

Altitude

500m

Number of touring pitches

350 (100 - 120m2)

Number of camper pitches

80

Number of permanent pitches

150
* Facilities printed in bold are not included in the overnight rate. Supplementary charges will apply. (This does not mean that facilities which are not printed in bold are free!)
Popular amenities

Dog(s) in high season (on lead)

ACSI Club ID is accepted as an identity document
At the reception

ACSI Club ID is accepted as an identity document

Advance booking recommended for high season

Payment by debit card/Maestro possible

Languages spoken at reception (during the main season)

languages: German | English | Dutch
Pitch amenities

Also suitable for caravans > 5.5m, excluding towbar

Electrical hook-ups possible to maximum %s amps

Max. electricity: 6 ampère

Euro-plug required
Internet

Internet access

WiFi point
Situation of campsite

Located by a lake/recreation pond (max. 0.1 km)

Close to motorway junction (< 10 km)

Shopping opportunities within %s km
Dogs

Dog(s) in high season (on lead)

Dog(s) in low season (on lead)
Swimming

Swimming in the lake/recreation pool(max. 0.1 km)

Sunbathing area
For children

Children's playground: large

Games room

Baby room

No entertainment programme
Toilet facilities

Washbasins: hot water

Washbasins: cold water

Individual washcabins: hot water

Individual washcabins: cold water

Standard toilets

Toilet paper provided

Family toilet facilities

Chemical toilet disposal point

Showers: hot water

Showers: cold water

Baby room
Sport and games

Table tennis table

Multi-sports field

Tennis court(s)

Bowling and/or skittle alley(s)
Ground and vegetation

Pitches with plenty of shade

Pitches with some shade

Unshaded pitches

Grass

Terraced site

Hard ground
Campsite rules

Dog(s) in high season (on lead)

Dog(s) in low season (on lead)

Caravans allowed

Tents allowed

Small extra tent permitted

Motorhomes allowed

Twin-axle vehicles permitted

Barbecues permitted

type of BBQ: charcoal | electricity | gas
Food, drink and groceries

Fresh bread available at the camp site

Groceries: limited selection

Restaurant (with ample choice)

Takeaway meals

Freezing for cooling elements

Exchanging of gas cylinders
Washing, washing-up, cooking

Washing up sinks: hot water

Washing up sinks: cold water

Washing machine(s)

Laundry sinks: cold water

Laundry sinks: hot water

Dryers

Ironing facilities
Recreation (adults)

Fishing

Cycle routes starting at the camp site

level: difficult | easy | average

Marked out walking routes near the camp site

level: difficult | easy | average

Games room

Television
Water sports and recreation
For motorhomes

Motorhomes allowed

Special facilities for motorhomes

Special pitches for motorhomes

Surface area: 100 m2
Amount: 80

Also suitable for motorhomes > 8m and > 4 tonnes
Miscellaneous

Footpaths and roads are lit

Patrolled grounds

Quiet during the day and at night

Separate area for young people

Temporary pitches outside the campsite without electr.
Address & Route
Would you like to book campsite Country Camping Schinderhannes GmbH or request more information? You can do both using the information below.
Country Camping Schinderhannes GmbH
Campingplatz 1
56291 / Hausbay/Pfalzfeld
Germany


Download GPS coordinates

Select your navigation system:

A61 exit 43 Pfalzfeld, then follow the camping signs (3 km). Enter: Hausbayerstraße/Pfalzfeld into your SatNav.
The weather on this campsite
Weather forecast
Fri

28 / 10

Sat

29 / 10

Sun

30 / 10

Mon

31 / 10

Tue

01 / 11

Wed

02 / 11

Thu

03 / 11

Max.
12.5°
13°
11.9°
13°
12°
10°
8°
Min.
6.5°
8.8°
5.4°
6.6°
5.9°
5.9°
3.8°
Precipitation
45%
10%
15%
15%
25%
75%
60%
Wind direction
W
NW
NO
E
SW
W
W
Wind speed
3
2
2
2
2
3
3
Climate
| | |
| --- | --- |
| | Precipitation total (mm) |
| Jan | 44 |
| Feb | 37 |
| Mar | 44 |
| Apr | 46 |
| May | 46 |
| Jun | 60 |
| Jul | 70 |
| Aug | 54 |
| Sep | 46 |
| Oct | 55 |
| Nov | 48 |
| Dec | 51 |
Information request
ACSI Eurocampings will send your information request to "Country Camping Schinderhannes GmbH".
Take note; you are sending an information request. You cannot make a reservation using this form. You will need to contact the campsite directly and ACSI Eurocampings cannot have any influence on the consequences thereof.