Camping Laacher See is a campsite in Wassenach, Rhineland-Palatinate, located in a wood and by a lake/recreational pond.This terraced camp site and camp site with sloping grounds has pitches which are marked out, pitches with shade, pitches without shade and pitches with some shade. The camp site has a playground.
Show more

The following rules apply to pets at (Camping Laacher See):
- Dog(s) permitted in low season (if on a lead)
- Dog(s) permitted in high season (if on a lead)

For sportive holidaymakers the camp site offers guided walks and various cycle routes. There is a fitness room. You can swim nearby in in a lake/recreational pond. At Camping Laacher See you can go snorkelling and windsurfing.

You don't always have to cook, as the camp site has a snack bar, restaurant (with snack menu) and restaurant (with full menu). The camp site also supplies fresh bread. You can also use the internet, as you can access the internet with your own laptop in 80% of the camp site.
Low-season discount with CampingCard ACSI
Affordable camping in the low season with CampingCard ACSI
CampingCard ACSI is a useful little card that will earn you up to 50% discount on your holiday! In 2016 you can choose from no fewer than 3142 campsites in 20 European countries. You will pay one of the four fixed, low rates in the early and late season!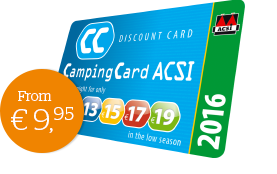 The advantages
Up to 50% discount! You can stay even more inexpensively at the loveliest campsites throughout Europe for four fixed rates using your CampingCard ACSI.

3142 campsites, all inspected by ACSI! You are welcome at 3142 campsites covering 20 European countries with your CampingCard ACSI

Affordable camping with your (grand)children 3 children (under 6 years) are included in the CampingCard ACSI rate at more than 700 campsites
Campsite opening period + your holiday period
August 2016
Mon
Tue
Wed
Thu
Fri
Sat
Sun
1
2
3
4
5
6
7
8
9
10
11
12
13
14
15
16
17
18
19
20
21
22
23
24
25
26
27
28
29
30
31
September 2016
Mon
Tue
Wed
Thu
Fri
Sat
Sun
1
2
3
4
5
6
7
8
9
10
11
12
13
14
15
16
17
18
19
20
21
22
23
24
25
26
27
28
29
30
October 2016
Mon
Tue
Wed
Thu
Fri
Sat
Sun
1
2
3
4
5
6
7
8
9
10
11
12
13
14
15
16
17
18
19
20
21
22
23
24
25
26
27
28
29
30
31
November 2016
Mon
Tue
Wed
Thu
Fri
Sat
Sun
1
2
3
4
5
6
7
8
9
10
11
12
13
14
15
16
17
18
19
20
21
22
23
24
25
26
27
28
29
30
December 2016
Mon
Tue
Wed
Thu
Fri
Sat
Sun
1
2
3
4
5
6
7
8
9
10
11
12
13
14
15
16
17
18
19
20
21
22
23
24
25
26
27
28
29
30
31
31 Campsite open
31 Campsite closed
31 Selected date
Detail information about this campsite
This inspector visits Camping Laacher See every year and inspects the campsite on the basis of more than 200 amenities and other points of interest. The inspector is an ACSI staff member and does not work for the campsite.
Toilet facilities

8.1

Staff

6.7

Price - quality comparison

7.1

Camping pitch

7.3

Accommodation

7.6

Child friendliness

6.9

Entertainment

6.3

Sports facilities

6.6

Swimming pool

7.6

Food and drink

7.7

Surroundings

8.3
Binnemans, on this campsite in September 2016
Travelling party: Couple
Heel mooie camping en supervriendelijk ontvangen. Een groene oase van rust. Ook het restaurant is een aanrader.
W Nelson, on this campsite in June 2016
Travelling party: Couple
Very pleasant camp site, well tended grounds, good size pitches, toilet/shower facilities very good. Site beside a lake but there is nothing within walking distance and no cycle tracks that we found. Pleasant staff.
Saskiak, on this campsite in June 2016
Travelling party: Couple
hier een nacht gestaan, nette camping met nog douches met douchemuntjes. kun je 3 minuten mee douchen.
verder sanitair netjes, ruime plekken en goed restaurant.
H.J.P.Fremouw, on this campsite in September 2015
Travelling party: Seniors
Wij zijn in 2007 op deze camping geweest en is toen goed bevallen.
We dachten nu weer een paar dagen daar te gaan doorbrengen maar dat viel vies tegen.
We kwamen aan even voor half een en de man aan de receptie vertelde dat we pas om 15.00 uur ons konden aanmelden. Ga maar vast het klooster bezoeken zij hij.
Zie het al gebeuren met een caravan aan de auto. We mochten niet op de aanmeldplaats voor de slagboom blijven staan omdat er vanaf de jachthaven wel eens een auto met een boot op de aanhangwagen zou moeten keren daar.
Alvast aan de andere kant van de slagboom wachten mocht ook niet.
Gratis parkeerplaatsen langs de weg waren vol, zodat we langs de weg bij een hotel even gestaan hebben om wat te drinken en om wat af te koelen (ik was nogal boos).
Twee en een half uur wachten was ons te dol dus na overleg zijn we doorgereden.

Camping laacher see heeft voor ons door de starre houding van deze meneer, volledig afgedaan.
Klm.palfenier, on this campsite in August 2015
Travelling party: Seniors
Zeer trage afhandeling met aanmelden. Moesten naast zijkant gebouw wachten en werden dan om beurten geroepen. Met twee personen voor mij, duurde het een half uur voor ik ingecheckt was. Keuze tussen twee plaatsen, 1 smal en ongelijk en 1 vlak, waar ik extra voor moest betalen.
Vlakke plaats bleek totaal geen zon te krijgen en de andere plaats was te erg voor woorden, daar kon je niet staan. Andere vrije plaatsen in overvloed, maar die kon je niet kiezen.
Konden de volgende morgen pas betalen en moest toen weer in de rij wachten. Contant en geen bon.
Sanitair prima, wel de doucheknop steeds ingedrukt houden. Lastig.
Fijn meer waar je goed in kan zwemmen. Wel veel waterplanten.
Wij komen hier niet weer.
Lotte, on this campsite in June 2015
Travelling party: Young couple
Toen wij al vroeg in de middag bij de camping aankwamen om een duik in het meer te nemen, ging dit niet door omdat de receptie pas vanaf 15:00 weer open ging. We werden weggestuurd en mochten pas rond 16:00 terugkomen omdat er anders een rij zou staan. Het personeel was zeer onvriendelijk en wilde geen informatie geven over hoe wij dan om 16:00 langs moesten komen. Met auto of zonder auto, het kon ze allemaal niets schelen. Zeer onvriendelijk. Deze mensen doen niet erg hard hun best voor hun klanten. De prijs was aan de hoge kant voor de plek die we kregen, in een met stenen bezaaide greppel. Niet erg fijn met een tent. Ook de douches waren kort en onprettig. Omdat wij maar 1 nacht bleven moesten wij de volgende ochtend om 11:00 alweer uit checken. Veel geld dus voor een tijdstrekkking van 16:00-11:00. Ik raad deze camping zeer af, ik zou een ander meer zoeken.
l.roelfsema, on this campsite in June 2015
Travelling party: Seniors
Dames aan de receptie waren erg makkelijk. De meneer heel erg vriendelijk. De prijs aan de hoge kant. De douches niet makkelijk, tijdens het douchen de knop vast houden met 1 hand.
F.Heldm., on this campsite in June 2015
Travelling party: Couple
Wir machen seid 25 Jahren, Camping aber so etwas haben wir noch nie erlebt, man konnte den Platz nicht selbst aussuchen, die Chefin selbst teilte den Campern ihre Plätze zu, in einem unfreundlichen und arroganten Ton, den wir noch nie auf einem Campingplatz erlebt haben, die meisten Camper haben das auch so empfunden. Müllentsorgung und Sanitärgebäude wurden Video überwacht, die Anlage wurde abgeriegelt wie ein Hochsicherheitstrakt, trotzdem war der Platz sehr schön, haben ihn vorzeitig verlassen, und würden auch niemals wieder kommen. Wir wünschen den Betreibern , dass sie in absehbarer Zeit, wenn sich das Alles rumgesprochen hat, alleine auf Ihrem wunderschönen Platz sitzen.
Piet Lasschuit, on this campsite in September 2014
Travelling party: Seniors
Op doorreis naar Italië hebben wij deze camping aan gedaan. Is ons prima bevallen. Omdat de camping aan een meer ligt zal hij in het seizoen wel steeds vol zijn.
Piet Spoor, on this campsite in September 2014
Travelling party: Couple
De charmante dame van de receptie is erg van de regeltjes. Met ACSI pasje een plaats gekregen helemaal achteraan op de camping, terwijl alle plaatsen vanaf onze plaats tot aan het restaurant leeg waren.
Sanitair en restaurant zijn prima; de bediening van de warmwatervoorziening is echter vrij gecompliceerd.
Er moest contant betaald worden en er werd geen rekening uitgereikt.
General information
Guide price 1

€27.00

Guide price 2

€33.00

Period of opening

24/03 till 20/09

Area

7 ha

Altitude

220m

Number of touring pitches

95 (80 - 120m2)

Number of permanent pitches

95

Campsite suitable for disabled persons

Yes

Eco campsite

Yes
* Facilities printed in bold are not included in the overnight rate. Supplementary charges will apply. (This does not mean that facilities which are not printed in bold are free!)
Popular amenities

WiFi 80-100% coverage

Dog(s) in high season (on lead)
At the reception

Advance booking recommended for high season

Passport/identity card required

Languages spoken at reception (during the main season)

languages: German | English | Dutch
Pitch amenities

Water connection at/near the pitch (max. 15 m)

Waste water drainage at/near the pitch (max. 15 m)

Tap at/near the pitch (max. 50 m)

Also suitable for caravans > 5.5m, excluding towbar

Electrical hook-ups possible to maximum %s amps

Max. electricity: 16 ampère

Euro-plug required
Internet
Situation of campsite

Located by a lake/recreation pond (max. 0.1 km)

Located in a wood

Panorama

Close to motorway junction (< 10 km)

Public transport near the camp site (max. 0.5 km)

Shopping opportunities within %s km
Dogs

Dog(s) in high season (on lead)

Dog(s) in low season (on lead)
Swimming

Swimming in the lake/recreation pool(max. 0.1 km)

Beach showers

Sunbathing area
Beach

Grass beach

Artificially hardened beach
For children

Children's playground: large

Children's playground: small

Games room

Children's sanitary facilities

Baby room

Crazy golf

No entertainment programme
Toilet facilities

Washbasins: hot water

Washbasins: cold water

Heated toilet facilities

Individual washcabins: hot water

Individual washcabins: cold water

Children's sanitary facilities

Standard toilets

Toilet paper provided

Chemical toilet disposal point

Showers: hot water

Showers: cold water

A shower (150 cmsx150 cms minimum) and a toilet (165x220cms or 190cmsx190cms minimum)

Water and toilet facilities for disabled people in the same building as for the other campers

Disabled sanitary facilities only open for the disabled

Canteen/restaurant has toilet adapted for disabled people

Baby room

Beach showers

Tap without push control
Sport and games

Table tennis table

Fitness

Crazy golf
Ground and vegetation

Pitches with plenty of shade

Pitches with some shade

Unshaded pitches

Marked pitches

Grass

Terraced site

Hard standing pitches

Sloping site
Campsite rules

Dog(s) in high season (on lead)

Dog(s) in low season (on lead)

Caravans allowed

Tents allowed

Small extra tent permitted

Motorhomes allowed

Twin-axle vehicles permitted

Barbecues permitted

type of BBQ: charcoal | electricity | gas

Own boats permitted
Food, drink and groceries

Fresh bread available at the camp site

Groceries: limited selection

Shop/supermarket with level entrance or with ramp

Restaurant (with ample choice)

Restaurant (limited choice)

Canteen/restaurant with level entrance or with ramp

Snack bar

Takeaway meals

Ice available

Exchanging of gas cylinders
Washing, washing-up, cooking

Washing up sinks: hot water

Washing up sinks: cold water

Washing machine(s)

Laundry sinks: cold water

Laundry sinks: hot water

Dryers
Recreation (adults)

Fishing

Cycle routes starting at the camp site

Marked out walking routes near the camp site

Games room

Television

Guided walks
Water sports and recreation

Fishing

Windsurfing permitted

Jetty/buoy

Snorkelling

Own boats permitted

Sailing permitted

Trailer slope
For motorhomes

Motorhomes allowed

Special facilities for motorhomes

Also suitable for motorhomes > 8m and > 4 tonnes

length: 10
weight: 7500 kg
Miscellaneous

Footpaths and roads are lit

Patrolled grounds

Quiet during the day and at night

Separate area for young people
Address & Route
Would you like to book campsite Camping Laacher See or request more information? You can do both using the information below.
Camping Laacher See
Am Laacher See/ L113/ Vulkaneifel
56653 / Wassenach/Maria Laach
Germany


Download GPS coordinates

Select your navigation system:

A61 exit Mendig/Maria Laach. Then approx. 5 km to the north.
The weather on this campsite
Weather forecast
Wed

26 / 10

Thu

27 / 10

Fri

28 / 10

Sat

29 / 10

Sun

30 / 10

Mon

31 / 10

Tue

01 / 11

Max.
12.6°
13.9°
14.2°
14.4°
14.7°
14°
13°
Min.
7.2°
5.7°
7.8°
9.3°
7°
6.3°
6°
Precipitation
0%
0%
5%
5%
15%
15%
15%
Wind direction
NW
SW
W
N
E
E
E
Wind speed
2
2
2
2
2
2
2
Climate
| | |
| --- | --- |
| | Precipitation total (mm) |
| Jan | 44 |
| Feb | 37 |
| Mar | 44 |
| Apr | 46 |
| May | 46 |
| Jun | 60 |
| Jul | 70 |
| Aug | 54 |
| Sep | 46 |
| Oct | 55 |
| Nov | 48 |
| Dec | 51 |
Information request
ACSI Eurocampings will send your information request to "Camping Laacher See".
Take note; you are sending an information request. You cannot make a reservation using this form. You will need to contact the campsite directly and ACSI Eurocampings cannot have any influence on the consequences thereof.