International Camping Ispra

****
International Camping Ispra is a campsite in Ispra, Varese, located by a lake/recreational pond.The campsite has pitches which are marked out and pitches with shade. It is possible to rent mobile homes and bungalows. The camp site has a playground.
Show more

The following rules apply to pets at (International Camping Ispra):
- Dog(s) permitted in low season (if on a lead)
- Dog(s) permitted in high season (if on a lead)

For sportive holidaymakers the camp site offers excursion programmes. The camp site has an outdoor swimming pool. At International Camping Ispra you can go windsurfing and waterskiing.

You don't always have to cook, as the camp site has a snack bar, pizzeria and restaurant (with snack menu). The camp site also supplies fresh bread. You can also use the internet, as you can access the internet with your own laptop in 80% of the camp site.
Low-season discount with CampingCard ACSI
Affordable camping in the low season with CampingCard ACSI
CampingCard ACSI is a useful little card that will earn you up to 50% discount on your holiday! In 2016 you can choose from no fewer than 3142 campsites in 20 European countries. You will pay one of the four fixed, low rates in the early and late season!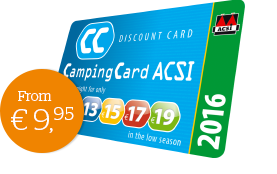 The advantages
Up to 50% discount! You can stay even more inexpensively at the loveliest campsites throughout Europe for four fixed rates using your CampingCard ACSI.

3142 campsites, all inspected by ACSI! You are welcome at 3142 campsites covering 20 European countries with your CampingCard ACSI

Affordable camping with your (grand)children 3 children (under 6 years) are included in the CampingCard ACSI rate at more than 700 campsites
Campsite opening period + your holiday period
August 2016
Mon
Tue
Wed
Thu
Fri
Sat
Sun
1
2
3
4
5
6
7
8
9
10
11
12
13
14
15
16
17
18
19
20
21
22
23
24
25
26
27
28
29
30
31
September 2016
Mon
Tue
Wed
Thu
Fri
Sat
Sun
1
2
3
4
5
6
7
8
9
10
11
12
13
14
15
16
17
18
19
20
21
22
23
24
25
26
27
28
29
30
October 2016
Mon
Tue
Wed
Thu
Fri
Sat
Sun
1
2
3
4
5
6
7
8
9
10
11
12
13
14
15
16
17
18
19
20
21
22
23
24
25
26
27
28
29
30
31
November 2016
Mon
Tue
Wed
Thu
Fri
Sat
Sun
1
2
3
4
5
6
7
8
9
10
11
12
13
14
15
16
17
18
19
20
21
22
23
24
25
26
27
28
29
30
December 2016
Mon
Tue
Wed
Thu
Fri
Sat
Sun
1
2
3
4
5
6
7
8
9
10
11
12
13
14
15
16
17
18
19
20
21
22
23
24
25
26
27
28
29
30
31
31 Campsite open
31 Campsite closed
31 Selected date
Detail information about this campsite
This inspector visits International Camping Ispra every year and inspects the campsite on the basis of more than 200 amenities and other points of interest. The inspector is an ACSI staff member and does not work for the campsite.
Toilet facilities

6.5

Staff

7.0

Price - quality comparison

6.7

Camping pitch

7.5

Accommodation

6.7

Child friendliness

7.0

Entertainment

7.0

Sports facilities

6.9

Swimming pool

7.6

Food and drink

7.2

Surroundings

7.8
Penny Reynolds, on this campsite in September 2016
Travelling party: Couple
Mixed feeling about this site. It would appear that the owners have put a lot of work into the static cabins and very little into the upkeep of the pitches. We had little to choose from as we were using our ACSI card and realistically only a couple could accommodate our 7.5m van. Unfortunately the lakeside looked a little like a marsh area that meant that we were also plagued by mosquitoes. The swimming pool and terrace were wonderful and had beautiful views from them. The showers are on a paid per use credit card type thing so we decided not to bother and used the facilities in our motorhome.
K. De Boer, on this campsite in September 2016
Travelling party: Couple
Wat een slechte camping. De mobile homes of bungalow zoals zij het noemen zijn verschrikkelijk. Ze zijn oud, vies en stinken. Dat proberen ze te verdoezelen met een luchtverfrisser in de mobile home van Brise of zoiets. Het zeiltje wat er in ligt is helemaal vergeeld. En er liggen dode mieren op het aanrecht. Die mobile homes hadden 20 jaar geleden al afgevoerd moeten worden.
Er is een restaurant, maar die was alleen in het weekend open. Daar kon je dan in de ochtend broodjes halen vanaf 9.00 uur zeiden ze, maar om 9.45 uur waren ze er nog niet. De rest van de week zou je dan dus naar supermarkt verderop moeten voor je ontbijt.
Wij hadden geboekt voor een week, maar zijn na 1 nacht vertrokken.
Ze weigeren om geld terug te betalen voor de nachten die we dus niet verbleven hebben. En we hebben ook niet de \"bugalow\" gekregen die op de site staat waar wij geboekt hebben.

Daarnaast ligt het ook nog aan de verkeerde kant van het meer. Alles is te doen westelijk van het meer.

Dus ons advies is niet naar deze camping te gaan.

Verbleef September, 2016, bezocht met een partner
Tilman, on this campsite in July 2016
Travelling party: Family with children, 12 - 18 years
Wir waren ab Ende Juli für 8 Tage auf diesem Platz. Wirklich empfehlenswert.

Der Platz liegt im Osten des Lago Maggiore, in dem weniger Touristen unterwegs sind. Man kann einiges machen in der Gegend, mit dem Fahrrad oder zu Fuß Touren unternehmen, Landschaften toll, Städte mit Charme direkt in der Gegend.

Besonderheit des Platzes: Man kann sich seine Stellfläche selbst aussuchen. Und: Es ist ein stetiges Kommen und gehen, was heißt: Die Chancen stehen gut, einen Platz unmittelbar am See zu ergattern. Und so hatten wir es dann auch, Blick auf die Berge der Alpen und auf die Städte gegenüber am See. 5 Meter in den See zum Baden.

Personal ist sehr nett, morgens beim Holen der (recht trockenen) Brötchen gibts den ersten Espresso in der Bar beim Pool. Leckere Pizza abends auch dort. Hauptsächlich Italiener am Platz, abends Programm vor allem für die vielen Kinder.

Sanitäranlagen werden offenbar nur einmal morgens gereinigt, das ist zu wenig. Wer Internet braucht und auf Wifi-Verbindung hofft, wird es schwer haben. Leitung stimmt nicht, wir haben es mit mehreren Geräten probiert. Uns daher SIM-Karte aus der Stadt geholt mit preiswertem Datenpaket. Dennoch nervt das, warum können Betreiber nicht einfach dafür sorgen, dass man Internetzugang am Platz hat, wenn sie es für viel Geld verkaufen? Für mich tatsächlich mit ein entscheidender Faktor bei der Auswahl eines Platzes, daher auch ein Stern Abzug.

Einen kleinen Minimarkt gibt es übrigens nicht, aber: In knapp einem Kilometer gibt es in einer Reihe 3 Supermärkte mit allem, was das Herz begehrt. Brötchen und süße Croissants wie gesagt in der Bar. Badekappenpflicht gibt es nicht (mehr). Und Schlamm am Ufer hatten wir auch nicht. Einige Algen, ja, störten uns aber nicht.

Unterm Strich absolut empfehlenswert!
Tolsma, on this campsite in August 2015
Travelling party: Seniors
Het sanitair is verouderd. Stoelen in zwembad tegen betaling. Wifi kost ook aardig wat. Het water in het meer is zo laag dat er een strook modder van 30 meter ligt. De wind blaast de stank van de modder je caravan in.
John Winchester, on this campsite in July 2015
Travelling party: Couple
Had too comment after reading the post by Monica Morales, we are at the site now, 27 July and its wonderful,plenty large shaded pitches. Brand new wooden cabins for rent (like cuckoo clock style). Big clean swimming pool.restaurant and good shop onsite. Very friendly staff.water sports right at edge of lakge. Toilets all clean,hand driers. Even piped music!
T.H.M. Dudink, on this campsite in June 2015
Deze beoordeling is als enquete afgenomen door onze inspecteur op de camping zelf.
Familie Hampel, on this campsite in May 2015
Travelling party: Family with children, 4 – 12 years
Es wird viel versorichen und kaum etwas gehalten. Pool geschlossen und verdreckt. Kinderspielplatz absolut verdreckt und unbrauchbar. Minimarkt? Ein Witz. Es gibt Chips und Eis. Der nächste Supermarkt 10 Fahrradminuten entfernt und zu erreichen über viel befahrene Hauptstrasse ohne Fuss- oder Fahrradweg. Der Kaffe in der kleinen und schlecht geführten Bar? Alles andere als italienisch - Spülwasser. Personal unbfreundlich und mit LMAA Stimmung-Für das alte dreckige und verkommene TRampolin sollen Kinder 3 EUR für 10 Minuten springen zahlen. Und wer früher fahren will, weil hier nix funktioniert der soll den vollen Preis für die gebuchte Dauer zahlen - obwohl der Camping gähnend leer ist. Absolute Anti-Empfehlung - diese lieblosen und unfreundlichen Menschen sollten an Campern kein Geld mehr verdienen dürfen.
Niederberger Bruno, on this campsite in September 2014
Travelling party: Couple
schöner Platz direkt am See (recht verschlammt), Platz nicht in der Nähe von einer Ortschaft. Sanitäre Anlagen recht alt. Duche in Ordnung. Abwasch ohne warmen Wasser.
Becker, on this campsite in September 2014
Travelling party: Couple
Der Campingplatz ist sehr schön gelegen könnte aber
Ordentlicher sein .
ansonsten war der Urlaub sehr schön :)
Erica Nabben, on this campsite in July 2014
Travelling party: Family with children, 4 – 12 years
Mooie camping, je moet wel goed je kamp plaats uitzoeken zijn erg verschillend van grote en vlakte. Leuke speeltuin en beachvolleybal veld. Strand werd tijdens ons verblijf schoongemaakt, het meer is heerlijk en de temp hoger als het zwembad. Zwembad ook prima. Animatie leuk en betrokken 3 x per dag. Wel gericht op kinderen tot een jaar of 9. sanitair wordt 2 x per dag grondig schoongemaakt. Is wel wat verouderd,geen wc bril en papier maar dat kun je verwachten. Er zijn alleen broodjes in het restaurant te halen, maar grote supermarkt op 1 km. Personeel erg aardig in restaurant, zeker ook voor kinderen!
General information
Guide price 1

€32.00

Guide price 2

€42.00

Period of opening

18/03 till 02/11

Area

2.5 ha

Altitude

205m

Number of touring pitches

106

Number of permanent pitches

170

Number of accommodation units for hire

9
* Facilities printed in bold are not included in the overnight rate. Supplementary charges will apply. (This does not mean that facilities which are not printed in bold are free!)
Popular amenities

Outdoor swimming pool

surface area: 144 m2
period: 15-06/15-09

WiFi 80-100% coverage

Dog(s) in high season (on lead)

ACSI Club ID is accepted as an identity document

Mobile homes
At the reception

ACSI Club ID is accepted as an identity document

Advance booking recommended for high season

Passport/identity card required

Credit cards accepted

credit card: Amex | Diners Club | MasterCard | Visa Card

Languages spoken at reception (during the main season)

languages: English | French | Italian
Pitch amenities

Tap at/near the pitch (max. 50 m)

Also suitable for caravans > 5.5m, excluding towbar

Electrical hook-ups possible to maximum %s amps

Max. electricity: 6 ampère

Euro-plug required
Internet
Situation of campsite

Located by a lake/recreation pond (max. 0.1 km)

Panorama

Shopping opportunities within %s km
Dogs

Dog(s) in high season (on lead)

Dog(s) in low season (on lead)
Swimming

Outdoor swimming pool

surface area: 144 m2
period: 15-06/15-09

Beach showers

Sunbathing area
Beach
For children

Children's playground: large

Games room

Dance nights

Mini club (at least 4x a week - high season)

languages: English | Italian

Video games

No entertainment programme
Toilet facilities

Washbasins: hot water

Washbasins: cold water

Individual washcabins: hot water

Individual washcabins: cold water

Squatting-toilets

Chemical toilet disposal point

Showers: hot water

Beach showers
Sport and games

Table tennis table

Tennis court(s)

Jeu de boules alley(s)

Beach volleyball
Ground and vegetation

Pitches with plenty of shade

Marked pitches

Grass

Hard ground
Campsite rules

Dog(s) in high season (on lead)

Dog(s) in low season (on lead)

Caravans allowed

Tents allowed

Small extra tent permitted

Motorhomes allowed

Twin-axle vehicles permitted

Barbecues permitted

type of BBQ: charcoal | electricity | gas

Own boats permitted

motorboat (length: 9 m)
sailing boat (length: 9 m)

Motorboat

Sailing boat
Food, drink and groceries

Fresh bread available at the camp site

Groceries: limited selection

Restaurant (limited choice)

Snack bar

Pizzeria

Takeaway meals

Bar

Communal barbecue area

Freezing for cooling elements
Washing, washing-up, cooking

Washing up sinks: cold water

Washing machine(s)

Laundry sinks: cold water
Recreation (adults)

Fishing

Marked out walking routes near the camp site

Games room

Excursion programme (at least 2x a week - m.s.)

Television

Video games
Water sports and recreation

Fishing

Windsurfing permitted

Waterskiing permitted

Motorboat

Own boats permitted

motorboat (length: 9 m)
sailing boat (length: 9 m)

Sailing boat

Sailing permitted
Available to hire at the campsite

Mobile homes

Bungalows/chalets

Bicycles

Mountainbikes

Motor boats
For motorhomes

Motorhomes allowed

Also suitable for motorhomes > 8m and > 4 tonnes

length: 10
weight: 5000 kg
Miscellaneous

Footpaths and roads are lit

Patrolled grounds

Quiet during the day and at night
Address & Route
Would you like to book campsite International Camping Ispra or request more information? You can do both using the information below.
International Camping Ispra
Via Carducci, 943
21027 / Ispra
Italy


Download GPS coordinates

Select your navigation system:

From Sesto Calende continue towards Laveno. Campsite clearly indicated on the left of the road in Ispra.
The weather on this campsite
Weather forecast
Thu

20 / 10

Fri

21 / 10

Sat

22 / 10

Sun

23 / 10

Mon

24 / 10

Tue

25 / 10

Wed

26 / 10

Max.
7.2°
6.4°
5.6°
5.2°
8°
10.5°
12.1°
Min.
0.9°
2.2°
2.7°
2.2°
4°
6.6°
7.8°
Precipitation
5%
5%
5%
70%
50%
65%
45%
Wind direction
NW
NW
NW
ZO
ZO
ZO
NW
Wind speed
3
3
2
3
3
2
3
Climate
| | |
| --- | --- |
| | Precipitation total (mm) |
| Jan | 78 |
| Feb | 63 |
| Mar | 111 |
| Apr | 208 |
| May | 214 |
| Jun | 97 |
| Jul | 137 |
| Aug | 118 |
| Sep | 84 |
| Oct | 186 |
| Nov | 174 |
| Dec | 90 |
Information request
ACSI Eurocampings will send your information request to "International Camping Ispra".
Take note; you are sending an information request. You cannot make a reservation using this form. You will need to contact the campsite directly and ACSI Eurocampings cannot have any influence on the consequences thereof.