La Timpa International Camping Acireale

***
La Timpa International Camping Acireale is a campsite in Acireale, Catania, located by the sea.This terraced camp site has pitches pitches with shade, pitches without shade and pitches with some shade. It is possible to rent caravans, mobile homes, Studios and apartments.
Show more

The following rules apply to pets at (La Timpa International Camping Acireale):
- Dog(s) permitted in low season (if on a lead)
For sportive holidaymakers the camp site offers excursion programmes. You can swim nearby in the sea. At La Timpa International Camping Acireale you can go snorkelling.

You don't always have to cook, as the camp site has a pizzeria and restaurant (with full menu). The camp site also supplies fresh bread. You can also use the internet, as there is a WiFi point.
Low-season discount with CampingCard ACSI
Affordable camping in the low season with CampingCard ACSI
CampingCard ACSI is a useful little card that will earn you up to 50% discount on your holiday! In 2016 you can choose from no fewer than 3142 campsites in 20 European countries. You will pay one of the four fixed, low rates in the early and late season!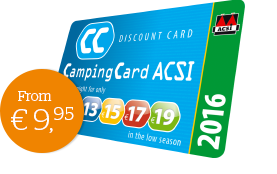 The advantages
Up to 50% discount! You can stay even more inexpensively at the loveliest campsites throughout Europe for four fixed rates using your CampingCard ACSI.

3142 campsites, all inspected by ACSI! You are welcome at 3142 campsites covering 20 European countries with your CampingCard ACSI

Affordable camping with your (grand)children 3 children (under 6 years) are included in the CampingCard ACSI rate at more than 700 campsites
Campsite opening period + your holiday period
August 2016
Mon
Tue
Wed
Thu
Fri
Sat
Sun
1
2
3
4
5
6
7
8
9
10
11
12
13
14
15
16
17
18
19
20
21
22
23
24
25
26
27
28
29
30
31
September 2016
Mon
Tue
Wed
Thu
Fri
Sat
Sun
1
2
3
4
5
6
7
8
9
10
11
12
13
14
15
16
17
18
19
20
21
22
23
24
25
26
27
28
29
30
October 2016
Mon
Tue
Wed
Thu
Fri
Sat
Sun
1
2
3
4
5
6
7
8
9
10
11
12
13
14
15
16
17
18
19
20
21
22
23
24
25
26
27
28
29
30
31
November 2016
Mon
Tue
Wed
Thu
Fri
Sat
Sun
1
2
3
4
5
6
7
8
9
10
11
12
13
14
15
16
17
18
19
20
21
22
23
24
25
26
27
28
29
30
December 2016
Mon
Tue
Wed
Thu
Fri
Sat
Sun
1
2
3
4
5
6
7
8
9
10
11
12
13
14
15
16
17
18
19
20
21
22
23
24
25
26
27
28
29
30
31
31 Campsite open
31 Campsite closed
31 Selected date
Detail information about this campsite
This inspector visits La Timpa International Camping Acireale every year and inspects the campsite on the basis of more than 200 amenities and other points of interest. The inspector is an ACSI staff member and does not work for the campsite.
Toilet facilities

6.6

Staff

6.8

Price - quality comparison

6.9

Camping pitch

7.2

Accommodation

6.8

Child friendliness

6.0

Entertainment

5.6

Sports facilities

4.8

Swimming pool

6.5

Food and drink

7.4

Surroundings

7.5
Ulla, on this campsite in June 2016
Travelling party: Seniors
Der Platz ist sehr schwer anzufahren und in einem sehr ungepflegten Zustand. Die Mobilheime sind alt uns nicht sauber. Zum Einkaufen muss man recht weit mit einem Fahrzeug sehr steil bergauf fahren. Einziger Pluspunkt: Der Blick aufs Meer, aber nur von der unteren Terrasse aus. Ein Aufzug fährt hinab zur kleinen Badestelle (Felsen). Für den Zustand des Platzes war der Preis in der Vorsaison viel zu hoch.
Ulrike Gaede, on this campsite in December 2015
Travelling party: Couple
Leider wird aus dem schönen Platz nur wenig gemacht, Reklamationen werden nur sehr zögerlich behandelt und Sauberkeit lässt sehr zu wünschen übrig. Eine Mitarbeiterin hat uns sehr gut betreut, so dass wir trotz allem 4 Wochen, wie geplant geblieben sind. Leider ist diese Kollegin nicht mehr da und wir können diesen Platz nicht wirklich empfehlen, auch wenn die Anlage sehr interessant aufgebaut ist.
H. Küper, on this campsite in May 2015
Travelling party: Couple
Total ungepflegter Platz, Sanitäranlage 1 Woche nicht gereinigt, Teils unfreundliches Personal, Waschmaschine defekt, Keine Entsorgung für Wohnmobile, Entsorgung NUR für Cassettentoilette möglich, kein Brot am Platz, Brot erst um 10 Uhr im Ort zu kaufen
Wegener, on this campsite in September 2014
Travelling party: Couple
Zweigeteilter Platz. Nur der obere Teil liegt unter Zitronenbäumen, allerdings auch ohne den atemberaubenden Blick des unteren auf das Meer. Der untere Platzteil ist klein, eng und nur über eine sehr steile Zufahrt zu erreichen. Für Wohnmobile über 7,0 Meter nicht geeignet. Die hallenähnlichen in den Fels gehauenen Sanitäranlagen sind sehr großzügig aber schon stark abgenutzt. WC ohne Brillen, dafür aber warmes Wasser soviel das Herz begeht ohne lästige Jetons. Keine Ver-/Entsorgung. Das Süßwasser sollte man laut Platzbetreiber nur abgekocht verwenden. In der Nebensaison ist der Kiosk auf dem unteren Platzteil geschlossen und man kann auf der dazugehörigen Terrasse bei aufgehender Sonne auf der Felskannte hoch über dem Meer eine einmaliges Frühstückserlebnis genießen. Der Weg zu einer Badeplattform tief darunter führt über einen Tunnel und einen Aufzug nach unten. Der Gang ins Wasser ist gefährlich, weil sehr rutschig. Auf der Badeplattform ist wenig Platz und ab Mittag Schatten.
B. van Brugge, on this campsite in July 2014
Deze beoordeling is als enquete afgenomen door onze inspecteur op de camping zelf.
Schnell Hanspeter, on this campsite in April 2014
Travelling party: Seniors
Lage auf unterster Terasse sehr schön, aber sehr wenig Platz. Als Ausgangspunkt für den Aetna und Catania ideal. Sanitäranlagen, 40 % davon defekt, während unserem Aufenthalt (5 Tage) nie gereinigt.
Spühltroge unbrauchbar. Es scheint, dass Camping untergeordnet ist gegenüber den vielen (Plastik)-Bungalows.
Wer vergab die 3 Sterne???
MASSA JC, on this campsite in September 2012
Travelling party: Couple
Camping tres difficile 'acces en camping car ou caravane. Emplacements du bas impossible en camping car. A l'acceuil surprise le prix n'est plus de 16€ comme prevu, mais 27,70; pour les 16 € il faut rester 3 jours, quelle arnaque (bulletin a disposition pour confirmer); après de multiples discussion et notre intention de partir le prix a été rayer et 16 € appliquer. Camping vétuste, laissé a l'abandon. Plus de possibilité de vidange des eaux grises, d'apres la direction il ne sont plus aux normes. Nous ne comprenons pas pourquoi "ACSI" recommande ce camping. A éviter absolument!!
Quand au restaurant c'est le même topo, demander bien les prix avant de commander, sinon la suprise sera grande à l'addition. Puis pas la peine de réserver, on ne vous gardera pas votre table, c'est ce qui nous est arrivé. Fuyez ce camping.... J'espère ne pas être censuré.
Pluys, on this campsite in September 2012
Travelling party: Young couple
Onbeschoft personeel, smerig sanitair, geen losput voor mobilhome, geen uitstappen mogelijk, spreken enkel Italiaans, winkel gesloten, geen brood verkrijgbaar, kortom klopt er niets van wat er in het boek staat en is helemaal geen 3 sterren waard. 's Avonds tot 's nachts veel lawaai van de pizzeria. Volgens mij is de pizzeria het hoofdding en de camping bijzaak. Zo een slechte camping heb ik nog nooit meegemaakt.
Kim, on this campsite in September 2012
Travelling party: Couple
Wat een slechte camping: talenkennis 0, brood op camping helemaal niet, losplaats voor mobilhomes (deze moet nog uitgevonden worden), lift naar beneden (vraag me af waar deze wel niet ligt), sanitair zeer zeer verouderd. Uitstappen nul komma nul, zoek het maar zelf uit. Op deze camping sturen ze je van het kastje naar de muur. Restaurant om 1u 's nachts, leek wel carnaval, respect voor een ander hebben ze niet. Campingwinkel niet open (zie maar hoe je aan eten geraakt). Men weet hier niets op deze camping, de één zegt zus de ander zo. Voor mijn part krijgt deze camping helemaal geen sterren, hij is ze ook niet waard. In de onmiddellijke omgeving geen hol te zien.
MC Bulten, on this campsite in September 2012
Travelling party: Couple
Zoals al eerder vermeld is, spreken de mensen het liefst Italiaans, en andere talen zijn erg moeizaam. Dit is wel jammer.
De plaatsen onder de bomen zijn erg mooi en het uitzicht over zee is prachtig. Verder mag de camping wel een opknapbeurt gebruiken.
De korting willen ze liever niet dan wel geven. Dit is erg jammer, uiteindelijk hebben wij deze wel gehad en dat maakt de prijskwaliteitverhouding weer goed.
General information
Guide price 1

€30.50

Guide price 2

€40.50

Period of opening

01/01 till 31/12

Area

1.8 ha

Number of touring pitches

150 (41 - 80m2)

Number of permanent pitches

20

Number of accommodation units for hire

25
* Facilities printed in bold are not included in the overnight rate. Supplementary charges will apply. (This does not mean that facilities which are not printed in bold are free!)
Popular amenities

Situated on the coast (max. 0.5 km)

ACSI Club ID is accepted as an identity document

Mobile homes
At the reception

ACSI Club ID is accepted as an identity document

Advance booking recommended for high season

Passport/identity card required

Credit cards accepted

credit card: Amex | Diners Club | MasterCard | Visa Card

Languages spoken at reception (during the main season)

languages: English | French | Italian
Pitch amenities

Water connection at/near the pitch (max. 15 m)

Waste water drainage at/near the pitch (max. 15 m)

Tap at/near the pitch (max. 50 m)

Electrical hook-ups possible to maximum %s amps

Max. electricity: 3 ampère

Euro-plug required
Internet
Situation of campsite

Situated on the coast (max. 0.5 km)

Distance to the sea (max. 10 km)

Panorama

Close to motorway junction (< 10 km)

Shopping opportunities within %s km
Dogs

Dog(s) in low season (on lead)

Dogs not allowed in high season
Swimming

Sea swimming (max. 0.5 km)

Beach showers
Beach

Rocky coastline

Stony beach
For children

Children's playground: small

Video games

No entertainment programme
Toilet facilities

Washbasins: hot water

Washbasins: cold water

Standard toilets

Chemical toilet disposal point

Showers: hot water

Showers: cold water

Beach showers
Sport and games
Ground and vegetation

Pitches with plenty of shade

Pitches with some shade

Unshaded pitches

Grass

Terraced site

Hard ground
Campsite rules

Dog(s) in low season (on lead)

Caravans allowed

Tents allowed

Motorhomes allowed

Barbecues permitted

type of BBQ: charcoal | gas
Food, drink and groceries

Fresh bread available at the camp site

Restaurant (with ample choice)

Pizzeria

Bar

Communal barbecue area

Freezing for cooling elements
Washing, washing-up, cooking

Washing up sinks: cold water

Washing machine(s)

Laundry sinks: cold water

Ironing facilities
Recreation (adults)

Fishing

Excursion programme (at least 2x a week - m.s.)

Video games
Water sports and recreation

Fishing

Snorkelling

Scuba diving
Available to hire at the campsite

Mobile homes

Apartments

Caravans

Studios

Canoes
For motorhomes

Motorhomes allowed

Special facilities for motorhomes
Miscellaneous

Footpaths and roads are lit

Patrolled grounds

Separate area for young people
Address & Route
Would you like to book campsite La Timpa International Camping Acireale or request more information? You can do both using the information below.
La Timpa International Camping Acireale
Via Santa Maria La Scala 25
95024 / Acireale
Italy


Download GPS coordinates

Select your navigation system:

A18, exit Acireale. SS114 km 80.3 in Santa Maria la Scala village. Campsite clearly signposted.
The weather on this campsite
Weather forecast
Sat

22 / 10

Sun

23 / 10

Mon

24 / 10

Tue

25 / 10

Wed

26 / 10

Thu

27 / 10

Fri

28 / 10

Max.
13.4°
14.4°
17.3°
17.7°
16.7°
13.3°
7.1°
Min.
9°
8.9°
10.8°
11.6°
11.8°
10°
4.2°
Precipitation
15%
40%
5%
5%
10%
40%
50%
Wind direction
SW
SW
SW
S
W
W
NW
Wind speed
5
4
4
3
4
5
5
Climate
| | | |
| --- | --- | --- |
| | Relative humidity | Precipitation total (mm) |
| Jan | 81% | 91 |
| Feb | 76% | 57 |
| Mar | 74% | 55 |
| Apr | 74% | 42 |
| May | 73% | 18 |
| Jun | 68% | 7 |
| Jul | 68% | 0 |
| Aug | 75% | 22 |
| Sep | 79% | 41 |
| Oct | 79% | 92 |
| Nov | 80% | 93 |
| Dec | 79% | 100 |
Information request
ACSI Eurocampings will send your information request to "La Timpa International Camping Acireale".
Take note; you are sending an information request. You cannot make a reservation using this form. You will need to contact the campsite directly and ACSI Eurocampings cannot have any influence on the consequences thereof.