Campsite La Focetta Sicula

**
Campsite La Focetta Sicula is a campsite in Sant'Alessio Siculo, Messina, located by the sea.The campsite has pitches pitches with shade and pitches with some shade. La Focetta Sicula is located close to a sandy beach and a pebble beach. It is possible to rent mobile homes and bungalows. The camp site has a sports ground.
Show more

The following rules apply to pets at (La Focetta Sicula):
- Dog(s) permitted in low season (if on a lead)
For sportive holidaymakers the camp site offers excursion programmes and guided walks. You can swim nearby in the sea. At La Focetta Sicula you can go windsurfing and waterskiing.

You don't always have to cook, as the camp site has a snack bar. You can also use the internet, as the camp site has one or more computers with an internet connection and you can access the internet with your own laptop in 80% of the camp site.
Low-season discount with CampingCard ACSI
Affordable camping in the low season with CampingCard ACSI
CampingCard ACSI is a useful little card that will earn you up to 50% discount on your holiday! In 2016 you can choose from no fewer than 3142 campsites in 20 European countries. You will pay one of the four fixed, low rates in the early and late season!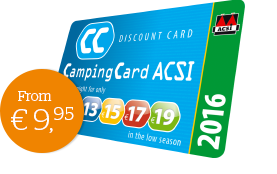 The advantages
Up to 50% discount! You can stay even more inexpensively at the loveliest campsites throughout Europe for four fixed rates using your CampingCard ACSI.

3142 campsites, all inspected by ACSI! You are welcome at 3142 campsites covering 20 European countries with your CampingCard ACSI

Affordable camping with your (grand)children 3 children (under 6 years) are included in the CampingCard ACSI rate at more than 700 campsites
Campsite opening period + your holiday period
August 2016
Mon
Tue
Wed
Thu
Fri
Sat
Sun
1
2
3
4
5
6
7
8
9
10
11
12
13
14
15
16
17
18
19
20
21
22
23
24
25
26
27
28
29
30
31
September 2016
Mon
Tue
Wed
Thu
Fri
Sat
Sun
1
2
3
4
5
6
7
8
9
10
11
12
13
14
15
16
17
18
19
20
21
22
23
24
25
26
27
28
29
30
October 2016
Mon
Tue
Wed
Thu
Fri
Sat
Sun
1
2
3
4
5
6
7
8
9
10
11
12
13
14
15
16
17
18
19
20
21
22
23
24
25
26
27
28
29
30
31
November 2016
Mon
Tue
Wed
Thu
Fri
Sat
Sun
1
2
3
4
5
6
7
8
9
10
11
12
13
14
15
16
17
18
19
20
21
22
23
24
25
26
27
28
29
30
December 2016
Mon
Tue
Wed
Thu
Fri
Sat
Sun
1
2
3
4
5
6
7
8
9
10
11
12
13
14
15
16
17
18
19
20
21
22
23
24
25
26
27
28
29
30
31
31 Campsite open
31 Campsite closed
31 Selected date
Detail information about this campsite
This inspector visits Campsite La Focetta Sicula every year and inspects the campsite on the basis of more than 200 amenities and other points of interest. The inspector is an ACSI staff member and does not work for the campsite.
Toilet facilities

6.2

Staff

7.8

Price - quality comparison

7.2

Camping pitch

7.7

Accommodation

7.5

Child friendliness

7.7

Entertainment

6.4

Sports facilities

6.8

Swimming pool

5.8

Food and drink

6.9

Surroundings

7.4
Rosa Maria Guijarro, on this campsite in September 2016
Travelling party: Couple
Nuestra experiencia en este cámping ha sido muy positiva. Silvio, el propietario, nos ayudó en todo lo que necesitamos y nos informó de posibles visitas en los alrededores y cómo realizarlas. El cámping es muy tranquilo, tiene mucha sombra y está muy limpio. Dispone también de wifi que funciona muy bien. Tiene acceso directo a la playa. También está muy cerca de un supermercado.
A destacar la buena situación para desplazarse en transporte público a Taormina y Forza d'Agró, la parada del autobús esta muy cerca del cmping. También está bien comunicado con Catania en tren.
En síntesis, un buen cámping para pasar unos días tranquilos y realizar las visitas en transporte público, especialmente a Taormina, cuyo acceso en coche privado es muy complicado.
GMan, on this campsite in September 2016
Travelling party: Family with children <4 years
Related to this camping comes my worst experiences in Italy.
The person in the previous camping site left by accident in the copymachine my id card that is
also my passport. After travelling 300 km next day towards Sicily, the next evening, I realized that I left it there. It was both or our fault since I forgot to ask for it but they also forgot to give it to me back. But it was solely their fault that they promised to send by post on Friday but when I called on Tuesday where it is, they said they were busy so they did not send it.
This camping place where I should have received the mail with my id but they were completely
non-cooperative. They asked me why letters arrived to this camping when I am not part of this camping.
And I cannot receive letters when I am not part of this camping. I said fine then, I\'ll stay and I will be
part of this camping. Then they said I cannot stay here if I do not have an Id. Booom. Then check
the your mail if my id arrived…. and so on…
In general the camping is below the average what I experienced in Italy.
Franz, on this campsite in May 2016
Travelling party: Seniors
Der einfache und gut Besuchte Platz ist nur zu Empfehlen als Durchgangs oder wie wir auch längeren Aufenthalt. Uns half der Deutschsprechende Hilfsbereite Platzwart bei der Stellplatz suche und half beim einrangieren, was aber auch die Betreiberfamilie macht. Die Toiletten und Duschen sind einfach werden aber sehr sauber gehalten wie auch der ganze Platz. Für Reisende mit Hund man kann vor dem Platz sehr schön und weit einen kleinen Fluß entlang gehen. Supermarkt und Bäcker ca. 200m.
Uns hat es gut gefallen so sind aus geplanten 2 Wochen 42 Tage geworden damit kamen wir mit ACSI Kartenrabatt 30 für 20 Tage Bezahlen gut weg.
Cat et rene, on this campsite in February 2016
Travelling party: Couple
Camping sympathique au mois de Février. Le personnel nous a aidé pour une réparation électrique sur la caravane. Les sanitaires sont propres. Accès direct sur la mer. Traversée d\'une zone industrielle pour rejoindre le camping. Supermarché accessible à pied. Résidence secondaire pour de nombreux italiens le week-end. Ambiance sympa.
louters, on this campsite in December 2015
Travelling party: Couple
2 nachten zijn we hier geweest enige mindere wat ik kan schrijven is het sanitair echt verouderd wel schoon.
Tom Zwebe, on this campsite in September 2015
Travelling party: Seniors
De meest klantonvriendelijke receptioniste ooit, we hebben al heel veel campingervaring en zijn echt niet erg kritisch. Het was dat we geen zin meer hadden om nog te verkassen maar we komen hier nooit meer terug.
Hans Van der Kruijs, on this campsite in June 2015
Travelling party: Couple
Wellicht waren wij gewoon verwend met andere campings die wij op onze rondreis in Sicilie aandeden. Klantvriendelijk, schoon, goed sanitair prachtige parkachtige omgeving etc etc. Fijn om te mogen verblijven !
Bij deze camping kregen wij letterlijk een koude smerige en kapotte douche toiletruimte en afwasruimte gepresenteerd . De camping was smerig, overvol. ( weekend) De ( brand) veiligheid liet zeer te wensen over ( geen blusaparatuur, geen vlucht wegen) onze caravan werd letterlijk ingebouwd door Campers. Voorts een giga geluidsoverlast door een zgn DJ die naast het draaien van keiharde disco zichzelf graag hoorde schreeuwen.
Toen wij de volgende morgen wilden vertrekken kregen wij er van langs van de directione die beweerde dat wij 2 nachten hadden afgesproken . Ongelooflijk onbehoorlijk.
We hadden er geen uur moeten blijven !
Onbestaanbaar dat deze camping een goede beoordeling heeft gekregen van uw medewerker
Gwyneth Edwards, on this campsite in June 2015
Travelling party: Couple
Thecampsite looks a bit like a carpark but is actually very nice and overlooking the sea. Free wifi if you go through fb. Bus to Taormino a short walk away. Busy at weekends with Italian weekenders.
Neyroud, on this campsite in September 2014
Travelling party: Seniors
Camping fort bruyant (musique festive tardive). Pas de repos, sanitaires inconsequents et de surcroit payants
Wegener, on this campsite in September 2014
Travelling party: Couple
Platz am Ortsende, direkt am Strand. Idealer Ausgangspunkt für Ausflüge ins nahe Taormina oder das romantische Hinterland. Sehr freundliches, hilfsbereites und z.T. auch deutschsprachiges Personal. Ausreichend große Parzellen. Primitive Sanitäranlagen. Warmes Wasser nur mit Jetons. Kein Laden. Supermarkt und Bäcker aber in fußläufiger Entfernung im Ort. Großes Minus sind die direkten Nachbarn, drei Baustoffhändler. Einer davon handelt mit Wellenbrechern. Die Felsbrocken werden zwischen 08.00 und 17.00 Uhr permanent mit Lkw direkt neben dem Campingplatz am Strand abgeladen. Ein Bagger bugsiert sie für Arbeitsschiffe abholbereit ins Wasser. Ein Schauspiel mit unheimlich viel Lärm.
General information
Guide price 1

€26.00

Guide price 2

€36.50

Period of opening

01/01 till 31/12

Area

1.2 ha

Number of touring pitches

120

Number of accommodation units for hire

18

Campsite suitable for disabled persons

Yes
* Facilities printed in bold are not included in the overnight rate. Supplementary charges will apply. (This does not mean that facilities which are not printed in bold are free!)
Popular amenities

WiFi 80-100% coverage

Situated on the coast (max. 0.5 km)

ACSI Club ID is accepted as an identity document

Mobile homes
At the reception

ACSI Club ID is accepted as an identity document

Advance booking recommended for high season

Passport/identity card required

Credit cards accepted

credit card: Amex | MasterCard | Visa Card

Reception easily accessible for the disabled

Languages spoken at reception (during the main season)

languages: German | English | French | Italian
Pitch amenities

Electrical hook-ups possible to maximum %s amps

Max. electricity: 6 ampère

Euro-plug required
Internet

Internet access

WiFi 80-100% coverage
Situation of campsite

Situated on the coast (max. 0.5 km)

Distance to the sea (max. 10 km)

Panorama

Close to motorway junction (< 10 km)

Public transport near the camp site (max. 0.5 km)

Shopping opportunities within %s km
Dogs

Dog(s) in low season (on lead)

Dogs not allowed in high season
Swimming

Sea swimming (max. 0.5 km)
Beach

Sandy beach

Pebble/shingle beach
For children

Children's playground: small

Games room

Video games

No entertainment programme
Toilet facilities

Washbasins: cold water

Standard toilets

Squatting-toilets

Chemical toilet disposal point

Toilet-shower combination (215cmsx215cms minimum)

Showers: hot water

Showers: cold water

Water and toilet facilities for disabled people not in the same building, but fitted with alarm

Disabled sanitary facilities only open for the disabled

Shower seat / shower chair (folding or mobile) approximately 48 cm high

Tap without push control
Sport and games

Multi-sports field

Beach volleyball
Ground and vegetation

Pitches with plenty of shade

Pitches with some shade

Grass

Sand
Campsite rules

Dog(s) in low season (on lead)

Caravans allowed

Tents allowed

Motorhomes allowed

Car-free pitches

No vehicles may enter during lunch break

Twin-axle vehicles permitted

Barbecues permitted

type of BBQ: charcoal | gas

Own boats permitted
Food, drink and groceries

Shop/supermarket with level entrance or with ramp

Canteen/restaurant with level entrance or with ramp

Snack bar

Bar

Communal barbecue area

Freezing for cooling elements

Ice available

Exchanging of gas cylinders
Washing, washing-up, cooking

Washing up sinks: hot water

Washing up sinks: cold water

Washing machine(s)

Laundry sinks: cold water

Dryers

Ironing facilities
Recreation (adults)

Fishing

Games room

Excursion programme (at least 2x a week - m.s.)

Video games

Guided walks
Water sports and recreation

Fishing

Windsurfing permitted

Waterskiing permitted

Own boats permitted

Sailing permitted
Available to hire at the campsite

Mobile homes

Bungalows/chalets

Pedal boats

Safes
For motorhomes

Motorhomes allowed

Special facilities for motorhomes

Also suitable for motorhomes > 8m and > 4 tonnes
Miscellaneous

Footpaths and roads are lit

Patrolled grounds

Quiet during the day and at night

Separate area for young people

Door-springs light enough (3-4 kgs pressure)
Address & Route
Would you like to book campsite Campsite La Focetta Sicula or request more information? You can do both using the information below.
Campsite La Focetta Sicula
Contrada Siena 40
98030 / Sant'Alessio Siculo/Taormina
Italy


Download GPS coordinates

Select your navigation system:

SS114, km 34 exit Sant'Alessio Siculo. The first campsite south of Messina. A18, exit Roccalumera.
The weather on this campsite
Weather forecast
Wed

26 / 10

Thu

27 / 10

Fri

28 / 10

Sat

29 / 10

Sun

30 / 10

Mon

31 / 10

Tue

01 / 11

Max.
26.6°
23°
20.2°
21°
21.6°
21.8°
22.2°
Min.
17.7°
19.8°
17.2°
15.5°
15.5°
15.8°
15.6°
Precipitation
5%
80%
60%
10%
5%
20%
25%
Wind direction
N
N
N
N
NO
N
NW
Wind speed
4
3
4
2
2
2
3
Information request
ACSI Eurocampings will send your information request to "Campsite La Focetta Sicula".
Take note; you are sending an information request. You cannot make a reservation using this form. You will need to contact the campsite directly and ACSI Eurocampings cannot have any influence on the consequences thereof.