Campsite La Playa is a campsite in Isola delle Femmine, Palermo, located by the sea.The campsite has pitches which are marked out, pitches with shade, pitches without shade and pitches with some shade. La Playa is located close to a sandy beach. It is possible to rent mobile homes. The camp site has a playground.
Show more

The following rules apply to pets at (La Playa):
- Dog(s) permitted in low season (if on a lead)
- Dog(s) permitted in high season (if on a lead)

You can swim nearby in the sea.

The camp site also supplies fresh bread. You can also use the internet, as you can access the internet with your own laptop in 80% of the camp site.
Low-season discount with CampingCard ACSI
Affordable camping in the low season with CampingCard ACSI
CampingCard ACSI is a useful little card that will earn you up to 50% discount on your holiday! In 2016 you can choose from no fewer than 3142 campsites in 20 European countries. You will pay one of the four fixed, low rates in the early and late season!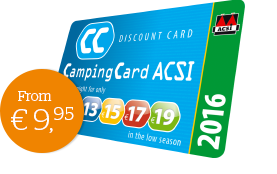 The advantages
Up to 50% discount! You can stay even more inexpensively at the loveliest campsites throughout Europe for four fixed rates using your CampingCard ACSI.

3142 campsites, all inspected by ACSI! You are welcome at 3142 campsites covering 20 European countries with your CampingCard ACSI

Affordable camping with your (grand)children 3 children (under 6 years) are included in the CampingCard ACSI rate at more than 700 campsites
Campsite opening period + your holiday period
August 2016
Mon
Tue
Wed
Thu
Fri
Sat
Sun
1
2
3
4
5
6
7
8
9
10
11
12
13
14
15
16
17
18
19
20
21
22
23
24
25
26
27
28
29
30
31
September 2016
Mon
Tue
Wed
Thu
Fri
Sat
Sun
1
2
3
4
5
6
7
8
9
10
11
12
13
14
15
16
17
18
19
20
21
22
23
24
25
26
27
28
29
30
October 2016
Mon
Tue
Wed
Thu
Fri
Sat
Sun
1
2
3
4
5
6
7
8
9
10
11
12
13
14
15
16
17
18
19
20
21
22
23
24
25
26
27
28
29
30
31
November 2016
Mon
Tue
Wed
Thu
Fri
Sat
Sun
1
2
3
4
5
6
7
8
9
10
11
12
13
14
15
16
17
18
19
20
21
22
23
24
25
26
27
28
29
30
December 2016
Mon
Tue
Wed
Thu
Fri
Sat
Sun
1
2
3
4
5
6
7
8
9
10
11
12
13
14
15
16
17
18
19
20
21
22
23
24
25
26
27
28
29
30
31
31 Campsite open
31 Campsite closed
31 Selected date
Detail information about this campsite
This inspector visits Campsite La Playa every year and inspects the campsite on the basis of more than 200 amenities and other points of interest. The inspector is an ACSI staff member and does not work for the campsite.
Toilet facilities

7.9

Staff

8.6

Price - quality comparison

8.1

Camping pitch

8.0

Accommodation

8.1

Child friendliness

7.4

Entertainment

6.3

Sports facilities

5.4

Swimming pool

6.5

Food and drink

7.5

Surroundings

7.6
M.G. Miraglia, on this campsite in August 2016
Travelling party: Couple
Fijne camping. We zijn vaker hier geweest..
We blijven altijd langer dan gepland. Personeel zeer vriendelijk en behulpzaam. Sanitair Prima.
Heerlijke plekjes onder olijfbomen. Camping is schoon en goed onderhouden...
Zimmermann, on this campsite in July 2015
Travelling party: Couple
Wir nutzen den Platz als Ankunft auf Sizilien. Die Umgebung ist sehr schön, aber man sollte motorisiert sein, um herumfahren zu können. Man spricht deutsch an der Rezeption. Restaurant in unmittelbarer Nähe sehr gut, typisch sizilianische Küche. Sandstrand ca 300m weiter, aber sauber.
Leonard, on this campsite in June 2015
Travelling party: Young couple
Wij zijn nog nooit zo onbeschoft behandeld. Alle vragen en iedere handeling kwamen samen met een diepe zucht! Alles leek wel te veel... Er wordt enorm op gehamerd dat de regels moeten worden nageleefd, zelfs hoe de tent moet worden neergezet. Bij verlaten en aankomst van de camping kan er nog niet eens \'gedag\' worden gezegd. Wij zijn nog nooit zo koud ontvangen en zo onvriendelijk behandeld in Italië! Je mag om 19.15 u komen voor informatie over Palermo, wat inhield een plattegrond en een treinschema, iets wat je kan geven bij het inchecken, lijkt mij.... Verder was het sanitair wel schoon. Camping is prima voor een bezoek aan Palermo, daar is ook alles mee gezegd!
Gwyneth Edwards, on this campsite in June 2015
Travelling party: Couple
Very good information about Palermo, gates locked afternoon and nighttime but clearly explained. pitch size adequate, seems a very nice site
Janssens, on this campsite in May 2015
Travelling party: Seniors
Camping tussen de olijfbomen, bij het aankomen werden we naar de plaats begeleid, om te vertrekken is het een hele klus om zonder schrammen weg te komen. Zeer kleine plaatsen met gevaarlijk overhangende takken. Goed gelegen om Palermo te bezoeken.
Sjaak Hendrix, on this campsite in May 2015
Travelling party: Seniors
Een zeer goede camping voor een bezoek aan Palermo. De eigenaars zijn zeer vriendelijk en behulpzaam om je de weg te wijzen naar Palermo. Ze hebben alles goed in orde en voorbereid. Je krijgt duidelijk alle informatie.
De plaatsen zijn wisselend van grootte, uitkijken met kromme bomen en takken
Een aanrader voor bezoekers aan Palermo. Ook \'s avonds na aankomst van de boot uit Genua word je goed ontvangen
BENEYTON, on this campsite in April 2015
Travelling party: Seniors
Exellent camping. A la descente du ferry Genes Palerme à 20h de nuit, vous etes accueillis par Daniella (multilingue) qui vous installe pour la nuit près de l\'entrée et vous souhaite bonne nuit. Le lendemain vous choississez votre emplacement sous les oliviers, vous allez acheter le pain à l\'epicerie de depannage que l\'on ouvre pour vous parce que vous avez pas regardé les horaires d\'ouverture. Les sanitaires sont aniens, tres propre et entretenus. A 19.00h briefing pour visiter Palerme. Vous pouvez acheter les billets de train, de bus, les cartes postales et les timbres sur place avec le sourire! Et en plus ils ont un restaurant! Vive la playa, vive Daniella et les siens. Camping à montrer en exemple aux autres.
Hobby2011, on this campsite in April 2015
Travelling party: Family with children <4 years
Der Campingplatz liegt schön zwischen einer Bergkette und dem Meer. Allerdings ist dies nur über Felsen erreichbar. Der Sandstrand liegt im Nachbarort Capaci. Sowohl der Ort, als auch der Strand und die Strandbars waren heruntergekommen. Überall lag Müll, die Stradnbars waren zusammen gebrochen und auf den Straßen türmten sich die Mülltüten.
Der Campingplatz selbst ist gut ausgeschildert und über das Zentrum von Isola delle Femmine zu erreichen. Die Zufahrt ist keinesfalls (wie beschrieben) eng, sofern die Straßen allerdings zugeparkt sind (insb. in der Mittagszeit) wird es anspruchsvoll.
Der Empfang war freundlich, aber bestimmt. Man pocht auf die Einhaltung der Regeln und vermarktet sich selbst gut. Der Hinweis auf den eigenen Markt und das Restaurant kamen promt. Hinweise auf die Einkaufsmöglickeiten im Ort unterblieben. Zudem ist das Restaurant ein Zelt mit Bestellannahme für einen Bringdienst.
Die Infos zum Palermoausflug sind aber tatsächlich gut vorbereitet. Es gibt Tipps und Kartenmaterial. Die Zugfahrtkarten sind an der Rezeption erhältlich.
Die warmen Duschen werden auf einer großen Tafel als besonderes Angebot angepriesen. Für das Entwerten des Duschchips, wählen und aufsuchen der Kabine bleiben 10 Sekunden bis das Wasser und die Duschzeit zu laufen beginnt.
Für junge Menschen nicht machbar, für Gehbehinderte schon gar nicht, daher eigentlich eine Frechheit.
Die Toiletten haben keine Brillen und es gibt kein Papier. Die Entleerungsmöglichkeit für das Chemie-WC befindet sich gleich neben den Abwaschbecken.
Fazit: Guter Platz für einen Palermobesuch oder für die An-/Abreise.
BAILLY Jean Luc, on this campsite in October 2014
Travelling party: Seniors
Camping agréable prés d\'une plage de roche volcanique , la plage de sable est à 2 km . Pas toujours facile pour se garé avec un camping car .Il se trouve à 15 mn de la gare pour allé visiter PALERME .Le personnel est très très accueillant et très serviable .Le soir de notre arrivée il y a les explications en français .Un marché le jeudi à deux pas du camping .
Meyer Werner, on this campsite in September 2014
Travelling party: Couple
Sehr schöner gepflegter CP, Sanitär immer top gepflegt. Personal sehr freundlich, hilft gerne weiter und spricht deutsch. Kleiner Laden wo man das nötigste bekommt und auch Pizza bestellen kann incl. Lieferung. Zum Strand nicht weit, jedoch ist der Strand direkt am CP sehr verdreckt (Müll und Plastiktüten) und sehr felsig. Ca. 500 m weiter schöner Sandstrand mit kleinen Baars, das Meer ist sehr flach gut für Kinder. In den Ort selber ein paar Minuten zu Fuß. Für den Müll können die CP-Besitzer nichts, das ist ein grundsätzliches Problem in Sizilien. Wir sind jetzt schon 5 Jahre hintereinander dort gewesen und gehen wieder hin. Der Platz hat schöne schattige Plätze. Die Disco in der Nähe ist manchmal etwas laut, aber man kann trotzdem schlafen. Wir können diesen Platz nur empfehlen da die Besitzer sehr sehr freundlich sind. Sie legen auch größten Wert auf die Mittagsruhe. Wenn man in der Mittagszeit anreist, kann man problemlos direkt vor dem CP parken.
General information
Guide price 1

€31.00

Guide price 2

€47.00

Period of opening

21/03 till 15/10

Area

2.2 ha

Number of touring pitches

80 (40 - 70m2)

Number of accommodation units for hire

3
* Facilities printed in bold are not included in the overnight rate. Supplementary charges will apply. (This does not mean that facilities which are not printed in bold are free!)
Popular amenities

WiFi 80-100% coverage

Dog(s) in high season (on lead)

Situated on the coast (max. 0.5 km)

ACSI Club ID is accepted as an identity document

Mobile homes
At the reception

Reservation with CampingCard ACSI also possible

ACSI Club ID is accepted as an identity document

Advance booking recommended for high season

Passport/identity card required

Languages spoken at reception (during the main season)

languages: German | English | French | Italian
Pitch amenities

Tap at/near the pitch (max. 50 m)

Also suitable for caravans > 5.5m, excluding towbar

Electrical hook-ups possible to maximum %s amps

Max. electricity: 6 ampère

Euro-plug required
Internet
Situation of campsite

Situated on the coast (max. 0.5 km)

Distance to the sea (max. 10 km)

Panorama

Close to motorway junction (< 10 km)

Public transport near the camp site (max. 0.5 km)

Shopping opportunities within %s km
Dogs

Dog(s) in high season (on lead)

Dog(s) in low season (on lead)
Swimming

Sea swimming (max. 0.5 km)

Beach showers
Beach
For children

Children's playground: large

No entertainment programme
Toilet facilities

Washbasins: hot water

Washbasins: cold water

Individual washcabins: cold water

Standard toilets

Squatting-toilets

Chemical toilet disposal point

Showers: hot water

Showers: cold water

Beach showers
Ground and vegetation

Pitches with plenty of shade

Pitches with some shade

Unshaded pitches

Marked pitches

Sand

Hard ground
Campsite rules

Dog(s) in high season (on lead)

Dog(s) in low season (on lead)

Caravans allowed

Tents allowed

Small extra tent permitted

Motorhomes allowed

No vehicles may enter during lunch break

Twin-axle vehicles permitted

Barbecues permitted

type of BBQ: charcoal | electricity | gas
Food, drink and groceries

Fresh bread available at the camp site

Groceries: limited selection

Bar

Communal barbecue area

Freezing for cooling elements
Washing, washing-up, cooking

Washing up sinks: hot water

Washing up sinks: cold water

Washing machine(s)

Laundry sinks: cold water

Laundry sinks: hot water

Dryers

Ironing facilities
Recreation (adults)
Water sports and recreation
Available to hire at the campsite

Mobile homes

Locked refrigerator

Safes
For motorhomes

Motorhomes allowed

Special facilities for motorhomes

Also suitable for motorhomes > 8m and > 4 tonnes
Miscellaneous

Footpaths and roads are lit

Patrolled grounds
Address & Route
Would you like to book campsite Campsite La Playa or request more information? You can do both using the information below.
Campsite La Playa
Viale Marino 55
90040 / Isola delle Femmine
Italy


Download GPS coordinates

Select your navigation system:

A29, exit Isola delle Femmine. Better not use SatNav (too many one-way streets). Follow signs to campsite.
The weather on this campsite
Weather forecast
Thu

27 / 10

Fri

28 / 10

Sat

29 / 10

Sun

30 / 10

Mon

31 / 10

Tue

01 / 11

Wed

02 / 11

Max.
22.3°
19°
20°
22.4°
22.5°
21.9°
21.4°
Min.
18.3°
15.6°
13.7°
15°
14.7°
14.2°
13.5°
Precipitation
80%
50%
15%
15%
25%
25%
15%
Wind direction
SW
N
NO
E
ZO
NO
ZO
Wind speed
4
4
4
2
2
3
2
Climate
| | | |
| --- | --- | --- |
| | Relative humidity | Precipitation total (mm) |
| Jan | 66% | 156 |
| Feb | 65% | 90 |
| Mar | 61% | 48 |
| Apr | 60% | 77 |
| May | 58% | 15 |
| Jun | 52% | 6 |
| Jul | 54% | 2 |
| Aug | 56% | 60 |
| Sep | 64% | 104 |
| Oct | 66% | 82 |
| Nov | 66% | 145 |
| Dec | 66% | 136 |
Information request
ACSI Eurocampings will send your information request to "Campsite La Playa".
Take note; you are sending an information request. You cannot make a reservation using this form. You will need to contact the campsite directly and ACSI Eurocampings cannot have any influence on the consequences thereof.