Campsite Paradiso del Mare
Campsite Paradiso del Mare is a campsite in Avola, Syracuse, located by the sea.The campsite has pitches pitches with shade and pitches with some shade. Paradiso del Mare is located close to a sandy beach and a pebble beach. It is possible to rent tents.
Show more

The following rules apply to pets at (Paradiso del Mare):
- Dog(s) permitted in low season (if on a lead)
- Dog(s) permitted in high season (if on a lead)

You can swim nearby in the sea.

You don't always have to cook, as the camp site has a snack bar and pizzeria. The camp site also supplies fresh bread. You can also use the internet, as there is a WiFi point.
Can also be found in ACSI Great Little Campsites app
Low-season discount with CampingCard ACSI
Affordable camping in the low season with CampingCard ACSI
CampingCard ACSI is a useful little card that will earn you up to 50% discount on your holiday! In 2016 you can choose from no fewer than 3142 campsites in 20 European countries. You will pay one of the four fixed, low rates in the early and late season!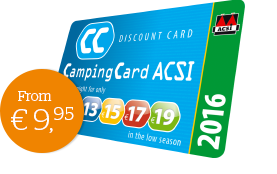 The advantages
Up to 50% discount! You can stay even more inexpensively at the loveliest campsites throughout Europe for four fixed rates using your CampingCard ACSI.

3142 campsites, all inspected by ACSI! You are welcome at 3142 campsites covering 20 European countries with your CampingCard ACSI

Affordable camping with your (grand)children 3 children (under 6 years) are included in the CampingCard ACSI rate at more than 700 campsites
Campsite opening period + your holiday period
August 2016
Mon
Tue
Wed
Thu
Fri
Sat
Sun
1
2
3
4
5
6
7
8
9
10
11
12
13
14
15
16
17
18
19
20
21
22
23
24
25
26
27
28
29
30
31
September 2016
Mon
Tue
Wed
Thu
Fri
Sat
Sun
1
2
3
4
5
6
7
8
9
10
11
12
13
14
15
16
17
18
19
20
21
22
23
24
25
26
27
28
29
30
October 2016
Mon
Tue
Wed
Thu
Fri
Sat
Sun
1
2
3
4
5
6
7
8
9
10
11
12
13
14
15
16
17
18
19
20
21
22
23
24
25
26
27
28
29
30
31
November 2016
Mon
Tue
Wed
Thu
Fri
Sat
Sun
1
2
3
4
5
6
7
8
9
10
11
12
13
14
15
16
17
18
19
20
21
22
23
24
25
26
27
28
29
30
December 2016
Mon
Tue
Wed
Thu
Fri
Sat
Sun
1
2
3
4
5
6
7
8
9
10
11
12
13
14
15
16
17
18
19
20
21
22
23
24
25
26
27
28
29
30
31
31 Campsite open
31 Campsite closed
31 Selected date
Detail information about this campsite
This inspector visits Campsite Paradiso del Mare every year and inspects the campsite on the basis of more than 200 amenities and other points of interest. The inspector is an ACSI staff member and does not work for the campsite.
Toilet facilities

7.5

Staff

8.6

Price - quality comparison

8.5

Camping pitch

8.1

Accommodation

8.1

Child friendliness

8.3

Entertainment

8.5

Sports facilities

6.1

Swimming pool

4.5

Food and drink

7.7

Surroundings

8.4
Giovanni Raffagnino, on this campsite in July 2016
Travelling party: Family with children, 4 – 12 years
Mi sono recato presso questo camping a fine luglio, ho fruito della piazzola tenda, la mia tenda è una XL, abbastanza grande, abbiamo soggiornato in 4, due adulti e due bambini. Subito all\'arrivo vengo accolto molto cordialmente e riscontro positivamente che il campeggio è ben organizzato, mi viene fornita una mappa dove trovo area camper e tende suddivisa (su due livelli,). L\'area dedicata alle tende è a sua volta suddivisa con piazzole di misura idonea e riservata a seconda della misura della tenda stessa. Buona la distanza tra le stesse. Campeggio piccolo, pulito, bagni puliti seppur non nuovissimi e servizi presenti. L\'attacco per la corrente è ben in prossimità della tenda. E\' presente una buona ombreggiatura. Presenti inoltre due frigo in comune, uno in area camper e uno in area tende. Quello delle tende a dire il vero sarebbe da rinnovare, ma mi è stato detto che stavano già provvedendo.All\'interno del campeggio vengono rispettati rigorosamente gli orari di quiete il che dal mio punto di vista è un vantaggio per chi cerca, anche in famiglia, un oasi di natura e relax. Buono il bar sotto, buone anche le pizze. Il personale si dimostra preparato e disponibile, buona anche la gestione di eventuali disservizi, nel mio caso un interruzione di corrente che è stata subito presa in carico. Lo stampo prettamente naturalistico ed eco sostenibile del camping, l\'assenza di animazione lo rendono particolarmente consigliabile a chi non cerca una vacanza movimentata ma punta al relax. La stradina di accesso è stretta e a senso unico. E\' un po difficoltoso il transito dei camper, non è comunque una responsabilità diretta della struttura dato che è gestita dal comune di Avola. Il mare della spiaggia della Gallina bellissimo, paradisiaco per l\'appunto. Ovvio trovare nei periodi di massimo afflusso un po di confusione in più e un po di sporcizia. Si raggiunge comodamente a piedi dal camping. Rapporto qualità/prezzo buono. Personalmente l\'ho trovato paradisiaco, risponde ben oltre alle mie aspettative e mi riprometto di tornarci quanto prima.
Petjol, on this campsite in June 2016
Travelling party: Single
Prima camping voor een bezoek aan Noto, Avola en Syracusa. Uitermate vriendelijke eigenaren. Camping plaatsen zijn goed maar niet bijzonder. Wel heel mooie tentplekjes boven de camping. Vanuit de camping is het aardig fietsen richting Avola - Noto, of de andere kant naar Syracusa. Strand van goede kwaliteit 50 meter van de camping.
Bettler-Schild Marianna, on this campsite in May 2016
Travelling party: Couple
Die Begrüssung durch Loes war sehr sehr freundlich. Sie hat uns in kurzen Worten den Camping erklärt und uns gebeten,nach dem Einrichten auf einem von uns gewählten Platz an die Rezeption zu kommen , um unsere Angaben zu machen. Auch Paolo war sehr freundlich, sympathisch und humorvoll. Wir haben unseren Aufenthalt auf dem kleinen aber feinen Campingplatz sehr genossen. Gerne werden wieder einmal auf diesem Platz Halt machen.
Stuart and Linda Allan, on this campsite in May 2016
Travelling party: Seniors
Small site with a big personality engendered by Paolo who is the best host one could hope for. He was so helpful and even gave us a ride to the train station. He gets people talking to one another so a holiday atmosphere is established very quickly. Don\'t arrive before 12 noon as the narrow approach road isn\'t good for reversing if you meet an oncoming vehicle. The beach is ideal. The facilities are quaint and adequate. No hesitation about returning. Thank you Paolo for becoming our friend.
Fredi Wagner, on this campsite in May 2016
Travelling party: Couple
Super freundliche Betreuung, tolles Bistro, tagsüber hat\'s immer kleine Snacks,am Abend gibt\'s selbstgemachte Pizza! Schöne, ruhige Lage 50m vom Strand. Sehr grosszügige Sanitäranlagen, zwar etwas älter, aber top im Zustand. Wir wollten eigentlich nur eimal übernachten, sind aber drei Mal am Abend wieder zurückgekommen! Wenn wir das nächste Mal in Sizilien sind, werden wir sicher wieder auf diesen Platz gehen!
Hertlein, on this campsite in May 2016
Travelling party: Couple
Der Campingplatz wird von einem sehr freundlichen und engagiertem Ehepaar geführt. Die Ehefrau spricht u.a. deutsch. Die beiden sind sehr zuvorkommend und sind bestrebt einem jeden Wunsch zu erfüllen. Der Campingplatz ist ein absoluter Lichtblick auf Siziliens Campinglandschaft.
walter, on this campsite in May 2016
Travelling party: Couple
der Empfang war äußerst unfreundlich, da wir uns vor dem CheckIn einen Überblick verschaffen wollten. die Dame hat erwartet, das ich ein Blanco Formular unterzeichnen soll. Ich habe sie gebeten, das Formular auszufüllen.... Resultat: Sie hat die beiden Pässe ohne Worte zurückgegeben und das war\'s.
Brigitte Schakenbos, on this campsite in May 2016
Travelling party: Couple
4 dagen genoten van de vriendelijkheid en gastvrijheid van Loes en Paolo. Mooie plekken in de schaduw, vlak aan zee ( 1 minuut lopen) , ideale omgeving voor leuke tochtjes. Gezellig terras waar ook heerlijke pizza,s te bestellen zijn. Kortom een gezellige persoonlijke camping waar we heel graag nog eens terug komen.
Wolfgang, on this campsite in April 2016
Travelling party: Seniors
Der Inhaber Paolo sorgt für eine familiäre Atmosphäre und bäckt eine hervorragende Pizza. Der Platz ist einfach, aber sauber. Man schläft sehr ruhig. Die Zufahrt ist allerdings relativ eng.
Stephen Sewell, on this campsite in May 2015
Travelling party: Seniors
On our three week cycling/camping of Sicily we stopped in 13 campsites. This was one of the very best: very friendly, obliging service from the indefatigable Paolo who runs the place; a calm and quiet ambience; especially suited to the needs of cyclists/walkers.
General information
Guide price 1

€27.50

Guide price 2

€37.50

Period of opening

16/04 till 31/10

Area

0.4 ha

Number of touring pitches

40 (60 - 100m2)

Number of accommodation units for hire

2
* Facilities printed in bold are not included in the overnight rate. Supplementary charges will apply. (This does not mean that facilities which are not printed in bold are free!)
Popular amenities

Dog(s) in high season (on lead)

Situated on the coast (max. 0.5 km)

ACSI Club ID is accepted as an identity document
At the reception

Reservation with CampingCard ACSI also possible

ACSI Club ID is accepted as an identity document

Advance booking recommended for high season

Passport/identity card required

Credit cards accepted

credit card: MasterCard | Visa Card

Payment by debit card/Maestro possible

Senior citizens' discount

Languages spoken at reception (during the main season)

languages: German | English | French | Italian | Dutch
Pitch amenities

Electrical hook-ups possible to maximum %s amps

Max. electricity: 10 ampère

Euro-plug required
Internet
Situation of campsite

Situated on the coast (max. 0.5 km)

Distance to the sea (max. 10 km)

Close to motorway junction (< 10 km)

Shopping opportunities within %s km
Dogs

Dog(s) in high season (on lead)

Dog(s) in low season (on lead)
Swimming

Sea swimming (max. 0.5 km)
Beach

Sandy beach

Pebble/shingle beach
For children

No entertainment programme
Toilet facilities

Washbasins: cold water

Individual washcabins: cold water

Standard toilets

Toilet paper provided

Showers: hot water

Showers: cold water
Sport and games
Ground and vegetation

Pitches with plenty of shade

Pitches with some shade

Sand
Campsite rules

Dog(s) in high season (on lead)

Dog(s) in low season (on lead)

Caravans allowed

Tents allowed

Motorhomes allowed

No vehicles may enter during lunch break

Barbecues permitted

type of BBQ: charcoal | electricity | gas
Food, drink and groceries

Fresh bread available at the camp site

Snack bar

Pizzeria

Takeaway meals

Bar

Communal barbecue area

Freezing for cooling elements

Ice available
Washing, washing-up, cooking

Washing up sinks: cold water

Individual cooking facilities

Washing machine(s)

Laundry sinks: cold water
Recreation (adults)
Water sports and recreation
Available to hire at the campsite
For motorhomes
Miscellaneous

Footpaths and roads are lit

Patrolled grounds

Quiet during the day and at night

Reservation recommended for low season
Address & Route
Would you like to book campsite Campsite Paradiso del Mare or request more information? You can do both using the information below.
Campsite Paradiso del Mare
c/da Gallina Fondolupo
96012 / Avola
Italy


Download GPS coordinates

Select your navigation system:

From E45 take exit Cassibile or Avola. Campsite is along the SS115 (side with sea) between both exits. Narrow entryway (350 metres) leads to campsite.
Information request
ACSI Eurocampings will send your information request to "Campsite Paradiso del Mare".
Take note; you are sending an information request. You cannot make a reservation using this form. You will need to contact the campsite directly and ACSI Eurocampings cannot have any influence on the consequences thereof.
Advertisement text
Small, quiet campsite, close to the sea!
There is a welcoming, homely atmosphere.
Simple and cordial.