Campsite Belsito is a campsite in Montecatini Terme, Pistoia.This terraced camp site and camp site with sloping grounds has pitches which are marked out, pitches with shade, pitches without shade and pitches with some shade. It is possible to rent bungalows. The camp site has a sports ground.
Show more

The following rules apply to pets at (Belsito):
- Dog(s) permitted in low season (if on a lead)
- Dog(s) permitted in high season (if on a lead)

For sportive holidaymakers the camp site offers excursion programmes. For those who want to relax after a busy day there is a whirlpool. The camp site has an outdoor swimming pool and a toddlers' pool.

You don't always have to cook, as the camp site has a snack bar, pizzeria and restaurant (with snack menu). The camp site also supplies fresh bread. You can also use the internet, as you can access the internet with your own laptop in 80% of the camp site.
Low-season discount with CampingCard ACSI
Affordable camping in the low season with CampingCard ACSI
CampingCard ACSI is a useful little card that will earn you up to 50% discount on your holiday! In 2016 you can choose from no fewer than 3142 campsites in 20 European countries. You will pay one of the four fixed, low rates in the early and late season!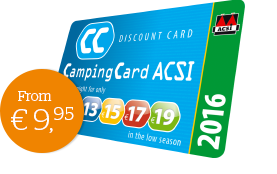 The advantages
Up to 50% discount! You can stay even more inexpensively at the loveliest campsites throughout Europe for four fixed rates using your CampingCard ACSI.

3142 campsites, all inspected by ACSI! You are welcome at 3142 campsites covering 20 European countries with your CampingCard ACSI

Affordable camping with your (grand)children 3 children (under 6 years) are included in the CampingCard ACSI rate at more than 700 campsites
Campsite opening period + your holiday period
August 2016
Mon
Tue
Wed
Thu
Fri
Sat
Sun
1
2
3
4
5
6
7
8
9
10
11
12
13
14
15
16
17
18
19
20
21
22
23
24
25
26
27
28
29
30
31
September 2016
Mon
Tue
Wed
Thu
Fri
Sat
Sun
1
2
3
4
5
6
7
8
9
10
11
12
13
14
15
16
17
18
19
20
21
22
23
24
25
26
27
28
29
30
October 2016
Mon
Tue
Wed
Thu
Fri
Sat
Sun
1
2
3
4
5
6
7
8
9
10
11
12
13
14
15
16
17
18
19
20
21
22
23
24
25
26
27
28
29
30
31
November 2016
Mon
Tue
Wed
Thu
Fri
Sat
Sun
1
2
3
4
5
6
7
8
9
10
11
12
13
14
15
16
17
18
19
20
21
22
23
24
25
26
27
28
29
30
December 2016
Mon
Tue
Wed
Thu
Fri
Sat
Sun
1
2
3
4
5
6
7
8
9
10
11
12
13
14
15
16
17
18
19
20
21
22
23
24
25
26
27
28
29
30
31
31 Campsite open
31 Campsite closed
31 Selected date
Detail information about this campsite
This inspector visits Campsite Belsito every year and inspects the campsite on the basis of more than 200 amenities and other points of interest. The inspector is an ACSI staff member and does not work for the campsite.
Toilet facilities

8.0

Staff

8.3

Price - quality comparison

8.1

Camping pitch

7.9

Accommodation

8.0

Child friendliness

7.7

Entertainment

6.4

Sports facilities

7.0

Swimming pool

8.5

Food and drink

7.7

Surroundings

8.6
Vande Populiere Johanna, on this campsite in August 2016
Travelling party: Family with children, 4 – 12 years
Heel mooie en nette camping. Heel vriendelijke ontvangst aan de receptie. De plekken zijn groot genoeg en hebben een eigen waterkraantje. Het sanitair is proper en goede douche. De zwembaden zijn top en leuke bar met vriendelijk personeel en wat een uitzicht! Geen animatie voor kinderen maar er is voldoende ontspanningsaanbod voor kinderen. Wat een top camping!
Paul harper, on this campsite in July 2016
Travelling party: Group of friends
Lovely site toilet blocks clean and very good. 2 swimming pools ideal for children and one quite for us older folks. The Internet cost was way too high 2 euro per hour think they must bring it up by donkey. The views from the site great. Don\'t forget to get you olive oil from the pressing company just outside the site its lush.
Oliver Schneider, on this campsite in July 2016
Travelling party: Family with children, various ages
Wir waren im Juni/Juli 2016 auf dem Platz und sind absolut begeistert. Hervorzuheben ist die Poolanlage, die immer sehr sauber und gepflegt war. An den Stellplätzen konnten wir ebenso nichts aussetzen. In den Duschräumen würden wir uns an den Waschbecken noch ein paar Ablagemöglichkeiten wünschen. Der Platz ist durch seine Lage für einen Toskanaurlaub ideal, bietet aber auch alles die die zwischendurch notwendigen Erholungstage.
Hartman Carla, on this campsite in June 2016
Travelling party: Seniors
Zeer behulpzame Nederlandse dame aan de receptie, kregen de mooiste plaats die net vrij was gekomen. Goede informatie over de omgeving en over een gratis openstelling van grote villa,s en kloosters die zondag, normaliter gesloten gebouwen.
Prachtige rondleiding gehad in het plaatselijke klooster.
Andy G, on this campsite in May 2016
Travelling party: Family with children, 4 – 12 years
Superb little site in a stunning setting. (Actually located higher up closer to Montecatini Alto). Terraced pitches higher up offer a really great view especially of an evening. Nice little restaurant on site and a small shop where bread can be ordered for the following morning. Don\'t miss the 15 min walk up to unassuming little Montecatini Alto, with its lovely, charming little square filled with small restaurants and bars that are very relaxing. Alto also has the\" Funicolare\" mountainside railway down to Montecatini Terme. A further walk the other side of 20 min and you have rail links to Pisa, Florence and Lucca that are easy, regular and cheap. Great site, beautiful location.
Werner Kaller, on this campsite in April 2016
Travelling party: Seniors
Ein schöner und ruhig gelegener Campingplatz mit traumhafter Aussicht auf die umliegenden Hügel, in Stufen angelegt mit grossen und kleinen Parzellen. Die Parzellen sind grösstenteils mittels kleinen Hecken abgeteilt, wobei es einen Platzteil gibt, bei der jede Parzelle ein eigenes Sanitärhäuschen hat. Hier sind aber die Parzellen nicht mittels Hecken abgeteilt. Jede Parzelle hat einen Stromanschluss. Wasserentnahmestellen gibt es so ca. alle 50-80 m vor auf der Zufahrtsstrasse. Es gibt hier auch zwei schöne Schwimmbecken. Die sanitären Anlagen sind sauber, einfach, aber auch in die Jahre gekommen. Die Duschkabinen sind klein und ohne Spritzschutz. Die Wassermenge (festgestellt in den Damenduschen) teilweise sehr gering. Da müsste noch einiges gemacht werden. Die Sanitäranlagen bekamen im ADAC eine hohe Bewertung, der wir so nicht zustimmen können. Ist uns neu, dass man eine hohe Bewertung bekommt, wenn man keine Waschkabinen im Haupt- Sanitärgebäude hat. Sehr freundliches und hilfsbereites Personal. Teuer ist es, wenn man ins Internet gehen will. Das kostet für eine Stunde € 2.-, für 5 Stunden € 8.-, usw......
Zur Anfahrt zum Campingplatz ist Vorsicht geboten. Wie schon im ADAC beschrieben, navigieren die meisten Navis auf engen und auf unmöglich befahrbaren Strassen zum Campingplatz. Letztendlich steht man dann bei einem Fahrverbot für Wohnmobil/Caravan. So ist es uns passiert, da wir uns von unserem NEUEN Garmin Camper 760LMT-D leiten ließen, trotz richtiger Eingabe der Masse des Gespannes. Also mussten wir hier unter schwierigen Bedingungen wenden und fuhren dann nach der Angabe des ADAC. Die Wegweiser zum Camping Belsito fanden wir aber erst im Zentrum von Montecatini Terme (braune Tafel mit weisser Schrift), welche uns dann problemlos zum Platz führten. Also ist es ratsam, von der Autobahnausfahrt ins Zentrum zu fahren, wo man die Wegweiser dann sieht.
Wir waren lange genug hier und kennen die Strassenbegebenheiten rund um den Campingplatz jetzt sehr gut und ich würde beim nächsten Mal eine andere Anfahrt zum Platz wählen, die viel schöner und einfacher, aber wenige Kilometer (4 km) weiter ist. Von der Ausfahrt Montecatini Terme rechts ostwärts nach Pieve a Nievole und Ponte di Serravalle fahren. Dort fährt man über eine Steinbrücke und die Strasse macht gleich danach eine Linksbiegung und nach dieser biegt man dann gleich wieder links ab nach Nievole. Hier ist die Strasse ein kurzes Stück ca. 200 m etwas enger, aber man sieht lange voraus und es gibt einige Ausweichen für den Gegenverkehr. Im Ort beim Kreisverkehr 3. Ausfahrt nehmen und weiterfahren bis zur nächsten Strassengabelung. Hier geht es dann scharf links weg und hinauf Richtung Montecatini Alto. Diese Strasse aufwärts ist breit und schön ausgebaut und man erreicht den Campingplatz ohne nennenswerte Probleme. Wenn man von Montecatini Terme herauf fährt, gibt es doch einige Engstellen und im Ort wird durch die parkenden Autos das Vorbeifahren erschwert.
wumi, on this campsite in September 2015
Travelling party: Couple
super, neuer pool mit sprudel, wc und duschen alt aber sauber.
steil die auffahrt, viel zum anschauen drumherum.
Uwe Weller, on this campsite in September 2015
Travelling party: Couple
Wir hatten einen Stellplatz mit toller Aussicht. Strom und Wasser direkt (zumindest in dieser Reihe) am Wohnwagen. Im dem sehr schönen Schwimmbad haben wir mehrfach relaxt. Die Sanitäranlagen sind sauber Das Personal war sehr freundlich und hilfsbereit. Das schöne Dörfchen Montecatini Alto ist zu Fuß erreichbar. Das Restaurant können wir nicht beurteilen weil wir es nicht besucht haben. Uns hat es gut gefallen und wir möchten den Platz gerne weiter empfehlen.
roosje, on this campsite in September 2015
Travelling party: Couple
Mooie camping, plekken zijn net groot genoeg, Beneden hebben de wc geen brillen maar boven wel, wij hebben de dagen dat we er stonden warme douche\'s gehad. Zeer mooi uitzicht vooral als je hogerop gaat staat. De plekken 102 t/m 108 zijn nieuw. Met 16 amp en een eigen waterkraantje en putje. Het enige wat wij vonden is dat er geen wc papier aanwezig was maar daar wen je aan.
Schotpoort, on this campsite in September 2015
Travelling party: Couple
we hebben hier ruim 2 weken gestaan en we hadden een wereldplek met onze tent: uitzicht over montecatini en pistoia. Zwembad erg mooi maar mocht wel iets warmer water in.
enige minpunten zijn dat er geen haakjes/plankje bij de wastafel is, voor de rest heerlijke vakantie gehad.
General information
Guide price 1

€37.70

Guide price 2

€50.00

Period of opening

24/03 till 30/09

Area

3.7 ha

Altitude

260m

Number of touring pitches

250 (50 - 100m2)

Number of camper pitches

18

Number of accommodation units for hire

10

Campsite suitable for disabled persons

Yes
* Facilities printed in bold are not included in the overnight rate. Supplementary charges will apply. (This does not mean that facilities which are not printed in bold are free!)
Popular amenities

Outdoor swimming pool

surface area: 300 m2
period: 01-05/30-09

WiFi 80-100% coverage

Dog(s) in high season (on lead)

ACSI Club ID is accepted as an identity document
At the reception

Reservation with CampingCard ACSI also possible

ACSI Club ID is accepted as an identity document

Advance booking recommended for high season

Passport/identity card required

Credit cards accepted

credit card: MasterCard | Visa Card

Payment by debit card/Maestro possible

Languages spoken at reception (during the main season)

languages: German | English | French | Italian | Dutch
Pitch amenities

Water connection at/near the pitch (max. 15 m)

Waste water drainage at/near the pitch (max. 15 m)

Tap at/near the pitch (max. 50 m)

Also suitable for caravans > 5.5m, excluding towbar

Electrical hook-ups possible to maximum %s amps

Max. electricity: 15 ampère

Euro-plug required
Internet
Situation of campsite

Panorama

Close to motorway junction (< 10 km)

Public transport near the camp site (max. 0.5 km)

Shopping opportunities within %s km
Dogs

Dog(s) in high season (on lead)

Dog(s) in low season (on lead)
Swimming

Outdoor swimming pool

surface area: 300 m2
period: 01-05/30-09

Toddlers' pool (ages 1-3, < 40 cm)

surface area: 130 m2
period: 01-05/30-09

Sunbathing area
For children

Toddlers' pool (ages 1-3, < 40 cm)

surface area: 130 m2
period: 01-05/30-09

Children's playground: small

Games room

Children's sanitary facilities

Baby room

No entertainment programme
Toilet facilities

Washbasins: hot water

Washbasins: cold water

Individual toilet facilities

Individual washcabins: hot water

Individual washcabins: cold water

Children's sanitary facilities

Standard toilets

Family toilet facilities

Squatting-toilets

Chemical toilet disposal point

Showers: hot water

Showers: cold water

Family shower

A shower (150 cmsx150 cms minimum) and a toilet (165x220cms or 190cmsx190cms minimum)

Baby room
Sport and games

Table tennis table

Multi-sports field
Ground and vegetation

Pitches with plenty of shade

Pitches with some shade

Unshaded pitches

Marked pitches

Grass

Terraced site

Hard ground

Sloping site
Campsite rules

Dog(s) in high season (on lead)

Dog(s) in low season (on lead)

Caravans allowed

Tents allowed

Small extra tent permitted

Motorhomes allowed

No vehicles may enter during lunch break

Twin-axle vehicles permitted

Barbecues permitted

type of BBQ: electricity | gas
Food, drink and groceries

Fresh bread available at the camp site

Groceries: extensive selection

Restaurant (limited choice)

Snack bar

Pizzeria

Takeaway meals

Bar

Communal barbecue area

Freezing for cooling elements

Exchanging of gas cylinders
Washing, washing-up, cooking

Washing up sinks: hot water

Washing up sinks: cold water

Washing machine(s)

Laundry sinks: cold water

Laundry sinks: hot water

Dryers
Recreation (adults)

Marked out walking routes near the camp site

Games room

Pool or billiards

Excursion programme (at least 2x a week - m.s.)

Television
Available to hire at the campsite

Bungalows/chalets

Refrigerators

Freezing blocs
Wellness
For motorhomes

Motorhomes allowed

Special facilities for motorhomes

Special pitches for motorhomes

water supply and drainage
Surface area: 100 m2
Amount: 18

Also suitable for motorhomes > 8m and > 4 tonnes

length: 10
weight: 7000 kg

Water supply and drainage
Miscellaneous

Footpaths and roads are lit

Patrolled grounds

Quiet during the day and at night
Address & Route
Would you like to book campsite Campsite Belsito or request more information? You can do both using the information below.
Campsite Belsito
Via delle Vigne 1/a
51016 / Montecatini Terme
Italy


Download GPS coordinates

Select your navigation system:

A11 Firenze-Pisa, exit Montecatini Terme. Straight ahead after toll booths direction Montecatini Terme. Follow camping signs and Montecatini Alto signs. Do not use SatNav.
The weather on this campsite
Weather forecast
Thu

20 / 10

Fri

21 / 10

Sat

22 / 10

Sun

23 / 10

Mon

24 / 10

Tue

25 / 10

Wed

26 / 10

Max.
15.4°
13.7°
13.4°
13.8°
16.5°
17.4°
18.3°
Min.
10.9°
7.7°
5.6°
6.5°
7.8°
10.6°
11.9°
Precipitation
60%
15%
5%
70%
60%
50%
45%
Wind direction
S
NO
S
S
S
S
SW
Wind speed
2
1
1
2
2
2
1
Climate
| | | |
| --- | --- | --- |
| | Relative humidity | Precipitation total (mm) |
| Jan | 76% | 52 |
| Feb | 70% | 53 |
| Mar | 70% | 70 |
| Apr | 71% | 78 |
| May | 70% | 72 |
| Jun | 67% | 68 |
| Jul | 65% | 38 |
| Aug | 66% | 45 |
| Sep | 69% | 84 |
| Oct | 77% | 97 |
| Nov | 76% | 107 |
| Dec | 74% | 73 |
Information request
ACSI Eurocampings will send your information request to "Campsite Belsito".
Take note; you are sending an information request. You cannot make a reservation using this form. You will need to contact the campsite directly and ACSI Eurocampings cannot have any influence on the consequences thereof.