Campsite Al Lago is a campsite in Arsiè, Belluno, located in a wood, on a river/stream and by a lake/recreational pond.The campsite has pitches which are marked out, pitches with shade, pitches without shade and pitches with some shade. It is possible to rent tents and mobile homes. The camp site has a playground and a sports ground.
Show more

The following rules apply to pets at (Al Lago):
- Dog(s) permitted in low season (if on a lead)
- Dog(s) permitted in high season (if on a lead)

For sportive holidaymakers the camp site offers various cycle routes. There is an entertainment programme. You can swim nearby in river/stream and in a lake/recreational pond. At Al Lago you can go wild water sailing/kayaking/rafting.

You don't always have to cook, as the camp site has a snack bar, pizzeria and restaurant (with full menu). The camp site also supplies fresh bread. You can also use the internet, as you can access the internet with your own laptop in 80% of the camp site.
Low-season discount with CampingCard ACSI
Affordable camping in the low season with CampingCard ACSI
CampingCard ACSI is a useful little card that will earn you up to 50% discount on your holiday! In 2016 you can choose from no fewer than 3142 campsites in 20 European countries. You will pay one of the four fixed, low rates in the early and late season!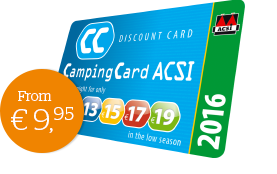 The advantages
Up to 50% discount! You can stay even more inexpensively at the loveliest campsites throughout Europe for four fixed rates using your CampingCard ACSI.

3142 campsites, all inspected by ACSI! You are welcome at 3142 campsites covering 20 European countries with your CampingCard ACSI

Affordable camping with your (grand)children 3 children (under 6 years) are included in the CampingCard ACSI rate at more than 700 campsites
Campsite opening period + your holiday period
August 2016
Mon
Tue
Wed
Thu
Fri
Sat
Sun
1
2
3
4
5
6
7
8
9
10
11
12
13
14
15
16
17
18
19
20
21
22
23
24
25
26
27
28
29
30
31
September 2016
Mon
Tue
Wed
Thu
Fri
Sat
Sun
1
2
3
4
5
6
7
8
9
10
11
12
13
14
15
16
17
18
19
20
21
22
23
24
25
26
27
28
29
30
October 2016
Mon
Tue
Wed
Thu
Fri
Sat
Sun
1
2
3
4
5
6
7
8
9
10
11
12
13
14
15
16
17
18
19
20
21
22
23
24
25
26
27
28
29
30
31
November 2016
Mon
Tue
Wed
Thu
Fri
Sat
Sun
1
2
3
4
5
6
7
8
9
10
11
12
13
14
15
16
17
18
19
20
21
22
23
24
25
26
27
28
29
30
December 2016
Mon
Tue
Wed
Thu
Fri
Sat
Sun
1
2
3
4
5
6
7
8
9
10
11
12
13
14
15
16
17
18
19
20
21
22
23
24
25
26
27
28
29
30
31
31 Campsite open
31 Campsite closed
31 Selected date
Detail information about this campsite
This inspector visits Campsite Al Lago every year and inspects the campsite on the basis of more than 200 amenities and other points of interest. The inspector is an ACSI staff member and does not work for the campsite.
Toilet facilities

7.4

Staff

8.2

Price - quality comparison

7.9

Camping pitch

8.0

Accommodation

8.2

Child friendliness

7.5

Entertainment

7.4

Sports facilities

6.8

Swimming pool

7.2

Food and drink

8.1

Surroundings

8.8
Frits van den Bos, on this campsite in June 2016
Travelling party: Seniors
Geweldige camping aan een groot meer,waar je ook in kunt zwemmen.De 2 zussen die de camping beheren zijn geweldig. De toiletten zijn schoon en de plekken zijn ruim, voor herhaling vatbaar.
Betsy en Frits van den Bos
Andrea, on this campsite in August 2015
Travelling party: Couple
Sehr schön gelegener Campingplatz. Wir wurden freundlich empfangen und wurden nicht enttäuscht. Sanitäranlagen ausreichend und sehr sauber. Restaurant mit Pizzeria sehr gut mit normale Preisen. Campingplatz liegt direkt am Bergsee, hat Schatten -und Sonnenplätze. Der Platz selber ist nicht zu groß und überschaubar, sehr angenehm. Brötchen gibt\'s auf dem Platz die nächste Einkaufsmöglchkeit ist etwas entfernt. Wir waren mit den Motorrädern da und hatten tolle Touren in einer wunderbaren Gegend. Kommen gerne wieder.
Gerhard Bode, on this campsite in September 2014
Travelling party: Couple
Schöner sauberer Camping. Gut zu erreichen, aber doch ruhig gelegen. Alles, was man ohne überflüssigen Luxus zum Campen braucht. Sehr freundliches und hilfsbereites Personal. Top Lage zwischen Dolomiten und Adria als Basis für Motorradtouren. Interessant sind die neuen Zelt-Häuser für bis zu 6 Personen. Auf jeden Fall empfehlenswert.
Reyns Luc, Speeckaert Sonia, on this campsite in August 2014
Travelling party: Couple
kleine toffe camping waar men zeer dicht bij het echt italiaans leven betrokken wordt. Ideaal voor te zwemmen en te vissen.
Wel oppassen met kleine kinderen, meer is onmiddellijk diep.
Prachtige omgeving, veel te bezoeken.
Gianluigi, on this campsite in August 2014
Travelling party: Couple
Het is een mooie kleine camping, lekker rustig in de natuur. Aan het mooie meer van Corlo. Omgeven door bergen de camping is netjes schoon en wordt goed bijgehouden.Je kunt er ook fietsen huren om te gaan fietsen. En in het restaurant kun je heerlijk eten, vooral de pizza\'s. We hebben het erg naar onze zin gehad en raden deze camping zeker aan voor een ontspannen en tevens actieve vakantie!
Dorus, on this campsite in July 2014
Travelling party: Family with children, 4 – 12 years
Mooi gelegen camping aan het meer van Corlo, we zijn om de camping geweest voor uistapjes naar Bassano Del Grappa. De omgeving is ideaal voor wandelingen en voor fietstochten. Het eten in het restaurant was heerlijk, lekkere pizza\'s en pasta\'s. Ook kun er goed gaan vissen, er valt veel te vangen. Een perfect camping voor een ontspannen vakantie, met de mogelijkheid tot veel leuke uitstapjes.
Andre Bauer, on this campsite in June 2014
Travelling party: Couple
Juni 2014 wurde neue Waschmaschine und Trockner angeschafft. Es gibt auch seit kurzer Zeit Kountainbikes zum ausleihen.
- Nahrungsmittel können in Arsie (ca.2-3km) gekauft werden, oder im ca. 12km entfernten Feltre.
- Sanitäranlagen sind einfach, aber sauber. Toilettenpapier vorhanden.
- Es gibt schattige Plätze und sonnige Plätze.
- Erste Reihe ist nicht für ACSI Camper.
- Personal spricht Deutsch und Englisch
- Sehr sehr ruhiger Campingplatz. Man hört keine Landstraße, oder Bundesstraße. ab und zu mal ein Rasenmäher vom angrenzenden Ort, oder max. Motorräder, welche nach Rocca fahren.
- Man kann dort sehr gut entspannen, sehr gut Wandern, gut Mountainbiken und sehr gut Rennradfahren
-
E. Stoter, on this campsite in August 2013
Travelling party: Group of friends
2e keer geweest omdat we vorig jaar vanwege de warmte niet veel hadden ondernomen. Vriendelijk beheer, maar we kregen de in december 12 gereserveerde plaatsen (we waren met nog een stel) niet. Ook heeft men ons niet op de hoogte gebracht dat het restaurant al was gesloten. Omdat zij een andere camping beginnen in Tarzo (nu nog camping Mara, maar niet meer open) wat meer onder Belluno ligt aan het Tarzomeer, was al het personeel daar werkzaam. Jammer, maar weer afwachten of de camping een andere uitbater krijgt. Van degene waar men de grond van pacht, mochten ze niets verbeteren, w. o. het sanitair gebouw. Dus het is wel te begrijpen dat ze de kans gegrepen hebben om in Tarzo wél hun ambities kwijt te kunnen.
Na de vakantie nog e-mailcontact gehad over dat we niet de gereserveerde plekken gekregen hadden. Eigenaresse was het vergeten in de computer te zetten. Daarvoor bood ze haar excuses aan. Wel was de camping fors duurder geworden dan vorig jaar.
Fam Dekker, on this campsite in July 2013
Travelling party: Single
Mooie ligging, goed en schoon sanitair [drie keer per dag schoongemaakt], lekker warm water: goede straal. Aardig personeel,mooie omgeving. Alleen zeer jammer dat het restaurant gesloten was zonder kennisgeving. Campings laatste jaar van deze eigenaar hoorde wij bij aankomst. Heel jammer.
E. Stoter, on this campsite in July 2012
Travelling party: Group of friends
Mooi gelegen in de bergachtige omgeving en het heldere Corlomeer, een groot stuwmeer, waardoor het vrij snel diep wordt, met een ponton. In iets meer dan een week tijd was het water behoorlijk gezakt waardoor er geen traptreden meer waren waarmee je het water over stenen bereikt. Maar dat zal niet vaak zijn voorgekomen anders hadden daar wel treden gezeten. Erg vriendelijk beheer en met Engels het contact. Goed gegeten, maar ook in Rocca, het nabij gelegen dorpje, pizzaria Miralago. Voor Feltre de dichtstbijzijnde stad met een Lidl en 2 Famila´s een luxere supermarktketen, zit, op een industriezone links een Kangaroo, dat moet ook een supermarkt zijn maar ben er zelf niet geweest. In Arsie zit ook een supermarktje goed gesorteerd. Met ernaast een tabakswinkeltje voor kaarten en postzegels. Beide, tussen de middag dicht. Wij zijn een dagje naar Venetië geweest op 100 km. Met de trein vanuit Primalano, een dorpje voor Arsie. Een retourtje kopen in het cafe aan de overkant, 12, 50. Duurde 1u en 3 kwartier. De stoptrein ging niet snel en werd alsmaar voller. Je kan ook met de auto naar Mestre rijden, een plaats vlak voor Venetië, daar auto wegzetten op een bewaakt terrein en dan nog even voor 2,50 € met de trein en je bij uitstappen meteen al water ziet. Het was erg druk was bij de busboot dus wij liepen. En moesten alweer om 16.50u met de trein die niet bleek te gaan, want we hadden op de zondagdienst gekeken. Gelukkig reed er nog een trein en moesten we overstappen in Bassano. Dus wij hadden te weinig tijd in Venetië, maar wel een mooie indruk gekregen. In een review hadden we gelezen dat het een leuke rit was om over de Corlomeerstuwdam te rijden, een spectaculaire rit naar het plaatsje Corlo. Dus gingen wij dat doen, nou spectaculair was het zeker. Elkaar daar passeren kan niet en na de dam een met de hand uitgehakt tunneltje ook niet evenals de weg erna. En bij Corlo kun je niet verder. Dus niet aan te raden met de auto! Marostica heeft nog een oude vesting naar boven wandelen waar een restaurant is onder het gesjirp van boomkrekels. Wij hoorden over dat het campingsanitair staat op gepachte grond. Dat ze het wel willen moderniseren maar dat de gemeente dwars ligt. Inderdaad verouderd, hurktoiletten en 3 gewone, dus ik op de gewone. Zeer kleine douches, dus in badpak eronder en bij de caravan aankleden. Een unit met douches kan niet op slot en kleding aan de buitenkant hangen. Geen warm water om de afwas mee af te spoelen, dus maar bij de tent gedaan. Is overheen te komen. De prijs is er ook naar en de honden zijn zelfs gratis wat wel resulteerde in een hoog hondgehalte. De camping heeft plaatsen met veel schaduw en nieuwe met minder en een stuk met niets. Wij stonden op het stuk met weinig, daar zijn de bomen nog niet zo groot en stonden tot half 7 in de zon daarna konden we er wat beginnen. Maar wel een gezellig veldje dus daar zou ik weer willen staan als ik er nog eens kom en dat zit wel in de planning.
General information
Guide price 1

€26.00

Guide price 2

€36.00

Period of opening

20/04 till 18/09

Area

2 ha

Altitude

270m

Number of touring pitches

168 (60 - 100m2)

Number of camper pitches

14

Number of permanent pitches

25

Number of accommodation units for hire

18

Campsite suitable for disabled persons

Yes
* Facilities printed in bold are not included in the overnight rate. Supplementary charges will apply. (This does not mean that facilities which are not printed in bold are free!)
Popular amenities

WiFi 80-100% coverage

Dog(s) in high season (on lead)

ACSI Club ID is accepted as an identity document

Mobile homes
At the reception

Reservation with CampingCard ACSI also possible

ACSI Club ID is accepted as an identity document

Advance booking recommended for high season

Passport/identity card required

Credit cards accepted

credit card: MasterCard | Visa Card

Payment by debit card/Maestro possible

Languages spoken at reception (during the main season)

languages: German | English | Spanish | French | Italian | Dutch
Pitch amenities

Water connection at/near the pitch (max. 15 m)

Waste water drainage at/near the pitch (max. 15 m)

Tap at/near the pitch (max. 50 m)

Also suitable for caravans > 5.5m, excluding towbar

Electrical hook-ups possible to maximum %s amps

Max. electricity: 4 ampère

Euro-plug required
Internet
Situation of campsite

Located by a lake/recreation pond (max. 0.1 km)

Situated on river/stream (max. 0.1 km)

Located in a wood

Panorama

Public transport near the camp site (max. 0.5 km)

Shopping opportunities within %s km
Dogs

Dog(s) in high season (on lead)

Dog(s) in low season (on lead)
Swimming

Swimming in the lake/recreation pool(max. 0.1 km)

River/stream swimming (max. 0.1 km)

Sunbathing area
Beach
For children

Children's playground: large

Entertainment programme: Children (at least 2x a week - h.s.)

languages: German | English | Italian | Dutch
period: 10-07/20-08

Children's playground: small

Games room

Dance nights

Mini club (at least 4x a week - high season)

languages: German | English | Spanish | French | Italian | Dutch

Children's sanitary facilities
Toilet facilities

Washbasins: hot water

Washbasins: cold water

Individual washcabins: hot water

Individual washcabins: cold water

Children's sanitary facilities

Standard toilets

Toilet paper provided

Chemical toilet disposal point

Showers: hot water

Showers: cold water

A shower (150 cmsx150 cms minimum) and a toilet (165x220cms or 190cmsx190cms minimum)
Sport and games

Table tennis table

Multi-sports field
Ground and vegetation

Pitches with plenty of shade

Pitches with some shade

Unshaded pitches

Marked pitches

Grass

Hard standing pitches

Hard ground
Campsite rules

Dog(s) in high season (on lead)

Dog(s) in low season (on lead)

Caravans allowed

Tents allowed

Small extra tent permitted

Motorhomes allowed

Twin-axle vehicles permitted

Barbecues permitted

type of BBQ: charcoal | gas

Own boats permitted
Food, drink and groceries

Fresh bread available at the camp site

Groceries: limited selection

Restaurant (with ample choice)

Snack bar

Pizzeria

Takeaway meals

Bar

Freezing for cooling elements

Ice available

Exchanging of gas cylinders
Washing, washing-up, cooking

Washing up sinks: hot water

Washing up sinks: cold water

Washing machine(s)

Laundry sinks: cold water

Laundry sinks: hot water

Dryers
Recreation (adults)

Entertainment programme: Adults (at least 2x a week - h.s.)

languages: German | English | Italian | Dutch
period: 10-07/20-08

Fishing

Cycle routes starting at the camp site

level: difficult | easy | average

Marked out walking routes near the camp site

level: difficult | easy | average

Games room

Television
Water sports and recreation

Fishing

Scuba diving

White water kayaking/rafting

Own boats permitted
Available to hire at the campsite

Mobile homes

Tents

Bicycles

Mountainbikes

Canoes

Kayaks

Pedal boats

Freezing blocs

Electric bikes

Lodge tent without toilet facilities

Lodge tent with toilet facilities
For motorhomes

Motorhomes allowed

Special facilities for motorhomes

Special pitches for motorhomes

Surface area: 60 m2
Amount: 14

Also suitable for motorhomes > 8m and > 4 tonnes
Miscellaneous

Footpaths and roads are lit

Patrolled grounds

Quiet during the day and at night

Separate area for young people

Temporary pitches outside the campsite without electr.

Temporary pitches outside the campsite with electricity

Reservation recommended for low season

Campsite info app
Address & Route
Would you like to book campsite Campsite Al Lago or request more information? You can do both using the information below.
Campsite Al Lago
Via Campagna 14
32030 / Arsiè
Italy


Download GPS coordinates

Select your navigation system:

From Trento follow the SS47 direction Padova as far as the Feltre exit onto the SS50bis. Take Rocca exit after the tunnel. Campsite is then signposted.
The weather on this campsite
Weather forecast
Thu

20 / 10

Fri

21 / 10

Sat

22 / 10

Sun

23 / 10

Mon

24 / 10

Tue

25 / 10

Wed

26 / 10

Max.
11°
10.4°
10.1°
10.2°
12.5°
14.2°
14.7°
Min.
5°
4.3°
3.4°
4.6°
5.5°
7.1°
7.6°
Precipitation
80%
5%
5%
15%
20%
35%
40%
Wind direction
W
SW
SW
S
S
S
S
Wind speed
1
2
1
1
1
1
1
Climate
| | | |
| --- | --- | --- |
| | Relative humidity | Precipitation total (mm) |
| Jan | 82% | 32 |
| Feb | 73% | 3 |
| Mar | 75% | 81 |
| Apr | 77% | 377 |
| May | 70% | 77 |
| Jun | 69% | 104 |
| Jul | 70% | 61 |
| Aug | 70% | 100 |
| Sep | 76% | 78 |
| Oct | 82% | 128 |
| Nov | 79% | 114 |
| Dec | 82% | 51 |
Information request
ACSI Eurocampings will send your information request to "Campsite Al Lago".
Take note; you are sending an information request. You cannot make a reservation using this form. You will need to contact the campsite directly and ACSI Eurocampings cannot have any influence on the consequences thereof.