Camping Overbetuwe is a campsite in Heteren, Gelderland.The campsite has pitches pitches with some shade. It is possible to rent hikers' cabins, rooms, Studios, apartments and bungalows. The camp site has a playground and a sports ground.
Show more

The following rules apply to pets at (Camping Overbetuwe):
- Dog(s) permitted in low season (if on a lead)
- Dog(s) permitted in high season (if on a lead)

For sportive holidaymakers the camp site offers various cycle routes.

You can also use the internet, as there is a WiFi point.
Low-season discount with CampingCard ACSI
Affordable camping in the low season with CampingCard ACSI
CampingCard ACSI is a useful little card that will earn you up to 50% discount on your holiday! In 2016 you can choose from no fewer than 3142 campsites in 20 European countries. You will pay one of the four fixed, low rates in the early and late season!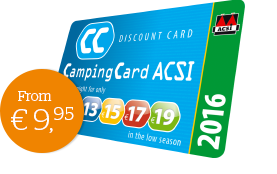 The advantages
Up to 50% discount! You can stay even more inexpensively at the loveliest campsites throughout Europe for four fixed rates using your CampingCard ACSI.

3142 campsites, all inspected by ACSI! You are welcome at 3142 campsites covering 20 European countries with your CampingCard ACSI

Affordable camping with your (grand)children 3 children (under 6 years) are included in the CampingCard ACSI rate at more than 700 campsites
Campsite opening period + your holiday period
August 2016
Mon
Tue
Wed
Thu
Fri
Sat
Sun
1
2
3
4
5
6
7
8
9
10
11
12
13
14
15
16
17
18
19
20
21
22
23
24
25
26
27
28
29
30
31
September 2016
Mon
Tue
Wed
Thu
Fri
Sat
Sun
1
2
3
4
5
6
7
8
9
10
11
12
13
14
15
16
17
18
19
20
21
22
23
24
25
26
27
28
29
30
October 2016
Mon
Tue
Wed
Thu
Fri
Sat
Sun
1
2
3
4
5
6
7
8
9
10
11
12
13
14
15
16
17
18
19
20
21
22
23
24
25
26
27
28
29
30
31
November 2016
Mon
Tue
Wed
Thu
Fri
Sat
Sun
1
2
3
4
5
6
7
8
9
10
11
12
13
14
15
16
17
18
19
20
21
22
23
24
25
26
27
28
29
30
December 2016
Mon
Tue
Wed
Thu
Fri
Sat
Sun
1
2
3
4
5
6
7
8
9
10
11
12
13
14
15
16
17
18
19
20
21
22
23
24
25
26
27
28
29
30
31
31 Campsite open
31 Campsite closed
31 Selected date
Detail information about this campsite
This inspector visits Camping Overbetuwe every year and inspects the campsite on the basis of more than 200 amenities and other points of interest. The inspector is an ACSI staff member and does not work for the campsite.
Toilet facilities

6.6

Staff

6.8

Price - quality comparison

6.7

Camping pitch

7.8

Accommodation

6.6

Child friendliness

7.1

Sports facilities

6.7

Food and drink

4.5

Surroundings

8.0
beekman, on this campsite in June 2016
Travelling party: Young couple
Een zgn. \'bungalow\' gehuurd. Het gebouw was slecht onderhouden, alles was te vies om aan te pakken, krakkemikkige oude meubels. Over de camping kan ik niet oordelen maar een huisje huur ik er in ieder geval nooit meer, zeker niet voor die prijzen.
Jacintha Willems, on this campsite in July 2015
Travelling party: Group of friends
Nu al een aantal jaren ons verblijf tijdens de Vierdaagse van Nijmegen. Heerlijke plek om bij te komen na een drukke dag wandelen. Er is genoeg in de omgeving te doen. De camping biedt genoeg privacy en gezelligheid. Ons verblijf in de trekkershut is ons goed bevallen. De hut is netjes en biedt genoeg comfort. Op naar volgend jaar!
Vermeulen, on this campsite in July 2015
Travelling party: Family with children, 4 – 12 years
Mooie groene camping, we zijn hier heerlijk tot rust gekomen. Onze zoontje heeft zich prima vermaakt en genoot van de ruimte en natuur. Wij komen zeker volgend jaar terug. Om weer heerlijk te genieten van de rust en heerlijke douche\'s
k, on this campsite in June 2015
Travelling party: Family with children, various ages
Wij zijn met ons gezin op het mooie Landgoed wezen kamperen.
Wat een oase van rust is dit. We werden door de eigenaar ontvangen, deze vertelde waar we alles konden vinden, het verbaasde me dat de eigenaar zo ontzettend gastvrij was dit heb ik nog niet zo eerder meegemaakt. Hij vertelde i.v.m. de kleinschaligheid van de camping dat ze 24/7 bereikbaar zijn per intercom (natuurlijk ook voor calamiteiten) prettig deze uitleg! Het was me duidelijk. We hebben een prachtige plaats uitgekozen aan de rand van de camping, heerlijk dicht bij het goedverzorgde sanitair gebouw, met hierbij alles wat je nodig hebt, wc, douche, afwasplaats en stortplaats chemisch toilet. Onze zoon die vrij druk is, heeft hier heerlijk 1 kunnen zijn met de natuur, en kon door de ruimte heerlijk al zijn energie kwijt, dit kon ook doordat er geen auto\'s op het terrein mogen i.v.m. de veiligheid voor de kinderen , waardoor wij ouders echt tot rust kwamen en we het jaar er weer tegen aan kunnen. Wat we ook erg leuk vonden is dat we gewoon (doordeweeks) aan konden schuiven voor een kopje koffie of thee, wat ons aan de Brabantse gastvrijheid doet denken. al met al hebben wij een zeer geslaagde vakantie mogen hebben op de Overbetuwe in Heteren.
Marianne Hofman, on this campsite in June 2015
Travelling party: Couple
We meldden ons do. 25-06 om ca.19.00 uur op de camping. Werden alleen via een intercom te woord gestaan want na 10.00 uur \'s ochtends is de receptie gesloten. De dame die beantwoordde was niet vriendelijk, alsof ze geen zin had in het gesprek en gestoord werd. Vanuit haar huis deed ze de slagboom open. Toen we binnen waren konden we er met de auto niet meer af: slagboom dicht tot de volgende ochtend 09.00 uur.
Ik belde haar weer via de intercom hoe we aan onze douchemunten kwamen: gratis in het voorseizoen immers? Ze zei dat we die de volgende ochtend om 09.00 uur bij de receptie konden halen, dan pas was de receptie weer open. Ik zei dat we dan al lang gedoucht hadden. Jammer dan, zei mevrouw, dan moet je zelf € 0,50 in het apparaat doen. Ik vroeg of we de munten dan de volgende ochtend terug zouden krijgen. Nee, zei ze, we geven geen geld terug. Ik zei dat het tot de regels behoort dat je de douchemunt krijgt. Dat was dan jammer volgens de dame, maar bij hun camping werkte het ze zoals zij zei dat het ging.
De camping zou ook WIFI hebben. Wij en nog een stel konden absoluut geen verbinding krijgen met het netwerk.
Het toiletgebouw is niet meer van deze tijd: slechts 2 WC\'s naast elkaar: voor mannen en vrouwen samen. Er is 1 douche en 1 washok. Als je in het washok staat en naast je doucht er iemand dan beslaat de spiegel en kun je niets meer zien. En je voeten worden nat.
Staan er meer mensen op de camping dan kun je lang wachten voor je naar de WC kunt.

De receptie is dus slechts 1 uur \'s ochtends open. Daarover staat niets in de ACSI-gids vermeld. Nog nooit meegemaakt. En de dame was ook gepikeerd dat we niet gereserveerd hadden. Ook nog nooit meegemaakt. 's Morgens weten wij vaak nog niet waar we 's avonds staan en over reserveren staat ook niets in de gids bij deze camping.
Het andere stel en wij (we waren de enigen en dat is waarschijnlijk niet voor niets) waren echt ontevreden over de faciliteiten en de onaardige dame.
J. Vos, on this campsite in June 2014
Travelling party: Seniors
Verzorging terrein: maaien te laat.
Hygiëne: afvoer vuilnis in twee weken niet waargenomen
sanitair(douches) te gladde vloer/
Geen aanpassingen voor mensen met een beperking, b.v. leeftijd.
Inschrijven tussen 9 en 10 u. houding aan intercom moeizaam

KaPe, on this campsite in June 2014
Travelling party: Couple
Geen schitterende camping waar je voor alles extra moet betalen: douchen, warm water voor de vaat. Is dit allemaal nog wel van deze tijd?
Sanitair vrij oud, maar wel onderhouden.
Auto moet buiten blijven, kan niet bij de caravan of tent blijven staan. Begin maar te zeulen met al je boodschappen.
Cafetaria die bijna niet open is.
Enige pluspunt is de omgeving die heel mooi is om te fietsen en te wandelen. Maar dat heeft dan weer niets meer met de camping te maken.
m sharp, on this campsite in May 2014
Travelling party: Couple
Having booked an ACSI priced pitch for my motorhome several months before they still tried to charge 20 euro per night. Pitches are very small we couldn\'t even put our roll out awning out. No motorhome facilities. Not allowed to take motorhome off site even though nearest public transport was 3/4 mile away, even though we explained my wife had an injured knee.
W.Koster, on this campsite in March 2014
Travelling party: Couple
Hadden gereserveerd van 16 maart 2014 tot 30 maart 2014. Bij aankomst op zondag moet je een brief uit de kast naast de receptie halen, omdat de beheerders die vooraan de camping wonen geen zin hebben om je op zondag te woord te staan. Onvriendelijke beheerders, geen praatje, geen lachje. Ik had problemen met de stroom, dacht dat het aan de stroom voorziening op de camping lag, maar lag bij mijzelf. Stekker in elektriciteitskast verwisseld, probleem!!! Moest na 5 dagen al afrekenen voor die periode. Niet normaal, op andere campings betaal je over het algemeen bij vertrek. Chemisch toilet legen in de normale WC, vind ik ook niet erg hygienisch.
Als je \'s avonds wat later komt, zijn er 2 van de 3 toegangspoorten gesloten. Auto helemaal vooraan plaatsen en een eind lopen, naar je plaats. Gevulde gasflessen en boodschappen moet je helemaal naar je plaats sjouwen. Zowel mijn vrouw als ik zijn rugpatient. Kampeerders mijdt deze camping. Eén pluspunt, gratis WIFI
Maria, on this campsite in January 2014
Travelling party: Couple
Mooie camping, maar wat een vervelende beheerder! Wees verstandig en ga naar een andere camping en bespaar jezelf de domper.
General information
Guide price 1

€20.00

Guide price 2

€24.00

Period of opening

01/01 till 31/12

Area

4.2 ha

Number of touring pitches

39 (100 - 200m2)

Number of camper pitches

3

Number of permanent pitches

30

Number of accommodation units for hire

16
* Facilities printed in bold are not included in the overnight rate. Supplementary charges will apply. (This does not mean that facilities which are not printed in bold are free!)
Popular amenities

Dog(s) in high season (on lead)

ACSI Club ID is accepted as an identity document
At the reception

Reservation with CampingCard ACSI also possible

ACSI Club ID is accepted as an identity document

Advance booking recommended for high season

Languages spoken at reception (during the main season)

languages: German | English | Dutch
Pitch amenities

Tap at/near the pitch (max. 50 m)

Also suitable for caravans > 5.5m, excluding towbar

Electrical hook-ups possible to maximum %s amps

Max. electricity: 10 ampère

Euro-plug required
Internet
Situation of campsite

Close to motorway junction (< 10 km)

Public transport near the camp site (max. 0.5 km)

Shopping opportunities within %s km
Dogs

Dog(s) in high season (on lead)

Dog(s) in low season (on lead)
Swimming
For children

Children's playground: large

Children's playground: small

Games room

Baby room

Animal meadow

No entertainment programme
Toilet facilities

Washbasins: hot water

Washbasins: cold water

Heated toilet facilities

Individual washcabins: hot water

Individual washcabins: cold water

Standard toilets

Chemical toilet disposal point

Showers: hot water

Showers: cold water

Baby room
Sport and games

Table tennis table

Multi-sports field

Jeu de boules alley(s)

Riding

Pitch and putt nearby (max. 10 km)

Golf course nearby (max. 10 km)

golf clinic (courses in golf)
distance: 5 km
total: 18

Golf clinic (courses in golf)
Ground and vegetation

Pitches with some shade

Grass

Sand
Campsite rules

Dog(s) in high season (on lead)

Dog(s) in low season (on lead)

Caravans allowed

Tents allowed

Small extra tent permitted

Motorhomes allowed

Car-free pitches

Barbecues permitted

type of BBQ: charcoal | electricity | gas
Food, drink and groceries

Groceries: limited selection

Bar

Freezing for cooling elements
Washing, washing-up, cooking

Washing up sinks: hot water

Washing up sinks: cold water

Washing machine(s)

Dryers
Recreation (adults)

Fishing

Cycle routes starting at the camp site

Marked out walking routes near the camp site

Games room

Pool or billiards

Television
Water sports and recreation
Available to hire at the campsite

Bungalows/chalets

Apartments

(Log)cabins

Studios

Rooms

Freezing blocs
For motorhomes

Motorhomes allowed

Special pitches for motorhomes

hardened base for motorhomes
Surface area: 100 m2
Amount: 3

Also suitable for motorhomes > 8m and > 4 tonnes

Hardened base for motorhomes
Miscellaneous

Footpaths and roads are lit

Patrolled grounds

Quiet during the day and at night
Address & Route
Would you like to book campsite Camping Overbetuwe or request more information? You can do both using the information below.
Camping Overbetuwe
Uilenburgsestraat 3
6666 LA / Heteren
Netherlands


Download GPS coordinates

Select your navigation system:

A50, exit 18 Heteren. Then follow camping signs.
The weather on this campsite
Weather forecast
Thu

20 / 10

Fri

21 / 10

Sat

22 / 10

Sun

23 / 10

Mon

24 / 10

Tue

25 / 10

Wed

26 / 10

Max.
11°
10.8°
10.2°
10.5°
11.8°
13.1°
12.6°
Min.
4.5°
2.7°
4.2°
1.7°
4.5°
8.2°
6.9°
Precipitation
95%
90%
50%
25%
50%
60%
60%
Wind direction
N
NW
NO
E
E
NO
W
Wind speed
3
3
2
2
3
3
3
Climate
| | | |
| --- | --- | --- |
| | Relative humidity | Precipitation total (mm) |
| Jan | 91% | 83 |
| Feb | 87% | 69 |
| Mar | 87% | 47 |
| Apr | 80% | 53 |
| May | 70% | 50 |
| Jun | 72% | 55 |
| Jul | 79% | 112 |
| Aug | 79% | 117 |
| Sep | 88% | 85 |
| Oct | 87% | 90 |
| Nov | 91% | 71 |
| Dec | 90% | 75 |
Information request
ACSI Eurocampings will send your information request to "Camping Overbetuwe".
Take note; you are sending an information request. You cannot make a reservation using this form. You will need to contact the campsite directly and ACSI Eurocampings cannot have any influence on the consequences thereof.