Kennemer Duincamping de Lakens
Kennemer Duincamping de Lakens is a campsite in Zandvoort, North Holland, located by the sea and by a lake/recreational pond.This camp site with sloping grounds has pitches which are marked out, pitches without shade and pitches with some shade. Kennemer Duincamping de Lakens is located close to a sandy beach. It is possible to rent tents, caravans and bungalows. The camp site has a playground and a sports ground.
Show more

For sportive holidaymakers the camp site offers excursion programmes, guided walks and various cycle routes. There is an entertainment programme. For those who want to relax after a busy day there is a sauna and a beauty centre. You can swim nearby in the sea and in a lake/recreational pond. At Kennemer Duincamping de Lakens you can go windsurfing.

You don't always have to cook, as the camp site has a snack bar, pizzeria and restaurant (with full menu). The camp site also supplies fresh bread. You can also use the internet, as there is a WiFi point and you can access the internet with your own laptop in 80% of the camp site.
Low-season discount with CampingCard ACSI
Affordable camping in the low season with CampingCard ACSI
CampingCard ACSI is a useful little card that will earn you up to 50% discount on your holiday! In 2016 you can choose from no fewer than 3142 campsites in 20 European countries. You will pay one of the four fixed, low rates in the early and late season!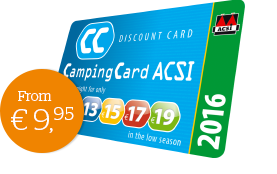 The advantages
Up to 50% discount! You can stay even more inexpensively at the loveliest campsites throughout Europe for four fixed rates using your CampingCard ACSI.

3142 campsites, all inspected by ACSI! You are welcome at 3142 campsites covering 20 European countries with your CampingCard ACSI

Affordable camping with your (grand)children 3 children (under 6 years) are included in the CampingCard ACSI rate at more than 700 campsites
Campsite opening period + your holiday period
August 2016
Mon
Tue
Wed
Thu
Fri
Sat
Sun
1
2
3
4
5
6
7
8
9
10
11
12
13
14
15
16
17
18
19
20
21
22
23
24
25
26
27
28
29
30
31
September 2016
Mon
Tue
Wed
Thu
Fri
Sat
Sun
1
2
3
4
5
6
7
8
9
10
11
12
13
14
15
16
17
18
19
20
21
22
23
24
25
26
27
28
29
30
October 2016
Mon
Tue
Wed
Thu
Fri
Sat
Sun
1
2
3
4
5
6
7
8
9
10
11
12
13
14
15
16
17
18
19
20
21
22
23
24
25
26
27
28
29
30
31
November 2016
Mon
Tue
Wed
Thu
Fri
Sat
Sun
1
2
3
4
5
6
7
8
9
10
11
12
13
14
15
16
17
18
19
20
21
22
23
24
25
26
27
28
29
30
December 2016
Mon
Tue
Wed
Thu
Fri
Sat
Sun
1
2
3
4
5
6
7
8
9
10
11
12
13
14
15
16
17
18
19
20
21
22
23
24
25
26
27
28
29
30
31
31 Campsite open
31 Campsite closed
31 Selected date
Detail information about this campsite
This inspector visits Kennemer Duincamping de Lakens every year and inspects the campsite on the basis of more than 200 amenities and other points of interest. The inspector is an ACSI staff member and does not work for the campsite.
Toilet facilities

8.0

Staff

8.4

Price - quality comparison

7.7

Camping pitch

8.1

Accommodation

8.0

Child friendliness

8.2

Entertainment

7.3

Sports facilities

7.2

Swimming pool

7.3

Food and drink

7.5

Surroundings

8.7
C Scharrenberg, on this campsite in May 2016
Travelling party: Seniors
De kampeerplaatsen op het veld, waarop je niet kan reserveren, waren verwaarloosd qua onderhoud. Er stond ontzettend veel onkruid waaronder veel distels. Je moest voorzichtig je elektra aansluiten om te voorkomen dat je huiduitslag kreeg. Het regende erg hard een aantal keren en de kampeerplaats veranderde in een modderpoel. Een kwestie van schelpen storten denken wij?
Het toiletgebouw dat in de buurt van dit veldje staat is oud en gedateerd en daardoor ook blijkbaar erg slecht schoon te maken. De douches waren verre van schoon terwijl in de nieuwere gebouwen het wel schoon was.
Dan vinden wij de kwaliteit/prijs verhouding aan de te hoge kant. Wij komen graag op de Lakens al 15 jaar maar dit viel ons nu erg tegen.
De omgeving is en blijft prachtig.
E.B. van den Berg, on this campsite in May 2016
Travelling party: Seniors
Samen op fietsvakantie in ons eigen Nederland. We zijn twee mensen van tegen de zestig en werden met ons tentje in de stromende regen gestationeerd in het duinzand tussen de pubers en de bakpakkers. Heel fijn als de zon schijnt maar anders ook niet. Geen plekje waar gezeten kon worden dus ons brood was belegd met zand. De toiletten en douches waren redelijk schoon, maar al het overige was vies. De ramen, de vloer (de planten groeiden in de wasgelegenheid naar binnen). Het restaurant was gezellig vol en je kunt er terecht voor een frietje maar ook hier leek het alsof men het gebouw er neergezet had en er vervolgens nooit meer gepoetst was. Het personeel was aardig en lief maar gezien de prijs die we betaalden voor een tentje en een beetje stroom waarschijnlijk zwaar onderbetaald! De camping is prachtig gelegen en zou een visite kaartje voor Nederland moeten zijn want wie gaat nu niet naar Zandvoort als je Holland aandoet!....Maar wat een visitekaartje! Wij schaamden ons in ieder geval de ogen uit ons hoofd en we zijn echt de beroerdste niet, zeg maar gewoon twee ruimdenkende oude hippies! Bah bah
Morgana, on this campsite in May 2016
Travelling party: Couple
Wir waren für 4 Tage über Christi Himmelfahrt auf dem Platz und er war voll ausgebucht. Die Stellplätze sind schön und liegen in der Dünenlandschaft. Sehr idyllisch. Man muss wissen, dass die Stellplätze alle nicht riesig sind. Für uns mehr als ausreichend, aber große Gespanne dürften es schwer haben. Die SANITÄRANLAGEN allerdings waren extrem schmutzig. So etwas habe ich bei einem Platz in der Preiskategorie schon lange nicht erlebt. Ich bin nicht sonderlich pingelig, aber das hier ging gar nicht. Es wird viel zu selten und viel zu wenig gereinigt. Darüber habe ich mich sehr geärgert. Meiner Meinung nach gibt es auch zu wenige Duschen. Die Lage des Platzes ist gut geeignet für Ausflüge, der Strand wunderschön.
Fam Elbra, on this campsite in March 2016
Travelling party: Family with children, 4 – 12 years
Camping ten midden van prachtig duinengebied. Heel grote camping, maar door de indeling tussen de duinen merk je dat niet. In \"playtown\"-gebied heeft iedere plaats een trampoline, wat onze kinderen geweldig vonden. Veel speeltuintjes over heel de camping en een grote vernieuwde speeltuin aan het restaurant. Animatie erg goed in omgang met de kinderen. Wandelen of fietsen vanop de camping is uniek. De zee is ook vlakbij. Erg vriendelijk personeel. Sanitair proper. Winkel met ruim assortiment. Vlakbij vele bezienswaardigheden (Haarlem, Amsterdam, Keukenhof, ...). Erg hard genoten.
Hacki, on this campsite in May 2015
Travelling party: Couple
Sehr schön gelegener Platz, sauber und ordentlich. Familienfreundliche Gestaltung zu einem stattlichen Preis
Sebastian, on this campsite in April 2015
Travelling party: Young couple
Sehr schöner Campingplatz auf dem wir mehrmals jährlich mit unsererm VW Bus sind. Sehr schön in den Dünen gelegen. Zumeist ruhige Umgebung. Zu bedenken ist, das der Untergrund FESTER Sandboden ist. Mit richtigem Material überhaupt kein Problem - das unterschätzen aber manche Leute leider zu sehr. Badehäuser sind großzügig und schön und werden regelmäßig gereinigt. Ein Supermarkt auf dem Platz hält das nötigste bereit. Alles wunderbar. Wir kommen immer gerne wieder!
Poul Skræddergaard, on this campsite in April 2015
Travelling party: Seniors
Dejlig plads med gode standpladser direkte i klitterne, gode faciliteter med bl.a. supermarked og en kort spadseretur til stor strand, med strandbar og aften liv. Men oplevelsen blev kraftigt forstyrret af, at der tæt ved pladsen ligger en motorbane, hvor der de dage vi var der (både hverdage og weekend) blev kørt non stop motorløb fra 9 - 19. Det skal man overveje, om man gider høre på.
H. Hoffmann, on this campsite in September 2014
Travelling party: Couple
Das Personal ist sehr Freundlich und Hilfsbereit.
Der Platz war im September noch fast Voll Belegt.
Die Sanitäranlagen sind Ok.
Die Platzeigen Pizzeria ist sehr Teuer, so Kostet etwa eine Pizza Magarita über 8€ .
Der Campingplatz ist sehr schön in die Dünen integriert.
C. van Maaren, on this campsite in September 2014
Travelling party: Seniors
een camping met een zeer schitterende ligging, waarbij het grote aantal kampeerplaatsen niet opvalt door het mooie duinterrein: men waant zich op een kleine kampeerplaats! Schone camping in totaliteit, zeer vriendelijk en behulpzaam personeel.
Fokkens H.J., on this campsite in September 2014
Travelling party: Seniors
Camping prachtig gelegen in de duinen, op korte afstand van het strand. Vriendelijk personeel. Sanitair is goed maar wordt matig onderhouden. De plaatsen, met name de duinplaatsen zijn niet te ruim. DE prijs/kwaliteit verhouding vinden wij gelet op de grootte van de plaatsen en de (beperkt) geboden faciliteiten spannend. Buiten het hoogseizoen kun je gebruik maken van de ACSI kaart, maar daar komt nog wel de BTW en reserveringskosten overeen.
General information
Guide price 1

€51.30

Guide price 2

€55.30

Period of opening

24/03 till 30/10

Area

27 ha

Number of touring pitches

580 (80 - 120m2)

Number of camper pitches

15

Number of permanent pitches

285

Number of accommodation units for hire

46

Campsite suitable for disabled persons

Yes

Eco campsite

Yes
* Facilities printed in bold are not included in the overnight rate. Supplementary charges will apply. (This does not mean that facilities which are not printed in bold are free!)
Popular amenities

WiFi 80-100% coverage

Situated on the coast (max. 0.5 km)

ACSI Club ID is accepted as an identity document
At the reception

Reservation with CampingCard ACSI also possible

ACSI Club ID is accepted as an identity document

Advance booking recommended for high season

Credit cards accepted

credit card: MasterCard | Visa Card

Payment by debit card/Maestro possible

Cash dispenser/cashback possible

Defibrillator

Reception easily accessible for the disabled

Languages spoken at reception (during the main season)

languages: German | English | French | Dutch
Pitch amenities

Tap at/near the pitch (max. 50 m)

Also suitable for caravans > 5.5m, excluding towbar

Electrical hook-ups possible to maximum %s amps

Max. electricity: 16 ampère

Euro-plug required
Internet

WiFi 80-100% coverage

WiFi point
Situation of campsite

Situated on the coast (max. 0.5 km)

Distance to the sea (max. 10 km)

Located by a lake/recreation pond (max. 0.1 km)

Close to motorway junction (< 10 km)

Public transport near the camp site (max. 0.5 km)

Shopping opportunities within %s km
Dogs

Dogs not allowed in low season

Dogs not allowed in high season
Swimming

Swimming in the lake/recreation pool(max. 0.1 km)

Sea swimming (max. 0.5 km)
Beach
For children

Children's playground: large

Entertainment programme: Children (at least 2x a week - h.s.)

languages: German | Dutch
period: 06-07/24-08 | 22-04/08-05

Children's playground: small

Games room

Mini club (at least 4x a week - high season)

languages: German | English | Dutch

Children's sanitary facilities

Baby room

Water play area

Trampoline
Toilet facilities

Washbasins: hot water

Washbasins: cold water

Heated toilet facilities

Individual washcabins: hot water

Individual washcabins: cold water

Children's sanitary facilities

Standard toilets

Toilet paper provided

Family toilet facilities

Chemical toilet disposal point

Showers: hot water

Showers: cold water

Family shower

A shower (150 cmsx150 cms minimum) and a toilet (165x220cms or 190cmsx190cms minimum)

Water and toilet facilities for disabled people in the same building as for the other campers

Shower seat / shower chair (folding or mobile) approximately 48 cm high

Canteen/restaurant has toilet adapted for disabled people

Baby room

Tap without push control
Sport and games

Table tennis table

Multi-sports field

Jeu de boules alley(s)

Beach volleyball

Pitch and putt nearby (max. 10 km)

Golf course nearby (max. 10 km)

golf clinic (courses in golf)
distance: 8 km
total: 18

Golf clinic (courses in golf)
Ground and vegetation

Pitches with some shade

Unshaded pitches

Marked pitches

Sand

Hard ground

Sloping site
Campsite rules

Caravans allowed

Tents allowed

Small extra tent permitted

Motorhomes allowed

Barbecues permitted

type of BBQ: electricity | gas
Food, drink and groceries

Fresh bread available at the camp site

Groceries: extensive selection

Shop/supermarket with level entrance or with ramp

Restaurant (with ample choice)

Canteen/restaurant with level entrance or with ramp

Snack bar

Pizzeria

Takeaway meals

Bar

Freezing for cooling elements

Exchanging of gas cylinders
Washing, washing-up, cooking

Washing up sinks: hot water

Washing up sinks: cold water

Washing machine(s)

Laundry sinks: cold water

Laundry sinks: hot water

Dryers

Ironing facilities
Recreation (adults)

Entertainment programme: Adults (at least 2x a week - h.s.)

languages: Dutch
period: 01-07/31-08

Cycle routes starting at the camp site

Marked out walking routes near the camp site

Games room

Excursion programme (at least 2x a week - m.s.)

Guided walks
Water sports and recreation

Windsurfing permitted

Sailing permitted
Available to hire at the campsite

Bungalows/chalets

Caravans

Tents

Bicycles

Safes

Go-kart

Electric bikes
Wellness

Sauna

Beauty centre

Massage
For motorhomes

Motorhomes allowed

Special facilities for motorhomes

Special pitches for motorhomes

Surface area: 100 m2
Amount: 15

Also suitable for motorhomes > 8m and > 4 tonnes
Miscellaneous

Footpaths and roads are lit

Patrolled grounds

Quiet during the day and at night

Separate area for young people
Address & Route
Would you like to book campsite Kennemer Duincamping de Lakens or request more information? You can do both using the information below or by visiting the campsite's website.
Kennemer Duincamping de Lakens
Zeeweg 60
2051 EC / Bloemendaal aan Zee
Netherlands


Download GPS coordinates

Select your navigation system:

From A9 Rottepolderplein A200, then follow N200 in the direction of Haarlem-Overveen-Bloemendaal aan Zee. After Overveen it is the 2nd campsite on the left near the sea.
The weather on this campsite
Weather forecast
Mon

24 / 10

Tue

25 / 10

Wed

26 / 10

Thu

27 / 10

Fri

28 / 10

Sat

29 / 10

Sun

30 / 10

Max.
8.9°
12.5°
13.3°
14.8°
15.1°
14.6°
13.9°
Min.
4.3°
5.7°
4.8°
10.6°
11.1°
9.6°
8.9°
Precipitation
85%
15%
55%
25%
20%
30%
50%
Wind direction
E
NO
SW
W
W
W
NW
Wind speed
4
3
4
5
5
4
5
Climate
| | |
| --- | --- |
| | Precipitation total (mm) |
| Jan | 77 |
| Feb | 73 |
| Mar | 91 |
| Apr | 79 |
| May | 51 |
| Jun | 101 |
| Jul | 70 |
| Aug | 103 |
| Sep | 111 |
| Oct | 116 |
| Nov | 92 |
| Dec | 163 |
Information request
ACSI Eurocampings will send your information request to "Kennemer Duincamping de Lakens".
Take note; you are sending an information request. You cannot make a reservation using this form. You will need to contact the campsite directly and ACSI Eurocampings cannot have any influence on the consequences thereof.