Campsite Ponte das Três Entradas

**
Campsite Ponte das Três Entradas is a campsite in Ponte das Três Entradas, Coimbra, located on a river/stream.This terraced camp site and camp site with sloping grounds has pitches pitches with shade, pitches without shade and pitches with some shade. It is possible to rent tents, apartments and bungalows. The camp site has a sports ground.
Show more

The following rules apply to pets at (Ponte das Três Entradas):
- Dog(s) permitted in low season (if on a lead)
- Dog(s) permitted in high season (if on a lead)

For sportive holidaymakers the camp site offers guided walks and various cycle routes. The camp site has an outdoor swimming pool. You can swim nearby in river/stream. At Ponte das Três Entradas you can go wild water sailing/kayaking/rafting.

You don't always have to cook, as the camp site has a snack bar. You can also use the internet, as the camp site has one or more computers with an internet connection and there is a WiFi point.
Low-season discount with CampingCard ACSI
Affordable camping in the low season with CampingCard ACSI
CampingCard ACSI is a useful little card that will earn you up to 50% discount on your holiday! In 2016 you can choose from no fewer than 3142 campsites in 20 European countries. You will pay one of the four fixed, low rates in the early and late season!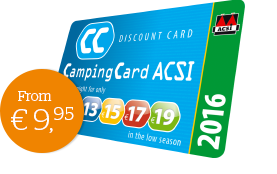 The advantages
Up to 50% discount! You can stay even more inexpensively at the loveliest campsites throughout Europe for four fixed rates using your CampingCard ACSI.

3142 campsites, all inspected by ACSI! You are welcome at 3142 campsites covering 20 European countries with your CampingCard ACSI

Affordable camping with your (grand)children 3 children (under 6 years) are included in the CampingCard ACSI rate at more than 700 campsites
Campsite opening period + your holiday period
August 2016
Mon
Tue
Wed
Thu
Fri
Sat
Sun
1
2
3
4
5
6
7
8
9
10
11
12
13
14
15
16
17
18
19
20
21
22
23
24
25
26
27
28
29
30
31
September 2016
Mon
Tue
Wed
Thu
Fri
Sat
Sun
1
2
3
4
5
6
7
8
9
10
11
12
13
14
15
16
17
18
19
20
21
22
23
24
25
26
27
28
29
30
October 2016
Mon
Tue
Wed
Thu
Fri
Sat
Sun
1
2
3
4
5
6
7
8
9
10
11
12
13
14
15
16
17
18
19
20
21
22
23
24
25
26
27
28
29
30
31
November 2016
Mon
Tue
Wed
Thu
Fri
Sat
Sun
1
2
3
4
5
6
7
8
9
10
11
12
13
14
15
16
17
18
19
20
21
22
23
24
25
26
27
28
29
30
December 2016
Mon
Tue
Wed
Thu
Fri
Sat
Sun
1
2
3
4
5
6
7
8
9
10
11
12
13
14
15
16
17
18
19
20
21
22
23
24
25
26
27
28
29
30
31
31 Campsite open
31 Campsite closed
31 Selected date
Detail information about this campsite
This inspector visits Campsite Ponte das Três Entradas every year and inspects the campsite on the basis of more than 200 amenities and other points of interest. The inspector is an ACSI staff member and does not work for the campsite.
Toilet facilities

7.5

Staff

7.9

Price - quality comparison

7.8

Camping pitch

7.7

Accommodation

7.6

Child friendliness

8.0

Entertainment

7.7

Sports facilities

7.5

Swimming pool

7.3

Food and drink

8.1

Surroundings

8.1
Jolanda, on this campsite in November 2015
Travelling party: Seniors
Een relaxte camping, waar je je lekker je eigen plek kan kiezen. Geen aanmerkingen op de schoonmaak, het ziet er allemaal netjes, schoon en goed verzorgd uit. Hier ontdek je het echte Portugal, heel vriendelijke en behulpzame mensen. En de restaurantjes dichtbij de camping zijn prima en als je zelf wilt koken, maar iets tekort komt...ga naar de mini-mercado, een bezoekje waard!
Bakbijk, on this campsite in October 2015
Travelling party: Couple
We hebben een week op deze camping gestaan in een (zeer) rustige periode. Sanitair is eenvoudig, maar wordt goed schoongehouden. Voor wandelingen, fiets en/of autotochten is een map samengesteld, waaruit gekozen kan worden en dan wordt een print voor je gemaakt. Behulpzaam en vriendelijk Nederlands echtpaar zijn de camping eigenaren. Wifi heeft een goed bereik op het voorste deel van de camping (betalend). Aan de overkant van de camping is een kleine supermarkt.
Chris Mahieu, on this campsite in September 2015
Travelling party: Seniors
Camping wordt de afgelopen 5 jaar gerund door Nederlands echtpaar. Van de camping is een mooie plek te maken. Vooral de ruimte waarin je zelf pizza kan bakken, en kan verblijven als het slecht weer is. Het is een uitgestrekte camping aan een riviertje die veel meer plaatsen heeft dan eerst gedacht. Helaas ziet alles er wat \\\'shabby\\\' uit. Blaadjes worden niet opgeruimd, en ook het toiletblok is tijdens mijn verblijf niet schoongemaakt. Alles zou een opknapbeurt kunnen gebruiken. Tijdens mijn verblijf gingen de eigenaren opeens \\\'met vakantie\\\', en stond ik met nog één gast op een verlaten camping? Er zou in de avond iemand komen om te zien of er nog meer gasten waren aangekomen, echter niemand gezien. In de tussentijd kwamen er wel nieuwe gasten, die heb ik maar wegwijs gemaakt. Eigenlijk een onverantwoorde actie van de eigenaren, nog afgezien van het toilet- en douche onderhoud wat niet gedaan werd. Bij een ongeval, of indien er dringend medische assistentie noodzakelijk is, kan je het als gast zelf uitzoeken.
Reaction from the campsite
November 29, 2015
Beste familie Mahieu,
Uw reactie verbaast ons nogal. We zijn 2 nachten (48 uur) weggeweest. Hierover hebben wij met u gesproken en aangegeven dat als er problemen zijn u terecht kunt bij het winkeltje, zij houden de boel in de gaten. Mijn mobiele nummer is 24 uur per dag bereikbaar, ook als we even weg zijn (en we waren niet verder dan een uur van de camping). Daarnaast is onze medewerker er. Op de dinsdag dat wij weg gingen was hij er aan het einde van de middag, 2 uurtjes, en woensdag was hij er de gehele dag. Donderdag waren wij weer terug. Het toiletgebouw heb ik voor ons vertrek schoongemaakt en bij terugkomst opnieuw, dat betekent dat er 1 dag niet is schoongemaakt. Met 4 mensen op de camping lijkt me dat geen probleem. De opknapbeurt staat in de planning, echter wij zijn afhankelijk van een zeer traag werkende overheid, we wachten al ruim een jaar op aansluiting op het riool, waarna we ook de rest kunnen gaan aanpakken. En de blaadjes...dat hoort bij de herfst...!
Thijs en Annet, on this campsite in August 2015
Travelling party: Young couple
Wij zijn 3 nachten op de camping gebleven. Vriendelijk ontvangen door Nederlands sprekende eigenaren. Leuke café / bar met ruime keuze en zeer vriendelijke prijzen. Klein winkeltje op 100 meter afstand van de camping. 2 restaurants op loopafstand. Op de camping overigens ook warm (en lekker) eten verkrijgbaar. 2 wandelroutes gelopen door de natuur, zeer de moeite waard!
Steven, on this campsite in July 2015
Travelling party: Group of friends
Samen met een vriend heb ik 6 weken op deze camping als vrijwilliger gewerkt.
De camping ligt naast een rivier waar dit jaar een strandje bij is aangelegd die vanaf de camping makkelijk te betreden is.
Het water is heerlijk om in te zwemmen en we hebben hier dan ook veel van onze uren besteed.
In de rivier zitten een hele hoop knabbelvisjes die wanneer je je voeten in water doet een je een voeten schoon knabbelen. (Een aanrader om is te proberen)
De camping heeft ook een zwembad maar deze is vrij klein.
Door de rivier is dit echter geen probleem.

Op de camping zijn veel plekken met schaduw aanwezig.
De camping is als het ware in drie stukken opgedeeld: een wat open stuk onder de bomen, een middeldeel wat bestaat uit terassen en is gelegen onder de olijfbomen en een langgerekt deel achterop de camping wat zorgt voor plekken met veel privicy.

De omgeving is geweldig, het maakt niet uit welke kant je vanaf de camping oprijdt, overal kom je op nieuwe prachtige plekken waar je een uitzicht hebt over de twee gebergten waar de camping tussen ligt.
Daarnaast zijn er overal in de buurt kleine strandjes aangelegd langs de rivier, we zijn bij meerdere strandjes geweest die echt een aanrader zijn om eens te bekijken. (Vraag ernaar bij de receptie/bar)

De campingeigenaren Thomas en Karin zijn erg vriendelijk en staan altijd klaar om te helpen of informatie te geven over de omgeving.

Pro\'s
+ een supermarkt(je) tegenover de camping
+ een ongelofelijk mooie omgeving
+ de rivier en het strandje
+ vriendelijke eigenaren die voor je klaar staan
+ veel ruime plekken met genoeg schaduw
+ heerlijke bifana\'s
+ rustige camping
+ veel speelplekken voor kinderen (tafeltennistafel, rivier, voetbalveld, speeltuin enz.)
+ grote ruimte om te bbq\'en



Con\'s
- het toilletgebouw is niet hypermodern maar alles wat nodig is is aanwezig. (Wordt waarschijnlijk snel verbouwd)
- een klein deel helemaal achterop de camping heeft geen stroomvoorziening (max. 10 plekken)
- naast de hamburger menu\'s en bifana\'s zijn er geen maaltijden bij de bar verkrijgbaar. (Twee restaurants liggen binnen een straal van 600m om de camping)
- een klein zwembad (door de rivier is dit totaal geen probleem)

Mocht je naar deze camping gaan wat \"to do tips\":
- een wandeling maken met Leen: vraag hiernaar bij de bar. Wij hebben samen met Leen (een Nederlandse) een prachtige wandeling gemaakt op 1800/1900m hoogte. Uitzicht na uitzicht, echt een aanrader!
- bezoek de strandjes in de buurt: er zijn twee strandjes op loopafstand maar ook een paar prachtige op max 25 min rijden.
- ga een kijkje nemen in het nabijgelegen dorp genaamd Avõ. In dit dorpje is een strandje aanwezig en een kroeg van twee Nederlanders.
- voor meer leuke uitstapjes even informeren bij de bar/receptie er zijn nog veel meer \"must visits\"
delage daniel, on this campsite in June 2015
Travelling party: Seniors
Camping indigne d\\\'être ACSI.Très difficile pour un camping car, et très dangereux pour la sortie qui est très pentue et en virage. Aucun emplacement spécifique pour camping car, terrain en pente. Accueil froid, aucun effort de communication avec les clients. Restés une nuit et n\\\'y reviendrai pas.
Piët & Lowès, on this campsite in June 2015
Travelling party: Seniors
Rustig, sfeervol, schone voorzieningen, mooie en ruime plek die je zelf kunt kiezen. Beheerders vriendelijk en behulpzaam, spreken goed Nederlands....
Handige infomap over de prachtige omgeving met fraaie dorpjes en marktjes. Frisse rivier de Alva stroomt naast de camping, prima om te zwemmen.
Aangename sfeer op de camping waar de locals hun wijntje halen en de kampeerders ook. Of aanschuiven bij de bbq, heel gezellig!
Jan ter Punt, on this campsite in May 2015
Travelling party: Seniors
Een heerlijke kleine camping, zonder poespas. Ontzettend aardige mensen, die erg hun best doen het iedereen naar de zin de maken. Wat ouder maar onderhouden toiletgebouw waar alles werkt en de aanwezigheid van een wasmachine waar je na het kopen van een muntje je was kunt draaien. Het kleine winkeltje boven aan de weg waar je alle noodzakelijke levensbehoeften kunt kopen inclusief vers brood is heel comfortabel. Een prachtige omgeving waar veel te zien is. Kortom we hebben er een supervakantie gehad!!!!
Guye Michel, on this campsite in April 2015
Travelling party: Couple
Accueil par une personne non soignée dans un endroit sale, mal éclairé avec aucune possibilité de restauration même minimale (pain, sandwich, etc...) Le bar est glauque et mal entretenu. Pas digne d\\\'un camping ACSI.
Reaction from the campsite
November 25, 2015
Nous regrettons que votre séjour ne pas répondre à vos attentes. Parce qu\'il y a 2 restaurants et une superette bien triée (avec pain frais tous les matins) à pied, nous avons choisi ne pas de vendre ces choses à l\'intérieur du camping. Pendant la basse saison, nous avons mis le moins de lumière sur le camping à économiser l\'énergie et de maintenir le prix bas. Dans la barre, vous pouvez commander un rouleau, un pain grillé, café, etc. La plupart de nos clients comme le bar, vous n\'avez malheureusement pas.
Agnieszka Mlicka, on this campsite in March 2015
Travelling party: Couple
We were not impressed with this camping. The bathroom facilities are really old and without character. The showers were warm, but not hot, and the taps never got warm. The facilities were not cleaned thoroughly, with cobwebs and dirt on the floors. The campsite path was being repaved, so there were road construction machines around which was ugly. In my opinion, such works ought to take place when the camping is closed for the winter. Also the rest of the camping did not look nice, rather scruffy and dirty, and the river is behind an ugly fence. Service was fine, but the fact that they kept my ASCI card until checkout indicated lack of trust. This attitude was reflected in notes around the cafe\\\\\\\'s terrace that seating is only with consumption. We stayed one night only, as a result.
Reaction from the campsite
November 25, 2015
I agree with you that such works should be done in winter-time, and that\'s what we wanted. The government is making a sewage-system and we are not the one in charge. We cooperate because we think that\'s important to be connected to the sewage system.
If you told us your complaints about the water and cleaning during your stay, we could have done something.
General information
Guide price 1

€18.50

Guide price 2

€22.50

Period of opening

01/01 till 03/01
01/02 till 31/12

Area

2 ha

Altitude

200m

Number of touring pitches

75 (60 - 90m2)

Number of camper pitches

2

Number of permanent pitches

2

Number of accommodation units for hire

8
* Facilities printed in bold are not included in the overnight rate. Supplementary charges will apply. (This does not mean that facilities which are not printed in bold are free!)
Popular amenities

Outdoor swimming pool

surface area: 36 m2
period: 01-05/01-10

Dog(s) in high season (on lead)

ACSI Club ID is accepted as an identity document
At the reception

ACSI Club ID is accepted as an identity document

Passport/identity card required

Credit cards accepted

credit card: MasterCard | Visa Card

Payment by debit card/Maestro possible

Languages spoken at reception (during the main season)

languages: German | English | French | Dutch
Pitch amenities

Tap at/near the pitch (max. 50 m)

Also suitable for caravans > 5.5m, excluding towbar

Electrical hook-ups possible to maximum %s amps

Max. electricity: 4-6 ampère
Internet

Internet access

WiFi point
Situation of campsite

Situated on river/stream (max. 0.1 km)

Public transport near the camp site (max. 0.5 km)

Shopping opportunities within %s km
Dogs

Dog(s) in high season (on lead)

Dog(s) in low season (on lead)
Swimming

Outdoor swimming pool

surface area: 36 m2
period: 01-05/01-10

River/stream swimming (max. 0.1 km)
For children

Children's playground: small

Games room

Video games

No entertainment programme
Toilet facilities

Washbasins: hot water

Washbasins: cold water

Standard toilets

Toilet paper provided

Squatting-toilets

Chemical toilet disposal point

Showers: hot water
Sport and games

Table tennis table

Multi-sports field

Geocaching
Ground and vegetation

Pitches with plenty of shade

Pitches with some shade

Unshaded pitches

Grass

Terraced site

Sand

Hard ground

Sloping site
Campsite rules

Dog(s) in high season (on lead)

Dog(s) in low season (on lead)

Caravans allowed

Tents allowed

Small extra tent permitted

Motorhomes allowed

Barbecues permitted
Food, drink and groceries

Snack bar

Bar

Communal barbecue area

Freezing for cooling elements

Ice available

Exchanging of gas cylinders
Washing, washing-up, cooking

Washing up sinks: hot water

Washing up sinks: cold water

Washing machine(s)

Laundry sinks: cold water

Laundry sinks: hot water

Ironing facilities
Recreation (adults)

Cycle routes starting at the camp site

level: difficult | easy | average

Marked out walking routes near the camp site

level: difficult | easy | average

Games room

Pool or billiards

Television

Video games

Guided walks
Water sports and recreation

White water kayaking/rafting

Kayaking course
Available to hire at the campsite

Bungalows/chalets

Apartments

Tents

Bicycles

Mountainbikes

Canoes

Kayaks
For motorhomes

Motorhomes allowed

Special facilities for motorhomes

Special pitches for motorhomes

Surface area: 60 m2
Amount: 2
Miscellaneous

Footpaths and roads are lit

Quiet during the day and at night
Address & Route
Would you like to book campsite Campsite Ponte das Três Entradas or request more information? You can do both using the information below.
Campsite Ponte das Três Entradas
Rua Principal nr. 1
3400-591 / Ponte das Três Entradas
Portugal


Download GPS coordinates

Select your navigation system:

At end of IC6 take exit N17, dir. Oliveira do Hospital/Covilhã. In Vendas Galizes N230 dir. Covilhã Vide (switch off SatNav) until Ponte das Três Entradas. For campsite take sharp right down before bridge.
The weather on this campsite
Weather forecast
Sat

22 / 10

Sun

23 / 10

Mon

24 / 10

Tue

25 / 10

Wed

26 / 10

Thu

27 / 10

Fri

28 / 10

Max.
19.6°
15.6°
17.9°
21.9°
24.7°
25.2°
24.6°
Min.
14.3°
12.3°
11.3°
14°
14.7°
15.8°
16.3°
Precipitation
75%
70%
70%
45%
10%
15%
10%
Wind direction
S
S
ZO
ZO
E
E
E
Wind speed
4
4
5
3
3
3
3
Climate
| | | | |
| --- | --- | --- | --- |
| | Relative humidity | Precipitation total (mm) | Hours of sunshine |
| Jan | 82% | 157 | 4 |
| Feb | 79% | 42 | 6 |
| Mar | 72% | 94 | 7 |
| Apr | 79% | 96 | 7 |
| May | 82% | 83 | 7 |
| Jun | 76% | 30 | 10 |
| Jul | 76% | 29 | 9 |
| Aug | 78% | 18 | 8 |
| Sep | 78% | 77 | 8 |
| Oct | 82% | 126 | 5 |
| Nov | 82% | 136 | 5 |
| Dec | 83% | 131 | 4 |
Information request
ACSI Eurocampings will send your information request to "Campsite Ponte das Três Entradas".
Take note; you are sending an information request. You cannot make a reservation using this form. You will need to contact the campsite directly and ACSI Eurocampings cannot have any influence on the consequences thereof.