Campsite Pelinos -Tomar is a campsite in Casa das Abobreiras, Santarém, located in a wood.This terraced camp site and camp site with sloping grounds has pitches pitches with shade, pitches without shade and pitches with some shade.
Show more

The following rules apply to pets at (Pelinos -Tomar):
- Dog(s) permitted in low season (if on a lead)
- Dog(s) permitted in high season (if on a lead)

The camp site has an outdoor swimming pool.

You don't always have to cook, as the camp site has a snack bar and restaurant (with snack menu). The camp site also supplies fresh bread. You can also use the internet, as there is a WiFi point.
Can also be found in ACSI Great Little Campsites app
Low-season discount with CampingCard ACSI
Affordable camping in the low season with CampingCard ACSI
CampingCard ACSI is a useful little card that will earn you up to 50% discount on your holiday! In 2016 you can choose from no fewer than 3142 campsites in 20 European countries. You will pay one of the four fixed, low rates in the early and late season!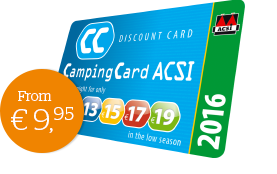 The advantages
Up to 50% discount! You can stay even more inexpensively at the loveliest campsites throughout Europe for four fixed rates using your CampingCard ACSI.

3142 campsites, all inspected by ACSI! You are welcome at 3142 campsites covering 20 European countries with your CampingCard ACSI

Affordable camping with your (grand)children 3 children (under 6 years) are included in the CampingCard ACSI rate at more than 700 campsites
Campsite opening period + your holiday period
August 2016
Mon
Tue
Wed
Thu
Fri
Sat
Sun
1
2
3
4
5
6
7
8
9
10
11
12
13
14
15
16
17
18
19
20
21
22
23
24
25
26
27
28
29
30
31
September 2016
Mon
Tue
Wed
Thu
Fri
Sat
Sun
1
2
3
4
5
6
7
8
9
10
11
12
13
14
15
16
17
18
19
20
21
22
23
24
25
26
27
28
29
30
October 2016
Mon
Tue
Wed
Thu
Fri
Sat
Sun
1
2
3
4
5
6
7
8
9
10
11
12
13
14
15
16
17
18
19
20
21
22
23
24
25
26
27
28
29
30
31
November 2016
Mon
Tue
Wed
Thu
Fri
Sat
Sun
1
2
3
4
5
6
7
8
9
10
11
12
13
14
15
16
17
18
19
20
21
22
23
24
25
26
27
28
29
30
December 2016
Mon
Tue
Wed
Thu
Fri
Sat
Sun
1
2
3
4
5
6
7
8
9
10
11
12
13
14
15
16
17
18
19
20
21
22
23
24
25
26
27
28
29
30
31
31 Campsite open
31 Campsite closed
31 Selected date
Detail information about this campsite
This inspector visits Campsite Pelinos -Tomar every year and inspects the campsite on the basis of more than 200 amenities and other points of interest. The inspector is an ACSI staff member and does not work for the campsite.
Toilet facilities

8.2

Staff

8.7

Price - quality comparison

8.4

Camping pitch

8.3

Accommodation

8.5

Child friendliness

7.8

Entertainment

7.6

Sports facilities

6.8

Swimming pool

7.8

Food and drink

7.6

Surroundings

8.4
Matthieu vande Burgt, on this campsite in June 2016
Travelling party: Seniors
Voor wie een kleine, prachtige terrascamping zoekt, heeft met camping Pelinos een goede keuze gemaakt. De leiding is jong, zelf eigenaar en probeert er dus echt iets moois van te maken. En dat is gelukt. Van alle campings op onze reis door Spanje en Portugal is deze ons het beste bevallen.
Darron and Michelle Mills, on this campsite in June 2016
Travelling party: Couple
What a fabulous campsite. The owners greeted us and showed us a selection of camping areas and a safe, shaded spot to leave my motorcycle. We intended to stay just for one night, but stayed for 3 !!!!! Such a relaxing spot sat around the pool, bus ride into Tomar. Fellow campers were all really friendly no matter of nationality The toilet and shower facilities were spotlessly clean. The restaurant down the hill (3-5 mins walk) was very nice, food was basic, 3 course meal and a big bucket of wine, coffee and liqueur brandy - 21euros!!!. It was worth the patience of finding the campsite initially, but when we got settled we didn\'t want to leave!! Will return again either on the motorcycle or campervan. Many thanks to the owners, and the parrot who needs to learn a new ringtone
Leendert Keesmaat, on this campsite in May 2016
Travelling party: Seniors
We werden erg vriendelijk ontvangen door de gastvrouw. Er zijn Leuke terrassen plaatsen, maar ook een groter terrein onder op de camping. Het happy hour aan de bar tussen 5 en 7uur is een gezellig trefpunkt voor alle aanwezige kampeerders. In het restaurant Muxima, even om de hoek, kan men goed eten. Men moet wel op de camping voorreserveren. De toiletten en douches zijn schoon en hebben lekker warm water. De kippen lopen vrij op het terrein rond (niet voeren!!) dus je kan wel eens een eitje vinden. Of dat dan vers is, is vraag 2. Tomar, met een zeer interessant oud klooster, is goed met de fiets te doen. Wandel-, fiets- en autoroutes zijn bij de receptie verkrijgbaar. Ons heeft deze campingplaats zeer goed bevallen.
Kerry, on this campsite in March 2016
Travelling party: Couple
We stayed for two nights in March. The couple who run the site are very helpful and cheerfully go out of there way to ensure that everything is done to help their guests. The site is a little gem, rural and quiet but easy to find and close to Tomar and lakes/beaches. Fab restaurant just down the hill. Would definitely recommend a stay here.
Braakman, on this campsite in August 2015
Travelling party: Young couple
Voor op doorreis is deze kleine camping perfect, je moet wel van steile hellingen houden. Camping is netjes verzorgd en leuk afgewerkt met mooie details. Sanitair is netjes en wordt regelmatig schoongemaakt. Voor de kinderen worden ook leuke activiteiten bedacht.
Dominique Liévn, on this campsite in July 2015
Travelling party: Couple
joli petit camping avec des emplacements en terrasse, ponctué de petits clins d\'œil pleins d\'humour. Notre seul regret : n\'avoir pu rester que 2 nuits alors que nous aurions bien pris une ou deux nuits de plus (mais nous n\'avons pas réservé) faute de place. Un bel endroit et de belles personnes (les propriétaires et ...Samba)
Daphne Partridge, on this campsite in June 2015
Travelling party: Couple
Our comedy SatNav made this rather hard to find, but there is an easier route off the IC9 Tomar Norte! Very welcoming Dutch couple run this unusual site and are readily at hand to offer help. On arrival we were shown the only two available pitches for a caravan - note : this is only a small, but very popular site and well attended by their fellow Dutch travellers - may be worth phoning/booking ahead. The site is terraced and choosing to pitch at the lower main area meant that the toilet block was up a small slope, the small pool was up a further steep rough path, and the reception/bar/wifi was up a further steep path. It is a very friendly place and quite quirky with their personal touch all around giving a very happy, relaxed feel to your stay. The hill into/out of the site is not a problem as they tow most caravans our with their own 4x4, also the technique is for entry is to drive up past the site to the church at the end of the road with huge area for turning around in.
The area is great for touring around (ask for their area map of the places to visit) and we thoroughly enjoyed Tomar, Fatima, Batalha, Torres Nova, Almourol, Castelo de Bode (the dam) and Ourem, so many castles, churches, monasteries, and quaint towns and the reservoir.
Jeremy Wicken, on this campsite in May 2015
Travelling party: Couple
Very friendly, Dutch run site. Lovely views around the hills and forests. But promotion info a bit dubious. Photo of nearby lake is not nearby and English translation of local walk got us lost almost at once. (I\'m sure we shouldn\'t have ended up on the motorway!) Restaurant in nearby village was very cheap and provided good local, home cooked fare. Relying on buses means ( unless you wish to rise before7am) travel on market day only. Worth it because the market is extensive and the town and convent well worth the visit. Unless you know what you are doing avoid buying the ubiquitous lupin beans.
J Pike, on this campsite in April 2015
Travelling party: Couple
Idyllic, peaceful campsite run by very friendly and helpful owners. Well maintained, very clean facilities. A place to chill out and relax. A real find. The convent at Tomar is really worth a visit. Good cycle route to lakes but be prepared for hills. Lovely walks through forest. Good value, local food at restaurants a few minutes walk away.Highly recommended site if you want peace and quiet. The only real noise is from unusual but delightful church bells!
Agnieszka Mlicka, on this campsite in March 2015
Travelling party: Couple
We were very much impressed with this idyllic camping, and the care and effort of the kind, cheerful and helpful owners. Until now, it\'s the nicest camping we\'ve encountered in Portugal, in fact. We enjoyed a 5 km walk in the beautiful hilly surroundings (the owners have instructions prepared to take on a sheet of paper), had delicious fresh bread and eggs from their own chickens (which happily stroll around the campsite), enjoyed delicious large meals in the local cafe (€9 all incl), and smiled a lot at the funny wisdom messages all around the camping. Much recommended!
General information
Guide price 1

€19.50

Guide price 2

€24.50

Period of opening

01/03 till 01/10

Area

1 ha

Altitude

186m

Number of touring pitches

30 (75 - 120m2)
* Facilities printed in bold are not included in the overnight rate. Supplementary charges will apply. (This does not mean that facilities which are not printed in bold are free!)
Popular amenities

Outdoor swimming pool

surface area: 25 m2
period: 15-02/15-10

Dog(s) in high season (on lead)

ACSI Club ID is accepted as an identity document
At the reception

Reservation with CampingCard ACSI also possible

ACSI Club ID is accepted as an identity document

Advance booking recommended for high season

Passport/identity card required

Languages spoken at reception (during the main season)

languages: German | English | French | Dutch
Pitch amenities

Tap at/near the pitch (max. 50 m)

Also suitable for caravans > 5.5m, excluding towbar

Electrical hook-ups possible to maximum %s amps

Max. electricity: 6 ampère
Internet
Situation of campsite

Located in a wood

Close to motorway junction (< 10 km)

Public transport near the camp site (max. 0.5 km)

Shopping opportunities within %s km
Dogs

Dog(s) in high season (on lead)

Dog(s) in low season (on lead)
Swimming

Outdoor swimming pool

surface area: 25 m2
period: 15-02/15-10
For children

Baby room

No entertainment programme
Toilet facilities

Washbasins: cold water

Individual washcabins: cold water

Standard toilets

Toilet paper provided

Toilet for the elderly

Chemical toilet disposal point

Showers: hot water

Showers: cold water

Family shower

Senior citizens' shower (with extra wall supports)

Water and toilet facilities for disabled people in the same building as for the other campers

Shower seat / shower chair (folding or mobile) approximately 48 cm high

Baby room

Tap without push control
Sport and games
Ground and vegetation

Pitches with plenty of shade

Pitches with some shade

Unshaded pitches

Grass

Terraced site

Sand

Hard ground

Sloping site
Campsite rules

Dog(s) in high season (on lead)

Dog(s) in low season (on lead)

Caravans allowed

Tents allowed

Small extra tent permitted

Motorhomes allowed

Barbecues permitted
Food, drink and groceries

Fresh bread available at the camp site

Restaurant (limited choice)

Snack bar

Bar

Freezing for cooling elements
Washing, washing-up, cooking

Washing up sinks: hot water

Washing up sinks: cold water

Washing machine(s)

Laundry sinks: cold water

Dryers

Ironing facilities
Recreation (adults)

Marked out walking routes near the camp site

Television
For motorhomes
Miscellaneous

Quiet during the day and at night

Door-springs light enough (3-4 kgs pressure)
Address & Route
Would you like to book campsite Campsite Pelinos -Tomar or request more information? You can do both using the information below.
Campsite Pelinos -Tomar
Pelinos 77
2300-093 / Aboboreiras/Tomar
Portugal


Download GPS coordinates

Select your navigation system:

IC9/IC3/A13, exit Tomar Norte. Left after 200m direction Aboboreiras. This is just before the petrol station. Follow camping signs from here.
The weather on this campsite
Weather forecast
Tue

25 / 10

Wed

26 / 10

Thu

27 / 10

Fri

28 / 10

Sat

29 / 10

Sun

30 / 10

Mon

31 / 10

Max.
19.9°
23.7°
26.1°
25.1°
24.3°
23.5°
22.6°
Min.
13.6°
15.2°
17.3°
16.9°
16°
14.6°
13.6°
Precipitation
45%
25%
5%
5%
5%
10%
15%
Wind direction
ZO
E
E
E
E
E
E
Wind speed
3
3
3
2
2
2
2
Climate
| | | | |
| --- | --- | --- | --- |
| | Relative humidity | Precipitation total (mm) | Hours of sunshine |
| Jan | 82% | 157 | 4 |
| Feb | 79% | 42 | 6 |
| Mar | 72% | 94 | 7 |
| Apr | 79% | 96 | 7 |
| May | 82% | 83 | 7 |
| Jun | 76% | 30 | 10 |
| Jul | 76% | 29 | 9 |
| Aug | 78% | 18 | 8 |
| Sep | 78% | 77 | 8 |
| Oct | 82% | 126 | 5 |
| Nov | 82% | 136 | 5 |
| Dec | 83% | 131 | 4 |
Information request
ACSI Eurocampings will send your information request to "Campsite Pelinos -Tomar".
Take note; you are sending an information request. You cannot make a reservation using this form. You will need to contact the campsite directly and ACSI Eurocampings cannot have any influence on the consequences thereof.