Campsite Urbion is a campsite in Abejar, Soria, located in a wood and by a lake/recreational pond.This camp site with sloping grounds has pitches pitches with shade and pitches with some shade. It is possible to rent bungalows. The camp site has a playground and a sports ground.
Show more

The following rules apply to pets at (Urbion):
- Dog(s) permitted in low season (if on a lead)
- Dog(s) permitted in high season (if on a lead)

For sportive holidaymakers the camp site offers excursion programmes and various cycle routes. There is an entertainment programme. The camp site has an outdoor swimming pool and a toddlers' pool. At Urbion you can go windsurfing.

You don't always have to cook, as the camp site has a snack bar, restaurant (with snack menu) and restaurant (with full menu). The camp site also supplies fresh bread. You can also use the internet, as there is a WiFi point.
Low-season discount with CampingCard ACSI
Affordable camping in the low season with CampingCard ACSI
CampingCard ACSI is a useful little card that will earn you up to 50% discount on your holiday! In 2016 you can choose from no fewer than 3142 campsites in 20 European countries. You will pay one of the four fixed, low rates in the early and late season!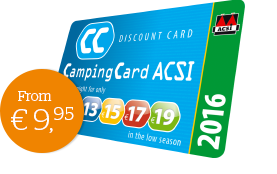 The advantages
Up to 50% discount! You can stay even more inexpensively at the loveliest campsites throughout Europe for four fixed rates using your CampingCard ACSI.

3142 campsites, all inspected by ACSI! You are welcome at 3142 campsites covering 20 European countries with your CampingCard ACSI

Affordable camping with your (grand)children 3 children (under 6 years) are included in the CampingCard ACSI rate at more than 700 campsites
Campsite opening period + your holiday period
August 2016
Mon
Tue
Wed
Thu
Fri
Sat
Sun
1
2
3
4
5
6
7
8
9
10
11
12
13
14
15
16
17
18
19
20
21
22
23
24
25
26
27
28
29
30
31
September 2016
Mon
Tue
Wed
Thu
Fri
Sat
Sun
1
2
3
4
5
6
7
8
9
10
11
12
13
14
15
16
17
18
19
20
21
22
23
24
25
26
27
28
29
30
October 2016
Mon
Tue
Wed
Thu
Fri
Sat
Sun
1
2
3
4
5
6
7
8
9
10
11
12
13
14
15
16
17
18
19
20
21
22
23
24
25
26
27
28
29
30
31
November 2016
Mon
Tue
Wed
Thu
Fri
Sat
Sun
1
2
3
4
5
6
7
8
9
10
11
12
13
14
15
16
17
18
19
20
21
22
23
24
25
26
27
28
29
30
December 2016
Mon
Tue
Wed
Thu
Fri
Sat
Sun
1
2
3
4
5
6
7
8
9
10
11
12
13
14
15
16
17
18
19
20
21
22
23
24
25
26
27
28
29
30
31
31 Campsite open
31 Campsite closed
31 Selected date
Detail information about this campsite
This inspector visits Campsite Urbion every year and inspects the campsite on the basis of more than 200 amenities and other points of interest. The inspector is an ACSI staff member and does not work for the campsite.
Toilet facilities

6.6

Staff

7.7

Price - quality comparison

6.6

Camping pitch

6.1

Accommodation

6.9

Child friendliness

8.2

Entertainment

6.5

Sports facilities

6.6

Swimming pool

7.4

Food and drink

5.7

Surroundings

7.8
Kim Marven, on this campsite in October 2016
Travelling party: Couple
Well what an interesting site! Couldn\'t believe the state of the touring caravans which were permanent on site! Surely they should be made to keep them respectable. We are motorhomers so found it difficult with all the trees and the very uneven ground.
We played spot the bin, as they were very few and far between. There were bits of litter scattered around. The toilet block near us was closed. Walls had graffiti on outside.
Water and dump off not easily accessible.
Shop and restaurant closed.
Lake beautiful and a pleasure to get out of the camp and walk around. This camp is generally too large for us and very tired. Needs a desperate update. Not somewhere we would ever entertain going again.
The Grey Gappers, on this campsite in July 2016
Travelling party: Couple
We read the previous reviews with more than a little trepidation. Yes there are lots of full time pitches, also they don\'t demarcate them either, and there are trees. We were there to meet some friends travelling through and stayed an extra night. The facilities were in good condition. The restaurant and bar were fine. The shop was lacking in range but had all you might need. The lake is fantastic, we cycled around the lake there is a lovely beach with a bar about 3km away and the villages north are lovely about 6km away. Lots to do and see here.
Silvia, on this campsite in June 2016
Travelling party: Family with children, 12 - 18 years
Precioso el entorno, pero creo que es el camping más incómodo en el que he estado. Estuvimos 3 noches y fue imposible nivelar bien la caravana. Afortunadamente fuimos el domingo cuando ya salía mucha gente, sino no sé cómo hubiéramos colocado la caravana. No quiero ni pensar cómo estará en pleno agosto Los baños limpios (porque no había mucha gente, era junio y entre semana) pero escasos y muy pequeños, así como los fregaderos que en nuestra zona sólo había 3. La zona de fijos es de lo más chabacano que hemos visto, llena de chabolas y chamizos. La piscina , aunque no es muy grande me pareció lo mejor del camping junto con el entorno.
Eva, on this campsite in July 2015
Travelling party: Family with children, 4 – 12 years
Calidad-precio esta bien. El entorno muy bonito y muchos sitios que visitar. Está sin parcelar, pero es parte de su encanto, al igual que el embalse. Es un monte de pinares, por lo que está desnivelado. Tiene muchas zonas de aseo, todas limpias y correctas. En el bar se come bien y en verano hay actividades para los niños. Antes la gente montaba lo que le daba la gana, lo que ha hecho que ahora cobren por cada cosa que añadas y también por los perros.
Beth McLuckie, on this campsite in July 2015
Travelling party: Seniors
Variable water temperature in shower.
no marked pitches made pitching difficult toilet building needs to be updated. Friendly helpful reception staff
H. Peters, on this campsite in June 2015
Deze beoordeling is als enquete afgenomen door onze inspecteur op de camping zelf.
Andrés Cánovas, on this campsite in June 2015
Travelling party: Young couple
Camping nada recomendable. Estuvimos tres noches y no nos fuimos la primera porque nos pilló diluviando. No existen parcelas, es estilo acampada libre, con el terreno sin nivelar. Me pasó igual que a otro comentario que he leído, después de buscar y buscar donde poner la caravana logré medio nivelarla, pero gracias a calzos y haciendo virguerias, después de más de hora y media...
Los postes de luz son viejos y están muy mal, hasta el punto que nos dió un rampazo de electricidad en la misma caravana, teniendo que cambiar y buscar otro poste de luz.
Puntos de aguas negras hay pocos, y cutres, muy cutres....
Pero lo peor fueron las fuentes de agua potable, el agua salía marrón con tierra.
Perros sueltos por todo el camping haciendo sus necesidades donde querían, \"fijos\" que más que caravanas tenían montadas auténticas chabolas, imposible meterte con caravana si no llevas \"mover\", aseos descuidados y con agua caliente que se va y viene.

José Antonio Barboteo, on this campsite in July 2014
Travelling party: Family with children, 12 - 18 years
Este camping no está parcelado. Es una especie de zona de \\\"acampada libre\\\" pero con toma de luz y aseos. Ello hace que sea de una dificultad extrema encontrar un lugar medianamente nivelado. En nuestro caso la caravana quedó a escasos centímetros por delante y a más de medio metro por detrás respecto al suelo, teniendo que suplementar las patas traseras con tacos de madera. Las duchas de la parte más alejada a recepción no estuvieron operativas hasta dos días después de que llegáramos. Aún así, el agua caliente no llegaba a estas instalaciones, teniendo que desplazarnos más lejos para poder ducharnos. No está muy masificado, lo cual hace que para los que quieren disfrutar de la naturaleza sea muy bueno. Hay mucha arboleda y sombra.
Una cosa buena que tiene son las actividades programadas.
No es recomendable para caravanistas de una sola noche (camping de paso), por la dificultad de nivelar.

Jennifer Morley, on this campsite in June 2014
Travelling party: Seniors
Strange campsite. The reception staff were friendly and the camp has security barriers and looked at first sight OK. However once we progressed inwards it felt tired and probably relies quite heavily for income on permanent pitches judging by the number of faded tents and ageing caravans covered in pine needles and tarpaulins sprawling through the site. The ground is uneven and not terraced but we managed to pitch near the shower block with a view of the permanent cabins which were at least neat! You pitch where ever you like amongst the pine trees which meant the old tents and sinking caravans were jumbled depressingly beside the track we took on our walk to investigate the lake. The lake/reservoir is large and has pedalos for hire at some time in the year. They were stacked and shut when we were there. In fact not much was open barring reception. The pool was being worked on. The shop and restaurant firmly shut. The bar open but empty. Wifi access is poor even in the bar where it is supposed to work. The good side - reasonable showers (hot) and acceptably clean sanitary arrangements. We will not be returning.
Keith and Christine, on this campsite in September 2013
Travelling party: Couple
This site is \"tired\". Loos and showers adequate but not good. Bar below average for Spanish standards (We live in Spain). Plenty of shade for the summer months under the pine trees but these can be difficult in the winter. Pitches not defined. However if you are into walking etc. then the site is ideal as it has it own private access to the beach of a very, very large reservoir in the forest so walking from the site to some beautiful countryside is easy. Locally there are some lovely small villages to explore.
General information
Guide price 1

€29.20

Guide price 2

€38.40

Period of opening

18/03 till 02/11

Area

15 ha

Altitude

1,200m

Number of touring pitches

500 (120m2)

Number of permanent pitches

40

Number of accommodation units for hire

12

Campsite suitable for disabled persons

Yes
* Facilities printed in bold are not included in the overnight rate. Supplementary charges will apply. (This does not mean that facilities which are not printed in bold are free!)
Popular amenities

Outdoor swimming pool

surface area: 500 m2
period: 20-06/31-08

Dog(s) in high season (on lead)

ACSI Club ID is accepted as an identity document
At the reception

ACSI Club ID is accepted as an identity document

Advance booking not possible

Credit cards accepted

credit card: MasterCard | Visa Card

Payment by debit card/Maestro possible

Languages spoken at reception (during the main season)

languages: English | Spanish
Pitch amenities

Tap at/near the pitch (max. 50 m)

Also suitable for caravans > 5.5m, excluding towbar

Electrical hook-ups possible to maximum %s amps

Max. electricity: 10 ampère
Internet
Situation of campsite

Located by a lake/recreation pond (max. 0.1 km)

Located in a wood

Panorama

Shopping opportunities within %s km
Dogs

Dog(s) in high season (on lead)

Dog(s) in low season (on lead)
Swimming

Outdoor swimming pool

surface area: 500 m2
period: 20-06/31-08

Toddlers' pool (ages 1-3, < 40 cm)

surface area: 10 m2
period: 20-06/31-08

Sunbathing area
Beach
For children

Children's playground: large

Toddlers' pool (ages 1-3, < 40 cm)

surface area: 10 m2
period: 20-06/31-08

Entertainment programme: Children (at least 2x a week - h.s.)

languages: Spanish
period: 01-07/31-08

Games room

Baby room

Video games
Toilet facilities

Washbasins: hot water

Washbasins: cold water

Heated toilet facilities

Standard toilets

Toilet paper provided

Chemical toilet disposal point

Toilet-shower combination (215cmsx215cms minimum)

Showers: hot water

Showers: cold water

Water and toilet facilities for disabled people in the same building as for the other campers

Shower seat / shower chair (folding or mobile) approximately 48 cm high

Baby room

Tap without push control
Sport and games

Table tennis table

Multi-sports field

Tennis court(s)
Ground and vegetation

Pitches with plenty of shade

Pitches with some shade

Grass

Sloping site
Campsite rules

Dog(s) in high season (on lead)

Dog(s) in low season (on lead)

Caravans allowed

Tents allowed

Small extra tent permitted

Motorhomes allowed

Twin-axle vehicles permitted

Own boats permitted

motorboat (length: 5 m)
sailing boat (length: 6 m)

Motorboat

Sailing boat
Food, drink and groceries

Fresh bread available at the camp site

Groceries: limited selection

Shop/supermarket with level entrance or with ramp

Restaurant (with ample choice)

Restaurant (limited choice)

Canteen/restaurant with level entrance or with ramp

Snack bar

Takeaway meals

Bar

Communal barbecue area

Ice available

Exchanging of gas cylinders
Washing, washing-up, cooking

Washing up sinks: hot water

Washing up sinks: cold water

Washing machine(s)

Laundry sinks: cold water

Laundry sinks: hot water
Recreation (adults)

Fishing

Cycle routes starting at the camp site

Marked out walking routes near the camp site

Games room

Excursion programme (at least 2x a week - m.s.)

Television

Video games
Water sports and recreation

Fishing

Windsurfing permitted

Motorboat

Own boats permitted

motorboat (length: 5 m)
sailing boat (length: 6 m)

Sailing boat

Sailing permitted

Trailer slope
Available to hire at the campsite

Bungalows/chalets

Mountainbikes

Kayaks

Pedal boats
For motorhomes

Motorhomes allowed

Special facilities for motorhomes

Also suitable for motorhomes > 8m and > 4 tonnes
Miscellaneous

Footpaths and roads are lit

Patrolled grounds

Quiet during the day and at night

Separate area for young people

Temporary pitches outside the campsite without electr.

Door-springs light enough (3-4 kgs pressure)
Address & Route
Would you like to book campsite Campsite Urbion or request more information? You can do both using the information below.
Campsite Urbion
Ctra Soria-Burgos, N234
42146 / Abejar
Spain


Download GPS coordinates

Select your navigation system:

From Soria take the N234 direction Burgos, in Abejar towards Molinos on the CL117, campsite 4 km on the right.
The weather on this campsite
Weather forecast
Sat

22 / 10

Sun

23 / 10

Mon

24 / 10

Tue

25 / 10

Wed

26 / 10

Thu

27 / 10

Fri

28 / 10

Max.
16.5°
18°
16°
19.2°
21.3°
22.2°
21.2°
Min.
6.3°
10.4°
9.3°
8.3°
8.5°
7°
6.6°
Precipitation
85%
85%
80%
25%
10%
10%
10%
Wind direction
S
S
S
S
N
N
NO
Wind speed
3
4
3
2
2
2
2
Climate
| | | | |
| --- | --- | --- | --- |
| | Relative humidity | Precipitation total (mm) | Hours of sunshine |
| Jan | 78% | 71 | 4 |
| Feb | 66% | 165 | 7 |
| Mar | 61% | 43 | 7 |
| Apr | 63% | 61 | 7 |
| May | 64% | 67 | 8 |
| Jun | 57% | 56 | 11 |
| Jul | 56% | 64 | 11 |
| Aug | 55% | 47 | 10 |
| Sep | 62% | 35 | 8 |
| Oct | 68% | 62 | 6 |
| Nov | 73% | 238 | 5 |
| Dec | 74% | 53 | 4 |
Information request
ACSI Eurocampings will send your information request to "Campsite Urbion".
Take note; you are sending an information request. You cannot make a reservation using this form. You will need to contact the campsite directly and ACSI Eurocampings cannot have any influence on the consequences thereof.