Cáceres Camping is a campsite in Cáceres, Cáceres.This terraced camp site and camp site with sloping grounds has pitches which are marked out, pitches with shade, pitches without shade and pitches with some shade. It is possible to rent rooms and bungalows. The camp site has a playground and an indoor playground.
Show more

The following rules apply to pets at (Cáceres Camping):
- Dog(s) permitted in low season (if on a lead)
- Dog(s) permitted in high season (if on a lead)

For those who want to relax after a busy day there is a sauna and whirlpool. The camp site has an outdoor swimming pool and a toddlers' pool.

You don't always have to cook, as the camp site has a snack bar, pizzeria, restaurant (with snack menu) and restaurant (with full menu). The camp site also supplies fresh bread. You can also use the internet, as you can access the internet with your own laptop in 80% of the camp site.
Low-season discount with CampingCard ACSI
Affordable camping in the low season with CampingCard ACSI
CampingCard ACSI is a useful little card that will earn you up to 50% discount on your holiday! In 2016 you can choose from no fewer than 3142 campsites in 20 European countries. You will pay one of the four fixed, low rates in the early and late season!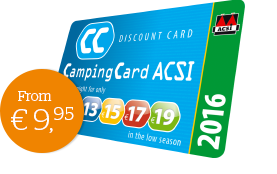 The advantages
Up to 50% discount! You can stay even more inexpensively at the loveliest campsites throughout Europe for four fixed rates using your CampingCard ACSI.

3142 campsites, all inspected by ACSI! You are welcome at 3142 campsites covering 20 European countries with your CampingCard ACSI

Affordable camping with your (grand)children 3 children (under 6 years) are included in the CampingCard ACSI rate at more than 700 campsites
Campsite opening period + your holiday period
August 2016
Mon
Tue
Wed
Thu
Fri
Sat
Sun
1
2
3
4
5
6
7
8
9
10
11
12
13
14
15
16
17
18
19
20
21
22
23
24
25
26
27
28
29
30
31
September 2016
Mon
Tue
Wed
Thu
Fri
Sat
Sun
1
2
3
4
5
6
7
8
9
10
11
12
13
14
15
16
17
18
19
20
21
22
23
24
25
26
27
28
29
30
October 2016
Mon
Tue
Wed
Thu
Fri
Sat
Sun
1
2
3
4
5
6
7
8
9
10
11
12
13
14
15
16
17
18
19
20
21
22
23
24
25
26
27
28
29
30
31
November 2016
Mon
Tue
Wed
Thu
Fri
Sat
Sun
1
2
3
4
5
6
7
8
9
10
11
12
13
14
15
16
17
18
19
20
21
22
23
24
25
26
27
28
29
30
December 2016
Mon
Tue
Wed
Thu
Fri
Sat
Sun
1
2
3
4
5
6
7
8
9
10
11
12
13
14
15
16
17
18
19
20
21
22
23
24
25
26
27
28
29
30
31
31 Campsite open
31 Campsite closed
31 Selected date
Detail information about this campsite
This inspector visits Cáceres Camping every year and inspects the campsite on the basis of more than 200 amenities and other points of interest. The inspector is an ACSI staff member and does not work for the campsite.
Toilet facilities

8.5

Staff

7.9

Price - quality comparison

8.2

Camping pitch

7.8

Accommodation

8.1

Child friendliness

7.4

Entertainment

6.6

Sports facilities

7.3

Swimming pool

8.3

Food and drink

7.8

Surroundings

7.7
Marcel, on this campsite in October 2016
Travelling party: Seniors
Camping met voor en tegens. De plekken zijn ruim genoeg, soms wat moeilijk in te rijden. Met een wat grotere caravan is een mover geen luxe. Het nut van de individuele sanitaire cabines is +/- . Met de fiets of te voet naar de stad is minder interessant. Het stadje zelf is best de moeite waard, maar in een dagje heb je het wel bekeken. Wandelmogelijkheden in de buurt zijn er zeker, maar zoals zo vaak in Spanje, moet je het wel treffen om er bruikbare informatie over te vinden.
Jennie Owen, on this campsite in October 2016
Travelling party: Seniors
We had heard so many recommendations for Camping Caceres that we felt it justified a visit.
Whilst my Spanish is not fluent by any means most camp receptionists tolerate my attempts to check in. The lady here was not welcoming in the slightest. Subsequent visits to reception or to the shop were met with indifference at best, mostly downright annoyance that we\'d dared to disturb her in something important, usually counting bits of paper.
She did provide all the necessary information on check in so we installed ourselves on our pitch. The little cabins are very nicely decorated, a bit smelly when we first went in. However, I can\'t quite see the point in having individual facilities, especially as it makes the site look very regimented and not at all attractive.
Don\'t believe the receptionist (she told me it was too rough a path) as it is possible to walk through the olive groves to reach the town. The first few metres behind the football stadium are pretty grim as there\'s loads of rubbish but once away from there follow the two way marked walks all the way to the Parque Principe. There are terrific views across the plain in all directions. It\'s a super way to approach the city on foot and takes about an hour.
We stayed on Hispania Day so the restaurant was really busy and we didn\'t use it.
Javier Solozábal, on this campsite in October 2016
Travelling party: Couple
Que el camping tenga su propio baño está bien, pero inevitablemente lo llenas de arena cada vez que entras en él, perdiendo en gran parte la ventaja. Vendría bien una escoba para barrer y un felpudo o similar a la entrada.
Asimismo, cuando te duchas se moja todo, pero en este caso si que aportan una fregona.
Se oye bastante el ruido de la carretera.
No obstante, lo peor para mí sería la arena de patio o de obra que hay en las parcelas, bastante sucia si llueve y propicia a generar charcos, y la actitud de los trabajadores, que ponen pegas a todo.
Tampoco me aplicaron la oferta anunciada en una web de campings, habiendo sido dicha oferta por lo que elegí este camping.
Andrew Watson, on this campsite in September 2016
Travelling party: Couple
Stayed here twice on our holiday through Spain on route to France with our trailer caravan, one day on the way up and two days on the return trip. Staff are friendly and helpful. Each plot has its own private bathroom containing sink, shower and toilet with hot and cold water. Plots are quite large and level, some have shade others don\'t. Swimming pool which is free to campers is very large. The restaurant offered good quality food at very reasonable prices. Washers and dryers available on site are for a small charge. Small supermarket onsite at reception offering the basics. They also have bungalows/ cabins for rent. There is an onsite gym and Spa. Good free Wifi. Quite popular with motor homes. A very good camping in my opinion.
O.C. Brouwer, on this campsite in June 2016
Travelling party: Couple
Prima camping voor bezoek van de prachtige stad Caceres. Bus met halte vlak bij de camping brengt je voor een euro naar het centrum van de stad. Plaatsen zijn klein, maar dat is vaak in Spanje. Prima prive sanitair op de plek zelf. Prachtig zwembad, wat met warme dagen heerlijke afkoeling biedt, met prachtig schaduwrijk grasveld erbij, ligstoelen, douches etc, heel compleet. Personeel is niet extreem vriendelijk, maar werkt efficient en spreken hun talen (engels, frans)
Bram Meijer, on this campsite in May 2016
Travelling party: Seniors
Prima camping met ruime plaatsen, die geen afbakening of veel schaduw hebben. Geen privacy op de plek. Het privé-sanitair (eigen wc, douche en wastafel) ziet er goed uit en is zeer aangenaam in gebruik. Ook heeft de plek een eigen gootsteen en watertappunt met lange slang. Op de hele camping is gratis wifi, redelijk snel. Met de fiets naar de stad is af te raden. Je fietst over een grote weg.
Wandelen naar de stad is daarentegen een feest. Loop achter de camping langs tot een hek (van een niet meer in gebruik zijnd groepskampterrein). Dan rechtsaf een smal paadje in, dan loop je langs een muur aan je linkerhand. Het paadje is prachtig in het voorjaar als alles in bloei staat. Het pad loopt langzaam omhoog. Boven aangekomen heb je een prachtig uitzicht. Loop rechtdoor, steek een onverharde weg over en langzaam daal je weer. Cárceres ligt dan aan je voeten. Wandeltijd camping-stad is ongeveer 5 kwartier tot anderhalf uur.
M & F Mac, on this campsite in April 2016
Travelling party: Couple
Staff very efficient. Little screening between pitches, not sure how often the wetrooms are checked (or cleaned) by staff. Gas supply for hot water ran out one morning and was quickly replaced (about 10 minutes after being reported) but could be a problem if you were part way through showering. Laundry machines only do a cold wash. Cafe/bar and shop seemed expensive for Spain. Like others we enjoyed the walk over the hill to the city.
Jacky Vedraine, on this campsite in February 2016
Travelling party: Couple
De passage en basse saison, les piscines sont bachées. Ce qui est extrêmement appréciable dans ce camping, ce sont les sanitaires individuels et privés avec eau chaude. Nous étions dans le haut du camping et le wifi y passait très bien. 2 points négatifs : le camping dispose d\'une salle de répétition pour orchestre et la première nuit, un samedi, un orchestre a répété jusqu\'au petit matin. A l\'autre extrémité, nous entendions encore le boum boum des graves. L\'autre point négatif nous l\'avons eu au restaurant où effectivement les boissons sont incluses au menu et si l\'on prend un verre de vin, ça correspond a à peine 10 cl au fond d\'un verre ballon. Pour avoir un autre verre, c\'est la même dose et c\'est payant.
Ad van Van Dalen, on this campsite in January 2016
Travelling party: Seniors
De modernste en meest complete (door reis) camping. Het prive sanitair op alle individuele en ruime plaatsen is naar mijn mening uniek. (Top) Met kindervriendelijkheid, entertainment en sportfaciliteiten geen ervaring. Maar gezien de prima voorzieningen zal dit zeker ook in orde zijn.
Ad van Dalen
David, on this campsite in January 2016
Travelling party: Couple
Cela fait trois ans que nous passons dans ce camping à chaque fois une nuit en hiver, une nuit au printemps, depuis deux ans l\'accueil s\'est considérablement dégradé. Aujourd\'hui aucun sourire, à peine répondre au bonjour que je lui ai adressé, j\'avais la nette impression de la déranger. Je lui demande une place relativement stable, vu les fortes pluies de ces dernières heures et le fait que nous ayons un gros camion, elle n\'a rien voulu entendre... bref heureusement que ce camping est très agréable, c\'est d\'ailleurs pour cela que nous revenons... et non pas pour la qualité humaine et la politesse de la réceptionniste!!
General information
Guide price 1

€26.00

Guide price 2

€34.00

Period of opening

01/01 till 31/12

Area

5.5 ha

Altitude

435m

Number of touring pitches

129 (90 - 110m2)

Number of accommodation units for hire

18

Campsite suitable for disabled persons

Yes
* Facilities printed in bold are not included in the overnight rate. Supplementary charges will apply. (This does not mean that facilities which are not printed in bold are free!)
Popular amenities

Outdoor swimming pool

surface area: 570 m2
period: 15-06/15-09

WiFi 80-100% coverage

Dog(s) in high season (on lead)
At the reception

Reservation with CampingCard ACSI also possible

Passport/identity card required

Credit cards accepted

credit card: MasterCard | Visa Card

Languages spoken at reception (during the main season)

languages: English | Spanish | French
Pitch amenities

Water connection at/near the pitch (max. 15 m)

Waste water drainage at/near the pitch (max. 15 m)

Tap at/near the pitch (max. 50 m)

Also suitable for caravans > 5.5m, excluding towbar

Electrical hook-ups possible to maximum %s amps

Max. electricity: 10 ampère
Internet
Situation of campsite

Close to motorway junction (< 10 km)

Public transport near the camp site (max. 0.5 km)

Shopping opportunities within %s km
Dogs

Dog(s) in high season (on lead)

Dog(s) in low season (on lead)
Swimming

Swimming pool without hoist, but with a gently sloping bottom and plastic wheelchair

Outdoor swimming pool

surface area: 570 m2
period: 15-06/15-09

Toddlers' pool (ages 1-3, < 40 cm)

surface area: 50 m2
period: 15-06/15-09

Sunbathing area
For children

Children's playground: large

Toddlers' pool (ages 1-3, < 40 cm)

surface area: 50 m2
period: 15-06/15-09

Entertainment programme: Children (at least 2x a week - h.s.)

languages: Spanish
period: 01-07/31-08

Children's playground: small

Indoor playground

Baby room

Trampoline

Video games
Toilet facilities

Washbasins: hot water

Washbasins: cold water

Individual toilet facilities

Individual washcabins: hot water

Individual washcabins: cold water

Standard toilets

Toilet paper provided

Individual toilets

Chemical toilet disposal point

Showers: hot water

Showers: cold water

A shower (150 cmsx150 cms minimum) and a toilet (165x220cms or 190cmsx190cms minimum)

Water and toilet facilities for disabled people in the same building as for the other campers

Shower seat / shower chair (folding or mobile) approximately 48 cm high

Canteen/restaurant has toilet adapted for disabled people

Baby room

Tap without push control
Sport and games

Table tennis table

Fitness

Golf course nearby (max. 10 km)

golf clinic (courses in golf)
distance: 4 km
total: 18

Golf clinic (courses in golf)
Ground and vegetation

Pitches with plenty of shade

Pitches with some shade

Unshaded pitches

Marked pitches

Grass

Terraced site

Sand

Hard ground

Sloping site
Campsite rules

Dog(s) in high season (on lead)

Dog(s) in low season (on lead)

Caravans allowed

Tents allowed

Small extra tent permitted

Motorhomes allowed

Twin-axle vehicles permitted

Barbecues permitted

type of BBQ: electricity | gas
Food, drink and groceries

Fresh bread available at the camp site

Groceries: limited selection

Shop/supermarket with level entrance or with ramp

Restaurant (with ample choice)

Restaurant (limited choice)

Canteen/restaurant with level entrance or with ramp

Snack bar

Pizzeria

Takeaway meals

Bar

Freezing for cooling elements

Ice available

Exchanging of gas cylinders
Washing, washing-up, cooking

Washing up sinks: hot water

Washing up sinks: cold water

Washing machine(s)

Laundry sinks: cold water

Laundry sinks: hot water

Dryers

Microwave

Ironing facilities
Recreation (adults)

Marked out walking routes near the camp site

Television

Video games
Available to hire at the campsite

Bungalows/chalets

Rooms

Safes

Freezing blocs
Wellness
For motorhomes

Motorhomes allowed

Special facilities for motorhomes

Also suitable for motorhomes > 8m and > 4 tonnes

length: 15
weight: 6800 kg
Miscellaneous

Footpaths and roads are lit

Patrolled grounds

Quiet during the day and at night

Special parking spaces for disabled people

Door-springs light enough (3-4 kgs pressure)
Address & Route
Would you like to book campsite Cáceres Camping or request more information? You can do both using the information below or by visiting the campsite's website.
Cáceres Camping
Ctra N630, km 549,5
10005 / Cáceres
Spain


Download GPS coordinates

Select your navigation system:

Campsite located 4 km north of the town on the N630 next to the football stadium with tall floodlights.
The weather on this campsite
Weather forecast
Fri

28 / 10

Sat

29 / 10

Sun

30 / 10

Mon

31 / 10

Tue

01 / 11

Wed

02 / 11

Thu

03 / 11

Max.
26.6°
25.6°
24.7°
22.8°
22.3°
21.3°
20.6°
Min.
15.1°
14.1°
10.8°
10.3°
10.6°
11.4°
11.1°
Precipitation
0%
0%
0%
0%
0%
5%
10%
Wind direction
E
E
E
E
ZO
S
ZO
Wind speed
2
2
2
2
2
2
3
Climate
| | | |
| --- | --- | --- |
| | Relative humidity | Hours of sunshine |
| Jan | 84% | 5 |
| Feb | 75% | 7 |
| Mar | 62% | 9 |
| Apr | 62% | 8 |
| May | 63% | 9 |
| Jun | 48% | 12 |
| Jul | 44% | 12 |
| Aug | 45% | 11 |
| Sep | 55% | 8 |
| Oct | 69% | 7 |
| Nov | 76% | 6 |
| Dec | 82% | 4 |
Information request
ACSI Eurocampings will send your information request to "Cáceres Camping".
Take note; you are sending an information request. You cannot make a reservation using this form. You will need to contact the campsite directly and ACSI Eurocampings cannot have any influence on the consequences thereof.