Campsite photos
Campsite photos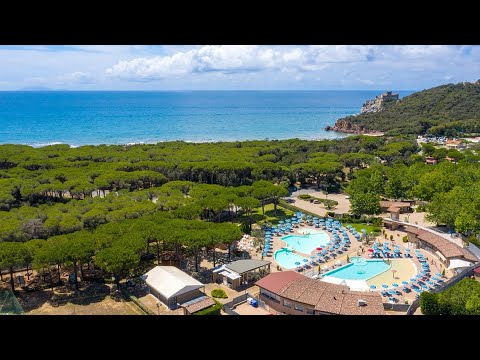 Camping Village Baia Azzurra

***
General information
At a distance of 7 km from the coastal town of Castiglione della Pescaia, in Italian Tuscany, lies the attractive Village Baia Azzurra family campsite. This luxury, quiet campsite is idyllically located on an azure bay of the Mediterranean Sea. The campsite is characterised by the abundance of vegetation and the lush flowering plants and shrubs. The area with scattered forests is clearly touristy, but also pristine. Camping with (art)towns such as Lucca, Siena, Montepulciano and other pearls on your doorstep.
Show more

Pleasant pitches

The pitches are well maintained and vary in size (50 - 100 m2). Depending on the pitch they may offer much or little privacy. The surface is made of sand and is compact (bring a hammer). There are some one hundred rental bungalows. The sanitary facilities of the campsite are clean and contemporary, with attractively designed children's sanitary fittings.

Swimming in paradise...

You can enjoy yourself in the stunning swimming pool, deserving of the name of swimming paradise, complete with footbridge over the water. It looks comfortable and attractive because of its playful design. It is in full sun and is sheltered in some spots by bushes and trees. Unwind on one of the blue/white loungers with sun umbrellas. You will find them on the water's edge. Prefer to swim in the sea? You can reach the beach via a 200 m footpath. It is very quiet there, but it is not an official private beach of the campsite.

...and heavenly food

The campsite has a fine restaurant with extensive menu. Rather just have a quick bite and a drink? Head for the pizzeria or the bar.