Campsite photos
Campsite photos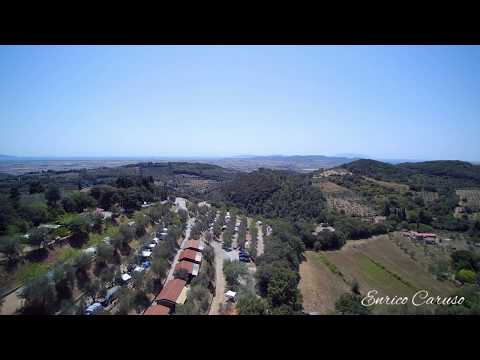 Campsite Blucamp

***
General information
Camping Blucamp is situated on top of a hill in the picturesque region of Tuscany. You are staying between olive, walnut and chestnut trees, at only 8 km from the sea. In the vicinity you will find the beaches of the Gulf of Baratti and beautiful, historical towns as Populonia, Massa Maritima and Volterra.
Show more

Tuscan hilly landscape

The grounds are hilly and offer different pitches with ample privacy on elongated terraces. There are large differences in elevation, on the highest pitches with a splendid view of the Tuscan hilly landscape, the pine forests, the sea in the distance and even of Elba and Corsica (in clear weather). The camping pitches further down offer more shade and space. If you want to rent something, you have a choice of eight bungalows.

Gulf of Baratti

The swimming pool is small and modest, looks nice and makes for lovely swimming fun during hot days. It is surrounded by sun loungers and the view of the green hills is magnificent. At a distance of 8 km you will find the beautiful pine tree beaches along the Gulf of Baratti. This is perhaps the most beautiful bay of Tuscany with clear water and a child-friendly sandy beach.

Playgrounds

The little ones can enjoy themselves on the attractive playgrounds. Teenagers can hit a ball at the table tennis table.

Pizza restaurant

You can enjoy a good meal in the restaurant with limited menu. It has a pleasant terrace. If you want a drink only, you can visit the convivial bar. You can get takeaway meals here, as well as daily fresh bread. Do you have a long shopping list? If so, there is a supermarket only 400 m away.