Campsite photos
Campsite photos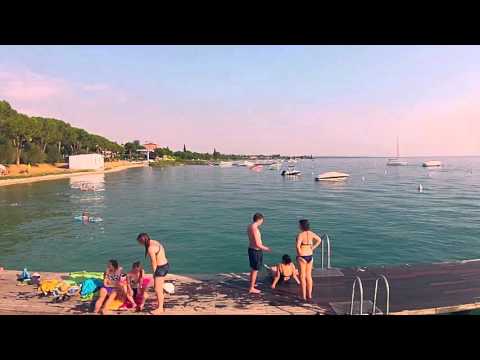 La Rocca Camping Village

****
General information
In the bay of San Pietro, right on the south east of Lake Garda, you can camp at La Rocca Campsite Village, with an unforgettable view of the crystal clear water. Within walking distance of the picturesque Bardolino, and the lovely Garda, this family campsite is a perfect destination for the whole family. The campsite lies at the foot of the Rocca. This is an overgrown rock that is right next to the campsite, and is perfect for a nice walk. The plentiful olive and cypress trees make the natural experience at La Rocca complete.
Show more

Landscaped like a park

A through road divides the lively campsite grounds in two, and you can reach the other side through a tunnel. On one side, you have direct access to the lake, and this is where you can also find the supermarket and the restaurant. The swimming pools, the large playground, and the volleyball court are on the upper part of the campsite. Guests receive a card, which gives them access to the lake through a gate. Past the gate, there's a 200 metre wide stretch of lawn to lay your towel on, and there's also a pier. Next to the campsite, there's a promenade, where many people cycle and walk. There is plenty of choice: from a small pitch for a tent, to a superior pitch right on the lake. The pitches are on small fields, or on longer streets, and they are all well-defined. On the part near the lake, the ground isn't completely level.