Campsite photos
Campsite photos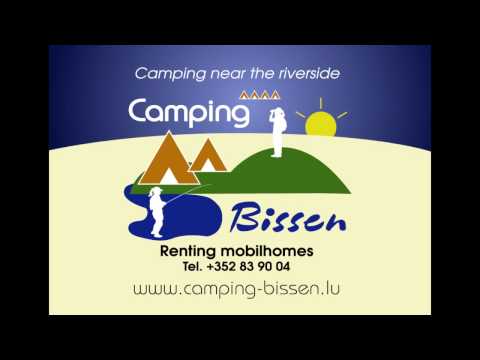 Campsite Bissen

****
General information
Camping Bissen is located in the picturesque Sûre Valley, approximately 2 km from the beautiful village of Esch-sur-Sûre. You can spend hours hiking or cycling through the surrounding densely-forested green valleys of the Luxembourg Ardennes.
Show more

Main building in eco-friendly style

The reception is located in the brand new and eco-friendly main building, halfway along the elongated campsite grounds. Here you will find the owner, Marc Bissen, who will help you look for a fine pitch and get you acquainted with the surroundings. The permanent pitches are located on the elevated part of the grounds; the lower area by the river has pitches reserved for tourists.

Camping by the river

Your tent or caravan will stand on on grass pitches, right by the water. There are also cabins and mobile homes scattered around the grounds, and there is an apartment available for groups up to nine people. There are three well-tended shower blocks, which include a baby room and bathroom facilities for the disabled.

Air mattress race or ghost hunt

The camping site is ideal for children. There is an indoor playground, and in the peak season, the camping site provides an extensive entertainment programme with activities such as an air mattress race or a ghost hunt in the dark. Sports competitions are organised for the sports enthusiasts, and you can go fishing and swimming in the Sûre river.

Conviviality foremost

Next to the reception, you will find a café with a terrace for a quick snack or bite to eat. Bingo evenings and karaoke nights are held here in the summer. Across the street from the camping site is a restaurant with an extensive menu. There is also a shop with fishing gear. To do some shopping, you will need to visit the shopping centre 10 km further down the road towards the Belgian border.