Campsite photos
Campsite photos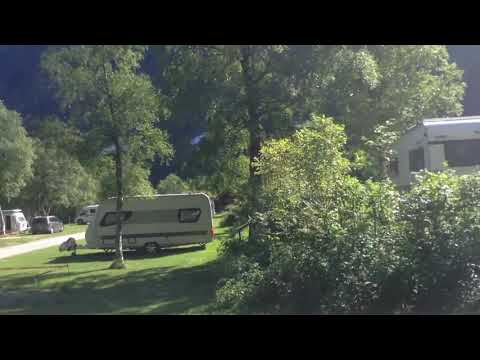 Trollveggen Camping NAF

***
General information
The child-friendly camping Trollveggen, one of the absolute top campsites in Norway, is directly located on the Rauma river, amidst the imposing mountainscape near the Romsdalshorn and the Troll-Wall. The campsite is bordered by high cliffs, both at the front and back. You come here for peace and quiet, where the tranquillity and the pristine, breathtaking surroundings give you a feeling of being one with nature.
Show more

Quietness, space and nature

The campsite lies in a magnificent natural setting and is well maintained and very clean. It is undoubtedly a haven of tranquillity, also due to the quietness. There are 70 level terraced pitches of no less than 100-150 m2. Arriving without a booking is a risky business: there are only four cottages. The campsite is located on the Rauma River and you can walk from your pitch straight to the river. A beautiful footpath in good condition runs along the river. Tip: wear sensible walking shoes.

Eating and drinking

The campsite shop has a limited range, although fresh bread is available each day. You can do your shopping in Åndalsnes, 10 km away.

Sanitary facilities

Very remarkable is the sanitary building with a beautiful, vegetated green roof. All sanitary facilities are well maintained and immaculate. There are also family showers. As is customary in Norway, you have to use coins for the showers.

Inflatable bouncer

Enjoy the magnificent nature and explore the area by bicycle, on foot or by climbing a mountain. You can spot rare plant and bird species, or catch a fish in the river (fishing permit required).