Campsite photos
Campsite photos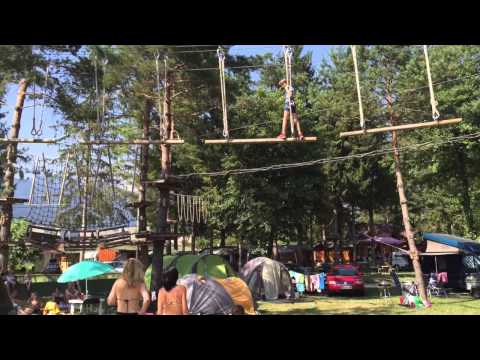 Campsite Menina

****
General information
Camping Menina is situated in the heart of the Upper Savinja Valley, in the northern part of Slovenia. The campsite is surrounded by mountain peaks, forest, farms and small villages. At a 20-minute drive from the campsite is the town of Mozirje. Here you will find a few shops and restaurants.
Show more

XXXL camping pitches

The camping pitches are located between trees and shrubs. They are spacious and not demarcated. There are also special XXXL pitches for groups or families camping together. In addition, there are various bungalows and mobile homes. The Bear Lodges are probably the nicest of all. These are bungalows made from large wooden beams. Here you can enjoy the outdoors from your own roof terrace.

Swimming pond and climbing park

The campsite is mainly geared towards families with school-age children. There are a large number of activities in terms of playing and things to experience. The swimming pond is eco-friendly and is built entirely from natural stones. When you walk down the path towards the edge of the campsite, you will reach the natural pond. It is ideal for swimming. In addition to a playground, there is also a climbing park on the campsite.

Enjoying the Finnish sauna

Camping Menina has a perfect spot to relax in: the Finnish sauna. You can also go for various massages. In peak season there are regular fun activities (barbecue, wine tasting, Slovenian language lessons, cookery workshops and polka shows). The campsite is also open during the winter.

Campsite restaurant

The bar and restaurant are located at the front of the campsite. The terrace offers a view of a brook and a section of the campsite. The restaurant has an extensive menu.