Campsite photos
Campsite photos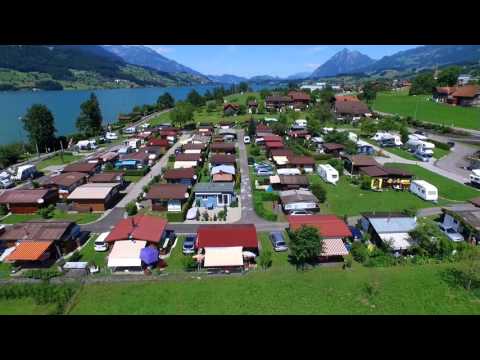 Campsite Ewil
General information
Camping Ewil, only 25 km south of Luzern, is situated alongside a crystal clear lake (Sarnersee) between imposing mountains. Ewil is a dream campsite for people who enjoy peace and nature. You can swim in the tranquil lake or laze on one of the private beaches. The campsite does not really cater for families with young children as there are no facilities like a playground and sandpit.
Show more

Nice grassy surface

The campsite, a small-scale grounds, is well-cared for and organised. The reception is located on the first floor of the building and is decorated in traditional Swiss style. When you enter the grounds, you will notice that on the side of the lake the campsite is partly laid out in terraces.

You can't fail to miss the beautiful well-maintained grass cover. There are hardly any trees, so don't forget to bring your sun umbrella. The camping pitches differ in size. A few pitches are paved for camper vans. The campsite has a few rental caravans. There are a large number of annual pitches (50) in comparison with the number of tourist pitches (approx. 30).

Everyone in the water!

The Sarnersee is lovely for swimming and you will not feel the lack of a swimming pool. The lake is located directly along the campsite, you only have to cross the railway line. At the lakeshore there are a couple of private beaches (small pebbles) and a lovely lawn.

Eating and drinking

At the reception is a small campsite shop with a limited selection. However, fresh bread is available daily. The modest restaurant has a terrace from where you can enjoy the splendid panorama of the Sarnersee.