Campsite Stubai is a campsite in Neustift, Tyrol, located on a river/stream.This terraced camp site and camp site with sloping grounds has pitches pitches without shade and pitches with some shade. It is possible to rent apartments. The camp site has a playground and an indoor playground.
Show more

The following rules apply to pets at (Stubai):
- Dog(s) permitted in low season (if on a lead)
- Dog(s) permitted in high season (if on a lead)

For sportive holidaymakers the camp site offers guided walks and various cycle routes. There is an entertainment programme. For those who want to relax after a busy day there is a sauna, solarium, whirlpool and steam bath. At Stubai you can go wild water sailing/kayaking/rafting.

You don't always have to cook, as the camp site has a snack bar and restaurant (with full menu). The camp site also supplies provisions and fresh bread. You can also use the internet, as you can access the internet with your own laptop in 80% of the camp site.
Low-season discount with CampingCard ACSI
Affordable camping in the low season with CampingCard ACSI
CampingCard ACSI is a useful little card that will earn you up to 50% discount on your holiday! In 2016 you can choose from no fewer than 3142 campsites in 20 European countries. You will pay one of the four fixed, low rates in the early and late season!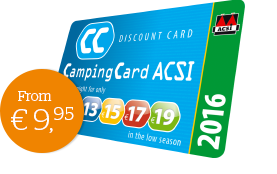 The advantages
Up to 50% discount! You can stay even more inexpensively at the loveliest campsites throughout Europe for four fixed rates using your CampingCard ACSI.

3142 campsites, all inspected by ACSI! You are welcome at 3142 campsites covering 20 European countries with your CampingCard ACSI

Affordable camping with your (grand)children 3 children (under 6 years) are included in the CampingCard ACSI rate at more than 700 campsites
Campsite opening period + your holiday period
August 2016
Mon
Tue
Wed
Thu
Fri
Sat
Sun
1
2
3
4
5
6
7
8
9
10
11
12
13
14
15
16
17
18
19
20
21
22
23
24
25
26
27
28
29
30
31
September 2016
Mon
Tue
Wed
Thu
Fri
Sat
Sun
1
2
3
4
5
6
7
8
9
10
11
12
13
14
15
16
17
18
19
20
21
22
23
24
25
26
27
28
29
30
October 2016
Mon
Tue
Wed
Thu
Fri
Sat
Sun
1
2
3
4
5
6
7
8
9
10
11
12
13
14
15
16
17
18
19
20
21
22
23
24
25
26
27
28
29
30
31
November 2016
Mon
Tue
Wed
Thu
Fri
Sat
Sun
1
2
3
4
5
6
7
8
9
10
11
12
13
14
15
16
17
18
19
20
21
22
23
24
25
26
27
28
29
30
December 2016
Mon
Tue
Wed
Thu
Fri
Sat
Sun
1
2
3
4
5
6
7
8
9
10
11
12
13
14
15
16
17
18
19
20
21
22
23
24
25
26
27
28
29
30
31
31 Campsite open
31 Campsite closed
31 Selected date
Detail information about this campsite
This inspector visits Campsite Stubai every year and inspects the campsite on the basis of more than 200 amenities and other points of interest. The inspector is an ACSI staff member and does not work for the campsite.
Toilet facilities

7.8

Staff

7.6

Price - quality comparison

8.0

Camping pitch

8.0

Accommodation

7.5

Child friendliness

7.3

Sports facilities

7.2

Food and drink

8.1

Surroundings

8.8
Eva Bergmann, on this campsite in September 2016
Travelling party: Couple
Für einen 4* Platz habe (nicht nur ich) mich gewundert, dass in den Duschen (nach einigen Minuten Wasser laufen lassen) nur lauwarmes Wasser kommt und die Temperatur überhaupt nicht einstellbar ist. Im Gegenzug dazu kommt in den Geschirrspülbecken sehr schnell sehr heißes Wasser.........
Fam. de Groot, on this campsite in July 2016
Travelling party: Seniors
Deze camping heeft een aantal positieve aspecten maar helaas ook een paar negatieve of in ieder geval minder positieve. Het sanitair is volgens sommigen gedateerd en inderdaad, het zijn kleuren jaren 70, maar alles werkt en het wordt picobello schoongehouden. Een plus dus. Je kunt alleen naar binnen met een pasje en dat werkt op zich wel goed maar is tegelijk erg omslachtig. Ons ontgaat de reden hiervoor. Het is een camping zonder vaste plaatsen en dat vinden wij niet echt prettig omdat je nooit weet hoe een nieuwe gast zijn kampeermiddel gaat plaatsen t.o.v. jouw kampeermiddel. Er is 6A electriciteit beschikbaar. Er is gratis Wifi, maar aan de rand van de camping is de ontvangst slecht: hoe meer richting receptie, hoe beter de ontvangst, hoewel zelfs dan de bandbreedte niet toereikend is. Ondanks het feit dat de camping toch nog een aardig eindje van de Brenner Autobahn af ligt, wordt de camping ook veelvuldig gebruikt door passanten. Op zichzelf is dat geen probleem, maar, en nu kom ik op een negatief punt, hoewel er wel een slagboom is, staat deze altijd open. Dus zo kan het gebeuren dat laat op de avond of zelfs om middernacht nog gasten binnenkomen met alle onrust en soms lawaai vandien. Desgevraagd zei de eigenaresse dat de slagboom defect was omdat er iemand tegenaan was gereden, maar dat moet dan al lang geleden zijn gebeurd want er kwamen 's avonds heel laat nog passanten die dat kennelijk heel goed wisten, anders kom je dat hele eind niet het dal in rijden, lijkt mij. Hier ligt een belangrijke opdracht voor de ACSI-inspecteur volgens ons: zij zou er bij deze camping op aan moeten dringen dat de slagboom weer wordt hersteld. Ook kan zij dan tevens informeren waarom de receptie slechts van 9-11 en van 17-19 uur (hoogseizoen 16-20 u) geopend is. Voor zo'n camping is dat veel te kort, vinden wij. Daardoor was onze ontvangst op zaterdagmiddag rond 15 uur erg rommelig en hoewel de eigenaresse wel kwam toen ik op de bel had gedrukt, waren wij erg verbaasd dat we "daar maar ergens moesten gaan staan" (wat later heel erg een passantenveldje bleek te zijn), terwijl ik al begin mei had gereserveerd voor twee plaatsen. Later zag ik een plaats met het bord "reserviert" en bij navraag "mochten" we daar ook wel gaan staan. Uiteindelijk bleek dat een prima plek waar we 9 dagen een prima vakantie hebben gehad. Al met al hebben wij niet de indruk gekregen dat de eigenaren van de camping er zijn om het de gasten naar de zin te maken: het is allemaal erg onpersoonlijk en dat is jammer. De camping heeft een monopolie positie in de regio want behalve een heel kleine camping in Telfs/Fulpmes is er in de wijde omtrek geen camping, dus over concurrentie hoeven ze zich niet te bekommeren. En ja, de camping ligt vrijwel aan de voet van de kerk, die elk kwartier en op hele uren slaat (niet 's nachts overigens) en ook regelmatig de kerkklokken luidt: je zult weten in het katholieke Oostenrijk te zijn. Maar echt last hebben wij er niet van gehad. Het is wel een ideale plek als uitgangspunt voor wandelingen etc.
Barry Cameron, on this campsite in July 2015
Travelling party: Couple
Gem of a site in the lovely village of Neustift with everything close to hand. Next to a supermarket and just a few minutes walk to the village centre with some nice bars and restaurants. Lots going on while we were there in early July with Tyrolean band concerts etc. The site is split into two areas, the upper half being mainly residential and close to the main road and the lower half mainly for tourers. This part of the site has great views of the mountains and is very quiet. The facilites, though maybe a little dated, are kept very clean. Would we return? ... Absolutely!
P. Fabriek, on this campsite in June 2015
Deze beoordeling is als enquete afgenomen door onze inspecteur op de camping zelf.
M. van der Meij, on this campsite in June 2015
Deze beoordeling is als enquete afgenomen door onze inspecteur op de camping zelf.
Silvia Voß, on this campsite in October 2014
Travelling party: Couple
Der Campingplatz in Neustift/Stubaital liegt wunderbar in fußläufiger Nähe zum kleinen Ort und auch zum Elferlift (Ski, Paragliding, Wandern). Vom Platz hatten wir einen Super-Blick auf die umliegenden Berg. Allerdings sind die Sanitäranlagen veraltet, Wasserhähne sitzen locker, die Duschen sind klein und für die Kleidung besteht so gut wie kein Spritzschutz ! Eine Lampe auf dem Campinggelände macht dem Turm von Pisa Konkurrenz und scheint umsturzgefährdet. Zudem wäre eine nettere Betreuung durch das Personal wünschenswert - schade !
J.P. van Loon, on this campsite in August 2014
Travelling party: Seniors
De camping ligt aan een doorgaandeweg door het dal waardoor je redelijk snel ergens heen kunt.
Bij de ingang van de camping is een supermarkt en een cafe/restaurant.
D. Steinebach, on this campsite in June 2013
Diese Beurteilung wurde von unserem Inspektor als Besucherumfrage selbst auf dem Camping aufgenommen.
JanMo, on this campsite in August 2012
Travelling party: Couple
Mitten in der Stadt, neben der Hauptstrasse - sagt schon alles. Wir haben es hier ein Tag ausgehalten. Es ist laut und sorry, man hat das gefühl das der Kirchturm mit seiner Glocke im Wohnwagen steht...
Familie van Vliet, on this campsite in May 2012
Travelling party: Family with children, 12 - 18 years
Voorzieningen zijn keurig schoon maar zouden dringend renovatie behoeven. Sinds 2000 is er weinig onderhoud gepleegd (handdroger herentoilet al 5 jaar kapot, elektr. toegangspassen functioneren zeer haperend). We komen er zeker 2 x per jaar sinds 1990!
General information
Guide price 1

€29.80

Guide price 2

€38.60

Guide price winter

€32.80

Period of opening

01/01 till 31/12

Area

2 ha

Altitude

950m

Number of touring pitches

110 (60 - 100m2)

Number of permanent pitches

40

Number of accommodation units for hire

10

Campsite suitable for disabled persons

Yes

Campsite also suitable for winter sports

Yes
* Facilities printed in bold are not included in the overnight rate. Supplementary charges will apply. (This does not mean that facilities which are not printed in bold are free!)
Popular amenities

WiFi 80-100% coverage

Dog(s) in high season (on lead)

ACSI Club ID is accepted as an identity document
At the reception

Reservation with CampingCard ACSI also possible

ACSI Club ID is accepted as an identity document

Advance booking recommended for high season

Credit cards accepted

Payment by debit card/Maestro possible

Languages spoken at reception (during the main season)

languages: German | English | French | Italian
Pitch amenities

Waste water drainage at/near the pitch (max. 15 m)

Also suitable for caravans > 5.5m, excluding towbar

Electrical hook-ups possible to maximum %s amps

Max. electricity: 6 ampère

Euro-plug required

Connection to electricity mains possible
Internet
Situation of campsite

Situated on river/stream (max. 0.1 km)

Panorama

Close to motorway junction (< 10 km)

Public transport near the camp site (max. 0.5 km)

Shopping opportunities within %s km

Shopping/nightlife centre at

Ski bus stops at the camp site

Cross-country ski run at
Dogs

Dog(s) in high season (on lead)

Dog(s) in low season (on lead)
For children

Children's playground: large

Entertainment programme: Children (at least 2x a week - h.s.)

languages: German
period: 23-06/05-09 | 29-09/24-10

Children's playground: small

Games room

Mini club (at least 4x a week - high season)

languages: German | English | Italian

Indoor playground

Baby room

Trampoline

Cinema/theatre
Toilet facilities

Washbasins: hot water

Washbasins: cold water

Heated toilet facilities

Heated toilet facilities

Individual toilet facilities

Individual washcabins: hot water

Individual washcabins: cold water

Standard toilets

Toilet paper provided

Individual toilets

Chemical toilet disposal point

Toilet-shower combination (215cmsx215cms minimum)

Showers: hot water

Showers: cold water

Water and toilet facilities for disabled people in the same building as for the other campers

Baby room
Sport and games

Table tennis table

Jeu de boules alley(s)

Drying area

Ski storage

Total length of runs

Practice lift at

Larger ski area at

Ski repair/adjustment

Shuttle from campsite to ski slopes

Winter sports articles available
Ground and vegetation

Pitches with some shade

Unshaded pitches

Grass

Terraced site

Hard standing pitches

Hard ground

Sloping site
Campsite rules

Dog(s) in high season (on lead)

Dog(s) in low season (on lead)

Caravans allowed

Tents allowed

Small extra tent permitted

Motorhomes allowed

Twin-axle vehicles permitted

Barbecues permitted

type of BBQ: charcoal | electricity | gas
Food, drink and groceries

Fresh bread available at the camp site

Food on sale

Groceries: extensive selection

Shop/supermarket with level entrance or with ramp

Restaurant (with ample choice)

Canteen/restaurant with level entrance or with ramp

Snack bar

Takeaway meals

Communal barbecue area

Freezing for cooling elements

Exchanging of gas cylinders
Washing, washing-up, cooking

Washing up sinks: hot water

Washing up sinks: cold water

Washing machine(s)

Laundry sinks: cold water

Laundry sinks: hot water

Dryers

Ironing facilities
Recreation (adults)

Fishing

Cycle routes starting at the camp site

Marked out walking routes near the camp site

level: difficult | easy | average

Games room

Television

Guided walks

Folk tradition and events
Water sports and recreation

Fishing

White water kayaking/rafting
Available to hire at the campsite

Apartments

Bicycles

Mountainbikes

Locked refrigerator

Large bottles of propane

Ski hire
Wellness

Sauna

Whirlpool

Steam bath

Solarium

Massage
For motorhomes

Motorhomes allowed

Special facilities for motorhomes

Also suitable for motorhomes > 8m and > 4 tonnes
Miscellaneous

Footpaths and roads are lit

Patrolled grounds

Quiet during the day and at night
Address & Route
Would you like to book campsite Campsite Stubai or request more information? You can do both using the information below.
Campsite Stubai
Stubaitalstraße 94
6167 / Neustift
Austria


Download GPS coordinates

Select your navigation system:

A13 Brenner motorway, exit Europabrücke and on the B183 to Stubaital and then to Neustift.
The weather on this campsite
Weather forecast
Fri

21 / 10

Sat

22 / 10

Sun

23 / 10

Mon

24 / 10

Tue

25 / 10

Wed

26 / 10

Thu

27 / 10

Max.
7.3°
8.6°
10.3°
15.8°
16.2°
12.6°
12.5°
Min.
0.3°
-1°
-0.7°
3.4°
5.9°
7.1°
4.7°
Precipitation
60%
5%
5%
5%
45%
70%
50%
Wind direction
SW
ZO
S
SW
S
S
S
Wind speed
2
2
2
2
2
2
2
Climate
| | | |
| --- | --- | --- |
| | Relative humidity | Precipitation total (mm) |
| Jan | 67% | 32 |
| Feb | 72% | 74 |
| Mar | 79% | 83 |
| Apr | 82% | 73 |
| May | 78% | 105 |
| Jun | 81% | 287 |
| Jul | 81% | 139 |
| Aug | 79% | 112 |
| Sep | 78% | 96 |
| Oct | 76% | 59 |
| Nov | 78% | 102 |
| Dec | 80% | 62 |
Information request
ACSI Eurocampings will send your information request to "Campsite Stubai".
Take note; you are sending an information request. You cannot make a reservation using this form. You will need to contact the campsite directly and ACSI Eurocampings cannot have any influence on the consequences thereof.