Campsite Bagatelle is a campsite in Avignon, Vaucluse, located on a river/stream.The campsite has pitches which are marked out, pitches with shade, pitches without shade and pitches with some shade. It is possible to rent rooms. The camp site has a sports ground.
Show more

The following rules apply to pets at (Bagatelle):
- Dog(s) permitted in low season (if on a lead)
- Dog(s) permitted in high season (if on a lead)

For sportive holidaymakers the camp site offers various cycle routes.

You don't always have to cook, as the camp site has a snack bar, pizzeria, self service restaurant, restaurant (with snack menu) and restaurant (with full menu). The camp site also supplies fresh bread. You can also use the internet, as the camp site has one or more computers with an internet connection, there is a WiFi point and you can access the internet with your own laptop in 80% of the camp site.
Low-season discount with CampingCard ACSI
Affordable camping in the low season with CampingCard ACSI
CampingCard ACSI is a useful little card that will earn you up to 50% discount on your holiday! In 2016 you can choose from no fewer than 3142 campsites in 20 European countries. You will pay one of the four fixed, low rates in the early and late season!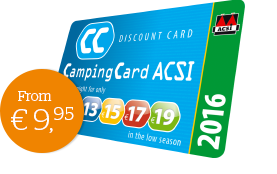 The advantages
Up to 50% discount! You can stay even more inexpensively at the loveliest campsites throughout Europe for four fixed rates using your CampingCard ACSI.

3142 campsites, all inspected by ACSI! You are welcome at 3142 campsites covering 20 European countries with your CampingCard ACSI

Affordable camping with your (grand)children 3 children (under 6 years) are included in the CampingCard ACSI rate at more than 700 campsites
Campsite opening period + your holiday period
August 2016
Mon
Tue
Wed
Thu
Fri
Sat
Sun
1
2
3
4
5
6
7
8
9
10
11
12
13
14
15
16
17
18
19
20
21
22
23
24
25
26
27
28
29
30
31
September 2016
Mon
Tue
Wed
Thu
Fri
Sat
Sun
1
2
3
4
5
6
7
8
9
10
11
12
13
14
15
16
17
18
19
20
21
22
23
24
25
26
27
28
29
30
October 2016
Mon
Tue
Wed
Thu
Fri
Sat
Sun
1
2
3
4
5
6
7
8
9
10
11
12
13
14
15
16
17
18
19
20
21
22
23
24
25
26
27
28
29
30
31
November 2016
Mon
Tue
Wed
Thu
Fri
Sat
Sun
1
2
3
4
5
6
7
8
9
10
11
12
13
14
15
16
17
18
19
20
21
22
23
24
25
26
27
28
29
30
December 2016
Mon
Tue
Wed
Thu
Fri
Sat
Sun
1
2
3
4
5
6
7
8
9
10
11
12
13
14
15
16
17
18
19
20
21
22
23
24
25
26
27
28
29
30
31
31 Campsite open
31 Campsite closed
31 Selected date
Detail information about this campsite
This inspector visits Campsite Bagatelle every year and inspects the campsite on the basis of more than 200 amenities and other points of interest. The inspector is an ACSI staff member and does not work for the campsite.
Toilet facilities

6.2

Staff

7.4

Price - quality comparison

7.0

Camping pitch

6.6

Accommodation

6.6

Child friendliness

6.3

Entertainment

6.3

Sports facilities

6.0

Swimming pool

6.7

Food and drink

7.0

Surroundings

8.2
Barbara Heilig, on this campsite in September 2016
Travelling party: Couple
Die Sanitäranlagen sind eine Zumutung, es riecht unangenehm nach Urin, der ganze Platz wirkt ungepflegt, es ist enorm staubig. Der einzige Vorteil des Platzes ist die Nähe zur Stadt
Michael Budinsky, on this campsite in July 2016
Travelling party: Single
Über Brücke in 15 Minuten ins Zentrum.
Schattiger Platz, Sanitäranlagen halbwegs.
Genial weil wirklich zentrumsnah.
Thiery, on this campsite in January 2016
Travelling party: Couple
Cela va faire trois mois que nous sommes sur ce camping. Certes les installations ne sont pas de toute première jeunesse. Cependant l\'entretien, la propreté ainsi que l\'accueil et la gentillesse de l\'ensemble du personnel sont des atouts inestimables. Etablissement calme, au bord du Rhône (promenade très agréable) et à deux pas du centre d\'Avignon. N\'hésiter pas à venir y séjourner.
Sue Cawthorne - Nugent, on this campsite in December 2015
Travelling party: Family with children, 12 - 18 years
The campsite was a very pleasant base for a winter break with a caravan. The facilities are a little dated but were immaculately clean with an endless supply of piping hot water. A lovely walk into Avignon from the site. The staff could not have been more helpful and certainly added to the ambience of the place. We would certainly go again at this time of year.
Joanne Allum, on this campsite in October 2015
Travelling party: Couple
Nice city but the campsite was awful! - the toilets and showers were cold and distusting I couldn\'t and wouldn\'t wash there and certainly not do washing up there - staff indifferent - these places only stay open because they are in the city - terrible !!!
Bernd Herbertz, on this campsite in September 2015
Travelling party: Couple
Wir waren vor 2 Jahren schon mal hier. Hatte damals schon gedacht dass die Sanitäranlagen dringend renoviert werden müssen. Naja es geht halt doch noch schlimmer habe noch nie so heruntergekomme Anlage gesehen, allerdings sauber war sie halt so gut wie es möglich ist. Der Platz ist von der Lage her genial. 10 Minuten und man ist mitten drin. Wer Dusche und Toilette dabei hat, sollte den Platz ruhig ansteuern.
Richard, on this campsite in August 2015
Travelling party: Couple
Deze camping hebben wij deze zomer geboekt voor 1 overnachting. 2 personen, kleine tent en twee fietsen.
De receptie was bij aankomst bezet door 3 medewerkers. Opvallend was dat 1 medewerker zich bezig hield met het ontvangen van de gasten en de andere twee waren \"druk\" met andere activiteiten. (lezen van een tijdschrift en ongegeneerd etend).
Ondanks dat het behoorlijk druk werd met wachtende gasten kwamen beide niet in beweging.
beheersing van de Engelse, Duitse of andere taal is belabberd maar dit hebben we elders in Frankrijk ook ervaren.
De toegewezen plek was qua grote prima, De plek was niet schoon, er lag zwerfvuil, denk aan los papier en plastic. De ondergrond van de plek is hard en er liggen veel stenen.
Het sanitair was vies en slecht onderhouden. Bij de ingang van deze ruimte lagen (vieze) doeken op de grond. Waarschijnlijk dacht men dat de doeken het vuil buiten de ruimte zal houden maar het tegenovergestelde gebeurt. Binnen het gebouw is het smerig, kapotte verlichting, penetrante geur die je de hele dag ruikt, de wc-potten zeer smerig wat ook geldt voor de vloer. Deze lag op sommige plekken bezaaid met wc-papier en andere viezigheid, Gaandeweg de dag werd het smeriger en smeriger. Er wordt op deze camping, in onze beleving, tussentijds niet gecheckt of het allemaal nog een beetje schoon is.
Loszittende haken in de douchejes, kranen zitten los en de deuren sluiten ook niet al te best.
De winkel die je op de camping vindt is prima ondanks dat de prijzen van sommige producten aan de hoge kant zijn.
Maar ook buiten deze winkel en het restaurant/café is het vies. Zo ligt er hondenpoep voor de deur van de winkel en ligt er ook hier veel zwerfvuil.
De locatie van de camping is fraai alleen de camping zelf verdiend echt de aandacht.
Louise, on this campsite in August 2015
Travelling party: Couple
As per most reviewers stated this campsite is in a great location but lacks in most other areas. The staff were not very friendly or helpful. The pitches are hard, the toilets/ showers are dirty and small. The campsite is quite loud. The price is comparably quite expensive.
Marcin, on this campsite in August 2015
Travelling party: Family with children, 4 – 12 years
La struttura è datata è si vede. Ma i bagni sono puliti e le piazzole grandi. Due passi dal centro storico è un grosso punto a favore. Per essere nel centro della città risulta molto tranquillo e silenzioso.
Ad van Bavel, on this campsite in June 2015
Travelling party: Couple
De camping is slecht onderhouden en het sanitair is gedateerd. De ligging is prima, op loopafstand van Avignon. De \"hangplek\" die tegen de avond volloopt op de parkeerplaats voor de camping geeft een onveilig gevoel. Je gaat \'s avonds niet lekker aan de Rhône zitten met zo\'n groep jongeren in je rug.
General information
Guide price 1

€29.90

Guide price 2

€39.00

Period of opening

01/01 till 31/12

Area

4 ha

Number of touring pitches

227 (80 - 130m2)

Number of camper pitches

20

Number of accommodation units for hire

40

Campsite suitable for disabled persons

Yes
* Facilities printed in bold are not included in the overnight rate. Supplementary charges will apply. (This does not mean that facilities which are not printed in bold are free!)
Popular amenities

WiFi 80-100% coverage

Dog(s) in high season (on lead)

ACSI Club ID is accepted as an identity document
At the reception

Reservation with CampingCard ACSI also possible

ACSI Club ID is accepted as an identity document

Advance booking recommended for high season

Credit cards accepted

credit card: MasterCard | Visa Card

Payment by debit card/Maestro possible

Defibrillator

Languages spoken at reception (during the main season)

languages: German | English | French | Italian
Pitch amenities

Water connection at/near the pitch (max. 15 m)

Waste water drainage at/near the pitch (max. 15 m)

Tap at/near the pitch (max. 50 m)

Also suitable for caravans > 5.5m, excluding towbar

Electrical hook-ups possible to maximum %s amps

Max. electricity: 10 ampère

Euro-plug required
Internet

Internet access

WiFi 80-100% coverage

WiFi point
Situation of campsite

Situated on river/stream (max. 0.1 km)

Panorama

Close to motorway junction (< 10 km)

Public transport near the camp site (max. 0.5 km)

Shopping opportunities within %s km
Dogs

Dog(s) in high season (on lead)

Dog(s) in low season (on lead)
Swimming
Beach
For children

Children's playground: small

Games room

Baby room

Video games

No entertainment programme
Toilet facilities

Washbasins: hot water

Washbasins: cold water

Heated toilet facilities

Individual washcabins: hot water

Individual washcabins: cold water

Standard toilets

Toilet paper provided

Family toilet facilities

Squatting-toilets

Chemical toilet disposal point

Toilet-shower combination (215cmsx215cms minimum)

Showers: hot water

Showers: cold water

A shower (150 cmsx150 cms minimum) and a toilet (165x220cms or 190cmsx190cms minimum)

Disabled sanitary facilities only open for the disabled

Baby room
Sport and games

Multi-sports field

Jeu de boules alley(s)

Pitch and putt nearby (max. 10 km)

Golf course nearby (max. 10 km)

golf clinic (courses in golf)
distance: 10 km
total: 18

Golf clinic (courses in golf)
Ground and vegetation

Pitches with plenty of shade

Pitches with some shade

Unshaded pitches

Marked pitches

Sand

Hard ground
Campsite rules

Dog(s) in high season (on lead)

Dog(s) in low season (on lead)

Caravans allowed

Tents allowed

Small extra tent permitted

Motorhomes allowed

Twin-axle vehicles permitted

Barbecues permitted

type of BBQ: electricity | gas
Food, drink and groceries

Fresh bread available at the camp site

Groceries: extensive selection

Restaurant (with ample choice)

Restaurant (limited choice)

Self-service restaurant

Snack bar

Pizzeria

Takeaway meals

Bar

Ice available

Exchanging of gas cylinders
Washing, washing-up, cooking

Washing up sinks: hot water

Washing up sinks: cold water

Washing machine(s)

Laundry sinks: cold water

Laundry sinks: hot water

Dryers

Ironing facilities
Recreation (adults)

Fishing

Cycle routes starting at the camp site

Marked out walking routes near the camp site

Games room

Television

Video games
Water sports and recreation
Available to hire at the campsite
For motorhomes

Motorhomes allowed

Special facilities for motorhomes

Special pitches for motorhomes

Surface area: 90 m2
Amount: 20

Also suitable for motorhomes > 8m and > 4 tonnes
Miscellaneous

Footpaths and roads are lit

Patrolled grounds

Separate area for young people
Address & Route
Would you like to book campsite Campsite Bagatelle or request more information? You can do both using the information below or by visiting the campsite's website.
Campsite Bagatelle
Île de la Barthelasse
84000 / Avignon
France


Download GPS coordinates

Select your navigation system:

From the A9 to Avignon. Campsite located on l'Île de la Barthelasse, opposite the Papal Palace. Campsite indicated on the bridge.

Warning! Since July 13 2015, many French campsites are prohibited from installing their own signpost. We advise to use GPS-coordinates to locate the campsite.
The weather on this campsite
Weather forecast
Sun

23 / 10

Mon

24 / 10

Tue

25 / 10

Wed

26 / 10

Thu

27 / 10

Fri

28 / 10

Sat

29 / 10

Max.
19.1°
23.6°
22.4°
19.9°
18.4°
19°
18.9°
Min.
11°
15.4°
14.8°
13.3°
10.5°
8.4°
7°
Precipitation
50%
15%
65%
0%
0%
0%
5%
Wind direction
ZO
ZO
ZO
N
N
N
N
Wind speed
4
3
2
5
5
3
3
Climate
| | |
| --- | --- |
| | Precipitation total (mm) |
| Jan | 38 |
| Feb | 38 |
| Mar | 62 |
| Apr | 57 |
| May | 70 |
| Jun | 49 |
| Jul | 26 |
| Aug | 57 |
| Sep | 69 |
| Oct | 111 |
| Nov | 76 |
| Dec | 54 |
Information request
ACSI Eurocampings will send your information request to "Campsite Bagatelle".
Take note; you are sending an information request. You cannot make a reservation using this form. You will need to contact the campsite directly and ACSI Eurocampings cannot have any influence on the consequences thereof.