Campsite La Source is a campsite in Petit-Appeville, Seine-Maritime, located on a river/stream.The campsite has pitches which are marked out, pitches without shade and pitches with some shade. It is possible to rent mobile homes. The camp site has a playground and a sports ground.
Show more

The following rules apply to pets at (La Source):
- Dog(s) permitted in low season (if on a lead)
- Dog(s) permitted in high season (if on a lead)

For sportive holidaymakers the camp site offers various cycle routes. The camp site has an outdoor swimming pool and a heated outdoor swimming pool.

The camp site also supplies fresh bread. You can also use the internet, as you can access the internet with your own laptop in 80% of the camp site.
Low-season discount with CampingCard ACSI
Affordable camping in the low season with CampingCard ACSI
CampingCard ACSI is a useful little card that will earn you up to 50% discount on your holiday! In 2016 you can choose from no fewer than 3142 campsites in 20 European countries. You will pay one of the four fixed, low rates in the early and late season!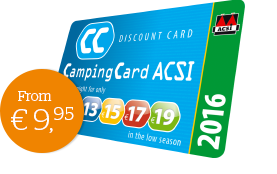 The advantages
Up to 50% discount! You can stay even more inexpensively at the loveliest campsites throughout Europe for four fixed rates using your CampingCard ACSI.

3142 campsites, all inspected by ACSI! You are welcome at 3142 campsites covering 20 European countries with your CampingCard ACSI

Affordable camping with your (grand)children 3 children (under 6 years) are included in the CampingCard ACSI rate at more than 700 campsites
Campsite opening period + your holiday period
August 2016
Mon
Tue
Wed
Thu
Fri
Sat
Sun
1
2
3
4
5
6
7
8
9
10
11
12
13
14
15
16
17
18
19
20
21
22
23
24
25
26
27
28
29
30
31
September 2016
Mon
Tue
Wed
Thu
Fri
Sat
Sun
1
2
3
4
5
6
7
8
9
10
11
12
13
14
15
16
17
18
19
20
21
22
23
24
25
26
27
28
29
30
October 2016
Mon
Tue
Wed
Thu
Fri
Sat
Sun
1
2
3
4
5
6
7
8
9
10
11
12
13
14
15
16
17
18
19
20
21
22
23
24
25
26
27
28
29
30
31
November 2016
Mon
Tue
Wed
Thu
Fri
Sat
Sun
1
2
3
4
5
6
7
8
9
10
11
12
13
14
15
16
17
18
19
20
21
22
23
24
25
26
27
28
29
30
December 2016
Mon
Tue
Wed
Thu
Fri
Sat
Sun
1
2
3
4
5
6
7
8
9
10
11
12
13
14
15
16
17
18
19
20
21
22
23
24
25
26
27
28
29
30
31
31 Campsite open
31 Campsite closed
31 Selected date
Detail information about this campsite

"Beautiful, quiet camp site located on a small river with canoeing and fishing opportunities (with special permit). The beach is at 3 km from the camp site. Special pitches fore motorhomes."
Toilet facilities

8.0

Staff

7.6

Price - quality comparison

7.9

Camping pitch

8.1

Accommodation

8.0

Child friendliness

7.3

Entertainment

7.5

Sports facilities

7.6

Swimming pool

7.6

Food and drink

8.0

Surroundings

8.4
Peter Vargas, on this campsite in August 2016
Travelling party: Family with children, 12 - 18 years
Sur notre tour visité ce site en France. Quelle déception!
Les beaux jardins avec de bons emplacements et de l\'assainissement est régi par un propriétaire gestionnaire de c.q. très désagréable.
Ce monsieur a matin à 10 heures un cône d\'air liquide autour de lui et était clairement ivre. Probablement cela est dû à la frustration de ne pas aller camping. Un site de bonne taille avec des parcelles souvent vides et de nombreuses règles ridicules.
La belle piscine est entourée fermé en haute saison. En recherchant solide invités \"français\" gentleman n\'a pas de sens de garder la piscine propre et / ou surveiller s\'il y a trop peu de clients.
Cependant, vous avez payé beaucoup pour qu\'elle reste toujours bon prix.
Pour Internet que vous avez à la rémunération de cours par heure.
Le propriétaire autrement très désagréable et antipathique qui tenaient la réception envoie sa petite amie sont là pour parler aux gens sur des choses qu\'ils ne l\'aiment pas. Comme la tente est pas dans la ligne spécifiée sur une parcelle de plus de 100m. etc., etc.
De plus, je fus averti par un visiteur du camping allemand que je devrais considérer lors de faire face à la carte de débit.
Et oui, après je suis entré dans mon code et le dispositif ne suis d\'accord, elle est le propriétaire que le paiement n\'a pas eu lieu. Il a demandé à nouveau que j\'effectuer le paiement par carte de débit.
Après avoir payé pour l\'utilisation de l\'Internet, cela avait vérifié mon compte bancaire a déjà prouvé que cette race était une ruse.
Parce qu\'il ne pouvait pas répondre à ce monsieur est venu avec quelque chose d\'autre.
Il était maintenant 24:00 et comme nous l\'avions pas encore quitté le terrain, nous aurions à payer un supplément par jour!
Cela était dû en partie à sa performance, il a oublié préfèrent.
Ensuite, nous nous retrouvons avec beaucoup de fanfare.
Nous avons également vécu quelque chose de similaire dans un campement en France afin que vous puissiez considérer cela comme un incident.
Mais mon conseil: Passer ce camping à propos.
carine, on this campsite in August 2016
Travelling party: Couple
Camping décevant !
A notre arrivé, le gérant ne savait pas ou nous placer alors que nous avions réservé, 25 min d\'attente pour finalement nous proposer 3 emplacements! allez comprendre??? Aucune organisation. De plus nous avons eu du mal à nous faire prêter un adaptateur pour nous brancher, en nous faisant tout un discours comme quoi nous devions en avoir un! Nous avons passer 2 nuits et durant notre séjour pas un bonjour, à part entendre madame râler et se plaindre des clients ! De plus la piscine n\'a rien a voir avec la photo, l\'envie vous passe de vous baigner, elle est sale (verte) dans le fond et froide alors que normalement elle devrait être chauffée !!! Et le pédiluve est la en déco .....
Dommage car le cadre est plutôt plaisant .
Ian Hutchinson, on this campsite in May 2015
Travelling party: Couple
This site is accessed via a narrow lane / driveway, but there is plenty of room to park up while going to reception. We were allocated a pitch - no choice, but we were happy with the one we got. The pitches are mainly grass with concrete runways for the caravan and car. The site itself is a drive from Dieppe centre and any shops. The reception sold some basics. The toilet block was very large and very clean. No toilet seats or paper.The site sits alongside a river, on the other side of which were goats, chickens etc. Very pleasant, but the site was quiet and would be less pleasant when full. There was a pool, but it was closed while we were there. There was also a small games room with electronic games. We stayed here a couple of nights and found it very pleasant.
gallicher, on this campsite in September 2014
Travelling party: Couple
super acceuil de la part de herve et genevieve camping tres agreable et calme nous le conseillons a toutes personne qui passe part la ville de Dieppe
Jean Pol Glenet, on this campsite in September 2014
Travelling party: Group of friends
Il serait vraiment dommage de passer outre ce camping. Nous voyageons régulièrement à deux camping-cars. L\\\'accueil est des plus chaleureux, d\\\'emblée la réception nous a proposé des emplacements en vis-à-vis. L\\\'endroit est ravissant, les sanitaires sont irréprochables et spacieux. Ce complexe mérite définitivement mieux que ses trois étoiles. Nous n\\\'y sommes restés qu\\\'une nuit, mais nous n\\\'avons pu nous en aller sans prendre la peine de saluer les charmants propriétaires. Sans hésitation, nous y retournerons. Un petit bémol: l\\\'accès peut sembler un peu compliqué pour certains, mais sur place que du bonheur!
A.F.C. Thomas, on this campsite in July 2014
Travelling party: Seniors
We komen er elk jaar weer terug.
Vlak bij een stad, de kust een prachtige omgeving.
Je wordt er zeer vriendelijk ontvangen
Vanuit zuid Nederland in een dag te rijden
P.B. Windhorst, on this campsite in June 2014
Travelling party: Seniors
Met acsi-kaart kleine plaats, geen vrije keuze.
Kon mijn voortent niet opzetten.
Auto mocht niet op plaats ernaast, terwijl er veel lege plaatsen waren.
Mooie ligging, prachtige omgeving. Goed sanitair.
Veel te smalle toegangsweg.
A. Bergers, on this campsite in June 2014
Travelling party: Seniors
De standplaatsen langs de rivier zijn kleiner dan 80 m2. Wifi slecht en soms alleen bereikbaar bij de receptie. Toegangsweg van/naar camping is smal. Passeren niet mogelijk en met caravan een gruwel. Geen 10 ampère, maar 6. Een narrige campingbaas, die alleen Frans spreekt. TV werd ook tijdens WK 2014 wedstrijden niet aangezet voor de gasten.
Hannie, on this campsite in June 2014
Travelling party: Seniors
De eigenaar bepaalt waar je gaat staan. Wat jammer is. De omgeving is mooi maar wij moesten alles zelf uitzoeken Fiets routes waren er niet. Wel in Dieppe bij het toeristen bureau. Het laatste stukje naar de camping is erg smal. Toen wij weg gegaan zijn ben ik vooruit gaan lopen en een belde ik naar mijn man dat hij kon gaan rijden. De douche cabines zijn heerlijk ruim maar de wc kon wel een fleurig luchtje gebruiken. De camping is mooi aangelegd. Daar is goed over nagedacht.
STeve Wynn, on this campsite in September 2013
Travelling party: Seniors
The site is a little remote and there are few local facilities, but it is close enough to the coast to walk or cycle to Pourville along a pleasant road.
General information
Guide price 1

€29.10

Guide price 2

€41.80

Period of opening

15/03 till 15/10

Area

2.5 ha

Number of touring pitches

70 (80 - 130m2)

Number of camper pitches

14

Number of permanent pitches

44

Number of accommodation units for hire

6

Campsite suitable for disabled persons

Yes
* Facilities printed in bold are not included in the overnight rate. Supplementary charges will apply. (This does not mean that facilities which are not printed in bold are free!)
Popular amenities

Outdoor swimming pool

heated
surface area: 100 m2
period: 01-06/15-09

WiFi 80-100% coverage

Dog(s) in high season (on lead)

ACSI Club ID is accepted as an identity document

Mobile homes
At the reception

ACSI Club ID is accepted as an identity document

Advance booking recommended for high season

Credit cards accepted

credit card: MasterCard | Visa Card

Payment by debit card/Maestro possible

Reception easily accessible for the disabled

Languages spoken at reception (during the main season)

languages: English | French
Pitch amenities

Tap at/near the pitch (max. 50 m)

Also suitable for caravans > 5.5m, excluding towbar

Electrical hook-ups possible to maximum %s amps

Max. electricity: 6-10 ampère

Euro-plug required
Internet
Situation of campsite

Distance to the sea (max. 10 km)

Situated on river/stream (max. 0.1 km)

Shopping opportunities within %s km
Dogs

Dog(s) in high season (on lead)

Dog(s) in low season (on lead)
Swimming

Outdoor swimming pool

heated
surface area: 100 m2
period: 01-06/15-09

Heated

Sunbathing area
For children

Children's playground: large

Children's playground: small

Games room

Baby room

Video games

No entertainment programme
Toilet facilities

Washbasins: hot water

Washbasins: cold water

Heated toilet facilities

Individual washcabins: hot water

Individual washcabins: cold water

Standard toilets

Squatting-toilets

Chemical toilet disposal point

Showers: hot water

A shower (150 cmsx150 cms minimum) and a toilet (165x220cms or 190cmsx190cms minimum)

Water and toilet facilities for disabled people in the same building as for the other campers

Disabled sanitary facilities only open for the disabled

Shower seat / shower chair (folding or mobile) approximately 48 cm high

Baby room
Sport and games

Table tennis table

Multi-sports field

Jeu de boules alley(s)

Beach volleyball
Ground and vegetation

Pitches with some shade

Unshaded pitches

Marked pitches

Grass

Hard standing pitches

Hard ground
Campsite rules

Dog(s) in high season (on lead)

Dog(s) in low season (on lead)

Caravans allowed

Tents allowed

Small extra tent permitted

Motorhomes allowed

Twin-axle vehicles permitted

Barbecues permitted

type of BBQ: charcoal | gas
Food, drink and groceries

Fresh bread available at the camp site

Groceries: limited selection

Bar

Freezing for cooling elements

Ice available
Washing, washing-up, cooking

Washing up sinks: hot water

Washing up sinks: cold water

Washing machine(s)

Laundry sinks: cold water

Laundry sinks: hot water

Dryers

Ironing facilities
Recreation (adults)

Fishing

Cycle routes starting at the camp site

Marked out walking routes near the camp site

Games room

Pool or billiards

Television

Video games
Water sports and recreation
Available to hire at the campsite

Mobile homes

Bicycles

Mountainbikes

Freezing blocs
For motorhomes

Motorhomes allowed

Special facilities for motorhomes

Special pitches for motorhomes

hardened base for motorhomes
Surface area: 70 m2
Amount: 14

Also suitable for motorhomes > 8m and > 4 tonnes

Hardened base for motorhomes
Miscellaneous

Footpaths and roads are lit

Patrolled grounds

Quiet during the day and at night
Address & Route
Would you like to book campsite Campsite La Source or request more information? You can do both using the information below.
Campsite La Source
63 rue des Tisserands
76550 / Hautot-sur-Mer
France


Download GPS coordinates

Select your navigation system:

Follow route D925 between Dieppe and Valéry-en-Caux. The campsite is clearly signposted in Petit Appeville.

Warning! Since July 13 2015, many French campsites are prohibited from installing their own signpost. We advise to use GPS-coordinates to locate the campsite.
The weather on this campsite
Weather forecast
Thu

27 / 10

Fri

28 / 10

Sat

29 / 10

Sun

30 / 10

Mon

31 / 10

Tue

01 / 11

Wed

02 / 11

Max.
15.1°
15.3°
14.8°
15.6°
15.6°
15°
13.4°
Min.
9.4°
10.5°
9.3°
9.2°
8.9°
8.1°
8.6°
Precipitation
15%
0%
0%
0%
5%
5%
10%
Wind direction
SW
SW
E
NO
NO
NO
NO
Wind speed
3
3
2
3
3
3
3
Climate
| | | | |
| --- | --- | --- | --- |
| | Relative humidity | Precipitation total (mm) | Hours of sunshine |
| Jan | 89% | 59 | 2 |
| Feb | 86% | 46 | 3 |
| Mar | 83% | 47 | 3 |
| Apr | 82% | 49 | 4 |
| May | 77% | 51 | 6 |
| Jun | 77% | 53 | 7 |
| Jul | 78% | 58 | 6 |
| Aug | 77% | 61 | 7 |
| Sep | 84% | 60 | 5 |
| Oct | 87% | 67 | 3 |
| Nov | 89% | 67 | 2 |
| Dec | 90% | 65 | 2 |
Information request
ACSI Eurocampings will send your information request to "Campsite La Source".
Take note; you are sending an information request. You cannot make a reservation using this form. You will need to contact the campsite directly and ACSI Eurocampings cannot have any influence on the consequences thereof.