Campsite Langenwald is a campsite in Freudenstadt, Baden-Württemberg, located in a wood and on a river/stream.This terraced camp site has pitches which are marked out, pitches with shade, pitches without shade and pitches with some shade. It is possible to rent caravans, apartments and bungalows. The camp site has a playground.
Show more

The following rules apply to pets at (Langenwald):
- Dog(s) permitted in low season (if on a lead)
- Dog(s) permitted in high season (if on a lead)

For sportive holidaymakers the camp site offers excursion programmes, guided walks and various cycle routes. There is an entertainment programme. The camp site has an outdoor swimming pool and a heated outdoor swimming pool.

You don't always have to cook, as the camp site has a snack bar and restaurant (with snack menu). The camp site also supplies fresh bread. You can also use the internet, as the camp site has one or more computers with an internet connection and there is a WiFi point.
Low-season discount with CampingCard ACSI
Affordable camping in the low season with CampingCard ACSI
CampingCard ACSI is a useful little card that will earn you up to 50% discount on your holiday! In 2016 you can choose from no fewer than 3142 campsites in 20 European countries. You will pay one of the four fixed, low rates in the early and late season!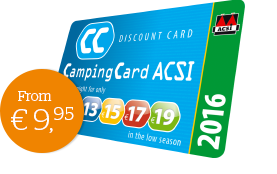 The advantages
Up to 50% discount! You can stay even more inexpensively at the loveliest campsites throughout Europe for four fixed rates using your CampingCard ACSI.

3142 campsites, all inspected by ACSI! You are welcome at 3142 campsites covering 20 European countries with your CampingCard ACSI

Affordable camping with your (grand)children 3 children (under 6 years) are included in the CampingCard ACSI rate at more than 700 campsites
Campsite opening period + your holiday period
August 2016
Mon
Tue
Wed
Thu
Fri
Sat
Sun
1
2
3
4
5
6
7
8
9
10
11
12
13
14
15
16
17
18
19
20
21
22
23
24
25
26
27
28
29
30
31
September 2016
Mon
Tue
Wed
Thu
Fri
Sat
Sun
1
2
3
4
5
6
7
8
9
10
11
12
13
14
15
16
17
18
19
20
21
22
23
24
25
26
27
28
29
30
October 2016
Mon
Tue
Wed
Thu
Fri
Sat
Sun
1
2
3
4
5
6
7
8
9
10
11
12
13
14
15
16
17
18
19
20
21
22
23
24
25
26
27
28
29
30
31
November 2016
Mon
Tue
Wed
Thu
Fri
Sat
Sun
1
2
3
4
5
6
7
8
9
10
11
12
13
14
15
16
17
18
19
20
21
22
23
24
25
26
27
28
29
30
December 2016
Mon
Tue
Wed
Thu
Fri
Sat
Sun
1
2
3
4
5
6
7
8
9
10
11
12
13
14
15
16
17
18
19
20
21
22
23
24
25
26
27
28
29
30
31
31 Campsite open
31 Campsite closed
31 Selected date
Detail information about this campsite
This inspector visits Campsite Langenwald every year and inspects the campsite on the basis of more than 200 amenities and other points of interest. The inspector is an ACSI staff member and does not work for the campsite.
Toilet facilities

8.7

Staff

8.9

Price - quality comparison

8.4

Camping pitch

8.4

Accommodation

8.4

Child friendliness

8.4

Entertainment

7.6

Sports facilities

7.4

Swimming pool

7.6

Food and drink

7.9

Surroundings

8.7
Michael Gras, on this campsite in October 2016
Travelling party: Young couple
We visited this Campground in October on a motorcycle trip with a tent. The location is very nice in the forest, except to the fact that some parts of the site are really close to a major road which is pretty noisy. Besides that the camping site is really awesome. There are really nice real bathrooms, a common room, a restaurant with tasty food. The staff is nice and we talked long in the evening. Really a recommendation to come here.
Muriel D, on this campsite in September 2016
Travelling party: Seniors
Supervriendelijk onthaal door mevrouw/eigenaar die goed nederlands spreekt en savonds ook in het restaurantje werkt en de winkel openhoudt. heel mooi en zeer proper sanitair. wij kwamen slechts om te overnachten maar \'langdurigere\' kampeerders waren ook lyrisch over de schitterende omgeving en wandelmogelijkheden. Heel gezellige stube waar je ook iets klein kan eten. wij hadden slecht weer en gezellig is het dan nooit. maar we komen zeker terug, en dan voor wat langer. Bovendien: niet duur! Freudenstadt stelt wel niks voor
Jan, on this campsite in September 2016
Travelling party: Seniors
Een leuke camping op een redelijke hoogte en dat merk je s avonds want het koelt er vrij snel af. Het fietsen is beperkt.
Wel zijn er veel mogelijkheden tot wandelen. Freudenstadt is een leuk plaatsje waar leuke restaurantjes zijn. Het eten in het restaurantje is matig.
Wilma Marsman, on this campsite in September 2016
Travelling party: Couple
Prachtige natuurcamping in het Zwarte Woud met ruime plaatsen. Wij mochten met onze camper van ruim 7 meter zelf kiezen waar we wilden gaan staan. I.v.m. onze hond een mooie plek aan een beekje gekozen, was prima! Sanitair is schitterend. Zowel een grotere douche- en toiletruimte als vrij nieuwe privé badkamers; erg luxe! Prima broodjesservice voor \'s morgens en zeer vriendelijk personeel. Elizabeth wist zelfs mijn voornaam na een paar nachten. Gratis buskaart die we gebruikt hebben voor een bezoek aan Freudenstad (zeker de moeite waard). Handig als je tussendoor niet met de camper wil rijden. Mooie wandelroutes en zeer dichtbij een meer waar honden kunnen zwemmen. Enige minpuntje is de weg langs de camping. Daar rijdt vrij veel (vracht)verkeer en dat hoor je wel, zeker \'s morgens vroeg. Het kabbelende beekje maakt wel weer veel goed. We raden deze camping aan iedereen aan die van rust, ruimte en de natuur houdt en toch gesteld is op comfort.
Klm.palfenier, on this campsite in June 2016
Travelling party: Seniors
Mooie camping met schitterend sanitair. Mooie plaatsen en omgeving. In en uitrit camping gevaarlijk en de drukke verkeersweg met veel vrachtverkeer is goed te horen. Geen telefonisch bereik op de camping., wel gratis WiFi. Wij kwamen vanuit het zuiden en namen op de A5 afslag 56, weg nr 415 en 28, via Bad Peterstal. Het laatste stuk van weg 28 is erg steil met heel veel haarspeldbochten kort op elkaar. Met andere woorden een vreselijke weg om met een caravan te rijden, terwijl wij echt wel de nodige ervaring hebben met rijden in de bergen.
b. nimberg, on this campsite in May 2016
Travelling party: Seniors
Wij bezochten deze camping net na hemelvaart en hebben er 5 dagen gestaan met caravan en hond. Geweldige camping, geweldig vriendelijke eigenaren, top sanitair, leuke plaatsen en super omgeving. Fietsen is vanuit de camping goed mogelijk, al zijn er wat steile stukken bij. Freundenstadt, een super mooie stad, ligt op 4 km van de camping. Er loopt een ddorgaande weg, hoger gelegen, langs de camping, maar daar heb je geen enkele last van.
Chris Anne, on this campsite in October 2015
Travelling party: Couple
Sehr schöner Campingplatz im schönen Schwarzwald.
Freudenstadt ca. 5km entfernt, ist mit dem Bus erreichbar, Bushaltestelle an der Schwarzwaldhochstraße die oberhalb des Platzes liegt, aber auch zu Fuß bzw. Rad. Direkt am Campingplatz beginnen einige Wanderwege.
Brötchenservice ab 8Uhr im kleinen Laden, in der Campingklause gibt es abends (mit Selbstbedienung) Kleinigkeiten zu essen.
Die Sanitäranlagen waren supertop sauber und vor allem die großen Bäder im unteren Bereich wunderschön, könnten allerdings in der Hauptsaison bei voller Belegung knapp werden. Im Oktober bei unserem Besuch Mittagspause bis 16Uhr, konnten uns aber ohne Probleme einen Platz aussuchen und später anmelden. Auch ein Pool ist vorhanden, war aber natürlich witterungsbedingt schon geschlossen.
Die Plätze sind schön groß und das Ambiente ist einfach nur toll. Sehr freundliche Rezeption.
ACSI wird zu bestimmten Zeiten akzeptiert.
Handy-Empfang fast nicht vorhanden, das kostenlose WLAN hat aber bei uns einwandfrei funktioniert.
Der Platz bietet einen Aufenthaltsraum, Grillplatz, Naturlehrpfad.
Die über dem Platz liegende Schwarzwaldhochstraße hat uns nicht gestört, ist allerdings im Sommer sicherlich mehr zu hören.
Diesen Platz werden wir bestimmt nochmal anfahren wenn wir in den Schwarzwald kommen.
Markies Vandewalle, on this campsite in September 2015
Travelling party: Group of friends
Ik ga quasi nooit gaan kamperen dus weet niet wat een slechte of goede camping is maar ik kom dit gewoon posten louter omdat het personeel echt wel uiterst vriendelijk is dit verdienen!
Daniel Cara-Nova, on this campsite in September 2015
Travelling party: Family with children <4 years
One of the best campings i have ever seen!
The pitches were great, a lot of space, a lot of shadows, a stream that crosses the camping, friendly staff, great location in the black forest.
Just perfect :)
Bryan, on this campsite in August 2015
Travelling party: Seniors
An excellent site. Friendly and helpful staff, English speakers, lovely showers and clean toilets, wide variety of pitches in unusual layout, making good use of available space and features of the terrain. Free wifi at our pitch. Pool is smaller than many, but big enough to swim properly.

Free local transport, but check which station as the Hbf is actually a minor station. Most trains use the city station even though timetables refer to Hbf.
General information
Guide price 1

€30.20

Guide price 2

€38.80

Period of opening

26/03 till 01/11

Area

1.5 ha

Altitude

700m

Number of touring pitches

80 (90 - 100m2)

Number of camper pitches

10

Number of permanent pitches

20

Number of accommodation units for hire

4

Campsite suitable for disabled persons

Yes

Eco campsite

Yes
* Facilities printed in bold are not included in the overnight rate. Supplementary charges will apply. (This does not mean that facilities which are not printed in bold are free!)
Popular amenities

Outdoor swimming pool

heated
surface area: 75 m2
period: 01-06/15-09

Dog(s) in high season (on lead)

ACSI Club ID is accepted as an identity document
At the reception

ACSI Club ID is accepted as an identity document

Payment by debit card/Maestro possible

Languages spoken at reception (during the main season)

languages: German | English | Dutch
Pitch amenities

Water connection at/near the pitch (max. 15 m)

Waste water drainage at/near the pitch (max. 15 m)

Also suitable for caravans > 5.5m, excluding towbar

Electrical hook-ups possible to maximum %s amps

Max. electricity: 16 ampère

Euro-plug required

Pitches with radio and television connections
Internet

Internet access

WiFi point
Situation of campsite

Situated on river/stream (max. 0.1 km)

Located in a wood

Public transport near the camp site (max. 0.5 km)

Shopping opportunities within %s km
Dogs

Dog(s) in high season (on lead)

Dog(s) in low season (on lead)
Swimming

Outdoor swimming pool

heated
surface area: 75 m2
period: 01-06/15-09

Heated

Sunbathing area
For children

Children's playground: large

Entertainment programme: Children (at least 2x a week - h.s.)

languages: German
period: 01-07/31-08

Games room

Baby room
Toilet facilities

Washbasins: hot water

Washbasins: cold water

Heated toilet facilities

Individual washcabins: hot water

Individual washcabins: cold water

Standard toilets

Toilet paper provided

Family toilet facilities

Chemical toilet disposal point

Toilet-shower combination (215cmsx215cms minimum)

Showers: hot water

Showers: cold water

Family shower

Senior citizens' shower (with extra wall supports)

Shower seat / shower chair (folding or mobile) approximately 48 cm high

Baby room

Tap without push control
Sport and games

Table tennis table

Jeu de boules alley(s)

Beach volleyball

Golf course nearby (max. 10 km)

Geocaching
Ground and vegetation

Pitches with plenty of shade

Pitches with some shade

Unshaded pitches

Marked pitches

Grass

Terraced site

Hard standing pitches
Campsite rules

Dog(s) in high season (on lead)

Dog(s) in low season (on lead)

Caravans allowed

Tents allowed

Small extra tent permitted

Motorhomes allowed

Twin-axle vehicles permitted

Barbecues permitted

type of BBQ: charcoal | electricity | gas
Food, drink and groceries

Fresh bread available at the camp site

Groceries: limited selection

Restaurant (limited choice)

Snack bar

Takeaway meals

Communal barbecue area

Freezing for cooling elements

Exchanging of gas cylinders
Washing, washing-up, cooking

Washing up sinks: hot water

Washing up sinks: cold water

Individual cooking facilities

Washing machine(s)

Laundry sinks: cold water

Laundry sinks: hot water

Dryers

Microwave

Ironing facilities
Recreation (adults)

Entertainment programme: Adults (at least 2x a week - h.s.)

languages: German
period: 01-07/31-08

Fishing

Cycle routes starting at the camp site

Marked out walking routes near the camp site

Games room

Pool or billiards

Excursion programme (at least 2x a week - m.s.)

Television

Guided walks
Water sports and recreation
Available to hire at the campsite

Bungalows/chalets

Apartments

Caravans
Wellness
For motorhomes

Motorhomes allowed

Special facilities for motorhomes

Special pitches for motorhomes

hardened base for motorhomes
Surface area: 100 m2
Amount: 10

Also suitable for motorhomes > 8m and > 4 tonnes

Hardened base for motorhomes
Miscellaneous

Footpaths and roads are lit

Quiet during the day and at night

Separate area for young people
Address & Route
Would you like to book campsite Campsite Langenwald or request more information? You can do both using the information below or by visiting the campsite's website.
Campsite Langenwald
Straßburger Straße 167
72250 / Freudenstadt
Germany


Download GPS coordinates

Select your navigation system:

A5, exit 54 Appenweier, B28 Freudenstadt direction Freudenstadt, direction Kniebis. 3 km before Freudenstadt on the left.
The weather on this campsite
Weather forecast
Sun

23 / 10

Mon

24 / 10

Tue

25 / 10

Wed

26 / 10

Thu

27 / 10

Fri

28 / 10

Sat

29 / 10

Max.
8.9°
15.7°
11.7°
7.2°
8.6°
10.4°
11.6°
Min.
0.8°
5.5°
9.7°
5°
2.1°
2.8°
4.2°
Precipitation
85%
90%
90%
65%
20%
20%
20%
Wind direction
S
SW
W
N
NO
E
W
Wind speed
2
3
3
2
2
2
2
Climate
| | | | |
| --- | --- | --- | --- |
| | Relative humidity | Precipitation total (mm) | Hours of sunshine |
| Jan | 86% | 35 | 2 |
| Feb | 81% | 33 | 3 |
| Mar | 76% | 36 | 4 |
| Apr | 71% | 46 | 6 |
| May | 68% | 67 | 7 |
| Jun | 69% | 74 | 7 |
| Jul | 71% | 76 | 7 |
| Aug | 72% | 70 | 8 |
| Sep | 79% | 61 | 5 |
| Oct | 83% | 51 | 3 |
| Nov | 87% | 49 | 2 |
| Dec | 86% | 39 | 1 |
Information request
ACSI Eurocampings will send your information request to "Campsite Langenwald".
Take note; you are sending an information request. You cannot make a reservation using this form. You will need to contact the campsite directly and ACSI Eurocampings cannot have any influence on the consequences thereof.