Campsite Thurium is a campsite in Corigliano Calabro, Cosenza, located by the sea.The campsite has pitches pitches with shade. Thurium is located close to a sandy beach. It is possible to rent mobile homes, apartments and bungalows. The camp site has a playground and a sports ground.
Show more

The following rules apply to pets at (Thurium):
- Dog(s) permitted in low season (if on a lead)
- Dog(s) permitted in high season (if on a lead)

For sportive holidaymakers the camp site offers excursion programmes, guided walks and various cycle routes. The camp site has an outdoor swimming pool and a toddlers' pool. You can swim nearby in the sea. At Thurium you can go windsurfing and waterskiing.

You don't always have to cook, as the camp site has a snack bar, pizzeria, self service restaurant and restaurant (with full menu). You can also use the internet, as the camp site has one or more computers with an internet connection and there is a WiFi point.
Low-season discount with CampingCard ACSI
Affordable camping in the low season with CampingCard ACSI
CampingCard ACSI is a useful little card that will earn you up to 50% discount on your holiday! In 2016 you can choose from no fewer than 3142 campsites in 20 European countries. You will pay one of the four fixed, low rates in the early and late season!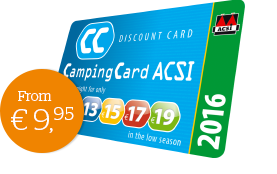 The advantages
Up to 50% discount! You can stay even more inexpensively at the loveliest campsites throughout Europe for four fixed rates using your CampingCard ACSI.

3142 campsites, all inspected by ACSI! You are welcome at 3142 campsites covering 20 European countries with your CampingCard ACSI

Affordable camping with your (grand)children 3 children (under 6 years) are included in the CampingCard ACSI rate at more than 700 campsites
Campsite opening period + your holiday period
August 2016
Mon
Tue
Wed
Thu
Fri
Sat
Sun
1
2
3
4
5
6
7
8
9
10
11
12
13
14
15
16
17
18
19
20
21
22
23
24
25
26
27
28
29
30
31
September 2016
Mon
Tue
Wed
Thu
Fri
Sat
Sun
1
2
3
4
5
6
7
8
9
10
11
12
13
14
15
16
17
18
19
20
21
22
23
24
25
26
27
28
29
30
October 2016
Mon
Tue
Wed
Thu
Fri
Sat
Sun
1
2
3
4
5
6
7
8
9
10
11
12
13
14
15
16
17
18
19
20
21
22
23
24
25
26
27
28
29
30
31
November 2016
Mon
Tue
Wed
Thu
Fri
Sat
Sun
1
2
3
4
5
6
7
8
9
10
11
12
13
14
15
16
17
18
19
20
21
22
23
24
25
26
27
28
29
30
December 2016
Mon
Tue
Wed
Thu
Fri
Sat
Sun
1
2
3
4
5
6
7
8
9
10
11
12
13
14
15
16
17
18
19
20
21
22
23
24
25
26
27
28
29
30
31
31 Campsite open
31 Campsite closed
31 Selected date
Detail information about this campsite
This inspector visits Campsite Thurium every year and inspects the campsite on the basis of more than 200 amenities and other points of interest. The inspector is an ACSI staff member and does not work for the campsite.
Toilet facilities

7.3

Staff

8.1

Price - quality comparison

8.6

Camping pitch

7.9

Accommodation

8.0

Child friendliness

8.0

Entertainment

6.2

Sports facilities

8.3

Swimming pool

9.0

Food and drink

8.5

Surroundings

8.1
Daan en Emmy, on this campsite in May 2016
Travelling party: Seniors
Op deze grote camping stonden in de eerst volle week van mei slechts zo\'n 20 kampeerders. Winkel en restaurant waren nog niet open. Ontvangst vriendelijk. Je kon zelf een plaats uitzoeken.Plaatsen zijn groot en niet echt afgebakend. Veel bomen, maar de meeste gasten stonden langs het strand. Tussen camping en strand stond -heel Italiaans- een hek met enkele poorten. Het was zeker \'s nachts erg stil. Bij zonsopgang begon de eerste dagen een bulldozer het strand te verbreden en dat gebrom ging dan door tot zonsondergang. Schotel oppassen met de bomen. Wifi was gratis en werkte bij de caravan redelijk snel. Er zijn diverse sanitair gebouwen, maar allemaal ver weg aan de andere zijde van de camping en slechts één daarvan was open. Gelukkig hadden wij onze fietsen bij ons. Sanitair was goed, alleen douchemunten zijn niet meer van deze tijd. Kritiek hebben wij op het chemisch toilet, dat ronduit smerig was; zat waarschijnlijk niet in de schoonmaak ronde. Omgeving is fraai; diverse uitstapjes zijn mogelijk. Vorig jaar hebben wij enkele kilometers verder naar het noorden gestaan, maar deze camping vonden wij veel aangenamer. Helaas was het weer wat minder met soms stevige wind. Achter de container van de strandbar kon je toch aangenaam op het strand zitten. Een acht voor deze camping
Christian Volk, on this campsite in September 2015
Travelling party: Young couple
Insgesamt waren wir eine Woche auf diesem Campingplatz.
Unser Zelt konnten wir direkt im Pinienwald in unmittelbarer Strandnähe aufbauen, was uns anfangs gefreut hat.
Jedoch sind die Sanitärgebäude wirklich sehr sehr weit entfernt und die fehlenden Klobrillen und notwendige Duschmünzen empfanden wir für einen 4Sterne Platz unpassend.
Auch, dass nicht mal zum abspülen heißes Wasser zur Verfügung stand und die Wasserqualität nicht unbedingt die beste ist müssen wir leider bemängeln.

Das waren aber auch schon unsere Hauptkritikpunkte. Der Platz eignet sich hervorragend für die Erkundung der Umgebung, denn er ist verkerhstechnisch gut angebunden.
Die Animation haben wir nicht direkt genutzt, aber die Musik hat uns nicht gestört.

Das Personal war sehr freundlich und hat immer versucht zu helfen und Fragen zu beantworten.
Das Highlight ist sicher die WIFI-Abdeckung, eine so gute Qualität des Internets hatten wir bisher noch auf keinem Platz.

Alles in allem kann man den Platz durchaus weiterempfehlen, einem 4Sterne-Platz entspricht er jedoch nicht unbedingt. Dafür ist es aber auch günstig und direkter Strandzugang ist schon was Tolles.
Hobby2011, on this campsite in April 2015
Travelling party: Family with children <4 years
Die Zufahrt zum Platz führt über eine relativ schlechte und teils enge Straße. Der relativ große Platz verfügt über Supermarkt, Restaurant, Schwimmbad, Bäckerei etc., dies allerdings in der Vorsaison alles noch geschlossen. Die Stellplätze liegen fast alle in einem Pinienwald. Eine Parzellierung ist nicht erkennbar. Ein direkter Zugang zum breiten Sandstrand ist vorhanden. Während unseres Aufenthalts stand ein Wasch- und Toilettenhaus zur Verfügung. Es sind Duschmünzen notwendig, dafür gibt es heißes Wasser. Toilettenbrillen und -papier sind nicht vorhanden, was bei einem 4-Sterne-Platz verwundert. Dafür gibt es Kinderwasch-, -dusch und -wickelmöglichkeiten, allerdings teilweise unter dem Vordach.
Fazit: Ein toller Platz mit schönem Sandstrand, den ich aber nicht in der Hochsaison erleben möchte.
Ralph Ruebenacker, on this campsite in June 2014
Travelling party: Couple
Selten hat uns ein Platz und einTeam so gut gefallen. Bei unserem ersten Besuch im Mai war noch vieles in Arbeit, im Juni dann aber war alles fertig und top in Schuss. Dazu am Strand schöne Stellplätze mit Meerblick, ein gutes Restaurant und saubere Sanitäranlagen, super hilfsbereite Mitarbeiter und daher nahezu perfekt.
Alan Haverly, on this campsite in April 2014
Travelling party: Seniors
Do not agree with description of site. Narrow roadways, tight corners. Pitches under trees near coast not defined and very muddy after rain. All toilet blocks at rear of site, resulting in long walk to use them, some of which require upgrade. roads leading to site very poor quality and narrow. Signposting from main road was not visible. Believe co-ordinates given in book are for the old or now the rear entrance of old road. Needs to be looked at! Staff on duty at visit time had serious chip on shoulder and was not of a happy nature at all.
Mil, on this campsite in June 2013
Travelling party: Couple
Der Campingplatz ist sehr schön, freundliches Personal, saubere Sanitäranlagen, Einkaufsmöglichkeit. Schwimmbad gegen extra Gebühr.
Könnte ein Paradies sein.

Der Platz hatte 2 Nachteile:
1. Laute Animation schon im Juni (da reisen meistens ältere Leute): nachdem die Animation in die Mitte des Campingplatzes verlegt wurde, findet man auf dem großen Platz bis Mitternacht keine ruhige Ecke mehr. Tagsüber hallte auch vom Schwimmbad laute Technomusik, man konnte z.B. nicht in Ruhe lesen. Wegen fehlender Ruhe sind etliche Gäste nach kurzem Aufenthalt abgereist.

2. Das Meer hat täglich zwischen 11-12 Uhr viel Müll und Fäkalien angeschwemmt, man konnte dann einige Zeit nicht ins Wasser gehen. Einmal kam eine breite braune Masse an... Die Neuankömmlinge waren entsetzt. Man konnte an dem Tag nicht mehr baden und musste den Strand extra reinigen. Den Camping trifft hier keine Schuld, hat eine eigene Kläranlage, andere entsorgen aber anscheinend alles ins Meer.
Wir hatten genug sind abgereist.
werner Großmann, on this campsite in May 2013
Travelling party: Seniors
Der Campingplatz hat uns Sehr gut gefallen alles sehr ordentlich gutes personal alles sauber werden in wieder besuchen
Brinkman, on this campsite in June 2009
Diese Beurteilung wurde von unserem Inspektor als Besucherumfrage selbst auf dem Camping aufgenommen.
General information
Guide price 1

€49.30

Guide price 2

€65.30

Period of opening

01/01 till 31/12

Area

10 ha

Number of touring pitches

500 (60 - 80m2)

Number of accommodation units for hire

57

Campsite suitable for disabled persons

Yes
* Facilities printed in bold are not included in the overnight rate. Supplementary charges will apply. (This does not mean that facilities which are not printed in bold are free!)
Popular amenities

Outdoor swimming pool

surface area: 300 m2
period: 01-06/30-09

Dog(s) in high season (on lead)

Situated on the coast (max. 0.5 km)

ACSI Club ID is accepted as an identity document

Mobile homes
At the reception

ACSI Club ID is accepted as an identity document

Advance booking recommended for high season

Passport/identity card required

Credit cards accepted

credit card: Amex | Diners Club | MasterCard | Visa Card

Languages spoken at reception (during the main season)

languages: German | English | Spanish | French | Italian
Pitch amenities

Also suitable for caravans > 5.5m, excluding towbar

Electrical hook-ups possible to maximum %s amps

Max. electricity: 6 ampère

Euro-plug required
Internet

Internet access

WiFi point
Situation of campsite

Situated on the coast (max. 0.5 km)

Distance to the sea (max. 10 km)

Shopping opportunities within %s km
Dogs

Dog(s) in high season (on lead)

Dog(s) in low season (on lead)
Swimming

Swimming pool without hoist, but with a gently sloping bottom and plastic wheelchair

Outdoor swimming pool

surface area: 300 m2
period: 01-06/30-09

Toddlers' pool (ages 1-3, < 40 cm)

surface area: 16 m2
period: 01-06/30-09

Sea swimming (max. 0.5 km)

Beach showers
Beach
For children

Children's playground: large

Toddlers' pool (ages 1-3, < 40 cm)

surface area: 16 m2
period: 01-06/30-09

Children's playground: small

Games room

Dance nights

Discotheque

Mini club (at least 4x a week - high season)

languages: German | English | Italian

Children's sanitary facilities

Baby room

Video games

No entertainment programme
Toilet facilities

Washbasins: hot water

Washbasins: cold water

Heated toilet facilities

Individual washcabins: hot water

Individual washcabins: cold water

Children's sanitary facilities

Standard toilets

Squatting-toilets

Chemical toilet disposal point

Toilet-shower combination (215cmsx215cms minimum)

Showers: hot water

Showers: cold water

Water and toilet facilities for disabled people not in the same building, but fitted with alarm

Shower seat / shower chair (folding or mobile) approximately 48 cm high

Baby room

Beach showers
Sport and games

Table tennis table

Multi-sports field

Tennis court(s)

Jeu de boules alley(s)

Beach volleyball

Golf course nearby (max. 10 km)
Ground and vegetation

Pitches with plenty of shade

Grass

Sand
Campsite rules

Dog(s) in high season (on lead)

Dog(s) in low season (on lead)

Caravans allowed

Tents allowed

Small extra tent permitted

Motorhomes allowed

No vehicles may enter during lunch break

Own boats permitted
Food, drink and groceries

Groceries: extensive selection

Shop/supermarket with level entrance or with ramp

Restaurant (with ample choice)

Self-service restaurant

Canteen/restaurant with level entrance or with ramp

Snack bar

Pizzeria

Takeaway meals

Bar

Communal barbecue area

Freezing for cooling elements

Exchanging of gas cylinders
Washing, washing-up, cooking

Washing up sinks: hot water

Washing up sinks: cold water

Washing machine(s)

Laundry sinks: cold water

Laundry sinks: hot water

Dryers

Ironing facilities
Recreation (adults)

Fishing

Cycle routes starting at the camp site

level: difficult | easy | average

Games room

Excursion programme (at least 2x a week - m.s.)

Television

Video games

Guided walks
Water sports and recreation

Fishing

Windsurfing permitted

Waterskiing permitted

Own boats permitted

Sailing permitted
Available to hire at the campsite

Mobile homes

Bungalows/chalets

Apartments

Refrigerators

Bicycles

Pedal boats

Safes
For motorhomes

Motorhomes allowed

Special facilities for motorhomes

Also suitable for motorhomes > 8m and > 4 tonnes
Miscellaneous

Footpaths and roads are lit

Patrolled grounds

Quiet during the day and at night

Special parking spaces for disabled people

Door-springs light enough (3-4 kgs pressure)
Address & Route
Would you like to book campsite Campsite Thurium or request more information? You can do both using the information below.
Campsite Thurium
Contrada Ricota Grande
87060 / Corigliano/Calabro
Italy


Download GPS coordinates

Select your navigation system:

Turn off the SS106-Bis coast road towards the sea at 21 km post. Campsite then signposted.
The weather on this campsite
Weather forecast
Wed

26 / 10

Thu

27 / 10

Fri

28 / 10

Sat

29 / 10

Sun

30 / 10

Mon

31 / 10

Tue

01 / 11

Max.
25°
19.2°
17.1°
18.4°
19.1°
19.2°
20.2°
Min.
15.7°
16.8°
14.3°
11.7°
11.6°
11.6°
11.8°
Precipitation
5%
80%
45%
5%
5%
5%
10%
Wind direction
E
N
N
N
N
N
N
Wind speed
2
5
5
4
4
3
3
Climate
| | |
| --- | --- |
| | Precipitation total (mm) |
| Jan | 58 |
| Feb | 42 |
| Mar | 71 |
| Apr | 36 |
| May | 23 |
| Jun | 10 |
| Jul | 10 |
| Aug | 10 |
| Sep | 46 |
| Oct | 91 |
| Nov | 71 |
| Dec | 107 |
Information request
ACSI Eurocampings will send your information request to "Campsite Thurium".
Take note; you are sending an information request. You cannot make a reservation using this form. You will need to contact the campsite directly and ACSI Eurocampings cannot have any influence on the consequences thereof.