Campsite Roma Flash is a campsite in Bracciano, Rome, located in a wood and by a lake/recreational pond.The campsite has pitches which are marked out, pitches with shade, pitches without shade and pitches with some shade. Roma Flash is located close to a sandy beach. It is possible to rent tents and bungalows. The camp site has a playground and a sports ground.
Show more

The following rules apply to pets at (Roma Flash):
- Dog(s) permitted in low season (if on a lead)
- Dog(s) permitted in high season (if on a lead)

For sportive holidaymakers the camp site offers excursion programmes. There is an entertainment programme. The camp site has an outdoor swimming pool and a toddlers' pool. You can swim nearby in in a lake/recreational pond. At Roma Flash you can go snorkelling and windsurfing.

You don't always have to cook, as the camp site has a snack bar, pizzeria and restaurant (with snack menu). The camp site also supplies fresh bread. You can also use the internet, as you can access the internet with your own laptop in 80% of the camp site.
Low-season discount with CampingCard ACSI
Affordable camping in the low season with CampingCard ACSI
CampingCard ACSI is a useful little card that will earn you up to 50% discount on your holiday! In 2016 you can choose from no fewer than 3142 campsites in 20 European countries. You will pay one of the four fixed, low rates in the early and late season!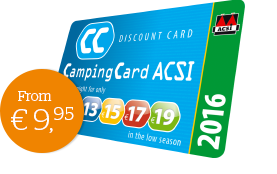 The advantages
Up to 50% discount! You can stay even more inexpensively at the loveliest campsites throughout Europe for four fixed rates using your CampingCard ACSI.

3142 campsites, all inspected by ACSI! You are welcome at 3142 campsites covering 20 European countries with your CampingCard ACSI

Affordable camping with your (grand)children 3 children (under 6 years) are included in the CampingCard ACSI rate at more than 700 campsites
Campsite opening period + your holiday period
August 2016
Mon
Tue
Wed
Thu
Fri
Sat
Sun
1
2
3
4
5
6
7
8
9
10
11
12
13
14
15
16
17
18
19
20
21
22
23
24
25
26
27
28
29
30
31
September 2016
Mon
Tue
Wed
Thu
Fri
Sat
Sun
1
2
3
4
5
6
7
8
9
10
11
12
13
14
15
16
17
18
19
20
21
22
23
24
25
26
27
28
29
30
October 2016
Mon
Tue
Wed
Thu
Fri
Sat
Sun
1
2
3
4
5
6
7
8
9
10
11
12
13
14
15
16
17
18
19
20
21
22
23
24
25
26
27
28
29
30
31
November 2016
Mon
Tue
Wed
Thu
Fri
Sat
Sun
1
2
3
4
5
6
7
8
9
10
11
12
13
14
15
16
17
18
19
20
21
22
23
24
25
26
27
28
29
30
December 2016
Mon
Tue
Wed
Thu
Fri
Sat
Sun
1
2
3
4
5
6
7
8
9
10
11
12
13
14
15
16
17
18
19
20
21
22
23
24
25
26
27
28
29
30
31
31 Campsite open
31 Campsite closed
31 Selected date
Detail information about this campsite
This inspector visits Campsite Roma Flash every year and inspects the campsite on the basis of more than 200 amenities and other points of interest. The inspector is an ACSI staff member and does not work for the campsite.
Toilet facilities

7.9

Staff

7.7

Price - quality comparison

8.0

Camping pitch

8.1

Accommodation

7.5

Child friendliness

7.5

Entertainment

6.0

Sports facilities

7.1

Swimming pool

7.2

Food and drink

7.7

Surroundings

8.3
Ben, on this campsite in September 2016
Travelling party: Seniors
Deze camping is wat mij betreft niet aan te raden, het sanitair is ontzettend verouderd en zeer slecht onderhouden, de plaatsen zijn ruim en met schaduw.
Manfred Schneider, on this campsite in July 2016
Travelling party: Couple
Ein wunderschöner kleiner Campingplatz. Sehr sauber und vor allem schattige Stellplätze. Das Personal ist herausragend. Immer freundlich, hilfsbereit und nett. Wir kommen immer wieder gerne nach Roma Flash
Daan en Emmy, on this campsite in April 2016
Travelling party: Seniors
Op weg naar de teen van Italië zijn wij hier twee nachten geweest. Wil je zicht op het meer hebben dan moet je helemaal naar beneden en alleen op een deel van de eerste rij krijg je verbinding met de schotel op de caravan. Wil je tv hebben dan moet je boven staan, maar daar was het erg vol met de aanloop van de ACSI reis naar Sicilië. Wij zijn node aan de zijkant het door bomen overdekte deel van het terrein gaan staan. Terrein was een knollenveld zo hobbelig. Men was wel wat blad aan het opruimen, maar erg attractief was het niet. Ontvangst was tamelijk nors vriendelijk; het hield niet over. Doordat de ingang was verlegd reden wij de camping in eerste instantie voorbij en moesten wij verderop omkeren om de nu niet meer in een bocht liggende ingang te kunnen bereiken. Sanitair is goed en schoon. Slechts één van de twee toilet gebouwen was in gebruik. Haakjes en knoppen ontbreken soms, klemmende deuren; ook hier is onderhoud nodig. Water is goed warm met een ruime straal. Wifi € 5 voor twee dagen; werkt redelijk. Zeer positief is dat je een boekje met informatie krijgt in het Nederlands. Er zijn veel regels op deze camping.Wij hebben in Bracciano de burcht bezocht en erg leuk en interessant was het luchtvaartmuseum even verder. Wij waren niet erg onder de indruk van de omgeving en zullen hier niet snel terug komen. Je kunt veel beter naar het meer van Bolsena gaan. Met een zesje moet deze camping het doen; jammer want met wat inzet en goede wil is er wel wat van te maken.
Vriendengroep 3.0, on this campsite in September 2015
Travelling party: Group of friends
Zwembad was al dicht. Brood op de camping verkrijgbaar.. erg prijzig. Plekken zijn groot, maar in groot donker bos aan het water. Een toilet gebouw was al gesloten en van het andere gebouw was de helft al dicht. Rome was fantastisch en goed bereisbaar met trein. voor 7 euro kon je de auto in het stadje parkeren. hierdoor heb je geen last van de bus tijden.
detlev, on this campsite in October 2014
Travelling party: Young couple
alles super immer wieder
Monika Vogler, on this campsite in July 2014
Travelling party: Seniors
Auf der Rückfahrt von Sizilien haben wir auf diesem Campingplatz Station gemacht. Sanitäranlagen, Platz und Gastronomie waren sehr ansprechend. Die Ver- und Entsorgung für größere Wohnmobile sind gut zugänglich. Mit dem Shuttle-Bus ist der nächste Ort gut erreichbar. Ein hübscher Platz direkt am See - wir werden dort gerne wieder Station machen.
Paul, on this campsite in July 2014
Travelling party: Family with children, 12 - 18 years
In juli (hoogseizoen) een week op deze camping verbleven. Slechts een toiletgebouw in gebruik. Zwembad stelt weinig voor en aan het meertje is nauwelijks plek om om je handdoek neer te leggen. Waterkant is deels gras en de rest fijn grind. Een ligbed meenemen is aan te bevelen.

Campingplekken varieren enorm. Van groot, zonnig en prettig aan het meer gelegen tot kleine postzegel plekjes in een donker bos.

Als je reserveert in het hoogseizoen wordt dit beschouwd als een boeking!!!! Je moet alle dagen betalen.

Diverse avonden \'s nachts wakker gelegen van een boem-boem bas van een discotheek. Naar zeggen aan de andere kant van het meer, maar bij verkeerde wind duidelijk hoorbaar.

Camping ligt onder een aanvlieg route, regelmatig is er een vliegtuig te spotten.

Enige pluspunt van deze camping is ligging vlakbij Rome. Laatste bus vanaf Bracciano gaat al rond 1830 dus wel op tijd vertrekken uit Rome.

Camping zelf ligt aan een weg die niet geschikt is voor voetganger, hardlopers etc. Bracciano zelf is 4 km wandelen over een steile weg.

Voor kids/pubers rond 14 is er weinig tot niets te beleven.
L. Goosens, on this campsite in June 2014
Deze beoordeling is als enquete afgenomen door onze inspecteur op de camping zelf.
Phil Butterworth, on this campsite in June 2014
Travelling party: Couple
A large lakeside site, set mostly in a rather gloomy wood, right next to Lake Bracciano. English speaking reception helpful and the campsite provided a fabulously helpful booklet with lots of details in multiple languages included suggest plans for days out in Rome. The toilet and restaurant facilities were very good but for some reason the women's showers run cold occasionally – cold unhappy wife anyone?
Excellent on site very reasonably priced restaurant, with bar and well stocked shop, overlooking Lake – very pretty! Nearby town of Bracciano has good rail links to central Rome – easy touring of Rome. Good pool, tennis courts and childrens play area.

We wanted to do some walking around the lake and surrounding countryside but discovered there's no lakeside walk (other than about 100 metres on the site) and everywhere else is Private, so no walking!
Choose your pitch well; its very gloomy in the pitches actually in the wood but lakeside ones are OK but only get morning sun. The best sunshine pitches are up nearer the reception. Have a good walk around before choosing.

The condition of the roads leading to the site and around the lake is appalling; lots of pot holes and sinkage, so take care! Recommended, provided you choose a good pitch.
ralec, on this campsite in May 2014
Travelling party: Seniors
Le camping s\'est un peu dégradé en dix ans...
Les sanitaires sont propres mais sombres...Dommage.
La restauration est toujours très sympatique, avec de bonnes pizzes. Les abords du lac de Bracciano apportent une note agréable au séjour.
General information
Guide price 1

€37.00

Guide price 2

€50.00

Period of opening

01/04 till 30/09

Area

7 ha

Altitude

160m

Number of touring pitches

250 (50 - 120m2)

Number of permanent pitches

10

Number of accommodation units for hire

80

Campsite suitable for disabled persons

Yes
* Facilities printed in bold are not included in the overnight rate. Supplementary charges will apply. (This does not mean that facilities which are not printed in bold are free!)
Popular amenities

Outdoor swimming pool

surface area: 200 m2
period: 01-06/31-08

WiFi 80-100% coverage

Dog(s) in high season (on lead)

ACSI Club ID is accepted as an identity document
At the reception

Reservation with CampingCard ACSI also possible

ACSI Club ID is accepted as an identity document

Advance booking recommended for high season

Passport/identity card required

Credit cards accepted

Payment by debit card/Maestro possible

Defibrillator

Reception easily accessible for the disabled

Languages spoken at reception (during the main season)

languages: English | French | Italian | Dutch
Pitch amenities

Water connection at/near the pitch (max. 15 m)

Also suitable for caravans > 5.5m, excluding towbar

Electrical hook-ups possible to maximum %s amps

Max. electricity: 6 ampère

Euro-plug required
Internet
Situation of campsite

Located by a lake/recreation pond (max. 0.1 km)

Located in a wood

Panorama

Public transport near the camp site (max. 0.5 km)

Shopping opportunities within %s km
Dogs

Dog(s) in high season (on lead)

Dog(s) in low season (on lead)
Swimming

Swimming pool with hoist

Outdoor swimming pool

surface area: 200 m2
period: 01-06/31-08

Toddlers' pool (ages 1-3, < 40 cm)

surface area: 9 m2
period: 01-06/31-08

Swimming in the lake/recreation pool(max. 0.1 km)

Beach showers

Sunbathing area
Beach
For children

Children's playground: large

Toddlers' pool (ages 1-3, < 40 cm)

surface area: 9 m2
period: 01-06/31-08

Entertainment programme: Children (at least 2x a week - h.s.)

languages: German | English | Italian | Dutch
period: 15-07/15-08

Mini club (at least 4x a week - high season)

Children's sanitary facilities

Baby room

Video games
Toilet facilities

Washbasins: hot water

Individual washcabins: hot water

Children's sanitary facilities

Standard toilets

Squatting-toilets

Chemical toilet disposal point

Toilet-shower combination (215cmsx215cms minimum)

Showers: hot water

Water and toilet facilities for disabled people in the same building as for the other campers

Disabled sanitary facilities only open for the disabled

Shower seat / shower chair (folding or mobile) approximately 48 cm high

Baby room

Beach showers

Tap without push control
Sport and games

Table tennis table

Multi-sports field

Tennis court(s)

Jeu de boules alley(s)

Beach volleyball

Pitch and putt at the camp site

Tennis lessons
Ground and vegetation

Pitches with plenty of shade

Pitches with some shade

Unshaded pitches

Marked pitches

Grass
Campsite rules

Dog(s) in high season (on lead)

Dog(s) in low season (on lead)

Caravans allowed

Tents allowed

Small extra tent permitted

Motorhomes allowed

Car-free pitches

No vehicles may enter during lunch break

Twin-axle vehicles permitted

Barbecues permitted

type of BBQ: charcoal | electricity | gas

Own boats permitted
Food, drink and groceries

Fresh bread available at the camp site

Groceries: limited selection

Shop/supermarket with level entrance or with ramp

Restaurant (limited choice)

Canteen/restaurant with level entrance or with ramp

Snack bar

Pizzeria

Takeaway meals

Simple menu

Bar

Freezing for cooling elements

Ice available
Washing, washing-up, cooking

Washing up sinks: hot water

Washing up sinks: cold water

Washing machine(s)

Laundry sinks: cold water

Laundry sinks: hot water

Dryers

Ironing facilities
Recreation (adults)

Fishing

Excursion programme (at least 2x a week - m.s.)

Television

Video games
Water sports and recreation

Fishing

Windsurfing permitted

Snorkelling

Own boats permitted

Sailing permitted

Trailer slope
Available to hire at the campsite

Bungalows/chalets

Tents

Bicycles

Mountainbikes

Canoes

Safes

Cars
For motorhomes

Motorhomes allowed

Special facilities for motorhomes

Also suitable for motorhomes > 8m and > 4 tonnes
Miscellaneous

Footpaths and roads are lit

Patrolled grounds

Quiet during the day and at night

Temporary pitches outside the campsite without electr.

Temporary pitches outside the campsite with electricity

Special parking spaces for disabled people

Special pitches for disabled people

Door-springs light enough (3-4 kgs pressure)
Address & Route
Would you like to book campsite Campsite Roma Flash or request more information? You can do both using the information below or by visiting the campsite's website.
Campsite Roma Flash
Via Settevene Palo km 19,800
00062 / Bracciano
Italy


Download GPS coordinates

Select your navigation system:

SS2 Viterbo-Roma, head right towards Trevignano at Sutri. On reaching the shore of the lake take direction Bracciano, campsite clearly signposted on the left.
The weather on this campsite
Weather forecast
Tue

25 / 10

Wed

26 / 10

Thu

27 / 10

Fri

28 / 10

Sat

29 / 10

Sun

30 / 10

Mon

31 / 10

Max.
25.9°
24.2°
23.1°
22.3°
22.4°
21.7°
21.4°
Min.
14.3°
16.6°
14.7°
9.8°
8.5°
8.6°
9.4°
Precipitation
5%
70%
25%
5%
5%
5%
10%
Wind direction
S
ZO
N
N
N
N
NO
Wind speed
2
2
3
2
1
1
1
Information request
ACSI Eurocampings will send your information request to "Campsite Roma Flash".
Take note; you are sending an information request. You cannot make a reservation using this form. You will need to contact the campsite directly and ACSI Eurocampings cannot have any influence on the consequences thereof.