Campsite Partaccia 1 is a campsite in Marina di Massa, Massa and Carrara, located by the sea and in a wood.The campsite has pitches which are marked out, pitches with shade, pitches without shade and pitches with some shade. Partaccia 1 is located close to a sandy beach. It is possible to rent mobile homes, apartments and bungalows.
Show more

You can swim nearby in the sea.

You don't always have to cook, as the camp site has a pizzeria and restaurant (with full menu). The camp site also supplies fresh bread. You can also use the internet, as you can access the internet with your own laptop in 80% of the camp site.
Low-season discount with CampingCard ACSI
Affordable camping in the low season with CampingCard ACSI
CampingCard ACSI is a useful little card that will earn you up to 50% discount on your holiday! In 2016 you can choose from no fewer than 3142 campsites in 20 European countries. You will pay one of the four fixed, low rates in the early and late season!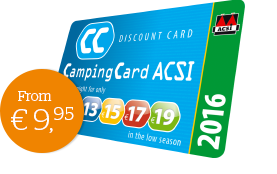 The advantages
Up to 50% discount! You can stay even more inexpensively at the loveliest campsites throughout Europe for four fixed rates using your CampingCard ACSI.

3142 campsites, all inspected by ACSI! You are welcome at 3142 campsites covering 20 European countries with your CampingCard ACSI

Affordable camping with your (grand)children 3 children (under 6 years) are included in the CampingCard ACSI rate at more than 700 campsites
Campsite opening period + your holiday period
August 2016
Mon
Tue
Wed
Thu
Fri
Sat
Sun
1
2
3
4
5
6
7
8
9
10
11
12
13
14
15
16
17
18
19
20
21
22
23
24
25
26
27
28
29
30
31
September 2016
Mon
Tue
Wed
Thu
Fri
Sat
Sun
1
2
3
4
5
6
7
8
9
10
11
12
13
14
15
16
17
18
19
20
21
22
23
24
25
26
27
28
29
30
October 2016
Mon
Tue
Wed
Thu
Fri
Sat
Sun
1
2
3
4
5
6
7
8
9
10
11
12
13
14
15
16
17
18
19
20
21
22
23
24
25
26
27
28
29
30
31
November 2016
Mon
Tue
Wed
Thu
Fri
Sat
Sun
1
2
3
4
5
6
7
8
9
10
11
12
13
14
15
16
17
18
19
20
21
22
23
24
25
26
27
28
29
30
December 2016
Mon
Tue
Wed
Thu
Fri
Sat
Sun
1
2
3
4
5
6
7
8
9
10
11
12
13
14
15
16
17
18
19
20
21
22
23
24
25
26
27
28
29
30
31
31 Campsite open
31 Campsite closed
31 Selected date
Detail information about this campsite
This inspector visits Campsite Partaccia 1 every year and inspects the campsite on the basis of more than 200 amenities and other points of interest. The inspector is an ACSI staff member and does not work for the campsite.
Toilet facilities

5.7

Staff

6.6

Price - quality comparison

5.5

Camping pitch

7.1

Accommodation

6.5

Child friendliness

5.7

Entertainment

5.0

Sports facilities

4.5

Swimming pool

4.5

Food and drink

7.2

Surroundings

6.6
Gerda Angelika Marksteller, on this campsite in September 2016
Travelling party: Couple
Dieser Campingplatz ist das allerletzte, kaltes Wasser zum Abwaschen und an den Waschbecken auch nur kaltes Wasser. Sehr schlecht, wenn man sich nicht elektrisch rasiert sonder mit Klinge. Außerdem sind die Küchenzeilen ohne richtige Ablagen, nur ein Hängeregal um das Geschirr abzulegen. Hier könnte man denken, der Inspektor legt keinen großen Wert auf auch nur etwas Komfort. Für uns ist es nicht empfehlenswert. Auch andere Camper waren enttäuscht. Der Weg zum Strand ist weiter als beschrieben und man hat nicht Zugang zu allen Stellen. Liegen und Schirme sind für sich eingezäunt. Man hat nicht die Möglichkeit durch zu gehen. Alles in allem nicht empfehlenswert .
Vande Populiere Johanna, on this campsite in August 2016
Travelling party: Family with children, 4 – 12 years
Deze prachtige camping is heel net en vriendelijk personeel. De plaatsen zijn mooi en vlak. Ligt heel dicht bij strand (publieke zone). Voor douches moet er betaald worden maar is wel heerlijk warm en duurt lang genoeg. De pizzeria naast gelegen is lekker.
Mauel, on this campsite in September 2015
Travelling party: Couple
Ich habe so eine Sanitäranlage lange nicht mehr gesehen.Veraltet kann man ja noch ertragen.Spülen nur mit Kaltwasser in verdreckter Anlage,nein danke.Ich war
Duschen,meine Frau hat sich das nicht angetan und hat im Wohnmobil geduscht.Der Platz besteht auch nur zu einem kleinen Teil aus Touristikplätzen.Vielleicht sind die einheimischen Dauercämper schmerzloser.
ON, on this campsite in June 2015
Travelling party: Couple
Siamo stati in questo campeggio a giugno. Il posto è anche carino e ben tenuto, tranne i bagni ormai arrivati a termine. Andrebbero rifatti. La grande pecca è il personale estremamente maleducato. Insomma noi ci siamo sentiti dire al pagamento del soggiorno di NON ROMPERE I COGLIONI, in quanto ho espresso gentilmente un\'opinione sulla loro mancanza di accoglienza ed educazione. Mai un saluto, ne all\'arrivo ne all\'andata. Per me possono chiudere domani.
Blanc, on this campsite in May 2015
Travelling party: Young couple
Nous y sommes restés une nuit en mai 2015. Le camping était quasiment vide mais on nous a donné un emplacement en plein soleil et à proximités des autres CC alors qu\'il y en avait beaucoup de libres et ombragés....
La place est suffisamment grande, l\'électricité à proximité.
Par contre les emplacements camping car sont loin de l\'entrée et donc de la plage !
Les sanitaires sont propres et en nombre. La douche chaude est payante et il n\'y a pas de papier toilette.
Le personnel n\'est pas vraiment sympa, mais peut être que la barrière de la langue en est responsable ...
A.S. v.d. Wal, on this campsite in July 2014
Deze beoordeling is als enquete afgenomen door onze inspecteur op de camping zelf.
Finn Valsted, on this campsite in May 2014
Travelling party: Seniors
Uprofessionel modtagelse. Dårlige tilkørselsforhold. Pladser med både sol og skygge. Bad og toiletforhold yderst kritisable. Ingen rengøring under vores 4 dages ophold. Meget snavset overalt. Betaling for bad, hvor der kun var halvkoldt vand. Bør kun benyttes til overnatning.
Anatoly, on this campsite in September 2013
Travelling party: Young couple
The price-quality comparison is not good. The price is quite high, but there is no toilet paper in the toilet. And the worst thing: the shower is not free (the price is 0.5 euro for 3 minutes). You can't find this info on their website.
The surroundings are picturesque, mountains and the sea are very close.
Glonner, on this campsite in September 2012
Travelling party: Couple
Wir waren Ende September und es war einer der wenigen noch offenen Campingplätze. Leider waren die sanitären Einrichtungen sehr schlecht.
Zum Waschen und Abspülen nur kaltes Wasser. Zum Duschen benötigt man Münzen (bekamen wir kostenlos weil Ende September), aber warmes Wasser benötigte sehr lang bis es lief und konnte nur schlecht reguliert werden.
Lynn Jessy, on this campsite in July 2011
Deze beoordeling is als enquête afgenomen door onze inspecteur op de camping zelf.
General information
Guide price 1

€40.00

Guide price 2

€50.00

Period of opening

23/04 till 02/10

Area

4.3 ha

Number of touring pitches

80 (20 - 50m2)

Number of permanent pitches

250

Number of accommodation units for hire

43
* Facilities printed in bold are not included in the overnight rate. Supplementary charges will apply. (This does not mean that facilities which are not printed in bold are free!)
Popular amenities

WiFi 80-100% coverage

Situated on the coast (max. 0.5 km)

Mobile homes
At the reception

Advance booking recommended for high season

Passport/identity card required

Credit cards accepted

credit card: MasterCard | Visa Card

Languages spoken at reception (during the main season)

languages: German | English | Italian
Pitch amenities

Electrical hook-ups possible to maximum %s amps

Max. electricity: 5 ampère

Euro-plug required
Internet
Situation of campsite

Situated on the coast (max. 0.5 km)

Distance to the sea (max. 10 km)

Located in a wood

Close to motorway junction (< 10 km)

Public transport near the camp site (max. 0.5 km)

Shopping opportunities within %s km
Dogs

Dogs not allowed in low season

Dogs not allowed in high season
Swimming

Sea swimming (max. 0.5 km)
Beach
For children

Children's playground: small

Mini club (at least 4x a week - high season)

languages: English | Italian

Video games

No entertainment programme
Toilet facilities

Washbasins: cold water

Standard toilets

Squatting-toilets

Showers: hot water

Showers: cold water
Ground and vegetation

Pitches with plenty of shade

Pitches with some shade

Unshaded pitches

Marked pitches

Sand
Campsite rules

Caravans allowed

Tents allowed

Small extra tent permitted

Motorhomes allowed

Barbecues permitted
Food, drink and groceries

Fresh bread available at the camp site

Groceries: extensive selection

Restaurant (with ample choice)

Pizzeria

Takeaway meals

Bar

Exchanging of gas cylinders
Washing, washing-up, cooking

Washing up sinks: cold water

Washing machine(s)

Laundry sinks: cold water
Recreation (adults)
Available to hire at the campsite

Mobile homes

Bungalows/chalets

Apartments

Safes

Lodge tent with toilet facilities
For motorhomes

Motorhomes allowed

Special facilities for motorhomes
Miscellaneous

Footpaths and roads are lit

Patrolled grounds

Quiet during the day and at night
Address & Route
Would you like to book campsite Campsite Partaccia 1 or request more information? You can do both using the information below or by visiting the campsite's website.
Campsite Partaccia 1
Via delle Pinete 394
54037 / Marina di Massa
Italy


Download GPS coordinates

Select your navigation system:

A12 La Spezia-Livorno, exit Massa, left after toll booth. Follow road to intersection bar/café 'La Dolce Vita'. Turn left and follow camping signs.
The weather on this campsite
Weather forecast
Fri

21 / 10

Sat

22 / 10

Sun

23 / 10

Mon

24 / 10

Tue

25 / 10

Wed

26 / 10

Thu

27 / 10

Max.
19.4°
18.2°
18.1°
20°
21.5°
20.9°
21°
Min.
11°
9.2°
11°
12.5°
14.5°
15.3°
14.2°
Precipitation
5%
20%
80%
60%
70%
60%
30%
Wind direction
NW
NW
NO
NO
E
S
ZO
Wind speed
3
2
2
2
2
2
2
Information request
ACSI Eurocampings will send your information request to "Campsite Partaccia 1".
Take note; you are sending an information request. You cannot make a reservation using this form. You will need to contact the campsite directly and ACSI Eurocampings cannot have any influence on the consequences thereof.