Campsite La Paz is a campsite in Llanes, Asturias, located by the sea.This terraced camp site has pitches which are marked out, pitches with shade, pitches without shade and pitches with some shade. La Paz is located close to a sandy beach.
Show more

The following rules apply to pets at (La Paz):
- Dog(s) permitted in low season (if on a lead)
- Dog(s) permitted in high season (if on a lead)

For sportive holidaymakers the camp site offers excursion programmes and various cycle routes. You can swim nearby in the sea. At La Paz you can go snorkelling and windsurfing.

You don't always have to cook, as the camp site has a snack bar, restaurant (with snack menu) and restaurant (with full menu). The camp site also supplies fresh bread. You can also use the internet, as there is a WiFi point.
Low-season discount with CampingCard ACSI
Affordable camping in the low season with CampingCard ACSI
CampingCard ACSI is a useful little card that will earn you up to 50% discount on your holiday! In 2016 you can choose from no fewer than 3142 campsites in 20 European countries. You will pay one of the four fixed, low rates in the early and late season!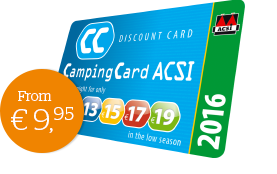 The advantages
Up to 50% discount! You can stay even more inexpensively at the loveliest campsites throughout Europe for four fixed rates using your CampingCard ACSI.

3142 campsites, all inspected by ACSI! You are welcome at 3142 campsites covering 20 European countries with your CampingCard ACSI

Affordable camping with your (grand)children 3 children (under 6 years) are included in the CampingCard ACSI rate at more than 700 campsites
Campsite opening period + your holiday period
August 2016
Mon
Tue
Wed
Thu
Fri
Sat
Sun
1
2
3
4
5
6
7
8
9
10
11
12
13
14
15
16
17
18
19
20
21
22
23
24
25
26
27
28
29
30
31
September 2016
Mon
Tue
Wed
Thu
Fri
Sat
Sun
1
2
3
4
5
6
7
8
9
10
11
12
13
14
15
16
17
18
19
20
21
22
23
24
25
26
27
28
29
30
October 2016
Mon
Tue
Wed
Thu
Fri
Sat
Sun
1
2
3
4
5
6
7
8
9
10
11
12
13
14
15
16
17
18
19
20
21
22
23
24
25
26
27
28
29
30
31
November 2016
Mon
Tue
Wed
Thu
Fri
Sat
Sun
1
2
3
4
5
6
7
8
9
10
11
12
13
14
15
16
17
18
19
20
21
22
23
24
25
26
27
28
29
30
December 2016
Mon
Tue
Wed
Thu
Fri
Sat
Sun
1
2
3
4
5
6
7
8
9
10
11
12
13
14
15
16
17
18
19
20
21
22
23
24
25
26
27
28
29
30
31
31 Campsite open
31 Campsite closed
31 Selected date
Detail information about this campsite
This inspector visits Campsite La Paz every year and inspects the campsite on the basis of more than 200 amenities and other points of interest. The inspector is an ACSI staff member and does not work for the campsite.
Toilet facilities

7.6

Staff

8.0

Price - quality comparison

7.8

Camping pitch

8.2

Accommodation

8.0

Child friendliness

6.4

Entertainment

6.2

Sports facilities

5.9

Swimming pool

5.3

Food and drink

7.0

Surroundings

8.6
Anthony Hill, on this campsite in July 2016
Travelling party: Couple
We stopped at this campsite by chance on the way to Santander. Amazed by the precipitous nature of the whole site clinging to a cliff overlooking the sea with the tents literally on terraces overlooking the sea. We had a more traditional pitch for our campervan. Steep walk to the beach and back but a charming site if a little busy at this time of year but the staff were amazing and found us an extension lead when we needed one and were more than helpful. Showers and toilets OK but open to the elements which could be a little bracing on a chilly day! Restaurant pretty adequate and wifi poor but all this outweighed by the most amazing scenery and beautiful weather.
Michael and Sandra, on this campsite in October 2015
Travelling party: Seniors
The entrance road is almost loose shaled concrete where the top surface acts like gravel and contributes to wheel spin. Given the pitch of the slope on the short straights, about 45degrees<> and steeper on the tight turns and the looseness under wheel we perhaps should been towed up by the Range Rover service, of which there are 2. But being in a decisive mood I drove much to the surprise of Fran on Reception, I tow with our VW Caddy Maxi, pulling an Eriba 552 Troll. I will add this road to my list of a number of other roads, U.K. Included, where I should have spent a little more time thinking about whether to do it or not. But at the top the ascent was worth it, the car coped and all was well when we were pitched, spanning 2 pitches with a great full frontal view in a rare location. I am planning on the descent being easier.
Walter Burrow, on this campsite in September 2015
Travelling party: Couple
This site has fantastic views which far outweigh the average toilet facilities. There are some beautiful villages within cycling/ walking distance. The staff are helpful and the site is patrolled constantly. We saw people who had problems reaching the electric points with their leads and were provided with longer leads FOC. We will defiantly return.
Lucien Bardouillet, on this campsite in September 2015
Travelling party: Couple
Nous avons séjourné 6 jours en Septembre 2015... Accès dans le camping très pentu, limite pour des campings car... Toilettes besoin de restauration... Emplacements assez petits, en été, ce doit être les sardines !
L\'accueil est bon, mais personne ne parle le Français, seulement un peu d\'anglais...
La vue par contre est splendide, la visite de Llanes (un car ou le train à Pendueles) vaut le détour...
Vermelis, on this campsite in July 2015
Deze beoordeling is als enquete afgenomen door onze inspecteur op de camping zelf.
G.S. te Bennekom, on this campsite in July 2015
Travelling party: Seniors
Camping ligt prachtig aan zee. Wij hadden helaas geen zeezicht met onze California camper, dan wordt het al snel een \"gewone\" camping. Nadeel vonden wij dat je \'s morgens je brood beneden bij de receptie moest halen, dit was een flinke tippel! Het sanitair is flink gedateerd. I.p.v. deuren voor de douche hangen er douche gordijnen. Als het waait komt het douche gordijn tegen je aan tijdens het douchen, zeer onhygiënisch. De prijs voor 1 nacht vonden wij aan de hoge kant.
Armin, on this campsite in June 2015
Travelling party: Couple
Ein wunderschön gelegener terrassierter Platz, bei dem man von sehr vielen Stellplätzen einen gigantischen Ausblich auf das Meer hat. Die Sanitäranlagen waren stets sehr sauber, aber sehr alt.
Vom Restaurant hat man auch einen tollen Ausblick auf das Meer, das Essen war durchschnittlich. Wir waren mit dem Zelt auf dem Platz und sind aufgrund der Lage und des guten Wetters länger als vorgesehen geblieben, da Ausflüge in die Berge innerhalb einer Fahrstunden möglich sind.
Die Zufahrt ist sehr steil, das Campinplatzpersonal bringt Wohnwagen mit dem Landrover zu den Stellplätzen.
Der Strand wird bei Flut sehr klein. Ich denke, dass es in der Hochsaison eng zugehen wird, wenn der Platz dann stärker als in der Vorsaison belegt sein sollte.
Melvyn Wood, on this campsite in October 2014
Travelling party: Couple
Difficult entrance/exit, toilet and shower facilities need upgrading, restaurant was poor. Outlook was excellent with access to beach but not good for disabled or anyone needing sticks, constant supervision of site during the day which made one comfortable from security point of view. One incident on site was dealt with by being towed off by site owner when camper went over the edge of a wall and he dealt with it cheerfully and without rancour.
Stuart, on this campsite in September 2014
Travelling party: Seniors
VERY steep access but great views out to sea. In September shop was closed but bar and restaurant open. Small pitches but friendly staff, showers etc kept very clean. Will be going back.
Kate Freemantle, on this campsite in September 2014
Travelling party: Couple
We stayed here in 2005, so knew what the campsite was like and remembered the wonderful situation and fabulous views, so decided to come here for the end of our five weeks in Spain, as it was convenient for the Santander ferry. The young man in Reception was pleasant, helpful, and spoke quite good English. We drove ourselves up the steep twisting path to the top of the camp, where we sited our 7.5m caravan on the grass against the wall as there was nowhere else vacant at the time. The views all around are superb, with the Bay of Biscay in front and the Picos de Europa mountains behind. The new motorway is also visible and work was very much in progress while we were there.
WiFi is free, but only in the restaurant, which for us meant a trek halfway down the site. The restaurant served mediocre, overpriced food and the staff were unfriendly, in fact we felt as if we were a nuisance. Showers and toilets were adequate but need updating. We won\\\\\\\'t come here again until we see better reviews.
General information
Guide price 1

€37.10

Guide price 2

€49.30

Period of opening

18/03 till 12/10

Area

1.1 ha

Number of touring pitches

432 (40 - 90m2)
* Facilities printed in bold are not included in the overnight rate. Supplementary charges will apply. (This does not mean that facilities which are not printed in bold are free!)
Popular amenities

Dog(s) in high season (on lead)

Situated on the coast (max. 0.5 km)
At the reception

Reservation with CampingCard ACSI also possible

Advance booking recommended for high season

Passport/identity card required

Credit cards accepted

credit card: MasterCard | Visa Card

Payment by debit card/Maestro possible

Languages spoken at reception (during the main season)

languages: English | Spanish | Dutch
Pitch amenities

Tap at/near the pitch (max. 50 m)

Also suitable for caravans > 5.5m, excluding towbar

Electrical hook-ups possible to maximum %s amps

Max. electricity: 15 ampère
Internet
Situation of campsite

Situated on the coast (max. 0.5 km)

Distance to the sea (max. 10 km)

Panorama

Close to motorway junction (< 10 km)

Public transport near the camp site (max. 0.5 km)

Shopping opportunities within %s km
Dogs

Dog(s) in high season (on lead)

Dog(s) in low season (on lead)
Swimming

Sea swimming (max. 0.5 km)
Beach

Sandy beach

Rocky coastline
For children

Children's playground: small

Baby room

Video games

No entertainment programme
Toilet facilities

Washbasins: hot water

Washbasins: cold water

Individual washcabins: hot water

Individual washcabins: cold water

Standard toilets

Toilet paper provided

Chemical toilet disposal point

Showers: hot water

Showers: cold water

Baby room
Sport and games

Jeu de boules alley(s)

Pitch and putt nearby (max. 10 km)

Golf course nearby (max. 10 km)

golf clinic (courses in golf)
distance: 4 km
total: 18

Golf clinic (courses in golf)
Ground and vegetation

Pitches with plenty of shade

Pitches with some shade

Unshaded pitches

Marked pitches

Grass

Terraced site
Campsite rules

Dog(s) in high season (on lead)

Dog(s) in low season (on lead)

Caravans allowed

Tents allowed

Small extra tent permitted

Motorhomes allowed

Twin-axle vehicles permitted

Barbecues permitted

type of BBQ: charcoal | electricity | gas
Food, drink and groceries

Fresh bread available at the camp site

Groceries: extensive selection

Restaurant (with ample choice)

Restaurant (limited choice)

Snack bar

Takeaway meals

Freezing for cooling elements

Ice available

Exchanging of gas cylinders
Washing, washing-up, cooking

Washing up sinks: hot water

Washing up sinks: cold water

Washing machine(s)

Laundry sinks: cold water

Laundry sinks: hot water

Dryers

Ironing facilities
Recreation (adults)

Fishing

Cycle routes starting at the camp site

Marked out walking routes near the camp site

Pool or billiards

Excursion programme (at least 2x a week - m.s.)

Television

Video games
Water sports and recreation

Fishing

Windsurfing permitted

Snorkelling

Sailing permitted
Available to hire at the campsite
For motorhomes

Motorhomes allowed

Special facilities for motorhomes

Also suitable for motorhomes > 8m and > 4 tonnes
Miscellaneous

Footpaths and roads are lit

Patrolled grounds

Quiet during the day and at night
Address & Route
Would you like to book campsite Campsite La Paz or request more information? You can do both using the information below.
Campsite La Paz
Playa de Vidiago
33597 / Llanes/Vidiago
Spain


Download GPS coordinates

Select your navigation system:

Motorway A8 exit 285, then from Ovieda roundabout dir. N634 Unguera, 2nd roundabout Playa de Vidiago from Santander exit Playa de Vidiago, camping.
The weather on this campsite
Weather forecast
Fri

21 / 10

Sat

22 / 10

Sun

23 / 10

Mon

24 / 10

Tue

25 / 10

Wed

26 / 10

Thu

27 / 10

Max.
17.9°
19.5°
21.1°
20.3°
20.5°
20.1°
20°
Min.
10.5°
11.7°
15.3°
14.2°
13.5°
14.1°
14.1°
Precipitation
0%
20%
65%
35%
15%
15%
15%
Wind direction
E
ZO
S
S
E
NO
E
Wind speed
4
3
3
3
2
2
2
Climate
| | | | |
| --- | --- | --- | --- |
| | Relative humidity | Precipitation total (mm) | Hours of sunshine |
| Jan | 72% | 104 | 3 |
| Feb | 79% | 80 | 4 |
| Mar | 80% | 79 | 5 |
| Apr | 78% | 98 | 5 |
| May | 83% | 69 | 6 |
| Jun | 80% | 56 | 7 |
| Jul | 84% | 46 | 7 |
| Aug | 83% | 78 | 6 |
| Sep | 81% | 90 | 6 |
| Oct | 78% | 127 | 5 |
| Nov | 76% | 133 | 3 |
| Dec | 72% | 134 | 3 |
Information request
ACSI Eurocampings will send your information request to "Campsite La Paz".
Take note; you are sending an information request. You cannot make a reservation using this form. You will need to contact the campsite directly and ACSI Eurocampings cannot have any influence on the consequences thereof.