Campsite Oaza Mira is a campsite in Drage, Zadar, located by the sea.This terraced camp site has pitches which are marked out, pitches with shade, pitches without shade and pitches with some shade. Oaza Mira is located close to a pebble beach. It is possible to rent mobile homes. The camp site has a sports ground.
Show more

The following rules apply to pets at (Oaza Mira):
- Dog(s) permitted in low season (if on a lead)
- Dog(s) permitted in high season (if on a lead)

For sportive holidaymakers the camp site offers excursion programmes and various cycle routes. There is a fitness room. The camp site has an outdoor swimming pool. You can swim nearby in the sea. At Oaza Mira you can go snorkelling, windsurfing and waterskiing.

You don't always have to cook, as the camp site has a restaurant (with full menu). The camp site also supplies fresh bread. You can also use the internet, as you can access the internet with your own laptop in 80% of the camp site.
Low-season discount with CampingCard ACSI
Affordable camping in the low season with CampingCard ACSI
CampingCard ACSI is a useful little card that will earn you up to 50% discount on your holiday! In 2016 you can choose from no fewer than 3142 campsites in 20 European countries. You will pay one of the four fixed, low rates in the early and late season!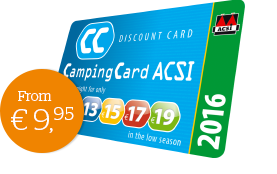 The advantages
Up to 50% discount! You can stay even more inexpensively at the loveliest campsites throughout Europe for four fixed rates using your CampingCard ACSI.

3142 campsites, all inspected by ACSI! You are welcome at 3142 campsites covering 20 European countries with your CampingCard ACSI

Affordable camping with your (grand)children 3 children (under 6 years) are included in the CampingCard ACSI rate at more than 700 campsites
Campsite opening period + your holiday period
August 2016
Mon
Tue
Wed
Thu
Fri
Sat
Sun
1
2
3
4
5
6
7
8
9
10
11
12
13
14
15
16
17
18
19
20
21
22
23
24
25
26
27
28
29
30
31
September 2016
Mon
Tue
Wed
Thu
Fri
Sat
Sun
1
2
3
4
5
6
7
8
9
10
11
12
13
14
15
16
17
18
19
20
21
22
23
24
25
26
27
28
29
30
October 2016
Mon
Tue
Wed
Thu
Fri
Sat
Sun
1
2
3
4
5
6
7
8
9
10
11
12
13
14
15
16
17
18
19
20
21
22
23
24
25
26
27
28
29
30
31
November 2016
Mon
Tue
Wed
Thu
Fri
Sat
Sun
1
2
3
4
5
6
7
8
9
10
11
12
13
14
15
16
17
18
19
20
21
22
23
24
25
26
27
28
29
30
December 2016
Mon
Tue
Wed
Thu
Fri
Sat
Sun
1
2
3
4
5
6
7
8
9
10
11
12
13
14
15
16
17
18
19
20
21
22
23
24
25
26
27
28
29
30
31
31 Campsite open
31 Campsite closed
31 Selected date
Detail information about this campsite
This inspector visits Campsite Oaza Mira every year and inspects the campsite on the basis of more than 200 amenities and other points of interest. The inspector is an ACSI staff member and does not work for the campsite.
Toilet facilities

8.6

Staff

8.2

Price - quality comparison

7.8

Camping pitch

8.4

Accommodation

8.3

Child friendliness

7.3

Entertainment

6.4

Sports facilities

7.3

Swimming pool

7.4

Food and drink

7.6

Surroundings

8.3
Lyndy Cooper, on this campsite in June 2016
Travelling party: Couple
Excellent Camp Site - large and spotlessly clean shower block. Good shop on site. Large shady pitches with close access to two small clean beaches with clear waters for safe swimming. Superb large swimming pool with lovely views over the bay. Short coastal walk to the village with excellent harbourside restaurant. Helpful and friendly staff.
Rene Wouters, on this campsite in June 2016
Travelling party: Couple
Begin juni is hier op de camping, in tegenstelling tot andere campings weinig te beleven. De bar buiten is niet open, waardoor je niet even een drankje of ijsje kan halen. Het restaurant is voornamelijk gericht op bruiloften en partijen, wat tot half 5 in de ochtend de nodige overlast geeft. Geen ligbedden op het strand en op het zwembad. WiFi alleen tegen betaling van 40 kuna per dag of 100 per week. Een ligplaats voor een kleine boot kost al snel €10,- /dag. De plaatsen zijn niet echt geschikt voor tenten. Het zwembad is zeewater in combinatie met chloor, niet echt prettig. Zwembad wordt niet schoongehouden. Veel achterstallig onderhoud in sanitairruimten en zwembad. Al met al geen 4* waardige accommodatie. Prijs staat niet in verhouding tot de accommodatie. De omgeving heeft daarentegen veel te bieden.
Janny, on this campsite in May 2016
Travelling party: Couple
We komen hier al verschillende jaren maar kan niet anders zeggen dat de camping behoorlijk achter uit gaat! Onderhoud in alle opzichten zeker geen 4* waard zeker de controle over het zwembad!! Wordt ook veel onderscheid gemaakt met mensen die er al vele jaren komen betreft betaling van wifi, zelf mee gemaakt! Reserverings kosten worden ook niet van je eindrekening afgehouden ! Denk dat dit de laatste keer was!
Jenny Reuvers - Vetker, on this campsite in October 2015
Travelling party: Seniors
Luxe camping. Heerlijk rustig ondanks de grootte. Prachtige omgeving. Wordt heel veel gebouwd zal dus veel toeristischer worden
Alfred Granig, on this campsite in September 2015
Travelling party: Couple
Waren Mitte September 2015 mit Freunden auf diesem Platz.
Sanitär ist sehr sauber, allerdings fehlen Kleiderhaken bei den Waschtischen!
Die schönsten Plätze mit Meerblick werden mit Mobilhemen belegt. Davon gibt es jedes Jahr mehr!!
Der Platz verdient meiner Meinung nach keine 4 Sterne. Es gibt in Kroatien viele Plätze die besser und noch dazu billiger sind. Platz ist von mir aus nicht zu empfehlen!
Brigitte Ströbl, on this campsite in September 2015
Travelling party: Seniors
Dieser Platz ist für die Nebensaison geeignet, in der Hochsaison würde ich niemals einen Aufenthalt in Erwägung ziehen, da viel zu teuer. Eine Frechheit ist die WLAN Gebühr sie sind \" NUR \" für ACSI Karten Inhaber extrem hoch viel zu teuer, da man an allen anderen Plätzen kostenlosen Zugang bekommt !Dazu noch bei tw. schlechter Verbindung. 4 Sterne für diesen Platz nicht berechtigt. Große Stellplätze+schönes Sanitär sind dafür nicht ausreichend.Über den Strand kann man nicht meckern, muss aber dazu schreiben wir waren Ende September auf diesem Platz und er war mäßig belegt.
Pooh & Gruffalo, on this campsite in September 2015
Travelling party: Couple
A lovely site & one we would visit again. We were really lucky to get a sea front site at the start & ended up staying 2 weeks instead of 1 as it was so restful there. Our pitch had lovely views over the beach & sea & was next to the coast path into Drage, the swimming pool & the cafe. The site is terraced with quite big, level gravelled pitches, each with water supply & electricity. There is security fencing & gates to the beach which is open to the public. The beach is shingle & quite sharp so footwear is needed in the water. The sanitary facilities are very good, located in the centre of the site near reception in a futuristic building with toilets, showers etc running in concentric circles. The downside for us was that it was quite a hike up the hill to get to it. Reception staff are friendly & helpful & will exchange money into kuna. The shop was a joke though, so run down in September that it wasn\'t worth visiting, not even water there. Our guide said don\'t drink the water in Croatia so we & the other campers had to walk past the village & up to the supermarket on the main road to pick up water & other supplies, a long trek uphill. The sea water filled swimming pool onsite looked amazing at first glance but would fall far short of most health & safety inspections. It was very deep with no shallow end and not many places to get out. At one end there were three entry steps into the water that led to a drop out of depth. The shiny, slippy, metal diving stands at the edge looked like an accident waiting to happen. The walls around the edge were half complete with metal sticking out the top of the concrete. As swimmers we loved the pool but thought it quite dangerous for children or poor swimmers. Parents took children on the beach instead. The onsite cafe closed for food soon after we arrived but we very much enjoyed walking down to Markos restaurant, 5 minutes away in Drage, to enjoy an evening meal overlooking the bay & the sea with friendly staff, good atmosphere & good value for money.
Michael, on this campsite in August 2015
Travelling party: Family with children, 12 - 18 years
Ich komme alle 2 Jahre auf diesen Platz. Die einzigen Veränderungen sind die Mobilheime - die man für teueres Geld veräußert. Sonst ist es wie immer... defekte Duschamaturen, fehlende Ablagen, algenverschmierter Wasserfall, viel zu kleiner Supermarkt und der fehlende Weg zum hinteren Abschnitt zum Meer (gefährlich). Für die gehobenen Preise langsam zu wenig.
R.J. Renger, on this campsite in July 2015
Deze beoordeling is als enquete afgenomen door onze inspecteur op de camping zelf.
L. Seffert, on this campsite in June 2015
Travelling party: Seniors
Gut geführter Campingplatz. Personal sehr freundlich. Stellplätze außergewöhnlich groß. Sanitäreinrichtungen super sauber und sehr ansprechend. Strand klein, aber sauber mit klarem Wasser.
Gut geeignet für Reisende, die Ruhe suchen. Als Ausgangspunkt für Ausflüge Richtung Zadar und Sibenik gut gelegen.
Gute Restaurants zu Fuß in wenigen Minuten erreichbar. Mit dem Auto Einkaufen in mehreren großen Supermärkten in Biograd möglich.
General information
Guide price 1

€61.00

Guide price 2

€79.00

Period of opening

01/04 till 31/10

Area

4 ha

Number of touring pitches

192 (120 - 150m2)

Number of permanent pitches

10

Number of accommodation units for hire

10
* Facilities printed in bold are not included in the overnight rate. Supplementary charges will apply. (This does not mean that facilities which are not printed in bold are free!)
Popular amenities

Outdoor swimming pool

surface area: 260 m2
period: 01-06/30-09

WiFi 80-100% coverage

Dog(s) in high season (on lead)

Situated on the coast (max. 0.5 km)

ACSI Club ID is accepted as an identity document

Mobile homes
At the reception

ACSI Club ID is accepted as an identity document

Advance booking recommended for high season

Passport/identity card required

Credit cards accepted

credit card: Diners Club | MasterCard | Visa Card

Payment by debit card/Maestro possible

Cash dispenser/cashback possible

Languages spoken at reception (during the main season)

languages: German | English | Italian
Pitch amenities

Water connection at/near the pitch (max. 15 m)

Tap at/near the pitch (max. 50 m)

Also suitable for caravans > 5.5m, excluding towbar

Electrical hook-ups possible to maximum %s amps

Max. electricity: 16 ampère
Internet
Situation of campsite

Situated on the coast (max. 0.5 km)

Distance to the sea (max. 10 km)

Panorama

Shopping opportunities within %s km
Dogs

Dog(s) in high season (on lead)

Dog(s) in low season (on lead)
Swimming

Outdoor swimming pool

surface area: 260 m2
period: 01-06/30-09

Sea swimming (max. 0.5 km)

Beach showers

Sunbathing area
Beach
For children

Children's playground: small

No entertainment programme
Toilet facilities

Washbasins: hot water

Washbasins: cold water

Individual washcabins: hot water

Individual washcabins: cold water

Standard toilets

Toilet paper provided

Family toilet facilities

Chemical toilet disposal point

Showers: hot water

Showers: cold water

Family shower

Beach showers
Sport and games

Multi-sports field

Tennis court(s)

Jeu de boules alley(s)

Fitness

Beach volleyball
Ground and vegetation

Pitches with plenty of shade

Pitches with some shade

Unshaded pitches

Marked pitches

Terraced site

Hard standing pitches

Hard ground
Campsite rules

Dog(s) in high season (on lead)

Dog(s) in low season (on lead)

Caravans allowed

Tents allowed

Small extra tent permitted

Motorhomes allowed

Twin-axle vehicles permitted

Barbecues permitted

type of BBQ: charcoal | electricity | gas

Own boats permitted

Motorboat
Food, drink and groceries

Fresh bread available at the camp site

Groceries: limited selection

Restaurant (with ample choice)

Bar
Washing, washing-up, cooking

Washing up sinks: hot water

Washing up sinks: cold water

Washing machine(s)

Laundry sinks: cold water

Laundry sinks: hot water

Dryers
Recreation (adults)

Fishing

Cycle routes starting at the camp site

Excursion programme (at least 2x a week - m.s.)
Water sports and recreation

Fishing

Windsurfing permitted

Jetty/buoy

Snorkelling

Waterskiing permitted

Scuba diving

Motorboat

Own boats permitted

Sailing permitted

Boat crane

Trailer slope
Available to hire at the campsite

Mobile homes

Pedal boats

Safes

Motor boats

Scooters

Cars
For motorhomes

Motorhomes allowed

Also suitable for motorhomes > 8m and > 4 tonnes

length: 12
weight: 7000 kg
Miscellaneous

Footpaths and roads are lit

Patrolled grounds

Quiet during the day and at night
Address & Route
Would you like to book campsite Campsite Oaza Mira or request more information? You can do both using the information below.
Campsite Oaza Mira
Ul. Dr. Franje Tudmana 2
23211 / Drage
Croatia


Download GPS coordinates

Select your navigation system:

A1 Karlovac-Split past Zadar, exit Biograd na Moru. Coast road 8 direction Sibenik. Beyond Pakostane in Drage, signposted on the coastal side of the road. Follow signs to Autokamp Oaza Mira.
The weather on this campsite
Weather forecast
Sat

22 / 10

Sun

23 / 10

Mon

24 / 10

Tue

25 / 10

Wed

26 / 10

Thu

27 / 10

Fri

28 / 10

Max.
18.2°
18.6°
21°
21.5°
19.3°
18.3°
18.6°
Min.
5.6°
4.9°
10.7°
11°
12.7°
8.6°
6.6°
Precipitation
0%
5%
0%
0%
80%
15%
5%
Wind direction
W
ZO
S
S
E
NO
NO
Wind speed
2
2
3
3
2
3
3
Climate
| | | |
| --- | --- | --- |
| | Relative humidity | Precipitation total (mm) |
| Jan | 64% | 101 |
| Feb | 57% | 33 |
| Mar | 58% | 36 |
| Apr | 61% | 149 |
| May | 57% | 51 |
| Jun | 51% | 106 |
| Jul | 46% | 20 |
| Aug | 49% | 22 |
| Sep | 60% | 143 |
| Oct | 65% | 70 |
| Nov | 64% | 137 |
| Dec | 62% | 66 |
Information request
ACSI Eurocampings will send your information request to "Campsite Oaza Mira".
Take note; you are sending an information request. You cannot make a reservation using this form. You will need to contact the campsite directly and ACSI Eurocampings cannot have any influence on the consequences thereof.