Camping Chantemerle is a campsite in Bédouès, Lozère, located in a wood and on a river/stream.This terraced camp site has pitches which are marked out, pitches with shade and pitches with some shade. Camping Chantemerle is located close to a sandy beach and a pebble beach. It is possible to rent tents, caravans and mobile homes. The camp site has a playground.
Show more

The following rules apply to pets at (Camping Chantemerle):
- Dog(s) permitted in low season (if on a lead)
- Dog(s) permitted in high season (if on a lead)

For sportive holidaymakers the camp site offers various cycle routes. You can swim nearby in river/stream. At Camping Chantemerle you can go wild water sailing/kayaking/rafting.

You don't always have to cook, as the camp site has a snack bar, pizzeria and restaurant (with full menu). The camp site also supplies fresh bread. You can also use the internet, as the camp site has one or more computers with an internet connection and there is a WiFi point.
Low-season discount with CampingCard ACSI
Affordable camping in the low season with CampingCard ACSI
CampingCard ACSI is a useful little card that will earn you up to 50% discount on your holiday! In 2016 you can choose from no fewer than 3142 campsites in 20 European countries. You will pay one of the four fixed, low rates in the early and late season!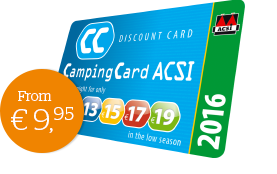 The advantages
Up to 50% discount! You can stay even more inexpensively at the loveliest campsites throughout Europe for four fixed rates using your CampingCard ACSI.

3142 campsites, all inspected by ACSI! You are welcome at 3142 campsites covering 20 European countries with your CampingCard ACSI

Affordable camping with your (grand)children 3 children (under 6 years) are included in the CampingCard ACSI rate at more than 700 campsites
Campsite opening period + your holiday period
August 2016
Mon
Tue
Wed
Thu
Fri
Sat
Sun
1
2
3
4
5
6
7
8
9
10
11
12
13
14
15
16
17
18
19
20
21
22
23
24
25
26
27
28
29
30
31
September 2016
Mon
Tue
Wed
Thu
Fri
Sat
Sun
1
2
3
4
5
6
7
8
9
10
11
12
13
14
15
16
17
18
19
20
21
22
23
24
25
26
27
28
29
30
October 2016
Mon
Tue
Wed
Thu
Fri
Sat
Sun
1
2
3
4
5
6
7
8
9
10
11
12
13
14
15
16
17
18
19
20
21
22
23
24
25
26
27
28
29
30
31
November 2016
Mon
Tue
Wed
Thu
Fri
Sat
Sun
1
2
3
4
5
6
7
8
9
10
11
12
13
14
15
16
17
18
19
20
21
22
23
24
25
26
27
28
29
30
December 2016
Mon
Tue
Wed
Thu
Fri
Sat
Sun
1
2
3
4
5
6
7
8
9
10
11
12
13
14
15
16
17
18
19
20
21
22
23
24
25
26
27
28
29
30
31
31 Campsite open
31 Campsite closed
31 Selected date
Detail information about this campsite
This inspector visits Camping Chantemerle every year and inspects the campsite on the basis of more than 200 amenities and other points of interest. The inspector is an ACSI staff member and does not work for the campsite.
Toilet facilities

7.6

Staff

8.9

Price - quality comparison

8.7

Camping pitch

8.5

Accommodation

8.3

Child friendliness

8.1

Entertainment

7.3

Sports facilities

7.6

Food and drink

8.6

Surroundings

9.0
Jeff Jeff Thompson, on this campsite in April 2016
Travelling party: Couple
Excellent site and superb situation by the river. Very welcoming and helpful staff, Nicole the owner and Christophe always on hand for everything. Situation is on the Stevenson Trail where you can enjoy a 5 km walk into nearby Florac with fabulous scenery along the way. Small but excellent restaurant, very clean facilities all in all everything done with care in a very charming way. A site to return to with no hesitation.
Naomi de Bokx, on this campsite in September 2015
Travelling party: Young couple
Wij hebben dit naseizoen (september/begin oktober) een week gekampeerd bij camping Chantemerle en we komen zeker terug. Top service van het personeel, top tips van Nicole bij de receptie wat je het beste kan bezoeken of bekijken waarbij ze zelfs rekening houd met het weer! Kaarten en boeken over de omgeving staan ter beschikking. Sanitair eenvoudig maar met goed warm water, zowel de douche als het afwaswater. Broodservice tot ver in het naseizoen. Supermarkt op enkele kilometers van de camping. Heel hondvriendelijk met prachtig wandelpad (GR70) direct vanaf de camping. Het kleine restaurantje met dito kaart serveert heerlijk eten tegen prima prijzen! De pizza\'s zijn buitengewoon lekker. De groene ligging, direct aan de Tarn met sprookjesachtig uitzicht heeft ons hart gestolen. Wij raden camping Chantemerle zeker aan.
marion selhorst, on this campsite in August 2015
Travelling party: Couple
wij zijn er met zijn tweeen ruim twee weken geweest en hebben een fantastische tijd gehad>
het is een perfecte camping als je van je rust houd, sanitair is keurig en wordt ook heel erg goed schoon gehouden.
over de eigenaren niets dan goeds, vooral nicole die spreekt frans/duits/engels vloeiend dus ook zeer handig.
dan nog het restaurant, prima eten voor een prima prijs en perfecte pizza\'s
Patrick Sleutel, on this campsite in August 2015
Travelling party: Couple
We hadden een geweldige tijd op deze camping. De eigenaars zijn geweldig, vriendelijk en altijd bereid om te helpen met wat ze kunnen. De omgeving is geweldig en de plaats die we hadden op de camping was fantastisch. Zicht op de Tarn en de omliggende bergen. Ze hebben ook een klein restaurant, waar je zeer goed en smaakvol kan eten voor een lage prijs.De camping is zeer schoon en het sanitair was erg schoon en meerdere keren per dag kwam een Czech meisje (Teresa) langs om het schoon te houden. Ze heeft fantastisch werk geleverd om alles schoon te houden. We zullen zeker terugkomen naar deze camping in de komende jaren.
Westerhoven, on this campsite in June 2015
Travelling party: Single
Op zoek naar goed weer en rust besloten wij deze camping te bezoeken. Wij voelden ons direct erg welkom. De camping is niet luxe, maar de plaatsen zijn ruim en het sanitair is eenvoudig, maar erg schoon. Nicole geeft goede tips om de omgeving te leren kennen. De camping ligt aan de bovenloop van de Tarn niet ver van Florac.
Vanaf hier heb je een prima uitvalsbasis om dit schitterende onbedorven gebied te verkennen.
Jens Schürholz, on this campsite in June 2015
Travelling party: Family with children <4 years
Super Campingplatz!
Nicole, die Chefin ist ein echtes Sprachentalent und liefert tolle Tips für Aktivitäten in der Umgebung.
Claudio, der Herr der Anlage ist stets bereit zu helfen wenn Mann Probleme technischer Art hat.
Der Platz ist sehr ruhig und eignend sich super für Familien. Der direkt am Platz fliesenden Fluss lädt zum schwimmen ein und abends kommen noch die Bieber vorbei...
Sanitäre Einrichtungen waren immer top und das Wasser warm, was will Mann mehr.
Claudia W., on this campsite in May 2015
Travelling party: Group of friends
Ein wunderbarer Camping in schöner und ruhiger Lage direkt am Fluss, auf dem wir uns sofort wohlgefühlt haben. Auch das Restaurant hat unsere Erwartungen übertroffen. Nicole und Claudio haben uns sehr herzlich empfangen und uns in allen Anfragen kompetent und überaus freundlich unterstützt. Wir werden in Hamburg gern von Euch berichten und alle zu Euch schicken ;-) Vielen Dank für die schöne Zeit bei Euch und bis bald!
Claudia und Peter
Russell Davison, on this campsite in May 2015
Travelling party: Couple
We have been travelling around Europe for over year and stayed in well over 50 campsites in 15 different countries; this is our favourite! It is in the most beautiful setting, we camped right next to the river and saw a beaver pass by the first night. It's a 2 star and we learned that is how it will stay as to get 4 stars you need security fences etc. which would ruin the place, there was no fence between us and the river which is just how we like it. As well as the incredible natural beauty of the site and the wild swimming opportunities the owner, Nicole, is so lovely. She speaks perfect English (American) as well as German and French and has a great sense of humour and was so helpful with us giving us local knowledge regarding the most amazing rural beauty I think we have ever seen in the area around the George du Tarn. The facilities do what they need to do and are clean. This is a must visit site for nature lovers! The local town of Florac is fantastic too if you like your locals leftfield and hippified.
Russell & Wendy Davison
Richard Horton, on this campsite in May 2015
Travelling party: Couple
Visited in Campervan. A very peaceful site with the only noise being the rushing water of the Tarn. There are plenty of good walks direct from the site. Lots of wildlife about and we spent several hours on the site watching the beavers, that had a lodge on the opposite bank of the river. The owner was very welcoming and helpful. Facilities are being updated and clean, with plentiful hot water. Highly recommended.
Tim L., on this campsite in April 2015
Travelling party: Family with children <4 years
Wir waren im April 2015 mit unserer acht Monate alten Tochter für fünf Tage auf dem Camping Chantemerle zu Gast. Inhaberin Nicole hat uns sehr herzlich empfangen und ausführlich über die Möglichkeiten in der Umgebung informiert. Wir hatten eine Acsi-CampingCard und konnten zum günstigen Nebensaison-Tarif kampieren.

Die Stellplätze liegen wunderschön auf einer Wiese direkt am Tarn (Platz ist leicht abschüssig - Keile sind empfehlenswert). Im Frühsommer können angeblich Biber bei der Arbeit beobachtet werden. Natur pur.

Zu dieser Zeit wurden die Sanitäranlagen gerade neu gemacht, daher können wir zur Ausstattung leider nichts sagen. Nicole stellte uns ein Mobile Home zur Verfügung, wo wir duschen und abspülen konnten. Der Weg war so etwas weiter als zum Saniblock, der zentral auf dem Platz zu erreichen ist. Es hat uns an nichts gefehlt.

Ihr Mann betreibt ein kleines Restaurant auf dem Platz. Seine Pizza hat mich umgehauen - da schmeckt man die italienische Abstammung raus. Ich wollte jeden Tag etwas anderes ausprobieren, aber ich bin einfach nicht von der Pizza losgekommen.

Die Umgebung bietet alles für Menschen, die sich gerne in der Natur bewegen. Tolle, teils fordernde Mountainbike-Touren, ausgedehnte Wanderungen (der Stephenson-Trail führt direkt am Campingplatz vorbei), Kanu/Kajak-Touren (wenn der Tarn ausreichend Wasser führt), Klettern, Dorfbesichtigungen, Ausflüge zu den nahe gelegenen Gorges du Tarn oder Causses-Ebenen - alles ist mit kleinstmöglichem Aufwand realisierbar und maximiert den Erholungswert.

Alles in allem verströmt Chantemerle dank seinen lieben Besitzern, dem netten Restaurant und der fantastischen Lage einen unglaublichen Charme. Es gibt Campingplätze in der Nähe, die bestimmt besser ausgestattet sind. Aber so willkommen fühlt man sich ganz bestimmt nur bei Chantemerle.

(Diese Bewertung habe ich auch bei Google Maps veröffentlicht.)
General information
Guide price 1

€22.40

Guide price 2

€29.40

Period of opening

01/04 till 02/11

Area

2.5 ha

Altitude

586m

Number of touring pitches

66 (150 - 200m2)

Number of accommodation units for hire

10

Campsite suitable for disabled persons

Yes
* Facilities printed in bold are not included in the overnight rate. Supplementary charges will apply. (This does not mean that facilities which are not printed in bold are free!)
Popular amenities

Dog(s) in high season (on lead)

ACSI Club ID is accepted as an identity document

Mobile homes
At the reception

Reservation with CampingCard ACSI also possible

ACSI Club ID is accepted as an identity document

Advance booking recommended for high season

Credit cards accepted

credit card: MasterCard | Visa Card

Payment by debit card/Maestro possible

Reception easily accessible for the disabled

Languages spoken at reception (during the main season)

languages: German | English | Spanish | French | Italian
Pitch amenities

Tap at/near the pitch (max. 50 m)

Also suitable for caravans > 5.5m, excluding towbar

Electrical hook-ups possible to maximum %s amps

Max. electricity: 10 ampère

Euro-plug required
Internet

Internet access

WiFi point
Situation of campsite

Situated on river/stream (max. 0.1 km)

Located in a wood

Panorama

Shopping opportunities within %s km
Dogs

Dog(s) in high season (on lead)

Dog(s) in low season (on lead)
Swimming

River/stream swimming (max. 0.1 km)

Sunbathing area
Beach

Sandy beach

Pebble/shingle beach

Stony beach
For children

Children's playground: large

Games room

Baby room

No entertainment programme
Toilet facilities

Washbasins: hot water

Washbasins: cold water

Individual washcabins: hot water

Individual washcabins: cold water

Standard toilets

Squatting-toilets

Chemical toilet disposal point

Toilet-shower combination (215cmsx215cms minimum)

Showers: hot water

Water and toilet facilities for disabled people in the same building as for the other campers

Disabled sanitary facilities only open for the disabled

Baby room
Sport and games

Table tennis table

Jeu de boules alley(s)
Ground and vegetation

Pitches with plenty of shade

Pitches with some shade

Marked pitches

Grass

Terraced site
Campsite rules

Dog(s) in high season (on lead)

Dog(s) in low season (on lead)

Caravans allowed

Tents allowed

Small extra tent permitted

Motorhomes allowed

Twin-axle vehicles permitted

Barbecues permitted

type of BBQ: electricity | gas
Food, drink and groceries

Fresh bread available at the camp site

Groceries: limited selection

Restaurant (with ample choice)

Snack bar

Pizzeria

Takeaway meals

Bar

Communal barbecue area

Ice available

Exchanging of gas cylinders
Washing, washing-up, cooking

Washing up sinks: hot water

Washing up sinks: cold water

Washing machine(s)

Laundry sinks: cold water

Laundry sinks: hot water
Recreation (adults)

Fishing

Cycle routes starting at the camp site

level: difficult | easy | average

Marked out walking routes near the camp site

level: difficult | easy | average

Games room

Television

GPS walks
Water sports and recreation

Fishing

White water kayaking/rafting
Available to hire at the campsite

Mobile homes

Caravans

Tents

Bicycles

Mountainbikes

Electric bikes
For motorhomes

Motorhomes allowed

Special facilities for motorhomes

Also suitable for motorhomes > 8m and > 4 tonnes
Miscellaneous

Footpaths and roads are lit

Patrolled grounds

Quiet during the day and at night

Special pitches for disabled people

Door-springs light enough (3-4 kgs pressure)
Address & Route
Would you like to book campsite Camping Chantemerle or request more information? You can do both using the information below.
Camping Chantemerle
La Pontèze
48400 / Bédouès/Florac
France


Download GPS coordinates

Select your navigation system:

A75 exit 39.1 via N109 direction Mende to Florac. 2.5 km before Florac left at roundabout to Bedoues. Left at Roman bridge past village. Follow camping signs.

Warning! Since July 13 2015, many French campsites are prohibited from installing their own signpost. We advise to use GPS-coordinates to locate the campsite.
Information request
ACSI Eurocampings will send your information request to "Camping Chantemerle".
Take note; you are sending an information request. You cannot make a reservation using this form. You will need to contact the campsite directly and ACSI Eurocampings cannot have any influence on the consequences thereof.