Camping de la Pelouse is a campsite in Jaulny, Meurthe-et-Moselle, located on a river/stream.This camp site with sloping grounds has pitches which are marked out, pitches with shade, pitches without shade and pitches with some shade. It is possible to rent bungalows.
Show more

The following rules apply to pets at (Camping de la Pelouse):
- Dog(s) permitted in low season (if on a lead)
- Dog(s) permitted in high season (if on a lead)

The camp site has an outdoor swimming pool and a heated outdoor swimming pool. You can swim nearby in river/stream.

You don't always have to cook, as the camp site has a snack bar and restaurant (with snack menu). The camp site also supplies fresh bread.
Low-season discount with CampingCard ACSI
Affordable camping in the low season with CampingCard ACSI
CampingCard ACSI is a useful little card that will earn you up to 50% discount on your holiday! In 2016 you can choose from no fewer than 3142 campsites in 20 European countries. You will pay one of the four fixed, low rates in the early and late season!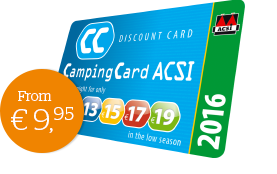 The advantages
Up to 50% discount! You can stay even more inexpensively at the loveliest campsites throughout Europe for four fixed rates using your CampingCard ACSI.

3142 campsites, all inspected by ACSI! You are welcome at 3142 campsites covering 20 European countries with your CampingCard ACSI

Affordable camping with your (grand)children 3 children (under 6 years) are included in the CampingCard ACSI rate at more than 700 campsites
Campsite opening period + your holiday period
August 2016
Mon
Tue
Wed
Thu
Fri
Sat
Sun
1
2
3
4
5
6
7
8
9
10
11
12
13
14
15
16
17
18
19
20
21
22
23
24
25
26
27
28
29
30
31
September 2016
Mon
Tue
Wed
Thu
Fri
Sat
Sun
1
2
3
4
5
6
7
8
9
10
11
12
13
14
15
16
17
18
19
20
21
22
23
24
25
26
27
28
29
30
October 2016
Mon
Tue
Wed
Thu
Fri
Sat
Sun
1
2
3
4
5
6
7
8
9
10
11
12
13
14
15
16
17
18
19
20
21
22
23
24
25
26
27
28
29
30
31
November 2016
Mon
Tue
Wed
Thu
Fri
Sat
Sun
1
2
3
4
5
6
7
8
9
10
11
12
13
14
15
16
17
18
19
20
21
22
23
24
25
26
27
28
29
30
December 2016
Mon
Tue
Wed
Thu
Fri
Sat
Sun
1
2
3
4
5
6
7
8
9
10
11
12
13
14
15
16
17
18
19
20
21
22
23
24
25
26
27
28
29
30
31
31 Campsite open
31 Campsite closed
31 Selected date
Detail information about this campsite

This inspector visits Camping de la Pelouse every year and inspects the campsite on the basis of more than 200 amenities and other points of interest. The inspector is an ACSI staff member and does not work for the campsite.
Toilet facilities

6.1

Staff

7.4

Price - quality comparison

6.6

Camping pitch

7.3

Accommodation

6.4

Child friendliness

7.0

Entertainment

4.9

Sports facilities

5.9

Swimming pool

7.2

Food and drink

6.1

Surroundings

7.3
Piet, on this campsite in June 2016
Travelling party: Seniors
Een sterk verouderde camping die best ver van de snelweg ligt. Geen aanrader aangezien de tgv constant achter de camping rijd met een oorverdovend lawaai. Sanitair erg veroudert. Geen watertaps op de camping . Geen WiFi .
The Master, on this campsite in August 2015
Travelling party: Family with children, 4 – 12 years
De Camping ligt op een heuvel in een bosrijk gebied.
Wij hebben er een nacht gestaan op weg naar het zuiden, daar is deze camping prima voor geschikt.
Het personeel is heel vriendelijk. Ook het sanitair is prima en word netjes schoon gemaakt. Het restaurant is prima. De camping ligt niet direct in de omgeving van de A31, maar de weg er heen vanaf Fey is echt mooi. Prima plek om de Lorraine ontdekken.
Er ligt tegenover de camping op zo\'n 700 meter een spoorbrug daar rijdt de TGV over deze gaat zo snel dat je er amper in de gaten hebt. Dit is wel spectaculair om te zien.
Jan Dudziec, on this campsite in July 2015
Travelling party: Seniors
Veel overlast van TGV.Bijna alle plaatsen lopen schuin af moeilijk caravan recht te krijgen Tenminste op het onderste gedeelte voor een klein beetje schaduw.Boven sta je in de volle zon.Sanitair is echt aan vervanging toe.Brood en restaurant zeer prijzig.Maar ja wat wil je als je 5 km moet rijden voor een bakker,en nog verder voor een restaurant.Kortom een camping om gewoon voorbij te rijden.Jammer.
Oosterhof, on this campsite in July 2015
Travelling party: Seniors
Ondanks de vrij negatieve beoordelingen, deze cp toch bezocht. Een allervriendelijkst ontvangst ook als je slechts een nacht wil staan. Ja, overdag hoor je een aantal treinen langs komen evenals de TGV, maar het is van zo'n korte duur dat het ons erg mee viel. Een overvliegende straaljager is ernstiger qua geluid. 's Nachts geen enkele last gehad, heerlijk stil. Inderdaad geen verlichting 's nachts, maar vergeleken met een cp waar je in de volle schijnwerpers wordt gezet heb ik dit toch liever.
Hoewel het water uit de kranen komt zowel koud als warm, is het sanitair wel aan een complete renovatie toe, dit kan eigenlijk niet meer.
Vond het alleszins acceptabel en voor een overnachting goed te doen.
Deze cp uit de gids halen lijkt me overdreven.
H. Navis, on this campsite in June 2015
Deze beoordeling is als enquete afgenomen door onze inspecteur op de camping zelf.
UW, on this campsite in May 2015
Travelling party: Family with children, various ages
Wir waren leider sehr enttäuscht von der Sanitäranlage. Dusche und WCs direkt nebeneinander. Alles sehr alt und teilweise defekt. Das Wasser unter der Dusche wurde so heiß, dass man sich verbrüht. Der Pool war nicht in Betrieb. Ansonsten eine schöne Umgebung, die leider von zwei Bahntrassen geschnitten wird. Eine Trasse mit Nahverkehr und Güterverkehr. Diese hört man kaum, weil der Campingplatz wesentlich höher liegt. Die zweite Trasse ist lauter...dort rauscht in den Hauptzeiten ca. alle 15 Minuten ein Schnellzug TGV vorbei. Aber wir finden es gibt Schlimmeres. Da wäre eine Modernisierung der Sanitäranlagen z.B. angesagt! Schon dann, wenn mit einem beheizten Pool geworben wird, der nicht funktioniert oder besser gesagt leer ist.
Nils Krell, on this campsite in May 2015
Travelling party: Couple
Bitte meidet diesen Camping! Wir waren zwei Nächte dort um uns Metz und Nancy anzuschauen. Nur gut, dass wir fast die ganze Zeit nicht da waren. Hier die Beurteilung:
1. Das Personal spricht nur französisch und ist nicht besonders freundlich!
2. Die Plätze sind für größere Fahrzeuge schlecht erreichbar und auch dazu noch ziemlich klein.
3. Ein Zug nach den anderen fährt bis spät in die Nacht mehr oder weniger direkt durch den Wohnwagen! \"In der Nähe\" ist hier viel zu untertrieben!
4. Die Sanitärs sind weder warm, noch gibt es heißes Wasser. Auch sind die Sanitärbereiche nicht nach Geschlechtern getrennt!
5. Das Schwimmbad war trotz Angabe nicht geöffnet, weil kein Personal verfügbar wäre.
6. Unterhaltung ist nicht vorhanden und das Restaurant lässt nur zu wünschen übrig.
7. Dafür, das der Platz jenseits von gut und böse liegt (x Drempel zu bewältigen und wirklich am A**** der Welt), hat er auch nur sehr wenig zu bieten!
Fazit: Schade, aber niemals wieder besuchen!
UW, on this campsite in March 2015
Travelling party: Family with children, various ages
Der Campingplatz liegt mitten in der Natur. Es kreuzen in unmittelbarer Entfernung zwei Bahntrassen. Einmal der Schnellzug TGV den man deutlich hört und sieht und dann noch die Nahverkehrszüge die man nicht sieht und auch kaum wahrnimmt. Uns haben die Züge wenig gestört. Eine Landstraße mit Autos ..LKWs und Motorräder wären wesentlich lauter. Somit ist die Umgebung recht angenehm. ..abgesehen vom TGV. Die Sanitäranlagen sind jedoch unterstes Niveau. Sehr veraltet und schmutzig. Die Toiletten und Duschen sind direkt nebeneinander. Das Wasser zum Duschen ist extrem heiß und lässt sich leider nicht einstellen. Geruchsbelästigung beim Duschen durch Toilette neben an. Das ist auch für denjenigen peinlich...der sein auf der Toilette sitzt. Einige Nasszellen und Toiletten waren Dauer verschlossen. Vielleicht defekt oder man spart sich die Arbeit weitere Bereiche sauber zu halten. Die Spülbecken befinden sich gleich neben an. Auch hier ist alles veraltet und nicht mehr Zeitgemäß. Es gibt nur zwei Becken mit warmen Wasser. Stellfläche für das gespülte Geschirr ist auch nicht vorhanden. Schmutz auch hier in allen Ecken. Das ist wirklich schade...denn der Campingplatz könnte wirklich eine gute Bewertung erhalten wenn die Betreiber die komplette Sanitäranlagen sanieren würden. Die Leute ist jedoch sehr freundlich und nett. Betreiben auch ein kleines Restaurant. Das haben wir nicht aufgesucht...somit hierfür auch keine Bewertung. Der Pool war leider noch nicht befüllt bzw in Betrieb.
Wir hoffen die Betreiber arbeiten daran...dann sehen wir uns vielleicht mal wieder.
Joyce Holden, on this campsite in September 2014
Travelling party: Seniors
We stayed at this campsite and booked in for two nights we enjoyed it so much we stayed a further two nights. We did not speak French but staff so friendly it did not matter. The site was very tranquil surroundings great locals seemed very friendly Train ran close by but was not a problem. Close to American First World War Graves. Would return we had a great time.
a, on this campsite in September 2014
Travelling party: Couple
waardeloze camping. geen nacht verlichting. pikke donker. en de bolderbaan is er nix bij, Haal het maar uit de gids
General information
Guide price 1

€22.20

Guide price 2

€28.40

Period of opening

01/04 till 02/10

Area

3 ha

Altitude

340m

Number of touring pitches

87 (110 - 115m2)

Number of permanent pitches

13

Number of accommodation units for hire

7
* Facilities printed in bold are not included in the overnight rate. Supplementary charges will apply. (This does not mean that facilities which are not printed in bold are free!)
Popular amenities

Outdoor swimming pool

heated
surface area: 50 m2
period: 01-06/15-09

Dog(s) in high season (on lead)

ACSI Club ID is accepted as an identity document
At the reception

Reservation with CampingCard ACSI also possible

ACSI Club ID is accepted as an identity document

Credit cards accepted

credit card: MasterCard | Visa Card

Payment by debit card/Maestro possible

Defibrillator

Languages spoken at reception (during the main season)
Pitch amenities

Electrical hook-ups possible to maximum %s amps

Max. electricity: 6 ampère

Euro-plug required
Situation of campsite

Situated on river/stream (max. 0.1 km)

Shopping opportunities within %s km
Dogs

Dog(s) in high season (on lead)

Dog(s) in low season (on lead)
Swimming

Outdoor swimming pool

heated
surface area: 50 m2
period: 01-06/15-09

Heated

River/stream swimming (max. 0.1 km)
For children

Children's playground: small

Games room

No entertainment programme
Toilet facilities

Washbasins: hot water

Washbasins: cold water

Individual washcabins: hot water

Individual washcabins: cold water

Standard toilets

Chemical toilet disposal point

Showers: hot water
Sport and games
Ground and vegetation

Pitches with plenty of shade

Pitches with some shade

Unshaded pitches

Marked pitches

Grass

Hard standing pitches

Hard ground

Sloping site
Campsite rules

Dog(s) in high season (on lead)

Dog(s) in low season (on lead)

Caravans allowed

Tents allowed

Small extra tent permitted

Motorhomes allowed

Barbecues permitted

type of BBQ: charcoal | electricity | gas
Food, drink and groceries

Fresh bread available at the camp site

Groceries: limited selection

Restaurant (limited choice)

Snack bar

Bar

Freezing for cooling elements

Exchanging of gas cylinders
Washing, washing-up, cooking

Washing up sinks: hot water

Washing up sinks: cold water

Washing machine(s)

Laundry sinks: cold water

Dryers
Recreation (adults)
Water sports and recreation
Available to hire at the campsite
For motorhomes

Motorhomes allowed

Also suitable for motorhomes > 8m and > 4 tonnes
Miscellaneous

Footpaths and roads are lit

Quiet only at night
Address & Route
Would you like to book campsite Camping de la Pelouse or request more information? You can do both using the information below.
Camping de la Pelouse
chemin de Fey
54470 / Jaulny
France


Download GPS coordinates

Select your navigation system:

From the A31, exit 31 dir. Ars-sur-Moselle via the D6, Then D91 dir. Arnaville, then D952 dir. Onville. Then D28 to Jaulny, follow camping signs.

Warning! Since July 13 2015, many French campsites are prohibited from installing their own signpost. We advise to use GPS-coordinates to locate the campsite.
The weather on this campsite
Weather forecast
Mon

24 / 10

Tue

25 / 10

Wed

26 / 10

Thu

27 / 10

Fri

28 / 10

Sat

29 / 10

Sun

30 / 10

Max.
15.8°
14.5°
13.1°
13.1°
13.6°
14.4°
13.1°
Min.
7°
9.4°
7°
3.9°
4.6°
5.9°
5.9°
Precipitation
90%
45%
5%
10%
10%
10%
25%
Wind direction
SW
NW
N
NW
W
NW
W
Wind speed
2
2
2
2
2
2
2
Climate
| | |
| --- | --- |
| | Precipitation total (mm) |
| Jan | 51 |
| Feb | 41 |
| Mar | 48 |
| Apr | 46 |
| May | 51 |
| Jun | 58 |
| Jul | 69 |
| Aug | 64 |
| Sep | 56 |
| Oct | 66 |
| Nov | 61 |
| Dec | 64 |
Information request
ACSI Eurocampings will send your information request to "Camping de la Pelouse".
Take note; you are sending an information request. You cannot make a reservation using this form. You will need to contact the campsite directly and ACSI Eurocampings cannot have any influence on the consequences thereof.