Campinggarten Wahlwies is a campsite in Wahlwies, Baden-Württemberg.The campsite has pitches pitches with shade and pitches with some shade. It is possible to rent bungalows.
Show more

The following rules apply to pets at (Campinggarten Wahlwies):
- Dog(s) permitted in low season (if on a lead)
- Dog(s) permitted in high season (if on a lead)

For sportive holidaymakers the camp site offers various cycle routes.

You don't always have to cook, as the camp site has a snack bar. The camp site also supplies fresh bread. You can also use the internet, as there is a WiFi point and you can access the internet with your own laptop in 80% of the camp site.
Low-season discount with CampingCard ACSI
Affordable camping in the low season with CampingCard ACSI
CampingCard ACSI is a useful little card that will earn you up to 50% discount on your holiday! In 2016 you can choose from no fewer than 3142 campsites in 20 European countries. You will pay one of the four fixed, low rates in the early and late season!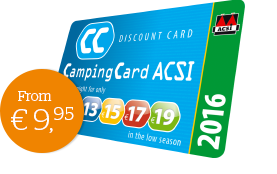 The advantages
Up to 50% discount! You can stay even more inexpensively at the loveliest campsites throughout Europe for four fixed rates using your CampingCard ACSI.

3142 campsites, all inspected by ACSI! You are welcome at 3142 campsites covering 20 European countries with your CampingCard ACSI

Affordable camping with your (grand)children 3 children (under 6 years) are included in the CampingCard ACSI rate at more than 700 campsites
Campsite opening period + your holiday period
August 2016
Mon
Tue
Wed
Thu
Fri
Sat
Sun
1
2
3
4
5
6
7
8
9
10
11
12
13
14
15
16
17
18
19
20
21
22
23
24
25
26
27
28
29
30
31
September 2016
Mon
Tue
Wed
Thu
Fri
Sat
Sun
1
2
3
4
5
6
7
8
9
10
11
12
13
14
15
16
17
18
19
20
21
22
23
24
25
26
27
28
29
30
October 2016
Mon
Tue
Wed
Thu
Fri
Sat
Sun
1
2
3
4
5
6
7
8
9
10
11
12
13
14
15
16
17
18
19
20
21
22
23
24
25
26
27
28
29
30
31
November 2016
Mon
Tue
Wed
Thu
Fri
Sat
Sun
1
2
3
4
5
6
7
8
9
10
11
12
13
14
15
16
17
18
19
20
21
22
23
24
25
26
27
28
29
30
December 2016
Mon
Tue
Wed
Thu
Fri
Sat
Sun
1
2
3
4
5
6
7
8
9
10
11
12
13
14
15
16
17
18
19
20
21
22
23
24
25
26
27
28
29
30
31
31 Campsite open
31 Campsite closed
31 Selected date
Detail information about this campsite
This inspector visits Campinggarten Wahlwies every year and inspects the campsite on the basis of more than 200 amenities and other points of interest. The inspector is an ACSI staff member and does not work for the campsite.
Toilet facilities

7.8

Staff

8.7

Price - quality comparison

8.4

Camping pitch

8.2

Accommodation

8.2

Child friendliness

7.9

Entertainment

7.0

Sports facilities

6.6

Swimming pool

5.6

Food and drink

7.7

Surroundings

8.7
Udo Engert, on this campsite in September 2016
Travelling party: Seniors
Ein wunderschöner familiengeführter Platz, schön ruhig, von den Betreibern bestens behütet und aufgehoben gefühlt. Tolle Stellplätze, so soll Urlaub sein.
langevin, on this campsite in August 2016
Travelling party: Seniors
Nous y sommes alles du 7 au 16 aout 2016. Je m\'étais trompée sur ma reservation! En fait j\'avais réservé pour le mois de juillet!!! Ils nous ont trouvé un emplacement super genial au calme et même avec un terrain de camping plein à cette saison. Ils nous ont satisfaits! Propriétaires gentils et toujours à l écoute du client! Merci à eux!
Rob Meijndershagen, on this campsite in June 2016
Travelling party: Seniors
Dit jaar drie weken op Camping Wahlwies gestaan, een waar genot met de iets oudere kampeerders rondom je heen. Een gesprek is met allemaal snel aan te knopen en veel gezellige avonden mee gemaakt. De eigenaars zijn voor mij voor 100% perfect en daar waar het nodig is zeer behulpzaam in alles.
Wij stonden op het nieuwe deel op een comfortplaats, waar water en de afvoer met slangen naar de caravan kan lopen. Het nieuwe toilet gebouw voor onze neus maar echt niet storend met lawaai, wel een plek waar je zo wordt aangesproken. De omgeving is perfect voor het maken van fietstochten en wandelingen en een boottrip over de Bodensee en daarna op de fiets terug is een echte ontspanning.
Dus volgend jaar staan wij er weer voor de broodnodige rust en ontspanning.
Meijers, on this campsite in June 2016
Travelling party: Couple
Prachtige, rustige camping, vriendelijke beheerders en personeel, centraal gelegen, super camping die wij iedeen kunnen aanbevelen!!
Jan van Eerden, on this campsite in July 2015
Travelling party: Seniors
Halverwege de terugreis vanuit Z-Frankrijk (op bijna de heetste dag uit de geschiedenis van Duitsland) wilden we nog een weekje Bodensee doen en hadden daarvoor een andere camping op het oog, maar daar was onvoldoende schaduw. Een papieren zoektocht leverde deze camping als alternatief op. We werden bijzonder vriendelijk ontvangen en begeleid naar een plaats onder een grote noteboom, perfect.
De eigenaren doen hun best er een milieuvriendelijke camping van te maken. Op het net geopende nieuwe deel (nauwelijks schaduw overigens) wordt de verlichting zelfs gevoed door zonnecellen. Dit nieuwe deel heeft ruime plaatsen met water, stroom en afvoer per plaats.
Het nieuwe receptie- annex sanitairgebouw ziet er perfect uit maar heeft een zeer beperkte capaciteit. Ik verwacht dat dit wordt uitgebreid. Het oude sanitairgebouw is nog in gebruik, een beetje gedateerd maar schoon.
Het dorpje Wahlwies is te voet makkelijk bereikbaar maar veel meer dan een bakker is er niet te vinden. Brood is overigens ook op de camping te bestellen.
Er loopt een spoorlijn (lokaal personenvervoer) langs de camping. Maar het zijn moderne en kleine treinen die je nauwelijks hoort. Voordeel is dat de hele regio makkelijk vanaf het station in Wahlwies is te bereiken. De campingeigenaren kunnen alle informatie verstrekken over interessante combi tickets om de omgeving te bezoeken.
Christopher John Burrows, on this campsite in July 2015
Travelling party: Seniors
Pleasant site not far from Lake Constance. Easy walk into nearby village where you can get trains to Constance or other towns. ACSI charge includes electricity but beware of an extra charge if you use too much!!
Hoekstra, on this campsite in May 2015
Deze beoordeling is als enquete afgenomen door onze inspecteur op de camping zelf.
AnDiHa, on this campsite in May 2015
Travelling party: Couple
Netter Platz in schöner Umgebung. Ideal zum radfahren, auch mit Hund super. Hervorragende Ausflugsmöglichkeiten. Sehr freundliches und hilfsbereites Betreiberpaar. Das \"alte\" Sanitär ist in die Jahre gekommen, aber immer sehr sauber. Das \"neue\" Sanitär ist spitze. Neuer Platzteil gerade in Bau. Der unterste Platzteil ist für große Caravans wg. einer Geländestufe tw. nur schwer zu befahren. Ruhige Umgebung am Ortsrand inmitten von Obstplantagen. Der Platz liegt an einem Bahngleis, die Züge fahren aber nur tagsüber und stören nicht. Einkaufsmöglichkeiten in Stockach.
Van Kasteren, on this campsite in September 2014
Travelling party: Seniors
Komen al een aantal jaren op deze camping, en het voelt elke keer als thuiskomen. Er is een nieuwe receptie neergezet, fantastisch wat mooi en wat een verschil met het houten hutje wat er eerst was. Je kunt nu overdekt wat gebruiken op het terras en de pizza\\\'s zijn heerlijk. Er is ook een hoekje waar je boeken kunt neerzetten of mee kunt nemen. Heel goed dat daar aan gedacht is. De Familie Knaust weet heel goed waar ze mee bezig zijn, dat blijkt wel dat ze bijna altijd vol staan, ook in het naseizoen. Een belangstellend, en een vriendelijk woord en je voelt je gelijk thuis. Hopen nog heel veel jaren hier te kunnen komen, aan ons zal het niet liggen.
van Twist, on this campsite in September 2014
Travelling party: Couple
Wij hadden een mooie grote plek, maar wel druk. Er loopt een secundaire weg over de camping. De appeloogst was begonnen dus kwamen de tractors er een paar keer per dag overheen. Geen bewaakte camping. Zonder slagboom! Iedereen kan deze camping oprijden.
General information
Guide price 1

€22.70

Guide price 2

€29.20

Period of opening

01/01 till 15/11
15/12 till 31/12

Area

1.2 ha

Altitude

340m

Number of touring pitches

54 (70 - 120m2)

Number of permanent pitches

20

Number of accommodation units for hire

1

Campsite suitable for disabled persons

Yes

Eco campsite

Yes
* Facilities printed in bold are not included in the overnight rate. Supplementary charges will apply. (This does not mean that facilities which are not printed in bold are free!)
Popular amenities

WiFi 80-100% coverage

Dog(s) in high season (on lead)

ACSI Club ID is accepted as an identity document
At the reception

Reservation with CampingCard ACSI also possible

ACSI Club ID is accepted as an identity document

Advance booking recommended for high season

Credit cards accepted

credit card: MasterCard | Visa Card

Payment by debit card/Maestro possible

Reception easily accessible for the disabled

Languages spoken at reception (during the main season)

languages: German | English
Pitch amenities

Water connection at/near the pitch (max. 15 m)

Also suitable for caravans > 5.5m, excluding towbar

Electrical hook-ups possible to maximum %s amps

Max. electricity: 16 ampère

Euro-plug required
Internet

WiFi 80-100% coverage

WiFi point
Situation of campsite

Close to motorway junction (< 10 km)

Public transport near the camp site (max. 0.5 km)

Shopping opportunities within %s km
Dogs

Dog(s) in high season (on lead)

Dog(s) in low season (on lead)
For children

Children's playground: small

Games room

No entertainment programme
Toilet facilities

Washbasins: hot water

Washbasins: cold water

Heated toilet facilities

Individual washcabins: hot water

Individual washcabins: cold water

Standard toilets

Toilet paper provided

Chemical toilet disposal point

Toilet-shower combination (215cmsx215cms minimum)

Showers: hot water

Showers: cold water

Water and toilet facilities for disabled people in the same building as for the other campers

Shower seat / shower chair (folding or mobile) approximately 48 cm high

Tap without push control
Sport and games
Ground and vegetation

Pitches with plenty of shade

Pitches with some shade

Grass

Hard ground
Campsite rules

Dog(s) in high season (on lead)

Dog(s) in low season (on lead)

Caravans allowed

Tents allowed

Small extra tent permitted

Motorhomes allowed

Twin-axle vehicles permitted

Barbecues permitted

type of BBQ: charcoal | electricity | gas
Food, drink and groceries

Fresh bread available at the camp site

period: 01-01/15-11 | 15-12/31-12

Groceries: limited selection

period: 01-01/15-11 | 15-12/31-12

Canteen/restaurant with level entrance or with ramp

Snack bar

period: 01-01/15-11 | 15-12/31-12

Bar

Freezing for cooling elements

Exchanging of gas cylinders
Washing, washing-up, cooking

Washing up sinks: hot water

Washing up sinks: cold water

Washing machine(s)

Laundry sinks: cold water

Laundry sinks: hot water

Dryers

Ironing facilities
Recreation (adults)

Cycle routes starting at the camp site

Marked out walking routes near the camp site

Games room

GPS walks
Available to hire at the campsite
For motorhomes

Motorhomes allowed

Special facilities for motorhomes

Also suitable for motorhomes > 8m and > 4 tonnes
Miscellaneous

Footpaths and roads are lit

Patrolled grounds

Quiet during the day and at night

Reservation recommended for low season
Address & Route
Would you like to book campsite Campinggarten Wahlwies or request more information? You can do both using the information below.
Campinggarten Wahlwies
Stahringer Straße 50
78333 / Wahlwies/Stockach
Germany


Download GPS coordinates

Select your navigation system:

From Stuttgart take the A81/98, exit 12 Stockach-West. Follow 'Wahlwies' camping sign.
The weather on this campsite
Weather forecast
Sun

23 / 10

Mon

24 / 10

Tue

25 / 10

Wed

26 / 10

Thu

27 / 10

Fri

28 / 10

Sat

29 / 10

Max.
8.7°
14.7°
14.1°
10.4°
10.6°
10.7°
10.4°
Min.
0.5°
6.1°
7.8°
6.6°
3.1°
1.8°
2.4°
Precipitation
85%
45%
85%
75%
10%
15%
20%
Wind direction
E
S
W
N
NO
NO
E
Wind speed
2
2
2
2
2
2
2
Climate
| | | |
| --- | --- | --- |
| | Precipitation total (mm) | Hours of sunshine |
| Jan | 177 | 1 |
| Feb | 135 | 3 |
| Mar | 313 | 4 |
| Apr | 123 | 5 |
| May | 131 | 7 |
| Jun | 230 | 7 |
| Jul | 241 | 8 |
| Aug | 242 | 8 |
| Sep | 152 | 5 |
| Oct | 107 | 3 |
| Nov | 156 | 1 |
| Dec | 80 | 1 |
Information request
ACSI Eurocampings will send your information request to "Campinggarten Wahlwies".
Take note; you are sending an information request. You cannot make a reservation using this form. You will need to contact the campsite directly and ACSI Eurocampings cannot have any influence on the consequences thereof.