Krüger Naturcamp is a campsite in Lohme, Mecklenburg-Vorpommern, located in a wood and on a river/stream.The campsite has pitches pitches with shade, pitches without shade and pitches with some shade. It is possible to rent tents and caravans. The camp site has a playground and a sports ground.
Show more

The following rules apply to pets at (Krüger Naturcamp):
- Dog(s) permitted in low season (if on a lead)
- Dog(s) permitted in high season (if on a lead)

For sportive holidaymakers the camp site offers various cycle routes.

You don't always have to cook, as the camp site has a restaurant (with snack menu) and restaurant (with full menu). The camp site also supplies fresh bread.
Low-season discount with CampingCard ACSI
Affordable camping in the low season with CampingCard ACSI
CampingCard ACSI is a useful little card that will earn you up to 50% discount on your holiday! In 2016 you can choose from no fewer than 3142 campsites in 20 European countries. You will pay one of the four fixed, low rates in the early and late season!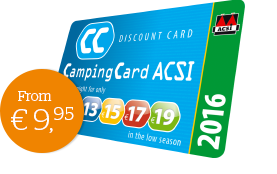 The advantages
Up to 50% discount! You can stay even more inexpensively at the loveliest campsites throughout Europe for four fixed rates using your CampingCard ACSI.

3142 campsites, all inspected by ACSI! You are welcome at 3142 campsites covering 20 European countries with your CampingCard ACSI

Affordable camping with your (grand)children 3 children (under 6 years) are included in the CampingCard ACSI rate at more than 700 campsites
Campsite opening period + your holiday period
August 2016
Mon
Tue
Wed
Thu
Fri
Sat
Sun
1
2
3
4
5
6
7
8
9
10
11
12
13
14
15
16
17
18
19
20
21
22
23
24
25
26
27
28
29
30
31
September 2016
Mon
Tue
Wed
Thu
Fri
Sat
Sun
1
2
3
4
5
6
7
8
9
10
11
12
13
14
15
16
17
18
19
20
21
22
23
24
25
26
27
28
29
30
October 2016
Mon
Tue
Wed
Thu
Fri
Sat
Sun
1
2
3
4
5
6
7
8
9
10
11
12
13
14
15
16
17
18
19
20
21
22
23
24
25
26
27
28
29
30
31
November 2016
Mon
Tue
Wed
Thu
Fri
Sat
Sun
1
2
3
4
5
6
7
8
9
10
11
12
13
14
15
16
17
18
19
20
21
22
23
24
25
26
27
28
29
30
December 2016
Mon
Tue
Wed
Thu
Fri
Sat
Sun
1
2
3
4
5
6
7
8
9
10
11
12
13
14
15
16
17
18
19
20
21
22
23
24
25
26
27
28
29
30
31
31 Campsite open
31 Campsite closed
31 Selected date
Detail information about this campsite
This inspector visits Krüger Naturcamp every year and inspects the campsite on the basis of more than 200 amenities and other points of interest. The inspector is an ACSI staff member and does not work for the campsite.
Toilet facilities

6.8

Staff

7.5

Price - quality comparison

7.3

Camping pitch

7.8

Accommodation

6.9

Child friendliness

6.9

Entertainment

5.8

Sports facilities

5.8

Swimming pool

4.5

Food and drink

7.4

Surroundings

8.6
Pierson Pierson, on this campsite in September 2016
Travelling party: Couple
Fantastic situation with direct access into the Jasmund National Park forest from which you could walk to the famous white cliffs or cycle to Sassnitz. We were on the smaller camping area near reception. It was a lovely tranquil place to stay. Well worth a visit.
Toilets and showers limited but clean - you had to put your token in the slot outside the shower room which was confusing!
John, on this campsite in August 2016
Travelling party: Group of friends
Mooi gelegen simpele camping, Faciliteiten zijn simpel maar voldoende. Fietsen in de omgeving kan wel maar eigenlijk alleen op de autowegen (gevaarlijk) en anders alleen met crossfietsen want de \"fiets\"paden zijn geplaveid met zeer onregelmatige keien.
Een vervelend minpunt is het zeer opvliegende en onredelijk karakter van de eigenaar. Over de minste onregelmatigheid gaat hij als een ziedende tekeer tot verbijstering van de omstanders.
Messum, on this campsite in May 2016
Travelling party: Couple
Stayed one night on the \'outer\' motorhome site near the reception rather than the main inner camp. Friendly staff, good, but basic toilets in containers, nice site, excellent site Resturant in very odd ex military building. The site is the only one within walking distance (one hour) of the classic white cliffs of Rugen, it is possible to walk all the way down the coast to Sassnitz in an afternoon (14k) and then get a taxi back, buses seem to stop about 6pm
Katharina, on this campsite in August 2015
Travelling party: Family with children <4 years
Der Campingplatz-Inhaber Herr Krüger ist sehr unfreundlich. Insbesondere mit Kindern kann ich seine Umgangsart und -ton nicht empfehlen!
Ich hatte mein Portemonnaie zu Hause vergessen und bei der Ankunft direkt gefragt wie wir das regeln können und ob ich überhaupt auf den Campingplatz dürfe und dass ich online überweisen könnte. Seine Angestellten meinten daraufhin, dass wir eine Lösung finden und haben mir einen Platz auf dem Campingplatz zugewiesen. Als jedoch Herr Krüger zwei Stunden später kam (es war mittlerweile schon später am Abend und beide Kinder sehr müde), hat er mich sehr laut angeschnauzt und angeschrien was mir einfallen würde auf seinen Campingplatz zu fahren und was für Lügengeschichten ich erzählen würde und dass er die Polizei holt. Er hat mich aber auch nicht mehr vom Platz fahren lassen und hat die Schranke nicht mehr geöffnet. Mein Sohn war zutiefst geschockt von dem Mann und hat nur noch vom \'bösen Mann\' gesprochen. Sehr spät am Abend durfte ich schließlich doch noch online überweisen (einen höheren Betrag als mir per Mail mitgeteilt wurde). Was ich in der Zwischenzeit beobachten konnte ist, dass die Abläufe dort sehr schlecht geregelt sind und sehr lange Wartezeiten. Die Sanitäranlagen sind ebenfalls sehr altmodisch. Wir waren alle froh, als am nächsten Morgen die Schranken wieder geöffnet wurden und wir endlich wieder fahren konnten!
Ein erschreckend unhöflicher Inhaber! Wir können diesen Campingplatz nicht empfehlen!
Nicole, on this campsite in August 2015
Travelling party: Family with children <4 years
Der Campingplatz, in eine wundervolle Naturkulisse eingebettet, bietet hinreichend Entwicklungspotential für die nächsten Jahre. Eine Investition in Anlage und Bewirtschaftung Ihres Platzes scheint uns lohnenswert – bevor sich die Natur den Platz zurückerobert! Anzumerken wären auch die unzureichenden, teilweise sehr veralteten Sanitäreinrichtungen. Die Aufenthaltsräume und Abwaschbereiche sind nicht zeitgemäß. Dringend notwendig: Optimierung der Arbeitsabläufe bei der Rezeption? 30 Minuten in der Brötchenschlange sind einfach zu viel. Und ein Lächeln oder ein freundliches Wort stimmt den ungeliebten Touristen auch etwas glücklicher. Es lohnt sicherlich ein Vergleich mit den zahlreichen, liebevoll errichteten Naturcampingplätzen im Ostseeraum! Diesen Zeltplatz empfehlen wir nicht!
Jenna, on this campsite in July 2015
Travelling party: Group of friends
Ich war mit einer Freundin und Zelt / PKW unterwegs. Bereits bei der Ankunft wurden wir mit den Worten \"eigentlich haben wir gerade nicht geöffnet\" begrüßt. Weiter ging es damit, dass wir uns einen nicht so schönen Platz für unser Zelt aussuchen durften, da wir nur einen kurzen Aufenthalt geplant haben. Wir wurden somit auf einem Stück harten Boden \"untergebracht\". Als wir erwähnten, dass der Aufbau aufgrund des harten Bodens sehr lange gedauert hat wurden wir nur ausgelacht.
Allgemein wird auf jegliche Fragen nicht eingegangen - auf ein bisschen Service hat dort keiner Lust.
Da die Umgebung zum wandern und Radfahren jedoch schön ist haben wir uns zunächst den Urlaub nicht vermiesen lassen.
Als wir jedoch in der Anmeldung nachgefragt haben, ob wir unsere Handys aufladen dürfen (da es uns beim einchecken so angeboten wurde) ist der Inhaber des Campingplatzes direkt an die Decke gegangen. Er hat uns angepöbelt, wir seien nicht die einzigen Gäste hier und wir sollen zusehen, dass wir aus seinen Augen treten. Später am Tag wollten wir in dem kleinen Restaurant auf dem Platz essen als Herr Krüger uns erneut begegnete und sagte \" Sie sind ja immer noch hier. Was ich sage gilt auch. Sie haben Hausverbot!\" Somit hatten wir an diesem Abend leider keine Mahlzeit und konnten auch nicht vom Platz fahren um "auswärts" zu essen, da die Schranke für uns nicht mehr geöffnet worden wäre.
So etwas habe ich noch nie erlebt!! Man erwartet ja keinen riesen Service während eines Campingurlaubs, aber ein Mindestmaß an Höflichkeit und Freude am Umgang mit dem Gast darf man wohl erwarten.
Unfassbar unhöflicher Inhaber!
F. Tobias, on this campsite in June 2015
Diese Beurteilung wurde von unserem Inspektor als Besucherumfrage selbst auf dem Camping aufgenommen.
Verhoeven, on this campsite in June 2015
Deze beoordeling is als enquete afgenomen door onze inspecteur op de camping zelf.
Sven, on this campsite in June 2015
Travelling party: Couple
Der Camping ist super gelegen wenn man den Bationalpark Jasmund besuchen will. Mann kann gut zufuss Wandern oder den Camping eigenen Shuttle beanspruchen. Einkaufen in der direkten Umgebung geht aber nicht. Wir hatten einen Platz gleich beim Eingang. Dort gibt es viel Sonne. Die sanitären Anlagen sin,d vor allem im hinteren Teil des Campings sehr alt! Beim eingang sind sie jünger aber auch nur Zweckmässig. Abwaschen ist nur mit kaltem Wasser möglich. WC und Duschen sind im Baustellen-style. Sprich es sind Container. Alles aber sauber. Duschen muss mit extra Jetons bezahlt werden. Klappt aber super dank Start/Stop Knopf.
G.K., on this campsite in May 2015
Travelling party: Seniors
Gezellige camping met behulpzame familie Krüger, waarvan de eigenaresse allerhartelijkst is en ook lekker kan koken. De eigenaar heeft een goede inborst hetgeen niet altijd tot z\'n recht komt, je moet hem een beetje kennen.
Het vernieuwde sanitair is goed.
General information
Guide price 1

€28.50

Guide price 2

€36.50

Period of opening

17/04 till 26/10

Area

4 ha

Altitude

108m

Number of touring pitches

125 (80 - 100m2)

Number of permanent pitches

3

Number of accommodation units for hire

11
* Facilities printed in bold are not included in the overnight rate. Supplementary charges will apply. (This does not mean that facilities which are not printed in bold are free!)
Popular amenities

Dog(s) in high season (on lead)

ACSI Club ID is accepted as an identity document
At the reception

Reservation with CampingCard ACSI also possible

ACSI Club ID is accepted as an identity document

Advance booking recommended for high season

Languages spoken at reception (during the main season)

languages: Danish | German | English
Pitch amenities

Tap at/near the pitch (max. 50 m)

Also suitable for caravans > 5.5m, excluding towbar

Electrical hook-ups possible to maximum %s amps

Max. electricity: 16 ampère

Pitches with radio and television connections
Situation of campsite

Distance to the sea (max. 10 km)

Situated on river/stream (max. 0.1 km)

Located in a wood

Panorama

Public transport near the camp site (max. 0.5 km)

Shopping opportunities within %s km
Dogs

Dog(s) in high season (on lead)

Dog(s) in low season (on lead)
Beach

Rocky coastline

Stony beach
For children

Children's playground: large

Children's playground: small

Games room

Crazy golf

No entertainment programme
Toilet facilities

Washbasins: hot water

Washbasins: cold water

Heated toilet facilities

Individual washcabins: hot water

Individual washcabins: cold water

Standard toilets

Toilet paper provided

Chemical toilet disposal point

Showers: hot water

Showers: cold water

Family shower
Sport and games

Table tennis table

Multi-sports field

Crazy golf

Golf course nearby (max. 10 km)
Ground and vegetation

Pitches with plenty of shade

Pitches with some shade

Unshaded pitches

Grass

Hard standing pitches

Sand

Hard ground
Campsite rules

Dog(s) in high season (on lead)

Dog(s) in low season (on lead)

Caravans allowed

Tents allowed

Small extra tent permitted

Motorhomes allowed

No vehicles may enter during lunch break

Twin-axle vehicles permitted

Barbecues permitted

type of BBQ: charcoal | electricity | gas
Food, drink and groceries

Fresh bread available at the camp site

Groceries: limited selection

Restaurant (with ample choice)

Restaurant (limited choice)

Takeaway meals

Bar

Communal barbecue area

Freezing for cooling elements

Exchanging of gas cylinders
Washing, washing-up, cooking

Washing up sinks: hot water

Washing up sinks: cold water

Individual cooking facilities

Washing machine(s)

Laundry sinks: cold water

Laundry sinks: hot water

Dryers

Microwave
Recreation (adults)

Cycle routes starting at the camp site

Marked out walking routes near the camp site

Games room
Available to hire at the campsite
For motorhomes

Motorhomes allowed

Special facilities for motorhomes

Also suitable for motorhomes > 8m and > 4 tonnes
Miscellaneous

Footpaths and roads are lit

Patrolled grounds

Quiet during the day and at night
Address & Route
Would you like to book campsite Krüger Naturcamp or request more information? You can do both using the information below.
Krüger Naturcamp
Jasmunder Straße 5
18551 / Lohme/Nipmerow
Germany


Download GPS coordinates

Select your navigation system:

B96 Bergen-Altenkirchen, turn right after Bobbin towards Sassnitz. Campsite signposted.
The weather on this campsite
Weather forecast
Sat

22 / 10

Sun

23 / 10

Mon

24 / 10

Tue

25 / 10

Wed

26 / 10

Thu

27 / 10

Fri

28 / 10

Max.
9.5°
8.9°
10.2°
9.8°
9.4°
10.1°
11.4°
Min.
7.8°
5.1°
5.6°
7.2°
6.8°
5.7°
7.8°
Precipitation
95%
90%
75%
85%
60%
75%
50%
Wind direction
E
S
E
NO
N
W
W
Wind speed
3
2
3
4
4
4
4
Climate
| | | |
| --- | --- | --- |
| | Precipitation total (mm) | Hours of sunshine |
| Jan | 19 | 1 |
| Feb | | |
| Mar | | |
| Apr | | |
| May | | |
| Jun | | |
| Jul | | |
| Aug | | |
| Sep | | |
| Oct | | |
| Nov | | |
| Dec | | |
Information request
ACSI Eurocampings will send your information request to "Krüger Naturcamp".
Take note; you are sending an information request. You cannot make a reservation using this form. You will need to contact the campsite directly and ACSI Eurocampings cannot have any influence on the consequences thereof.