Oostappen Vakantiepark Marina Beach
Oostappen Vakantiepark Marina Beach is a campsite in Hoek, Zealand, located by a lake/recreational pond.The campsite has pitches which are marked out, pitches with shade, pitches without shade and pitches with some shade. Oostappen Vakantiepark Marina Beach is located close to a sandy beach. It is possible to rent tents, mobile homes and bungalows. The camp site has a playground and a sports ground.
Show more

The following rules apply to pets at (Oostappen Vakantiepark Marina Beach):
- Dog(s) permitted in low season (if on a lead)
- Dog(s) permitted in high season (if on a lead)

For sportive holidaymakers the camp site offers guided walks and various cycle routes. There is an entertainment programme. You can swim nearby in in a lake/recreational pond. At Oostappen Vakantiepark Marina Beach you can go windsurfing.

You don't always have to cook, as the camp site has a snack bar, restaurant (with snack menu) and restaurant (with full menu). The camp site also supplies fresh bread.
www.vakantieparkmarinabeach.nl
Low-season discount with CampingCard ACSI
Affordable camping in the low season with CampingCard ACSI
CampingCard ACSI is a useful little card that will earn you up to 50% discount on your holiday! In 2016 you can choose from no fewer than 3142 campsites in 20 European countries. You will pay one of the four fixed, low rates in the early and late season!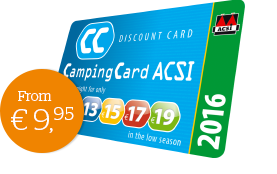 The advantages
Up to 50% discount! You can stay even more inexpensively at the loveliest campsites throughout Europe for four fixed rates using your CampingCard ACSI.

3142 campsites, all inspected by ACSI! You are welcome at 3142 campsites covering 20 European countries with your CampingCard ACSI

Affordable camping with your (grand)children 3 children (under 6 years) are included in the CampingCard ACSI rate at more than 700 campsites
Campsite opening period + your holiday period
August 2016
Mon
Tue
Wed
Thu
Fri
Sat
Sun
1
2
3
4
5
6
7
8
9
10
11
12
13
14
15
16
17
18
19
20
21
22
23
24
25
26
27
28
29
30
31
September 2016
Mon
Tue
Wed
Thu
Fri
Sat
Sun
1
2
3
4
5
6
7
8
9
10
11
12
13
14
15
16
17
18
19
20
21
22
23
24
25
26
27
28
29
30
October 2016
Mon
Tue
Wed
Thu
Fri
Sat
Sun
1
2
3
4
5
6
7
8
9
10
11
12
13
14
15
16
17
18
19
20
21
22
23
24
25
26
27
28
29
30
31
November 2016
Mon
Tue
Wed
Thu
Fri
Sat
Sun
1
2
3
4
5
6
7
8
9
10
11
12
13
14
15
16
17
18
19
20
21
22
23
24
25
26
27
28
29
30
December 2016
Mon
Tue
Wed
Thu
Fri
Sat
Sun
1
2
3
4
5
6
7
8
9
10
11
12
13
14
15
16
17
18
19
20
21
22
23
24
25
26
27
28
29
30
31
31 Campsite open
31 Campsite closed
31 Selected date
Detail information about this campsite
This inspector visits Oostappen Vakantiepark Marina Beach every year and inspects the campsite on the basis of more than 200 amenities and other points of interest. The inspector is an ACSI staff member and does not work for the campsite.
Toilet facilities

6.9

Staff

7.0

Price - quality comparison

6.9

Camping pitch

7.5

Accommodation

7.0

Child friendliness

7.6

Entertainment

7.6

Sports facilities

7.0

Swimming pool

7.0

Food and drink

7.3

Surroundings

7.5
Dems, Jeep, on this campsite in October 2015
Travelling party: Couple
Nous avons passé un superbe Week-end au Marina Beach, c'est vraiment un village entier consacré aux vacances, c'est le paradis pour les enfants, avec d'énorme pleine de jeux ! Aile le bruit ! Avons passé 3 nuits, la première sur l'énorme parking à l'entrée du camp. Il y a possibilité de placer sa caravane ou sa tente au bord de l'eau, l'électricité, l'eau, l'écoulement, la prise télé sont présente sur chaque emplacement ! Les emplacements sont très grands, même pour ma caravane de presque 8 mètres !
Les sanitaires chauffés sont top niveau, douches chaudes, évier vaisselle avec eau chaude, etc.
Point négatif, Le prix, la carte ACSI ne fonctionne pas pour les emplacements le long de l'eau, ce n'est pas noté sur le site ACSI ! grrr
Dans le sanitaire seul la partie dames est ouverte !
Je suppose pour la fin de saison malgré le prix plein!
Et peut-être un manque de sécurité, en effet le camping n'est pas sécurisé, donc des gens non campeur viennent passer la journée au bord de l'eau !
Je pense qu'en pleine saison cela doit la bérézina.
Finalement pour l\'hors saison, c'est un chouette Camping, à visiter !
jp claeys, on this campsite in September 2015
Travelling party: Seniors
Geen wifi beschikbaar ondanks dat overal wifi antennes staan,onbegrijpelijk voor zo een grote camping !
Begin september waren diverse kampeerplaatsen gesloten,tevens ook de sanitair.
D. Lindelauf, on this campsite in August 2015
Deze beoordeling is als enquete afgenomen door onze inspecteur op de camping zelf.
sina, on this campsite in August 2015
Travelling party: Young couple
Sind am 14.08.2015 angereist sind auch gleich ca. eine Stunde später wieder abgereist.
- falsches Bungalow erhalten (das eigentlich gebuchte ist schon belegt)
- Sauberkeit gleich null
- Insekten überall

Am 15.08.2015 sind wir nochmals angereist, wir haben uns gedacht wir haben bezahlt also versuchen das beste draus zu machen. Naja wir haben dann bei Bungalow.net angerufen, die dann die Rezeption im Vakantiepark Marina Beach angerufen hat und uns das eigentlich gebuchte Bungalow verschafft, sie sagte es sei jemand abgesprungen und wir können es beziehen (plötzlich abgesprungen, na klar). Sauber gemacht worden war das Bungalow weder nach dem Auszug der Vormieter noch vor dem Einzug von uns. Haare in der Dusche, Toilette Waschbecken dreckig, Boden nicht gekehrt, Blutflecken und Haare im Bett einfach ekelhaft. Überall Insekten, Gardinen verblasst, Schimmel im Kühlschrank. Na gut wir sind dann am nächsten Tag wieder abgereist das war einfach zu viel. Auf keinen Fall zu empfehlen!
Marjanne Sluijk, on this campsite in June 2015
Travelling party: Couple
Groot park met veel vaste plaatsen. Heel veer verhuurcaravans dicht op elkaar. Kampeerplaatsen liggen achteraan rondom het water. Prachtige plaatsen, stroom cai en water op de plaatsen. Sanitair gebouwen keurig en heet water voor douche en afwas. Werd keurig schoongehouden. Winkel waar alles voorradig is. Cafetaria en restaurant aanwezig. Mooi viswater waar je ook daadwerkelijk bij het water kan.Minpunt:geen wifi (belachelijk voor zo\'n grote camping) camping is niet afgesloten. Iedereen kan dag en nacht op de camping komen.Geen zwembad op de camping. Wel zwemmen in natuur water.
Bredohl, on this campsite in June 2015
Travelling party: Single
Sehr sauberer Campingplatz, personal freundlich und zuvorkommend. Spielplatz super.
Kinder hatten einen riesigen Spaß.

Kommen gerne wieder.

Alles Super
Eberle Marcus, on this campsite in August 2014
Travelling party: Family with children, various ages
Wir sind am 18.08.2014 angereist und 3 Stunden später abereist.Folgendes haben wir zu bemängeln:
-Das \"Kinderbett\" (welches wir extra dazugebucht haben) stand im freien vor der Tür des Bungalows, war nass und es war Ungeziefer dran
und drin.
-Das sogenannte \"Kinderbett\" war erstens kein Bett sondern ein Laufstall und zweitens zu klein für unseren Sohn (16 Monate alt)und die
Matratze,die wir dazubekommen haben war viel zu gross (ca.50 cm) für diesen Laufstall und sie war dreckig.Also hatten wir keinen
Schlafplatz für unseren Sohn.Dieses haben wir direkt an der Rezeption gemeldet. Es kam dann jemand vorbei, doch er konnte uns kein anderes Bett für unseren Sohn anbieten, da es angeblich nichts anderes gab.
-An einer Stelle an der Decke des Wohn-Essbereiches regnete es rein.
-Im ganzen Bungalow war es dreckig. Die Stühle,die Couch,Tische, Kücheneinrichtung,Bettwäsche(die teilweise auf dem Boden lag) Matratzen,Böden, Sanitärbereiche(Schimmel). Auch roch es im gesamten Bungalow sehr modrig.
-Die Wiese gegenüber unseres Bungalows war voll mit Hundekot, was man auch roch bei offener Tür/Fenster.
-Die Tür lies sich von aussen nicht abschließen , also hätte jederzeit jemand einfach in unser Haus reingehen können.
-Teile der Heizung lagen im Vorraum herum mit scharfen Kanten-also perfekt für kleine Kinder!!!!!
-Defekte Schubladen an den Schränken-Verletzungsgefahr!!!
Wir haben auch Bilder gemacht um dies zu beweisen.
Wir gingen wieder zur Rezeption und sagten das wir hier mit unseren Kindern nicht bleiben können unter diesen Umständen.Wir haben auch die Mängel aufgezählt, aber es interessierte die Dame an der Rezeption nicht wirklich und es wurde auch nichts gegen die Situation unternommen bzw. ist uns niemand entgegengekommen.
Wir haben gefragt ob uns ein Teil des Geldes zurückerstattet wird worauf die Dame dies verneinte.Wir sind stinksauer und können und wollen dies so nicht hinnehmen. Wir sind an einem Tag 1000 Kilometer für die Katz gefahren und das kann es nicht sein.Und sollen was bezahlen was wir so nicht nutzen können.
Ricardo van Halen, on this campsite in July 2014
Travelling party: Family with children, various ages
Illusie wordt gewekt dat het zwembad op de camping of heel dicht bij is, maar met de auto al snel 15-20 min. Daarbij was het zwembad klein en niet heel fris .
Personeel was erg onervaren en totaal niet communicatief en klant gericht.
Eten : buiten de camping is alles al beter, al moet je ervoor rijden(je hebt je eten ook sneller waarschijnlijk)
6 droogmuntjes voor heel de camping.....
Kinderspeelplaats: laat je kinderen er maar niet alleen spelen. Geen toezicht, scherpe delen in de speeltoestellen. Puin en afvalhout niet opgeruimd en dus gevaarlijk voor de kinderen. Rattendoosjes(karton) in speelgebied. Smerige vloer!
Als niet vakantieveilingganger werd ik wel initieel op dezelfde wijze behandeld. Veel plaatsen te klein of niet te benutten door een boom of kunstwerk...

Veel klachten ook gemeld, maar geen reactie of actie die afdoende is.

Tja positief is het niet....geen aanrader, terwijl er veel moois van te maken is met niet eens veel middelen...
Claudia , on this campsite in April 2014
Travelling party: Family with children, 4 – 12 years
Der Park ist völlig unorganisiert. Ein Großteil der Gäste sind Deutsche. Dennoch bekommt man nicht ein einziges Schreiben auf deutsch. An der Rezeption wird auch nur schlecht deutsch gesprochen, aber zumindest einigermaßen verstanden.
Der Ablauf ab 15 Uhr ist katastrophal. Erst steht man Ewigkeiten an der Rezeption an, um die Schwimmkarten zu erhalten (die Unterlagen bekommt man per Mail jedoch angekündigt, dass man sie angeblich per Post erhält... Aber nichts....)
Danach darf man sich auf einen völlig überfüllten und gerade chaotischen Parkplatz anstellen, um dort Schlüssel und Bettwäsche zu erhalten.
Das Mobilheim ist soweit Ok. Die Betten jedoch extrem schmal und die Staumöglichkeit für Klamotten doch eher bescheiden. Die Sauberkeit wurde auch nicht groß geschrieben...
Das Schwimmbad haben wir erst mal vergeblich gesucht, bis wir erfahren haben, dass dieses im Nachbarort ist.
Es gibt eine Outdoor Minigolf Anlage, die jedoch verrotet ist. Den Indoor Spielplatz haben wir bis zum Schluss nicht gefunden. Es gibt lediglich eine Indoor Minigolf Anlage, die nicht spektakulär ist, aber Ok.
Der Spielplatz für die Kinder ist auch Ok.
Da nirgendwo Tüten für Hundebesitzer angeboten werden und auch Mülleimer nur rar vertreten sind, findet man viel Hundekot in den Gebüschen neben den Gehwegen.
Wir hatten vorab per Mail Kontakt zu dem Park aufgenommen. Uns wurde versprochen, dass wir zwei nebeneinander liegende Mobilheime mieten können... Was wir natürlich dann auch taten, da wir zu zwei Familien gereist sind. Letztendlich lagen wir völlig getrennt voneinander. Das ist ärgerlich, wenn man es zugesichert bekommt.

F. Thijssen, on this campsite in July 2012
Deze beoordeling is als enquête afgenomen door onze inspecteur op de camping zelf.
General information
Guide price 1

€46.00

Guide price 2

€46.00

Period of opening

18/03 till 31/10

Area

212 ha

Number of touring pitches

475 (100 - 110m2)

Number of camper pitches

50

Number of permanent pitches

720

Number of accommodation units for hire

70

Campsite suitable for disabled persons

Yes
* Facilities printed in bold are not included in the overnight rate. Supplementary charges will apply. (This does not mean that facilities which are not printed in bold are free!)
Popular amenities

Dog(s) in high season (on lead)

Mobile homes
At the reception

Reservation with CampingCard ACSI also possible

Advance booking recommended for high season

Payment by debit card/Maestro possible

Languages spoken at reception (during the main season)

languages: German | English | French | Dutch
Pitch amenities

Water connection at/near the pitch (max. 15 m)

Waste water drainage at/near the pitch (max. 15 m)

Tap at/near the pitch (max. 50 m)

Also suitable for caravans > 5.5m, excluding towbar

Electrical hook-ups possible to maximum %s amps

Max. electricity: 4-6 ampère

Euro-plug required

Pitches with radio and television connections
Situation of campsite

Located by a lake/recreation pond (max. 0.1 km)

Panorama

Public transport near the camp site (max. 0.5 km)

Shopping opportunities within %s km
Dogs

Dog(s) in high season (on lead)

Dog(s) in low season (on lead)

Dog walking area
Swimming

Swimming in the lake/recreation pool(max. 0.1 km)

Sunbathing area
Beach
For children

Children's playground: large

Entertainment programme: Children (at least 2x a week - h.s.)

languages: German | English | French | Dutch
period: 01-07/31-08 | 27-04/09-05

Games room

Children's sanitary facilities

Baby room

Trampoline

Bouncy castle

Video games

Crazy golf
Toilet facilities

Washbasins: hot water

Washbasins: cold water

Heated toilet facilities

Individual washcabins: hot water

Individual washcabins: cold water

Children's sanitary facilities

Standard toilets

Toilet paper provided

Chemical toilet disposal point

Toilet-shower combination (215cmsx215cms minimum)

Showers: hot water

Showers: cold water

Family shower

Water and toilet facilities for disabled people in the same building as for the other campers

Shower seat / shower chair (folding or mobile) approximately 48 cm high

Canteen/restaurant has toilet adapted for disabled people

Baby room
Sport and games

Table tennis table

Multi-sports field

Tennis court(s)

Jeu de boules alley(s)

Crazy golf
Ground and vegetation

Pitches with plenty of shade

Pitches with some shade

Unshaded pitches

Marked pitches

Grass

Sand
Campsite rules

Dog(s) in high season (on lead)

Dog(s) in low season (on lead)

Caravans allowed

Tents allowed

Small extra tent permitted

Motorhomes allowed

Twin-axle vehicles permitted

Barbecues permitted

type of BBQ: charcoal | electricity | gas

Own boats permitted

motorboat (length: 6 m)
sailing boat (length: 8 m)

Motorboat

Sailing boat
Food, drink and groceries

Fresh bread available at the camp site

Groceries: extensive selection

Shop/supermarket with level entrance or with ramp

Restaurant (with ample choice)

Restaurant (limited choice)

Snack bar

Takeaway meals

Bar
Washing, washing-up, cooking

Washing up sinks: hot water

Washing up sinks: cold water

Washing machine(s)

Laundry sinks: cold water

Laundry sinks: hot water

Dryers
Recreation (adults)

Entertainment for children from 13 to 18 years (at least 2x a week - h.s.)

languages: English | French | Dutch
period: 01-07/31-08

Entertainment programme: Adults (at least 2x a week - h.s.)

languages: English | French | Dutch
period: 01-07/31-08

Fishing

Cycle routes starting at the camp site

Games room

Pool or billiards

Television

Video games

Guided walks
Water sports and recreation

Fishing

Windsurfing permitted

Jetty/buoy

Motorboat

Own boats permitted

motorboat (length: 6 m)
sailing boat (length: 8 m)

Sailing boat

Trailer slope
Available to hire at the campsite

Mobile homes

Bungalows/chalets

Tents

Bicycles
For motorhomes

Motorhomes allowed

Special facilities for motorhomes

Special pitches for motorhomes

Surface area: 50 m2
Amount: 50

Also suitable for motorhomes > 8m and > 4 tonnes
Miscellaneous

Footpaths and roads are lit

Patrolled grounds

Quiet during the day and at night
Address & Route
Would you like to book campsite Oostappen Vakantiepark Marina Beach or request more information? You can do both using the information below or by visiting the campsite's website.
Oostappen Vakantiepark Marina Beach
Middenweg 1
4542 PN / Hoek
Netherlands


Download GPS coordinates

Select your navigation system:

On route N61, 4 km west of Hoek.
The weather on this campsite
Weather forecast
Wed

26 / 10

Thu

27 / 10

Fri

28 / 10

Sat

29 / 10

Sun

30 / 10

Mon

31 / 10

Tue

01 / 11

Max.
14.2°
14.9°
15.4°
15.6°
14.7°
14.7°
14.2°
Min.
3.2°
8.7°
9.4°
7.9°
7.3°
7°
7°
Precipitation
10%
5%
10%
10%
10%
20%
30%
Wind direction
SW
SW
SW
SW
ZO
E
E
Wind speed
2
3
3
2
2
2
3
Climate
| | | |
| --- | --- | --- |
| | Relative humidity | Precipitation total (mm) |
| Jan | 88% | 66 |
| Feb | 86% | 77 |
| Mar | 86% | 75 |
| Apr | 80% | 74 |
| May | 77% | 58 |
| Jun | 77% | 127 |
| Jul | 79% | 51 |
| Aug | 77% | 61 |
| Sep | 81% | 135 |
| Oct | 83% | 93 |
| Nov | 87% | 92 |
| Dec | 87% | 90 |
Information request
ACSI Eurocampings will send your information request to "Oostappen Vakantiepark Marina Beach".
Take note; you are sending an information request. You cannot make a reservation using this form. You will need to contact the campsite directly and ACSI Eurocampings cannot have any influence on the consequences thereof.