Campsite photos
Campsite photos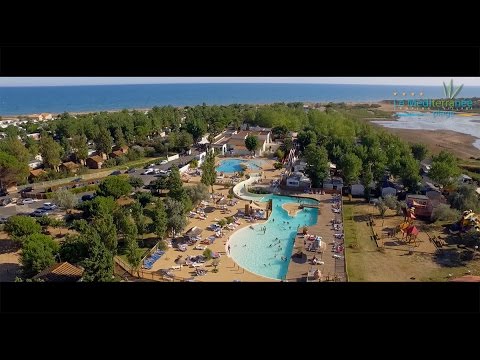 Campsite Méditerranée Plage

****
General information
Camping site Méditerrannée Plage is located directly at the Mediterranean beach, a ten-minute bicycle ride from Portiragnes-Plage and 20 minutes from Vias-Plage. This is a large camping site with extensive entertainment and facilities and very suitable for families with children.
Show more

Warm welcome

Arriving at the reception you will straight away sense the professional approach of this top camping site, where everything is well organised. The proprietress is highly experienced and multilingual. The grounds are laid out in an uncluttered manner, the spacious pitches are clearly separate from the rental mobile homes. Pitches are demarcated, offer both sun and shade with large numbers of oleander shrubs. All pitches are within walking distance from both the swimming paradise and the beach, which is accessible via a wooden walkway over a low dune area. There are quite a few mobile homes available for rental on a separate area of the camping site.

Water fun and recreation

The camping site is located directly on the wide sandy beach. Close to the reception you will find the water park with slides, whitewater course, toddler pool and a sunbathing lawn with loungers. Camping Méditerrannée Plage also offers a large number of other facilities such as a sports field, jeu de boule pitch and tennis. The entertainment team organises sports events for young and old and in the evenings there are performances, music, cabaret and shows put on by the entertainment team.

Grab a bite

At night you can enjoy dinner in the restaurant, which serves as a type of snack bar with basic dishes during the day. Take-away meals and pizzas are also available here. There are also two bars. The supermarket in the 'shopping street' has a selection of groceries with a separate section for vegetables, fruit and meat. Dayfresh mussels and oysters are available just outside the camping site.