Campsite photos
Campsite photos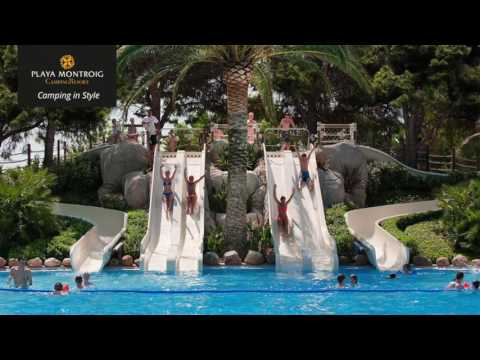 Playa Montroig Camping Resort is a luxurious campsite on the beach of the Costa Daurada. It has a large swimming pool complex (a swimming paradise!) and excellent amenities. Truly a place for campers looking for extra comfort. The location, on one of the most exclusive beaches and close to Port Aventura and Tarragona, makes this a popular holiday spot. In a shaded area, between beautifully landscaped gardens, you are given a warm welcome.
Show more

The camping pitches are spread over several zones. You can camp directly by the beach, in the friendly, lively heart of the campsite or at the quieter outskirts. All pitches are spacious with greenery and are located among neat gardens.

Environmentally-friendly and stylish bungalows

The rental accommodation is a good choice for campers looking for more comfort and privacy. The bungalows are located in greenery and near the sea. They are built of environment-friendly material and stylishly furnished. With a television, microwave, fridge and dishwasher, the accommodation units are equipped with all modern conveniences.

Let yourself be pampered

Playa Montroig is the ideal holiday destination for campers who like to be pampered, because personal attention features high on this campsite. With the sunny climate you can enjoy the swimming pool or the sea for a large part of the year. The swimming pool complex is laid out in a garden with a lively bar with terrace in the centre. The complex consists of heated swimming pools with slides and water falls. For adults, activities such as aqua gym are organised and a large lagoon swimming pool has been constructed for children.