Camping Slatina is a campsite in Martinšćica, Primorje-Gorski kotar, located by the sea.This terraced camp site and camp site with sloping grounds has pitches pitches with shade, pitches without shade and pitches with some shade. Camping Slatina is located close to a pebble beach. It is possible to rent mobile homes.
Show more

The following rules apply to pets at (Camping Slatina):
- Dog(s) permitted in low season (if on a lead)
- Dog(s) permitted in high season (if on a lead)

You can swim nearby in the sea. At Camping Slatina you can go snorkelling and windsurfing.

You don't always have to cook, as the camp site has a pizzeria and restaurant (with full menu). The camp site also supplies fresh bread. You can also use the internet, as the camp site has one or more computers with an internet connection and you can access the internet with your own laptop in 80% of the camp site.
Low-season discount with CampingCard ACSI
Affordable camping in the low season with CampingCard ACSI
CampingCard ACSI is a useful little card that will earn you up to 50% discount on your holiday! In 2016 you can choose from no fewer than 3142 campsites in 20 European countries. You will pay one of the four fixed, low rates in the early and late season!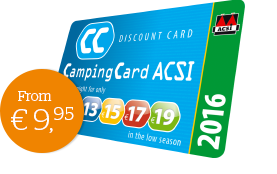 The advantages
Up to 50% discount! You can stay even more inexpensively at the loveliest campsites throughout Europe for four fixed rates using your CampingCard ACSI.

3142 campsites, all inspected by ACSI! You are welcome at 3142 campsites covering 20 European countries with your CampingCard ACSI

Affordable camping with your (grand)children 3 children (under 6 years) are included in the CampingCard ACSI rate at more than 700 campsites
Campsite opening period + your holiday period
August 2016
Mon
Tue
Wed
Thu
Fri
Sat
Sun
1
2
3
4
5
6
7
8
9
10
11
12
13
14
15
16
17
18
19
20
21
22
23
24
25
26
27
28
29
30
31
September 2016
Mon
Tue
Wed
Thu
Fri
Sat
Sun
1
2
3
4
5
6
7
8
9
10
11
12
13
14
15
16
17
18
19
20
21
22
23
24
25
26
27
28
29
30
October 2016
Mon
Tue
Wed
Thu
Fri
Sat
Sun
1
2
3
4
5
6
7
8
9
10
11
12
13
14
15
16
17
18
19
20
21
22
23
24
25
26
27
28
29
30
31
November 2016
Mon
Tue
Wed
Thu
Fri
Sat
Sun
1
2
3
4
5
6
7
8
9
10
11
12
13
14
15
16
17
18
19
20
21
22
23
24
25
26
27
28
29
30
December 2016
Mon
Tue
Wed
Thu
Fri
Sat
Sun
1
2
3
4
5
6
7
8
9
10
11
12
13
14
15
16
17
18
19
20
21
22
23
24
25
26
27
28
29
30
31
31 Campsite open
31 Campsite closed
31 Selected date
Detail information about this campsite
This inspector visits Camping Slatina every year and inspects the campsite on the basis of more than 200 amenities and other points of interest. The inspector is an ACSI staff member and does not work for the campsite.
Toilet facilities

8.7

Staff

8.1

Price - quality comparison

8.1

Camping pitch

7.9

Accommodation

8.1

Child friendliness

7.8

Entertainment

7.0

Sports facilities

6.9

Swimming pool

6.3

Food and drink

7.8

Surroundings

8.2
Regina Odenthal, on this campsite in September 2016
Travelling party: Seniors
Nach über 30 Jahren waren wir wieder auf dem Platz und mussten viele Veränderungen feststellen: Die Sanitäranlagen ganz neu und die besten unserer Reisen. Die Plätze im oberen Bereich aber durch hohe Hecken total abgeschottet und sehr stark geneigt. Man hat den Eindruck, daß in erster Linie die teuren Luxusplätze am Wasser verkauft wreden sollen, von denen aber auch nur wenige wirklich Aussicht aufs Wasser bieten. Schade, wir wären eigentlich gerne noch etwas geblieben, wegen des netten und noch ummer ursprünglichen Örtchens in Gehweite.
Lean, on this campsite in September 2016
Travelling party: Young couple
Mooie camping. Sanitair wordt goed schoon gehouden. Steile weggetjes naar campeerplaatsen toe. Je mag helemaal zelf weten hoe en waar je gaat staan. Wij zaten er met wat minder mooi weer, in de omgeving is dan weinig te beleven.
Felix, on this campsite in May 2016
Travelling party: Family with children, 4 – 12 years
Wir besuchten Pfingsten 2016 den wunderschönen Platz. Da Pfingsten 2016 mitten im Mai lag, war das Wasser dem entsprechend frisch. Der CP war nur zu 10% belegt, was uns aber im Bezug auf Ruhe gefiel. Leider hatte der Supermarkt am Platz noch kein vollständiges Warensortiment. Erst in der zweiten Woche wurde aufgerüstet, und man erhielt alles was man brauchte. Die Pizzeria hatte noch geschlossen. An der Rezeption würden wir sehr freundlich empfangen. Wir hatten den Platz Nr. 65. Eine sehr große Parzelle in der ersten Reihe. In diesem Bereich sind die Parzellen von ca. 3 m hohen Hecken und Bäumen umgeben. Somit ist man unter sich. Der Badebereich direkt vor unserer Parzelle, war typisch kroatisch, mit Felsen versehen. Es war aber genug Platz für eine Badeliege. Das Wasser war glasklar, wie wir es lieben. Es waren kaum Seeigel im Wasser und das schnorcheln hat uns sehr viel Spaß gemacht. Es befindet sich auch ein Kieselstrand in der Bucht, welchen wir aber nie benutzten. Die sanitären Einrichtungen waren Super gepflegt, und die Putzfrauen waren den ganzen Tag vor Ort. Die Einrichtungen sind auch sehr modern. Am CP gibt es auch eine Bar, die wir des Öfteren besuchten. Die Preise sind voll in Ordnung. Ab und zu gab es Livemusik die uns sehr gefallen hat, und wir genossen den schönen Ausblick durch die Pinien auf das Meer.
Das einzige Problem bzw. worauf man sich einstellen muss ist: die steile Lage des Platzes. Das Einbringen unseres Wohnwagens war cm Arbeit. Da unser Wohnwagen fast 8 m lang ist. Beim Rausrangieren war es wieder cm Arbeit und dank Heckantrieb kein Problem. Sollten alle Stricke reißen, steht ein Traktorservice zur Verfügung. Ob dieser was kostet, kann ich leider nicht sagen.
Zu Fuß kann man gemütlich in ca. 20 min zum nächstgelegenen Örtchen gehen. Dort gibt es ein paar Restaurants, welche gut bürgerliche Speisen haben, und der Preis angemessen ist.
Für Jugendliche die eine Disco benötigen, ist der Platz nicht geeignet. Es gibt aber fast flächendeckend kostenloses WLAN. Somit können die Kids mit ihren Smartphones den Kontakt mit ihren Lieben aufrecht erhalten.
Unsere Fazit. Der CP Slatina hat uns von allen Plätzen auf Cres und Mali Losinj am besten gefallen.
Reaction from the campsite
October 26, 2016
Sehr geehrte Damen und Herren,
wir bemühen uns allen unseren Gästen einen unvergesslichen Urlaub in unserem Camp zu sichern. Daher ist es schön zu hören, dass sich diese Mühe ausgezahlt hat. Jedes Jahr sind wir dabei unsere Dienstleistungen und unsere Infrastruktur auf ein höheres Niveau zu bringen und versprechen Ihnen das wir nächstes Jahr noch besser sein werden.

Herzliche Grüße

Jadranka kampovi d.o.o

Hans-Jürgen Karsten, on this campsite in September 2015
Travelling party: Seniors
Wunderschöner Platz an der schmalsten Stelle der Insel Losinj. Platz wird durch die Straße zweigeteilt, wobei für mich der schmale Teil auf der Westseite für Motorbootbesitzer ideal ist. Schöne Stellplätze, erstklassige Sanitäreinrichtungen, für Kinder wird viel geboten. Kleine Badebucht, ansonsten betonierte Flächen links und rechts der Bucht mit FKK-Teil. Das Restaurant ist nur bedingt empfehlenswert, positive Ausnahme sind die Pizzen. Mali Losinj ist über einen Radweg erreichbar, trotzdem ist ein fahrbarer Untersatz in Form von Auto oder Roller empfehlenswert.
Michael Moss, on this campsite in August 2015
Travelling party: Family with children, 12 - 18 years
kamping super nastawiony na wypoczynek z psami. duży obiekt. nie mielismy rezerwacji miejsca i problem był że znalezieniem miejsca dla kampera. na drugi dzień zwolniony się ciekawe miejsce i się ulokowalismy. nie skasowałem nas za ten dzień w którym nie mielismy miejsca pomimo mieszkania na terenie. jedzenie w restauracji super. sanitariaty super na poziomie 4*.
David, on this campsite in June 2015
Travelling party: Seniors
Best washrooms I have ever seen in 25 years of touring Europe. Staff are friendly, helpful and speak good English & German. The main camp supermarket is very good. Standard pitches can be a bit uneven and a very long way from electricity sockets. The site is on a hillside, terraced and divided into small sections in the forest, so it seems peaceful.
Ottenwaeter, on this campsite in May 2015
Diese Beurteilung wurde von unserem Inspektor als Besucherumfrage selbst auf dem Camping aufgenommen.
Bayern_reisender, on this campsite in October 2014
Travelling party: Couple
In der Nachsaison ein Traum. Top Sanitäreinrichtung extrem sauber. Im Juli würde ich aber einen so grossen Platz meiden.
Michael Menzel, on this campsite in July 2014
Travelling party: Family with children, 4 – 12 years
Sehr zu empfehlender Platz, teilweise sehr steil, Kinderprogramm, kürzlich renovierter und vergrösserter super Supermarkt und Kiosk, zu jeder Jahreszeit schön, SEHR saubere und grosszügige Sanitairanlagen, nahe einem kleinem Ort (1,5km). Martinscica.
Anthony Banton, on this campsite in June 2014
Travelling party: Seniors
The highlight of this site was the cleanliness and quantity of the toilet and shower facilities. The cleaners appeared to live in the facilities and really took responsibility for their appearance. The site was large and on a steep slope and electric points were not always conveniently placed. Beaches were excellent and accessible. The restaurants were also plentiful with a good selection. Wasps were however a problem with one outdoor bar. On arrival we planned to stay a few days but actually had to drag ourselves away after a week
General information
Guide price 1

€30.80

Guide price 2

€40.10

Period of opening

19/03 till 10/10

Area

15 ha

Number of touring pitches

1670 (70 - 120m2)

Number of permanent pitches

120

Number of accommodation units for hire

61

Campsite suitable for disabled persons

Yes

Eco campsite

Yes
* Facilities printed in bold are not included in the overnight rate. Supplementary charges will apply. (This does not mean that facilities which are not printed in bold are free!)
Popular amenities

WiFi 80-100% coverage

Dog(s) in high season (on lead)

Situated on the coast (max. 0.5 km)

ACSI Club ID is accepted as an identity document

Mobile homes
At the reception

Reservation with CampingCard ACSI also possible

ACSI Club ID is accepted as an identity document

Advance booking recommended for high season

Passport/identity card required

Credit cards accepted

credit card: Amex | Diners Club | MasterCard | Visa Card

Payment by debit card/Maestro possible

Reception easily accessible for the disabled

Languages spoken at reception (during the main season)

languages: German | English | Italian
Pitch amenities

Water connection at/near the pitch (max. 15 m)

Tap at/near the pitch (max. 50 m)

Also suitable for caravans > 5.5m, excluding towbar

Electrical hook-ups possible to maximum %s amps

Max. electricity: 16 ampère
Internet

Internet access

WiFi 80-100% coverage
Situation of campsite

Situated on the coast (max. 0.5 km)

Distance to the sea (max. 10 km)

Panorama

Shopping opportunities within %s km
Dogs

Dog(s) in high season (on lead)

Dog(s) in low season (on lead)

Dog walking area
Swimming

Sea swimming (max. 0.5 km)

Beach showers
Beach

Pebble/shingle beach

Rocky coastline
For children

Entertainment programme: Children (at least 2x a week - h.s.)

languages: German | English
period: 15-06/01-09

Children's playground: small

Children's sanitary facilities

Baby room

Trampoline

Crazy golf
Toilet facilities

Washbasins: hot water

Washbasins: cold water

Individual toilet facilities

Individual washcabins: hot water

Individual washcabins: cold water

Children's sanitary facilities

Standard toilets

Toilet paper provided

Chemical toilet disposal point

Showers: hot water

Showers: cold water

A shower (150 cmsx150 cms minimum) and a toilet (165x220cms or 190cmsx190cms minimum)

Water and toilet facilities for disabled people in the same building as for the other campers

Disabled sanitary facilities only open for the disabled

Shower seat / shower chair (folding or mobile) approximately 48 cm high

Baby room

Beach showers

Tap without push control
Sport and games

Table tennis table

Beach volleyball

Crazy golf
Ground and vegetation

Pitches with plenty of shade

Pitches with some shade

Unshaded pitches

Terraced site

Hard ground

Sloping site
Campsite rules

Dog(s) in high season (on lead)

Dog(s) in low season (on lead)

Caravans allowed

Tents allowed

Small extra tent permitted

Motorhomes allowed

Twin-axle vehicles permitted

Barbecues permitted

type of BBQ: electricity | gas

Own boats permitted

motorboat (length: 8 m)
sailing boat (length: 8 m)

Motorboat

Sailing boat
Food, drink and groceries

Fresh bread available at the camp site

Groceries: extensive selection

Shop/supermarket with level entrance or with ramp

Restaurant (with ample choice)

Pizzeria

Takeaway meals

Bar

Ice available

Exchanging of gas cylinders
Washing, washing-up, cooking

Washing up sinks: hot water

Washing up sinks: cold water

Washing machine(s)

Laundry sinks: cold water

Laundry sinks: hot water

Dryers
Recreation (adults)

Fishing

Pool or billiards

Television
Water sports and recreation

Fishing

Windsurfing permitted

Jetty/buoy

Snorkelling

Scuba diving

diving course
compressed-air cylinders filled

Diving course

Compressed-air cylinders filled

Motorboat

Own boats permitted

motorboat (length: 8 m)
sailing boat (length: 8 m)

Sailing boat

Sailing permitted

Trailer slope
Available to hire at the campsite

Mobile homes

Bicycles

Locked refrigerator

Safes

Motor boats

Diving equipment hire
Wellness
For motorhomes

Motorhomes allowed

Special facilities for motorhomes

Also suitable for motorhomes > 8m and > 4 tonnes
Miscellaneous

Footpaths and roads are lit

Patrolled grounds

Quiet during the day and at night

Special parking spaces for disabled people

Special pitches for disabled people

Door-springs light enough (3-4 kgs pressure)
Address & Route
Would you like to book campsite Camping Slatina or request more information? You can do both using the information below or by visiting the campsite's website.
Camping Slatina

51556 / Martinšcica (Cres)
Croatia


Download GPS coordinates

Select your navigation system:

From Cres, drive in the direction of Osor. Turn right after about 20 km and follow the signs Slatina (8 km). The campsite is located just after Martinscica.
The weather on this campsite
Weather forecast
Thu

27 / 10

Fri

28 / 10

Sat

29 / 10

Sun

30 / 10

Mon

31 / 10

Tue

01 / 11

Wed

02 / 11

Max.
19.2°
18°
19.3°
19.5°
18.9°
17.3°
16.4°
Min.
15.3°
12°
11.1°
11.8°
12°
12.5°
10.7°
Precipitation
0%
0%
0%
0%
5%
0%
10%
Wind direction
NO
NO
N
NW
NW
N
NO
Wind speed
4
4
2
2
2
2
2
Climate
| | | |
| --- | --- | --- |
| | Relative humidity | Precipitation total (mm) |
| Jan | 75% | 91 |
| Feb | 69% | 45 |
| Mar | 73% | 65 |
| Apr | 72% | 100 |
| May | 69% | 47 |
| Jun | 63% | 46 |
| Jul | 63% | 21 |
| Aug | 64% | 50 |
| Sep | 72% | 126 |
| Oct | 77% | 146 |
| Nov | 73% | 182 |
| Dec | 72% | 105 |
Information request
ACSI Eurocampings will send your information request to "Camping Slatina".
Take note; you are sending an information request. You cannot make a reservation using this form. You will need to contact the campsite directly and ACSI Eurocampings cannot have any influence on the consequences thereof.