Naturist Camp Konobe is a campsite in Punat, Primorje-Gorski kotar, located by the sea.This terraced camp site has pitches which are marked out, pitches without shade and pitches with some shade. Naturist Camp Konobe is located close to a pebble beach. It is possible to rent caravans. The camp site has a playground and a sports ground.
Show more

The following rules apply to pets at (Naturist Camp Konobe):
- Dog(s) permitted in low season (if on a lead)
- Dog(s) permitted in high season (if on a lead)

For sportive holidaymakers the camp site offers excursion programmes. There is an entertainment programme. You can swim nearby in the sea. At Naturist Camp Konobe you can go snorkelling, windsurfing and waterskiing.

You don't always have to cook, as the camp site has a snack bar and restaurant (with full menu). The camp site also supplies fresh bread. You can also use the internet, as you can access the internet with your own laptop in 80% of the camp site.
Low-season discount with CampingCard ACSI
Affordable camping in the low season with CampingCard ACSI
CampingCard ACSI is a useful little card that will earn you up to 50% discount on your holiday! In 2016 you can choose from no fewer than 3142 campsites in 20 European countries. You will pay one of the four fixed, low rates in the early and late season!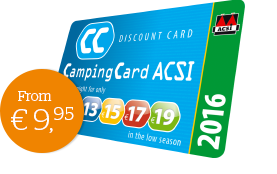 The advantages
Up to 50% discount! You can stay even more inexpensively at the loveliest campsites throughout Europe for four fixed rates using your CampingCard ACSI.

3142 campsites, all inspected by ACSI! You are welcome at 3142 campsites covering 20 European countries with your CampingCard ACSI

Affordable camping with your (grand)children 3 children (under 6 years) are included in the CampingCard ACSI rate at more than 700 campsites
Campsite opening period + your holiday period
August 2016
Mon
Tue
Wed
Thu
Fri
Sat
Sun
1
2
3
4
5
6
7
8
9
10
11
12
13
14
15
16
17
18
19
20
21
22
23
24
25
26
27
28
29
30
31
September 2016
Mon
Tue
Wed
Thu
Fri
Sat
Sun
1
2
3
4
5
6
7
8
9
10
11
12
13
14
15
16
17
18
19
20
21
22
23
24
25
26
27
28
29
30
October 2016
Mon
Tue
Wed
Thu
Fri
Sat
Sun
1
2
3
4
5
6
7
8
9
10
11
12
13
14
15
16
17
18
19
20
21
22
23
24
25
26
27
28
29
30
31
November 2016
Mon
Tue
Wed
Thu
Fri
Sat
Sun
1
2
3
4
5
6
7
8
9
10
11
12
13
14
15
16
17
18
19
20
21
22
23
24
25
26
27
28
29
30
December 2016
Mon
Tue
Wed
Thu
Fri
Sat
Sun
1
2
3
4
5
6
7
8
9
10
11
12
13
14
15
16
17
18
19
20
21
22
23
24
25
26
27
28
29
30
31
31 Campsite open
31 Campsite closed
31 Selected date
Detail information about this campsite
This inspector visits Naturist Camp Konobe every year and inspects the campsite on the basis of more than 200 amenities and other points of interest. The inspector is an ACSI staff member and does not work for the campsite.
Toilet facilities

6.6

Staff

6.9

Price - quality comparison

6.2

Camping pitch

6.6

Accommodation

6.5

Child friendliness

6.1

Entertainment

5.0

Sports facilities

5.4

Swimming pool

6.2

Food and drink

6.8

Surroundings

7.8
Els, on this campsite in August 2015
Travelling party: Couple
Maar 1 ster voor de man aan de receptie die echt onvriendelijk was omdat ze zelf geen duidelijk overzicht hebben over wie waar staat met alle gevolgen vandien.Personeel in het restaurant heel vriendelijk, gerechten zeer lekker en niet duur.Sanitair kan veel properder zeker in de douches maar we hadden blijkbaar geluk want andere jaren was er soms geen stromend water! Prijs kwaliteit;iets goedkoper dan andere campings maar voor een camper of caravan geen grote rustige stukken maar op,voor en naast elkaar gepakt,voor tenten ideaal.Kleine winkel met het hoogstnodige en niet duurder dan in Punat wat op wandelafstand te bereiken is, met gewone fiets niet te doen, steile wegen op de camping zelf, met gevolg dat veel mensen met de auto naar de sanitaire blok.restaurant...rijden en soms hard!Omgeving is heel mooi maar ver afgelegen van alles,prachtig zicht wanneer er geen grote mobilhome voor je komt staan.Onbeschofte Italianen,loslopende honden en iedereen doet maar op, geen controle...Benieuwd of het buiten het juli-augustus ook zo chaotisch is...
Mertel Manfred, on this campsite in September 2014
Travelling party: Seniors
Außer der Lage hat der Camp nichts mehr zu bieten.Restaurants- eines nicht bewirtschaftet und verfallen ,das zweite nach Pächterwechsel teuer und nicht mehr zu empfehlen.Bäume auf vielen Plätzen sehr hoch gewachsen ,dadurch keine Sicht zum Meer.
Sanitärraume alt und nicht mehr zeitgemäß.Minigolf- und Tennisplatz nicht mehr bespielbar.Campingladen
nur vormittags geöffnet und äußest spärlich bestückt.
Altes Gemüße und Obst.
Dauer- bzw. Langzeitcamper führen sich zum Teil wie
\" Platzhirsche \" auf z.b. beanspruchen ganze Terassen für sich alleine ,von der Platzleitung wird dagegen nichts unternommen! Hier muß sich sehr sehr viel ändern!!!!!!
Mike Docker, on this campsite in September 2014
Travelling party: Seniors
A lovely site which, though terraced, offers pitches down at the beach level, although you do have to walk to a higher level for the toilets and restaurant. The site was looking rather tired and neglected but the facilities were ok.
Konrad, on this campsite in June 2014
Diese Beurteilung wurde von unserem Inspektor als Besucherumfrage selbst auf dem Camping aufgenommen.
Usch, on this campsite in June 2014
Travelling party: Couple
Wir sind nach 5 Jahren das erste Mal wieder auf dem Platz Konobe gewesen.
Leider wird hier in den letzten Jahren gar nichts investiert, gepflegt oder repariert. Das eine Restaurant verfällt, die Tennisplätze sind nicht mehr zu bespielen und die Minigolfanlage verlällt auch. Wer spielen will muss erst mal einen Besen mitnehmen um die bahmen zu reinigen. In die Bootssplipanlage wurde eine Stufe eingebaut so das dort keine Boot mehr ins Wasser gelassen werden können. Wasser gab es während unseres Aufenthaltes zum Teil auch nicht, was an einem Rohrbruch ausserhalb des Platztes lag. Leider wurde von der Platzverwaltung zu spät reagiert . Alles in allem: zurück zur Natur- aber nicht zu dem Preis!

Gremmis, on this campsite in June 2014
Travelling party: Couple
"Wunderschöne Lage, wenn auch schwierig anzufahren (Straßen-gefälle). Kein Wasser weder zum Duschen, zum Händewaschen oder für die Toilettenspülung. Alternativ stand eine große Tonne mit Wasser vor dem Sanitärgebäude, mit einem Eimer für Damen- und Herrentoilette, mit dem man Wasser für die Toilette transportieren durfte. Für einen FKK-Campingplatz zu viele Textiler unterwegs, auch am Strand. Hunde wurden direkt neben dem Verbotszeichen für Hunde laufen gelassen bzw. ins Wasser gescheucht. Vorzeitige Abreise unsererseits. Anmerkungen/Beschwerden bei der Abreise wurden freundlichst überhört - sprich einen Kommentar gab es gar nicht. Dafür war es der teuerste CP während unseres Kroatien-Aufenthaltes. - Ein kleiner Pluspunkt: das Restarant
Cass, on this campsite in June 2014
Travelling party: Couple
We first visited this site 15 years ago and it was amazing. We returned this year expecting the same but left after one day. The pitches were very small, with the only view of the caravan in front. The advertised beach bar and one of the restaurants were closed and very dilapidated and the tree house restaurant was only open at limited times. Sports facilities very run down. Sea and beach dirty with oil from boats. Staff very rude and misplaced our passports leading to stress and an arguement as they accused us of already having them. Very poor value for money. Needs re-inspecting.
Maria, on this campsite in May 2013
Travelling party: Couple
Wir fahren seit 20 Jahren nach Konobe, aber leider werden die Umständen immer schlimmer. Es wird nur auf dem Profit geschaut, neue Plätze geschaffen, ganze Waldstücke Platt gerodet, aber die alte Plätze, die Sanitäranlagen vergammeln immer mehr. Kein Restaurant in Betrieb, Geschäft ist zwar halbtags geöffnet, aber die Auswahl lässt Wünsche übrig. Die Stammgäste kommen (noch) zwar jedes Jahr wieder, aber die neue Gäste kommen einmal und nie wieder, da die Preis-Leistungs Verhältnis ganz und gar nicht stimmt.
bramkamp Detlef, on this campsite in August 2012
Travelling party: Group of friends
Wir waren mit 5 Personen, einem Zelt und einem Wohnwagen auf diesem Campingplatz. Das personal an der Reception und in den Sanitaereinrichtungen sind sehr unfreundlich und machen Ihren Job nur wiederwillig. Wir hatten 4 Wochen gebucht, haben aber am 3 Tag Fluchtartig den Platz verlassen. Die Sanitaereinrichtungen waren vor 9-10 Uhr nicht zu benutzen. Dreckig und stinkend. Der versprochene Stellplatz am Strand war nicht vorhanden. Das Personal war im allgemeinen sehr unfreundlich. Werden nicht wieder hinfahren. Weiterempfehlen mit Sicherheit nicht. Strand war nur nach laengerem Fussmarsch zu erreichen.
Heinz Neumeier, on this campsite in May 2012
Travelling party: Couple
Wir fahren seit 25 Jahren auf den Campingplatz aber in den Jahren hat sich nichts verbessert außer dem Waschhaus das vor einigen Jahren erneuert wurde. Sportplätze sind ein Witz Wasserstellen weit entfernt, es wird nichts getan aber der Preis steigt ständig. Die wahrscheinlich schönste Kiesbucht lässt man sich hier gnadenlos bezahlen. Baumhaus ist o.k. Pizzeria ist schon seit jahren nicht mehr in Gebrauch und verfällt. Platzpersonal muss in fensterlosen Containern schlafen (Reinigungsfrauen sind sehr bemüht). An der Rezeption scheint man Danke sagen zu müssen, dass man überhaupt auf den Platz darf. Fazit: nur mit ACSI akzeptabel, ansonsten zu teuer.
General information
Guide price 1

€37.00

Guide price 2

€42.00

Period of opening

22/04 till 30/09

Area

20 ha

Altitude

60m

Number of touring pitches

330 (60 - 100m2)

Number of camper pitches

10

Number of accommodation units for hire

15

Campsite suitable for disabled persons

Yes

Naturist campsite

Yes
* Facilities printed in bold are not included in the overnight rate. Supplementary charges will apply. (This does not mean that facilities which are not printed in bold are free!)
Popular amenities

WiFi 80-100% coverage

Dog(s) in high season (on lead)

Situated on the coast (max. 0.5 km)

ACSI Club ID is accepted as an identity document
At the reception

ACSI Club ID is accepted as an identity document

Advance booking recommended for high season

Credit cards accepted

credit card: Amex | Diners Club | MasterCard | Visa Card

Payment by debit card/Maestro possible

Cash dispenser/cashback possible

Languages spoken at reception (during the main season)

languages: German | English | Italian
Pitch amenities

Also suitable for caravans > 5.5m, excluding towbar

Electrical hook-ups possible to maximum %s amps

Max. electricity: 10 ampère

Euro-plug required
Internet
Situation of campsite

Situated on the coast (max. 0.5 km)

Distance to the sea (max. 10 km)

Panorama

Shopping opportunities within %s km
Dogs

Dog(s) in high season (on lead)

Dog(s) in low season (on lead)
Swimming

Sea swimming (max. 0.5 km)

Beach showers
Beach

Pebble/shingle beach

Rocky coastline

Stony beach
For children

Children's playground: large

Entertainment programme: Children (at least 2x a week - h.s.)

languages: German | English | Italian
period: 01-07/31-08

Children's playground: small

Mini club (at least 4x a week - high season)

languages: German | English | Italian

Baby room

Crazy golf
Toilet facilities

Washbasins: hot water

Washbasins: cold water

Individual washcabins: hot water

Individual washcabins: cold water

Standard toilets

Toilet paper provided

Squatting-toilets

Chemical toilet disposal point

Toilet-shower combination (215cmsx215cms minimum)

Showers: hot water

Showers: cold water

Baby room

Beach showers
Sport and games

Table tennis table

Multi-sports field

Tennis court(s)

Crazy golf
Ground and vegetation

Pitches with some shade

Unshaded pitches

Marked pitches

Grass

Terraced site

Hard ground
Campsite rules

Dog(s) in high season (on lead)

Dog(s) in low season (on lead)

Caravans allowed

Tents allowed

Small extra tent permitted

Motorhomes allowed

Twin-axle vehicles permitted

Barbecues permitted

type of BBQ: electricity | gas

Own boats permitted

motorboat (length: 6 m)
sailing boat (length: 6 m)

Motorboat

Sailing boat
Food, drink and groceries

Fresh bread available at the camp site

Groceries: extensive selection

Restaurant (with ample choice)

Snack bar

Takeaway meals

Bar

Communal barbecue area

Freezing for cooling elements
Washing, washing-up, cooking

Washing up sinks: hot water

Washing up sinks: cold water

Washing machine(s)

Laundry sinks: cold water

Laundry sinks: hot water

Dryers

Ironing facilities
Recreation (adults)

Fishing

Excursion programme (at least 2x a week - m.s.)
Water sports and recreation

Fishing

Windsurfing permitted

Jetty/buoy

Snorkelling

Waterskiing permitted

Motorboat

Own boats permitted

motorboat (length: 6 m)
sailing boat (length: 6 m)

Sailing boat

Sailing permitted

Trailer slope
Available to hire at the campsite

Caravans

Refrigerators

Locked refrigerator

Safes
Wellness
For motorhomes

Motorhomes allowed

Special facilities for motorhomes

Special pitches for motorhomes

hardened base for motorhomes
Surface area: 60 m2
Amount: 10

Also suitable for motorhomes > 8m and > 4 tonnes

length: 8
weight: 5000 kg

Hardened base for motorhomes
Miscellaneous

Footpaths and roads are lit

Patrolled grounds

Quiet during the day and at night
Address & Route
Would you like to book campsite Naturist Camp Konobe or request more information? You can do both using the information below or by visiting the campsite's website.
Naturist Camp Konobe

51521 / Punat (Krk)
Croatia


Download GPS coordinates

Select your navigation system:

When approaching from Krk, drive past Punat in the direction of Stara Baska. The campsite is located to the right after about 3 km.
The weather on this campsite
Weather forecast
Thu

27 / 10

Fri

28 / 10

Sat

29 / 10

Sun

30 / 10

Mon

31 / 10

Tue

01 / 11

Wed

02 / 11

Max.
16.7°
16.8°
18.8°
19.6°
18.3°
16.2°
15.3°
Min.
12.8°
10.7°
9.2°
11.3°
11.9°
10°
8.9°
Precipitation
0%
0%
0%
0%
10%
0%
10%
Wind direction
NO
E
E
E
E
E
E
Wind speed
5
4
4
3
3
4
3
Climate
| | |
| --- | --- |
| | Relative humidity |
| Jan | 66% |
| Feb | 60% |
| Mar | 63% |
| Apr | 64% |
| May | 58% |
| Jun | 54% |
| Jul | 54% |
| Aug | 52% |
| Sep | 62% |
| Oct | 67% |
| Nov | 67% |
| Dec | 68% |
Information request
ACSI Eurocampings will send your information request to "Naturist Camp Konobe".
Take note; you are sending an information request. You cannot make a reservation using this form. You will need to contact the campsite directly and ACSI Eurocampings cannot have any influence on the consequences thereof.